You put so much care and attention into every last bit of Christmas. From the gift shopping to the wrapping and the decorating to the food — no detail overlooked. Your Christmas desserts should be no exception. Not just the typical trays of homemade Christmas cookies, but the kind of elegant, beautiful Christmas desserts that wow you through the glass at your town's finest bakery. But who has the budget left over for one of those pricey confections or the time to make a special trip into town on Christmas Eve or Christmas morning?
There's no need to go into bakery debt! Today we've compiled six of the most elegant Christmas desserts around, each one an example of bakery-quality decadence and all surprisingly easy to make. Four are bake-at-home treats, two require no baking at all, and some you can even make ahead of time!
These easy Christmas desserts are so good, people will think a professional baker made them. Get ready to impress everyone at your holiday table with these incredible Christmas desserts… made by you!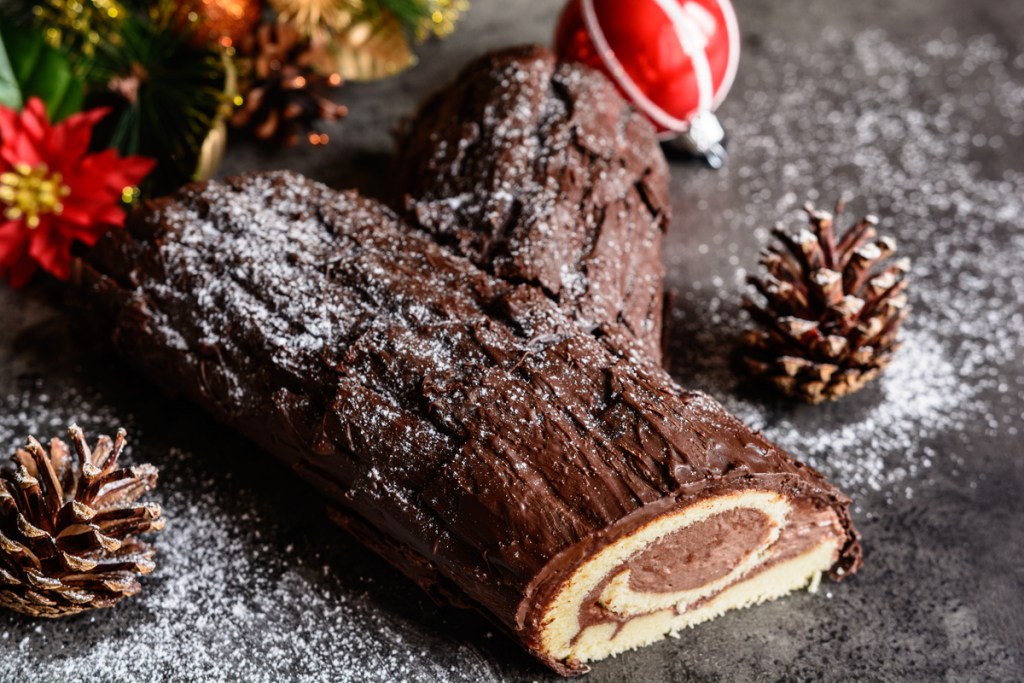 Decadent — and easy — Christmas desserts
Buche de Noel is the French name for this traditional Yule log dessert — simply put, a chocolate Christmas cake that's shaped like a log. It's a delicious flourless chocolate cake that's rolled with chocolate whipped cream, spread with a heavenly chocolate ganache, and then dusted with confectioners' sugar to resemble snow on a Yule log. They'll think it came from a fancy bakery; you'll know that you did it all yourself.
Cranberries and oranges are holiday perfection, which makes this cheesecake a natural choice for your Christmas table. The color of the cranberry glaze ties in with the hues of the season, and the sugared cranberries make the perfect topping. You can do most of the work the night before, so it won't give you too much trouble on the day you're hosting. Silky smooth cheesecake, combined with orange zest, and cranberries? In a word: "Amazing."
Everyone loves ice cream cake, but this one is layered with a crown of meringue and then baked to golden perfection to truly impress your guests. It's not difficult to do, but you will need to put in a little time assembling, plus about four hours in the freezer. Any flavor of ice cream will do, but, for this recipe, we love pistachio, black cherry, caramel, mint chip, or coffee the best. Topped with a homemade chocolate-rum sauce, it's definitely a Christmas-worthy dessert.
These single-serving chocolate cakes have a molten chocolate center that is pure heaven. Make them in advance, store them in the fridge, and then pop them into the oven when you're ready for some ooey, gooey, molten chocolate action. Top with a scoop of ice cream, or a dollop of whip cream, and then drizzle with warm chocolate sauce for a spectacular finish. Baker's tip: Add a chocolate truffle to the center of the cake before baking. It will ensure that they always have a perfectly gooey center, no matter what else might go wrong.
No-bake Christmas desserts
If you're looking for a dessert that will add an air of sophistication to conclude your holiday meal, this is it. Wine and chocolate are perfect complements for each other. This surprisingly easy-to-make dessert pairs them beautifully. Simply mix the ingredients together — a mix of semi-sweet and bittersweet chocolate, heavy cream, butter, vanilla extract, and some cabernet sauvignon — refrigerate, and scoop into truffle balls. That's it! After that, you can roll the truffle balls in cocoa powder, crushed freeze-dried raspberries, or powdered sugar, or dip it in melted chocolate and top with festive red and green sugar sprinkles. They're as pretty as they are delicious.
This Christmas trifle recipe puts a spin on tradition with amaretti biscuits for texture and flavor, plus sweet sherry for a boozy twist. It's a perfect, and festive way, to conclude your Christmas-day feast. And, since the recipe starts with pre-made loaf cakes, there is no baking required!
It's okay to ditch the dessert cookies from time to time. After all, you don't want to ruin a perfectly lovely Christmas dinner with a less-than-lovely Christmas dessert. Our easy-to-make Christmas desserts are as spectacular to look at as they are to eat, and since you'll be making them all yourself, they will be even more special to the friends and family you have gathered around you for the holidays.
Merry Christmas to all and to all… a good dessert!
Editors' Recommendations