The fall season is a prime time to check some of those pesky household chores off your to-do list. With the kids back in school, autumn is a time to wrap up all things summer and prepare for winter. This includes fall floor-to-ceiling cleaning, which is tedious but necessary work. Take solace knowing there's at least one quick task, and maybe even a little fun: power washing your home's exterior. With just five quick power washing projects, you can have your house sparkling clean and prepared to survive the winter.
With end-of-season projects in mind, check out the five most important power washing projects you should undertake to keep your home clean, protected, and ready for winter. You'll be surprised how satisfying power washing your house in the fall can be, and we promise you'll love the results.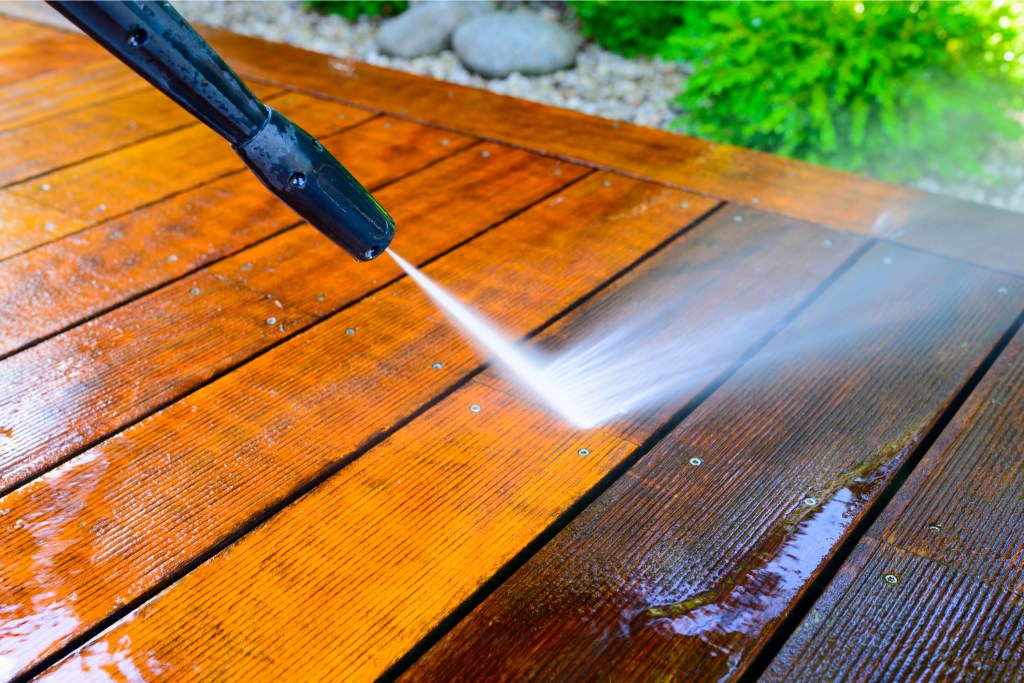 What is power washing?
Power washing is one of the final steps you should take before winter arrives. Odds are, there are leaves and other pieces of debris wedged in the gutters and around your home's exterior, and power washing removes all of this debris before it freezes over. Before the temperature drops below freezing, start the process of removing dirt, mildew, mud, and other blemishes with the power of pressurized, heated water.
Power washing is also effective for the following tasks:
Preparing your home to rent or sell
Removing mold or mildew
Killing moss or weeds
Cleaning and brightening your deck, patio, walkway, and driveway
Removing debris from awnings and gutters
Cleaning wood, aluminum, or vinyl sidings
Unlike pressure washing, power washing uses heated water to break down germs and contaminants, making it more efficient than pressurized water alone.

Power wash your house
The benefits of power washing your house are wide and varied. Cleaning a home's exterior with high-pressure water removes dirt, grime, mold, mildew, and algae from siding, roofs, decks, and sidewalks. It also ensures that all the bugs and critters that nestle inside the debris are far away from your home's gutters, pipes, windows, and small entrances. The heated water can also kill bacteria that might be on the surfaces of windowsills or door handles. Regular cleaning methods cannot accomplish this without hours of scrubbing or harsh chemicals (for solutions with chemicals, hiring a professional building washing company might be your best bet).
Last, tackling your home's exterior can increase its curb appeal, making it appear clean and new. This is especially important if you intend to sell your home soon since the facade can greatly impact potential buyers.

Power wash your deck
Aside from washing the exterior of your home, power washing your deck is another project you should cross off your to-do list before winter. Keeping it clean ensures your deck boards stay in good condition, preventing the need to replace them as often. Growths of mold and mildew tend to get worse as moisture from snow and ice seeps into the wood of your deck, so it's best to kill this mold with the high heat of the power wash before it grows further.

Driveway, walkways, and front steps
To maximize curb appeal, power wash your driveway, walkways, and front steps. An expensive-looking and well-kept exterior can easily tack on another $10,000 to your home's value. Even if you don't intend to sell, power washing at least once a year will keep your home looking clean and inviting, not overrun and neglected.
When it comes to the driveway, power washing can kill any moss and weeds that grow in the cracks, keeping the asphalt in better condition for longer. This process also removes tire marks, oil stains, and other imperfections that tend to accumulate over the course of the year and make your home's exterior look messier.
Wrapping up
It might seem like power washing your home is above and beyond what is necessary for regular home maintenance. After all, you can spray weed killer on weeds, hose down your driveway, and scrub your house's windows. That being said, tackling all those tasks individually costs a lot of time and energy and isn't necessary if you have a good power washer.
Using a power washer takes care of all these problem areas with more speed, and the pressure and heat of the water ensure the job is complete. Pollutants like smog, acid rain, and general dirt and grime build-up can damage and discolor your home's facade over time. To safeguard the investment you've made in your home, be sure to round out your fall cleaning plan by power washing your house, deck, driveway, walkway, and front steps at a minimum.
Editors' Recommendations