Choosing a wood stain that blends seamlessly with your design is crucial. You want your wood decking to feel like an intentional choice in your space and appear as if it were decorated in concert with the rest of the home. Whether indoors or outdoors, wood stains play a vital role in creating a cohesive look. But, with warm weather approaching, now is the time to beautify the outside of your home — and a new wood stain on your deck can help you achieve a refreshed look.
To gain an idea of what wood stains are becoming more prominent today, we spoke to the experts. Kriss Swint, Director of Marketing Communications at Westlake Royal Building Products, gave us some fantastic tips on choosing a wood stain that will not only blend with your existing design but help create a lasting impact in your yard. Here's what we learned.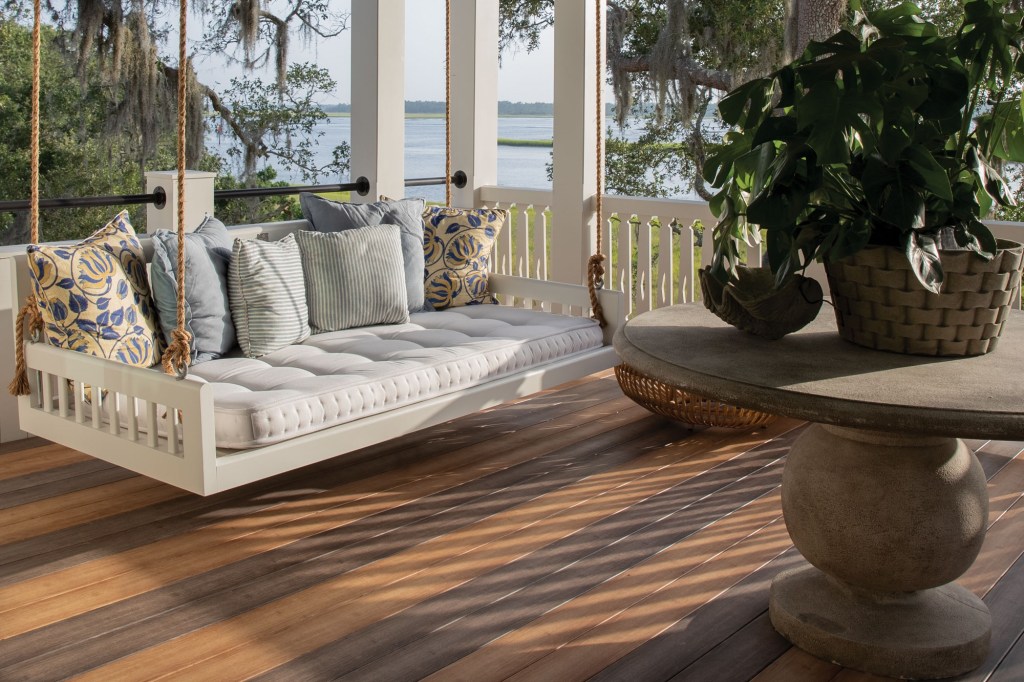 What are the most popular wood stain colors right now?
If you're looking to update your wood flooring or decking, pull inspiration from some trending designs. When it comes to popularity, Swint said, "Classic brown tones are still very popular in wood stains, and they bring a sense of warmth to the wood. We are seeing a shift back to warm wood tones in general."
In the past few years, minimal styles with white-based palettes, gray flooring, and washed-out aesthetics have been prominent in exterior home design. However, as many homeowners and designers alike move toward more colorful and bold aesthetics, warm tones are becoming increasingly popular.
Still, weathered gray hues are trendy, particularly in modern and farmhouse home styles. Additionally, Swint pointed out that designers "are also seeing a bit more in blue stains, especially along the coastal areas [where] it brings a calming and soothing effect to the exterior." Depending on your design style, you'll want to choose a wood stain that blends cohesively with your current aesthetic.
Wood stains that have the best staying power
Classic "browns and grays will continue to reign and have the most longevity," said Swint. However, other stains are also taking center stage as home design continues to grow and change. When we consider which stains will have the best staying power in years to come, Swint encourages homeowners to look at warmer hues.
"Think shifts to more saturated tones, like a Hickory," Swint said, since these tones "will continue to gain in popularity over semi-transparent stains." These richer and darker tones add a vibrant element that feels warm and reassuring.
When choosing darker hues, we suggest considering undertones that match your design style. For example, dark chocolate browns or brown blacks will be ideal for gray or white-based neutral palettes. Alternatively, yellow undertoned stains may better complement bold red and orange-based designs, while reddish undertones are better suited for yellow-based or beige palettes.
What to consider when choosing a wood stain for your deck
Before choosing a wood stain, consider what colors will best complement your existing design scheme. Colors in the same color family can create a monochromatic effect that may look appealing in modern styles. For example, warm wood flooring can be perfect beside neutral beige or greige outdoor furniture. Alternatively, creating contrast with your stain can add more visual interest. On the exterior, consider adding a dark and rich wood stain beside white siding for a higher contrast effect.
Swint said, "You can also take the most dominant color from your yard/exterior and work from there." For example, cherry wood pairs nicely with a red-brick build. However, a yellow-tinted wood stain creates more contrast and visual interest.
It's also important to consider how outdoor wood stains will fade over time. The time it takes for the stain to become visibly weathered depends on the brand, stain, weather, and type of wood. We recommend reading customer reviews to get a sense of the different weathering patterns of each brand.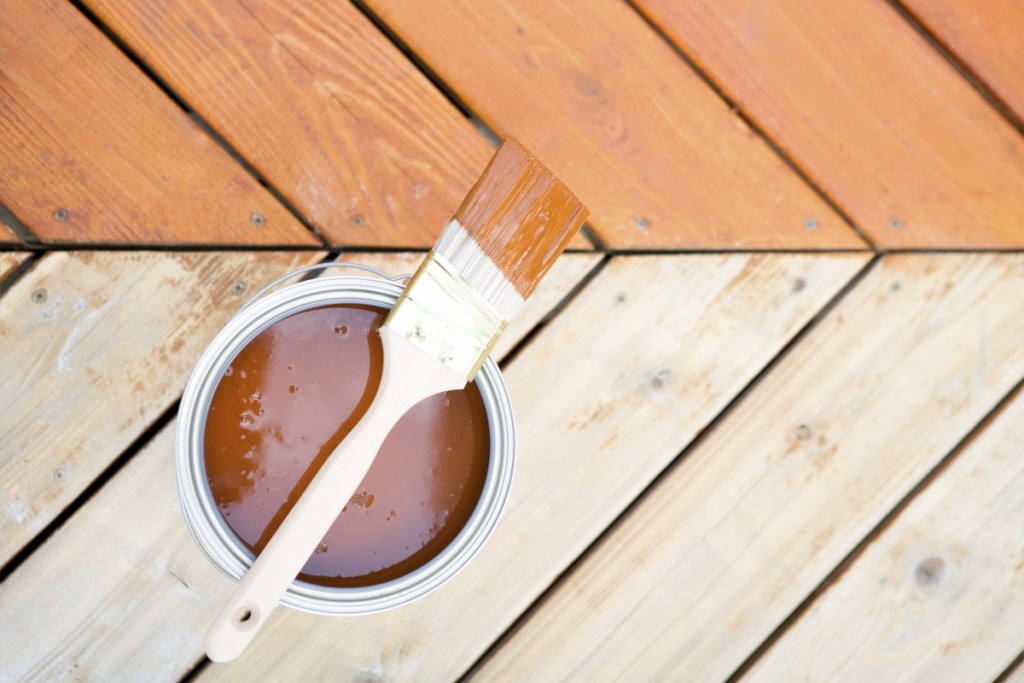 How to blend your exterior and interior wood stains for a cohesive design
To pick a stain that creates cohesion between the interior and exterior design, Swint said, "We highly recommend creating an outdoor living space extension that reflects your interior design. Matching your decking to your interior hardwood floors can create a seamless transition from interior to exterior."
Swint also emphasizes the importance of considering "how greenery, outdoor furniture, and decor will look with the color of wood you choose." Adding too many contrasting colors can make your space look messy or poorly designed, while opting for too similar colors may leave your outdoor area looking dull or one-dimensional. We recommend that you focus on viewing both your interiors and exteriors as one continuous flow of space. Try to keep the design styles similar without forcing your home to look a certain way. Even if your exterior or home architecture doesn't match your design style, consider including small aspects of the build's design into your overall aesthetic.
Choosing a wood stain requires a bit of planning, but it's an easier process than you might think. With these expert recommendations, you can go into your next remodel with plenty of confidence and style.
Editors' Recommendations