Saint Patrick's Day is right around the corner, and we all know what that means — green beer, shamrocks, and corned beef and cabbage dinner. While beef was a meat traditionally reserved for the wealthy in Ireland, these days, most people can get their hands on all of the ingredients needed to make a classic corned beef and cabbage dinner relatively easily. If you've never made this dish yourself, you've been missing out! The prep for this meal is super simple, and though the meat does take a while to cook, you'll be happy with the smells in your home throughout the day. Check out our favorite recipe for corned beef and cabbage below.
Ingredients and prep
This recipe from allrecipes.com is straightforward, and the ingredients list is short, which are the reasons we love it. All you need is:
A corned beef brisket with a spice packet
10 small red potatoes
5 carrots
1 large head of cabbage
When it comes to your corned beef brisket and spice packet, about 3 pounds should do the trick, but feel free to adjust the weight for the number of people you're feeding or how much meat you want left over for sandwiches). Leave the peels on the red potatoes and cut larger ones in half, so they are all relatively the same size. Finish it off with five carrots, peeled and cut into three-inch pieces, and one large head of cabbage, cored and cut into small wedges.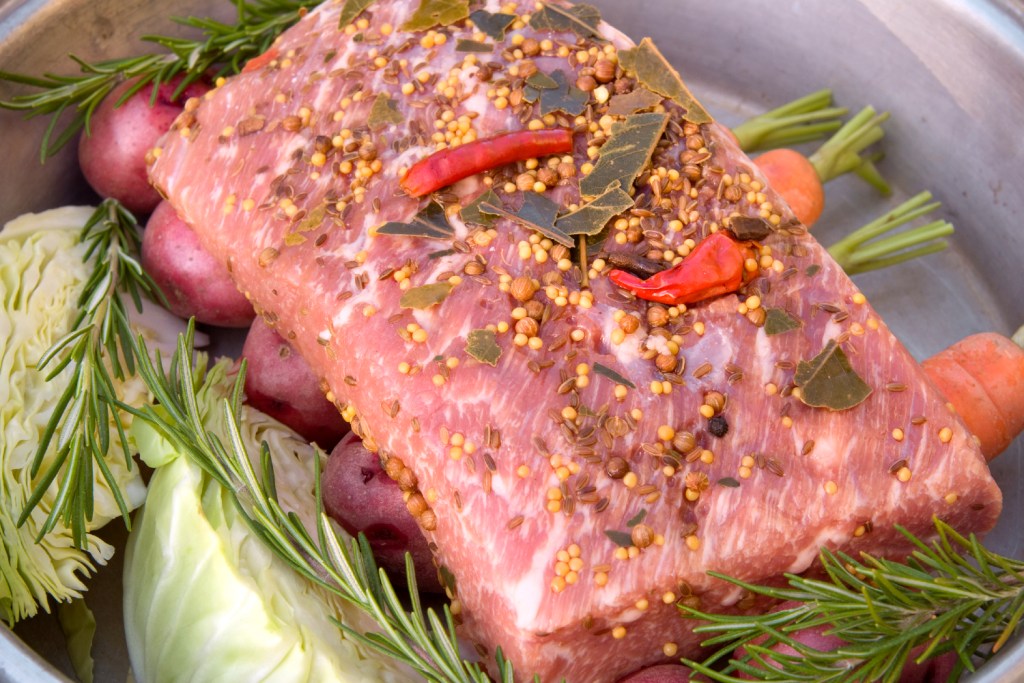 Directions
Step 1: Place the beef brisket into a large pot and cover with water. Add the spice packet that came with the beef and cover the pot. Bring the water to a boil, then reduce to a simmer. The meat needs to simmer for about 50 minutes per pound.
Step 2: Add whole red potatoes and carrots to the same pot, and cook until the vegetables are almost tender. You should add the veggies about 15 – 20 minutes before you think the beef is done. Remove the corned beef to rest, and add the cabbage to cook for 15 minutes.
Step 3: Remove the vegetables and potatoes from the water and place them into a bowl. Cover to keep warm while you slice the corned beef. Don't forget to reserve a cup or two of the cooking liquid to spoon over the meat and veggies before serving. Also, be sure to slice the meat against the grain.
Leftover suggestions
Usually, it's challenging to end up with leftover corned beef, but if you plan ahead and have extra meat, the possibilities don't end at Reuben sandwiches. Of course, adding some sauerkraut, Swiss cheese, and Russian or Thousand Island dressing to your leftover corned beef and sandwiching it between two grilled pieces of rye bread is a delicious way to enjoy your repurposed dinner.
If you have leftover potatoes too, you can make a corned beef hash for breakfast or dinner. You could also dice up all of the extra meat and veggies and turn it into a soup using beef broth or a casserole by topping it all with cheese and baking it in the oven. The possibilities really are endless, so don't be afraid to experiment a bit.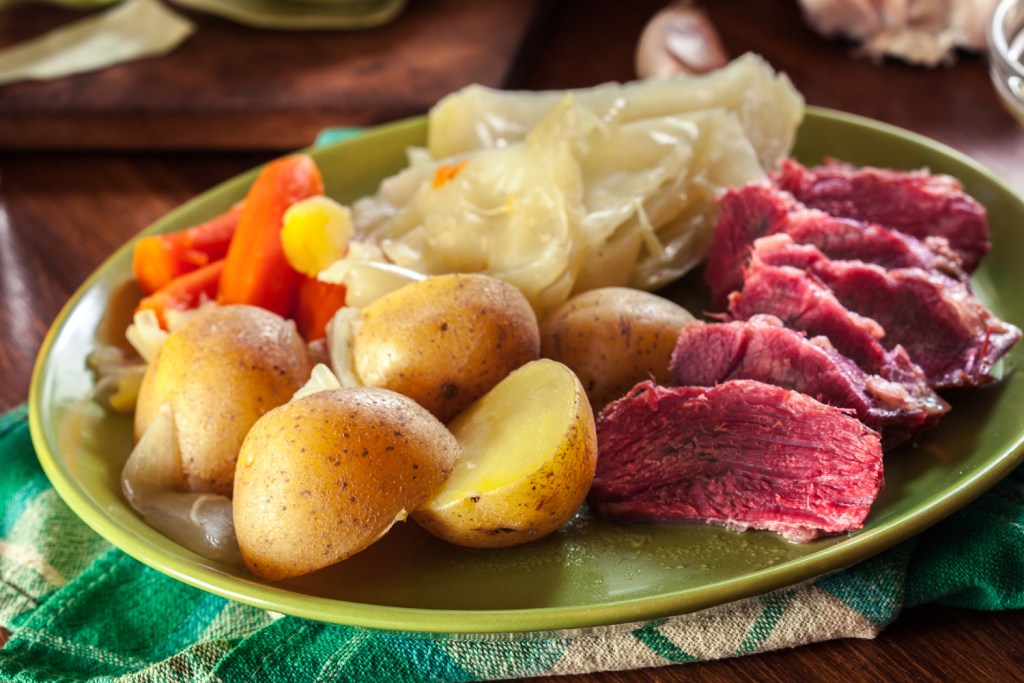 Whether you're Irish or not, corned beef and cabbage is a classic dish that has become a Saint Patrick's Day tradition. If you've never tried to make your own, give it a shot this year by following our favorite recipe above. If you're a seasoned pro in the corned beef department, you know that the prep is simple, and the few hours wait for the dish to cook is well worth it.
Editors' Recommendations