When upgrading or remodeling your kitchen, you may want to add attractive features to it in order to impress visitors or to simply have an especially aesthetically pleasing room. But what components can be made to look particularly interesting? A variety of options exists, which have a wide range of costs and designs. Read through this list for a succinct summary of the many potential choices for kitchen details.
Cabinet door accents
As a step up from plain wooden cabinet doors, consider installing decorative handles and engraved, recessed, or glass doors. These additions can make your kitchen space look more luxurious, and the open feeling of glass doors creates the illusion of more space. Designs on wooden cabinet doors can tie together the theme of a kitchen, especially when paired with the appropriate hardware and tile. See-through doors also allow for fine china or wine glass collections to be easily seen.
Special storage options
Visible shelving and waste receptacles might appear clunky or even unsightly in an otherwise beautiful kitchen. Instead, perhaps opt for hidden storage solutions, such as a lazy Susan in a corner cabinet or a pull-out trash can/recycling bin drawer. These alternatives can unify the design of your kitchen and save space. For quick access to pantry items, put in sliding shelves, which eliminate the need for stretching to reach things in the back of a cabinet. Also contemplate racks for smaller items that are attached to the inside of cabinet doors. Drawer organizers can also help straighten up previously cluttered spaces.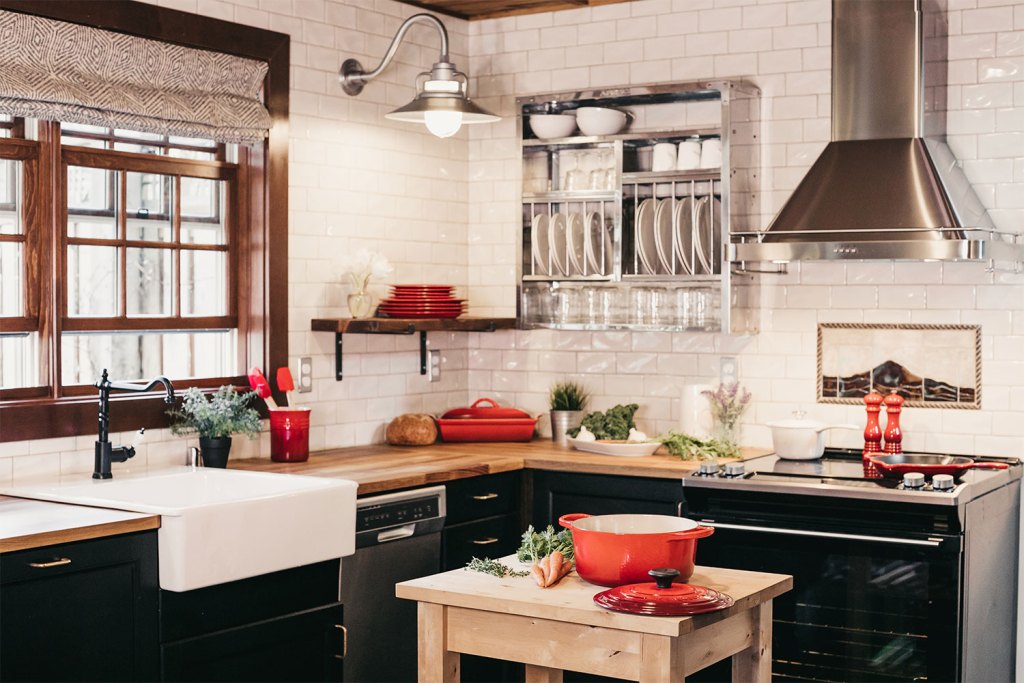 Mixed materials
Juxtaposing the types of materials that make up different parts of a kitchen can make for an interesting mixture. Textured features, such as rope handles or raw wooden counters, contrast well with sleeker cabinet doors or dark paint colors. Material choices influence the overall theme of a kitchen — for instance, a Victorian kitchen might have a white tile counter and also aged, lightly colored cabinets.
Built-in wine racks
Whether horizontal or vertical, wine-storage racks can be squeezed into most kitchens. Deep cubbies in a row can suffice for a simple wine-storage option, while a grid of cubbies are covered by a lattice-patterned decoration. This easily customizable kitchen detail is a functional, appealing addition. Additionally, the rack could be inside of a refrigerated cabinet for the perfect glass of chilled wine at any time.
Quality hardware and appliances
Your choice of metals and finishes used in a kitchen can make all the difference when it comes to how the room appears at first glance. Polished metal cabinet knobs or handles, for example, are well complemented by corresponding stainless-steel appliances. Heavy-duty, high-quality hardware is a big step up from basic wooden features. Metallic finishes are especially ideal for modern kitchens.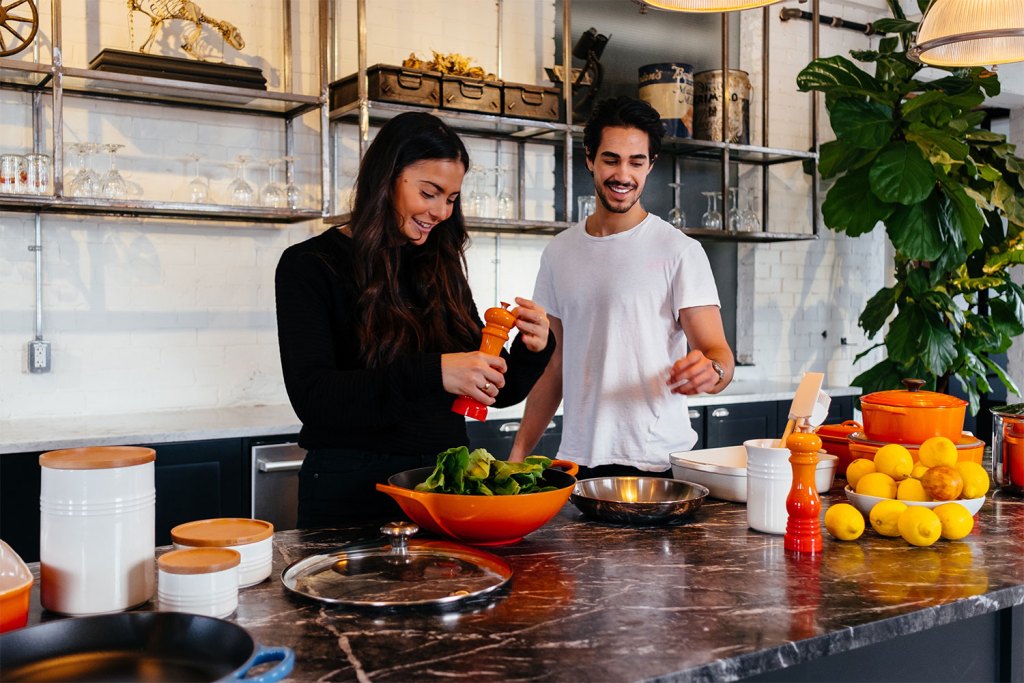 Attractive countertops and backsplashes
A large selection of wood, tile, and stone exists for kitchen counters and wall accents. One might opt for a granite slab countertop, or alternatively, a mosaic tile and grout counter, The DIY Network shows us how to do it yourself. These components of kitchen design arguably are the most important to defining the room's theme. Slab counters typically are found in more modern kitchens, while wooden counters give a more rustic feeling. And for beautiful stone decor beyond the counter, consider a backsplash. Whether in a rainbow of colors or a monotone palette, the right backsplash can transform any average kitchen space.
Unique lighting fixtures
Lighting details in an area create diverse ambiances. Lampshades and light installations come in a wide range of shapes, light color, and purpose. Multiple lights recessed into the ceiling are good for evenly distributing light throughout a space, compared to feature lamps that provide a more focused illumination. Warm or cool light can flood your kitchen, depending on the type of light bulbs and lampshades you choose. The shape of a light itself is perhaps the most customizable part of lighting design and can reinforce myriad themes, be it historical, classic, or sleek.
Coordinating colors
While a single, neutral color may be simple to install, keep an open mind about the paint colors used on your cabinets and walls. Some seemingly odd combinations indeed look great in a kitchen setting, as would further theming. Dark blue and gold gives an almost regal feel, for instance. Pairing multiple, contrasting neutral colors together can break up the monotony of an otherwise all white or black room. For example, a deep copper set of accents goes well with mainly white cabinets. In a cramped kitchen, bright pops of color may make the area appear more open and spacey.
Open shelving
Depending on the aura you are going for in your kitchen design, you may wish to forego cabinets altogether in favor of exposed shelves. This airy storage option definitely opens up an area, and gives a rustic feeling appropriate for a country or historically inspired kitchen, particularly if made of wood with a weathered finish. Furthermore, open shelves might require you to reconsider how dishes stored on them are arranged. The shelves show off mugs, dishes, and china, far better than even glass cabinet doors can.
Utilize islands efficiently
While a kitchen island can simply serve as additional cabinet storage, it can also do much more. A second sink could be installed on the island to transform the piece's purpose to one of a prep area. Sliding cabinets for trash and recycling could be installed in the island, freeing up space in the main cabinet area. A small bar fridge would fit perfectly under an island countertop, as would space for barstools. Finally, don't forget the inclusion of power outlets on an island!
Tying together the ambiance
Differently themed kitchens require disparate details. A modern kitchen with predominantly black decor might look cold and uninviting, or too industrial, if not for dark wooden countertops or leather dining chairs. On the other hand, a farmhouse kitchen would be better complemented by aged, exposed wood ceiling beams and mosaic backsplashes. Consider how each part of a kitchen's design fits together with each other part for the most cohesive combination.
If you need further inspiration, stick with us and check out some of the biggest kitchen color trends.
Editors' Recommendations