Bathroom remodels can get expensive — the average cost of primary and guest bathroom renovations are $9,000 and $4,400, respectively — but they also deliver huge ROI. According to Zillow, bathroom remodels offer the biggest returns in boosting your home's resale value (which is always a good thing). Even if you only have the budget for minor cosmetic changes — switching out mirrors, upgrading hardware, etc. — you're still likely to see a $1.71 return on every dollar you spend.
So even if you don't have the time or budget to start installing new floors and retiling walls, you can still achieve a gorgeous new bathroom. And why not start with your powder room? It's smaller than your main bathroom — which means a less expensive renovation — and more guests are likely to pass through there — meaning you'll receive that many more compliments on your powder room decor.
Need a little inspiration? Check out this recent powder room renovation.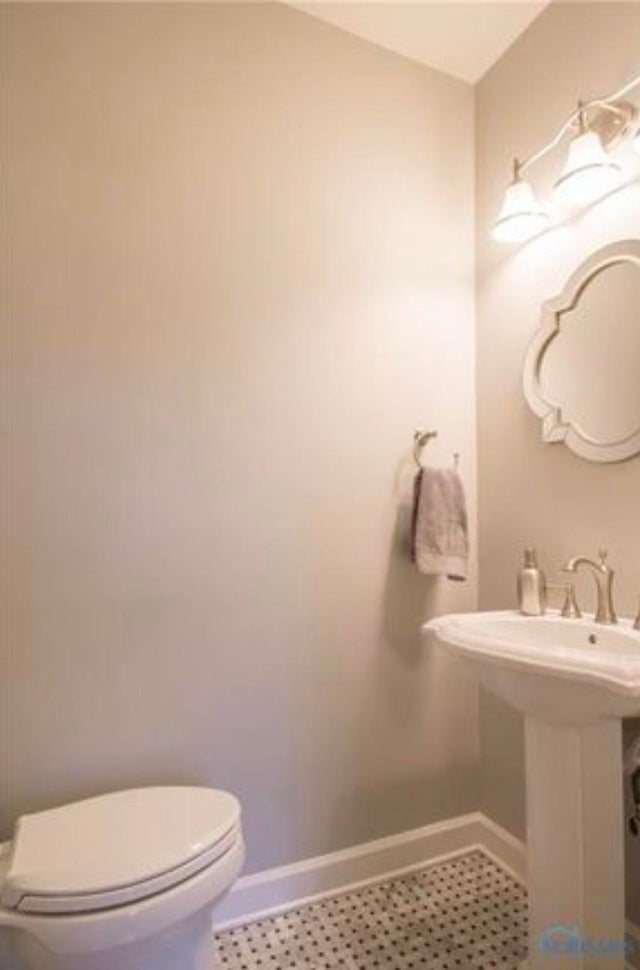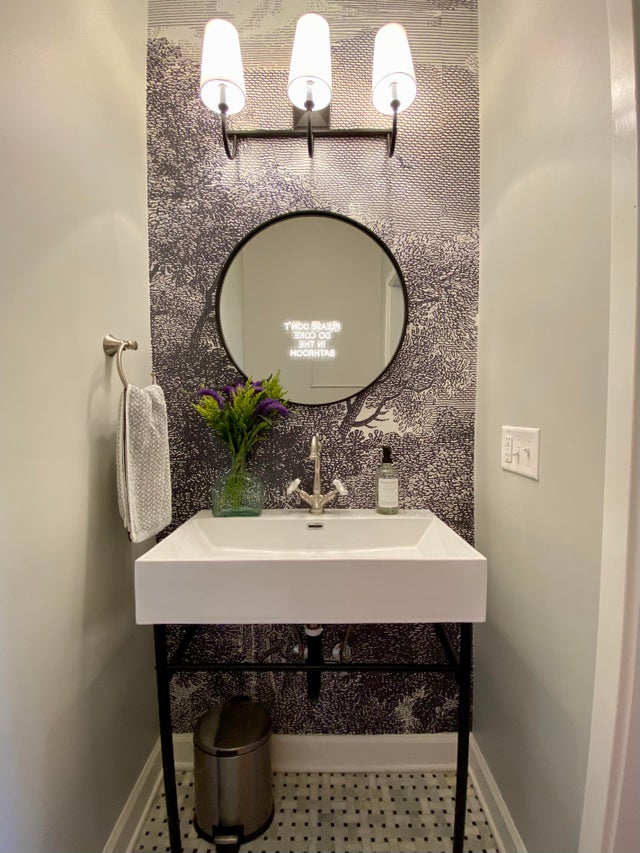 Powder room decor: How to change up the look of your bathroom
Redditor Mom102020 recently posted their powder room refresh to the r/HomeDecorating subreddit, and other Redditors were delighted. As you can see from the before and after pics, this powder room facelift didn't include new floors or any new tiles — but with a few smart choices, it looks completely different.
Invest in gorgeous wallpaper
Wallpaper has always been gorgeous in a powder room, but it's really having a design moment right now thanks to maximalist and grandmillennial trends. Mom102020 chose this York Wallcoverings option from Anthropologie, a gorgeous print that features towering trees in a graphite-hued forest. With wallpaper, there are endless possibilities in color, pattern, and theme (though we do love nature-inspired options like this one).
You can choose to wallpaper one wall like this powder room refresh, or cover every inch of space in your powder room for a dramatic touch. Best of all, with so many fantastic peel-and-stick options, you can change up the look easily.
Hang a bold mirror
Mom102020 switched out their old mirror for a new, more modern-looking one. The larger mirror helps create the illusion of more space in the powder room, and the simple, circular shape is both elegant and minimal. By switching to a simpler black frame, the mirror complements (and doesn't compete) with the new wallpaper. As powder room decor goes, a new mirror is one of the easiest and most inexpensive ways to refresh your space.
Upgrade your sink
Mom102020 replaced a dated pedestal sink with a more modern, rectangular version. While the sink is bigger, the old sink wasn't really creating more space in the bathroom anyway, and models like the one they chose still allow for storage under the sink if necessary.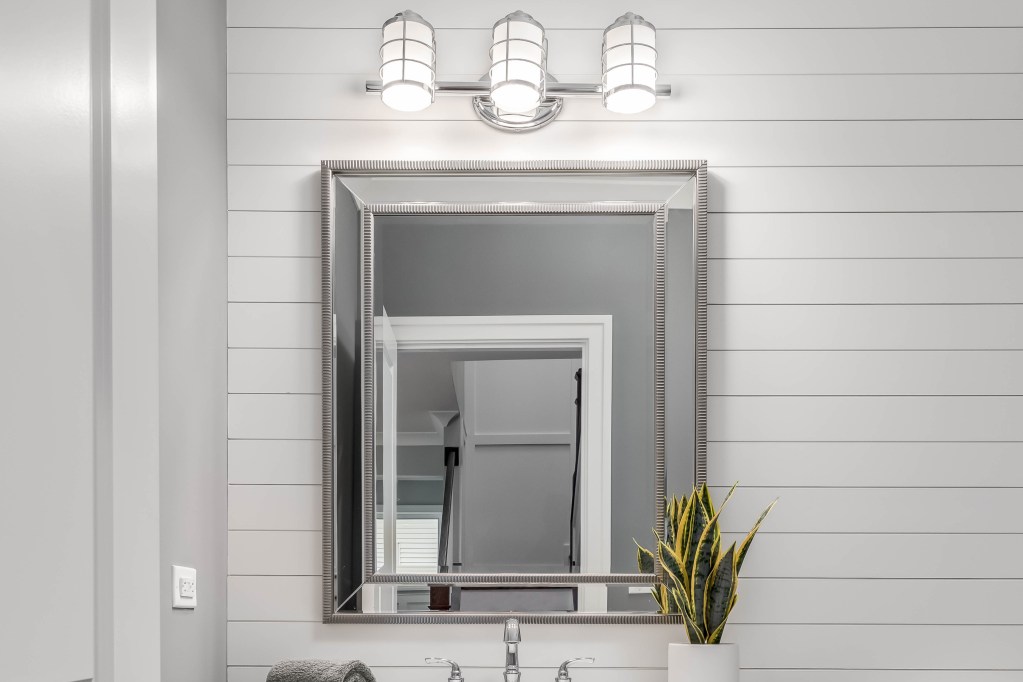 Change out your light fixtures
Mom102020 changed out their overhead lights to — once again — a simpler form — but the big hit with Reddit was the neon sign hanging over the toilet (which you can see in the mirror). Mom102020 identified it as this one, an LED sign that says "Please Don't Do Coke In The Bathroom," which they and other Redditors were quick to point out was a reference to The Real Housewives of Beverly Hills.
Little touches like this are a great way to inject a little personality into your powder room decor, whether it's a reference to your favorite TV show or movie, your love of vintage cars, or your favorite animal.
Add a plant
There are a lot of great reasons to add plants to every room in your home, but in this case, the purple blooms add a pop of color that play nicely with the gray in the wallpaper. You can further this by adding new towels in a similar (or complementary) color.
A powder room refresh doesn't have to be a full gut job, and there are plenty of ways to achieve a fantastic look with just a few changes to your powder room decor. With new wallpaper, light fixtures, a sink, a mirror, and some plants, you can create a gorgeous space.
Editors' Recommendations