We absolutely love the idea of wallpaper in a bathroom (or any room for that matter). Bathrooms are a perfect place for it because you can experiment and go a little bolder than in the rest of the house because it's a smaller space and one that should be playful and inspiring. It's where you get ready for work, relax in a hot bath, and get ready for a night on the town. That being said, before installing bathroom wallpaper, there are a few things you need to consider before purchasing or hanging anything. Here are a few things to keep in mind when deciding on the perfect brand and pattern for you.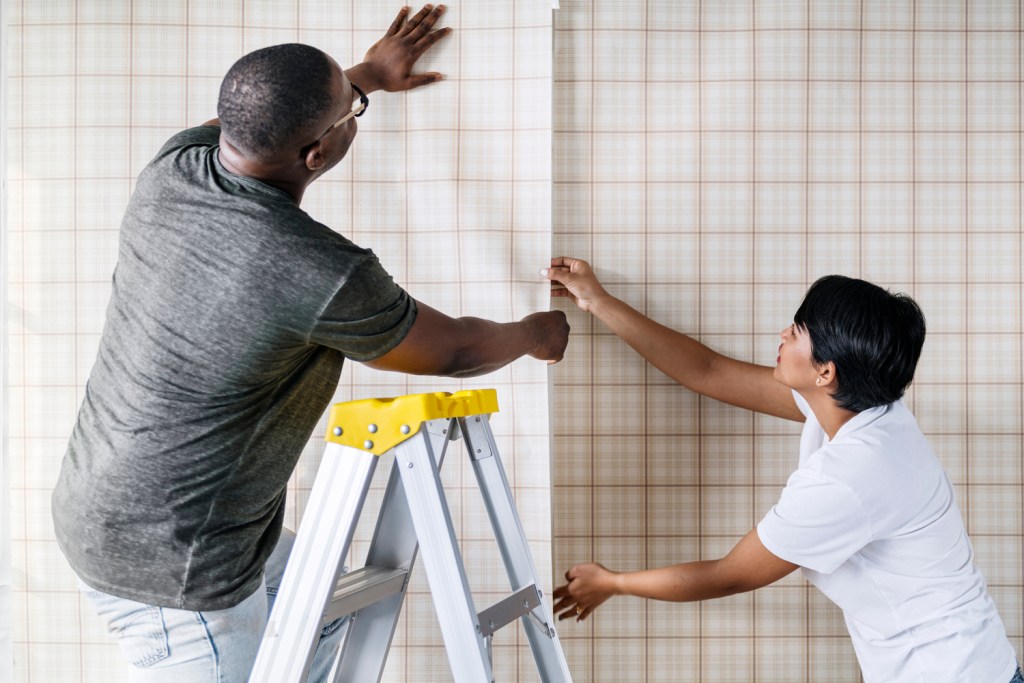 What type of wallpaper is best for bathrooms?
Bathrooms have a higher level of humidity than other areas of your home, so it's best to opt for solid vinyl fabric. This material is durable and easier to wash than any other type of wallpaper out there. If you're putting the wallpaper near a sink or shower, you can also find "splashproof" wallpaper to prevent water damage that can happen to the walls over time.
How can I help protect my wallpaper?
If you're planning to wallpaper the entire bathroom and it's near a sink or shower, be diligent about wiping off any water that splashes on it. To keep the wallpaper in good shape and prevent water damage or mildew growth, ensure the bathroom fan is running whenever you're running a bath or taking a shower.
For added protection, consider buying decorators varnish. Just brush a thin coat of the varnish on your wallpaper after it's hung, and it will protect your wallpaper from excess water and humidity.
What are some wallpaper ideas for inspiration?
We've scoured Instagram for inspiration on wallpaper ideas that look stunning in bathrooms both large and small. Whether you want to tackle the entire bathroom or just wallpaper a feature wall, here are some top trending looks for 2021 and beyond.
We are swooning over this small bathroom, adorned with wallpaper on the top of the wall and painted wainscoting on the lower half. The solid door and wainscoting also work to anchor the design so the walls don't look too busy with the patterns. Floral wallpaper is always a hit, but the blue paint in the rest of the space really brings out the hue in the flowers.
Another option is adding wallpaper to a small section of the bathroom, like this boy's bathroom. It's understated but works well with the gold metallic fixtures and can move from a toddler bathroom into their teenage years. It's a simple and easy way to create a memorable feature.
We can't get enough of this whimsical whale print wallpaper sold by Charlotte Gaisford. It's a lighthearted and unique way to decorate a child or guest bathroom, and the neutral tones would work well with many paint color options.
If you are going for a more elegant or formal look for your walls, check out this metallic wallpaper design from Marcarelli Design. It's understated but regal, and the floor-to-ceiling wallpaper makes for a truly showstopping room.
We love a black and white concept for a bathroom, especially if it's paired with a unique paint color like this mint green. This design from Into Interior Design incorporates a tree mural that is understated and delicate yet classic enough to work for a guest bathroom. We love it for a small bathroom because it draws the eyes up and out, creating the illusion of a larger space.
If you want to go big and bold, we recommend this nautilus wallpaper. It gives off the coastal style without being cliche or overstated. A theme like this works as long as you don't go overboard with matching sea life decor. When using a bold choice like this, less is more, so focus on accenting the space with neutrals and simple decor.
Wallpaper makes a big impact in a bathroom because you can be bolder with your choices than you would be in a larger room. Just be sure to do your homework and select wallpaper that will stand up to the conditions and not immediately peel or become waterlogged. This way, you can protect your investment and your aesthetic as much as possible.
Though hanging wallpaper is generally DIY-friendly, it's best to call in a professional to install it in a bathroom. This project requires a bit more know-how since there is so much involved in cutting around fixtures, behind toilets, and surrounding showers. The additional cost will be well worth it when you walk into your upgraded, luxurious bathroom.
Editors' Recommendations