When it comes to the bathroom, storage is everything. Ideally, there should be a place for towels, toiletries, bath items, medicines, and a host of other bathroom-related items. If you've ever tried organizing a smaller space, you know having multifunctional bathroom furniture can be a life (and space) saver. Luckily, tons of stylish and multifunctional bathroom ideas will leave your bathroom looking fresh and ensures you have everything you will need at your fingertips.
Having functional storage is also important if you share your bathroom with your partner or kids, which is never easy to do in a small space. With everyone getting ready in one central location, organization is the key to chaos. This is especially true in the morning when everyone is trying to get ready and out the door as quickly as possible.
We've done some research and came up with five items sure to impress in any sized bathroom.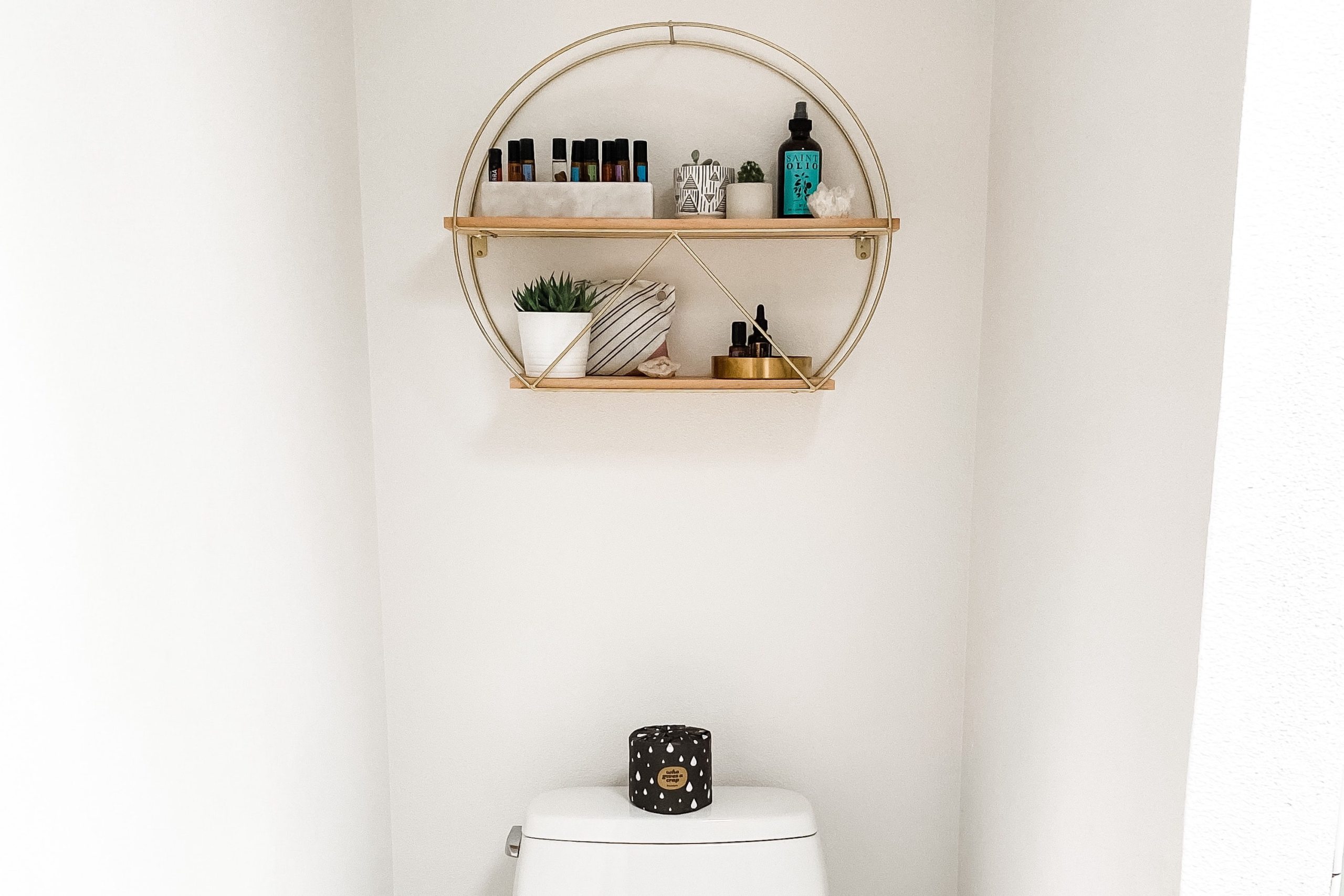 Over-the-toilet/behind the toilet storage
Creating space above your toilet is a great way to save space, especially if your bathroom isn't giant. This piece from Pottery Barn is equal parts adorable and functional. It's made of solid wood and has three shelves of different sizes with wicker baskets to hold towels, bottles, candles, and more. If you don't have space above the toilet, check out this narrow rolling storage cart from Wayfair. It comes with four shelves and is narrow enough to fit next to a toilet or countertop to give you added space for toiletries.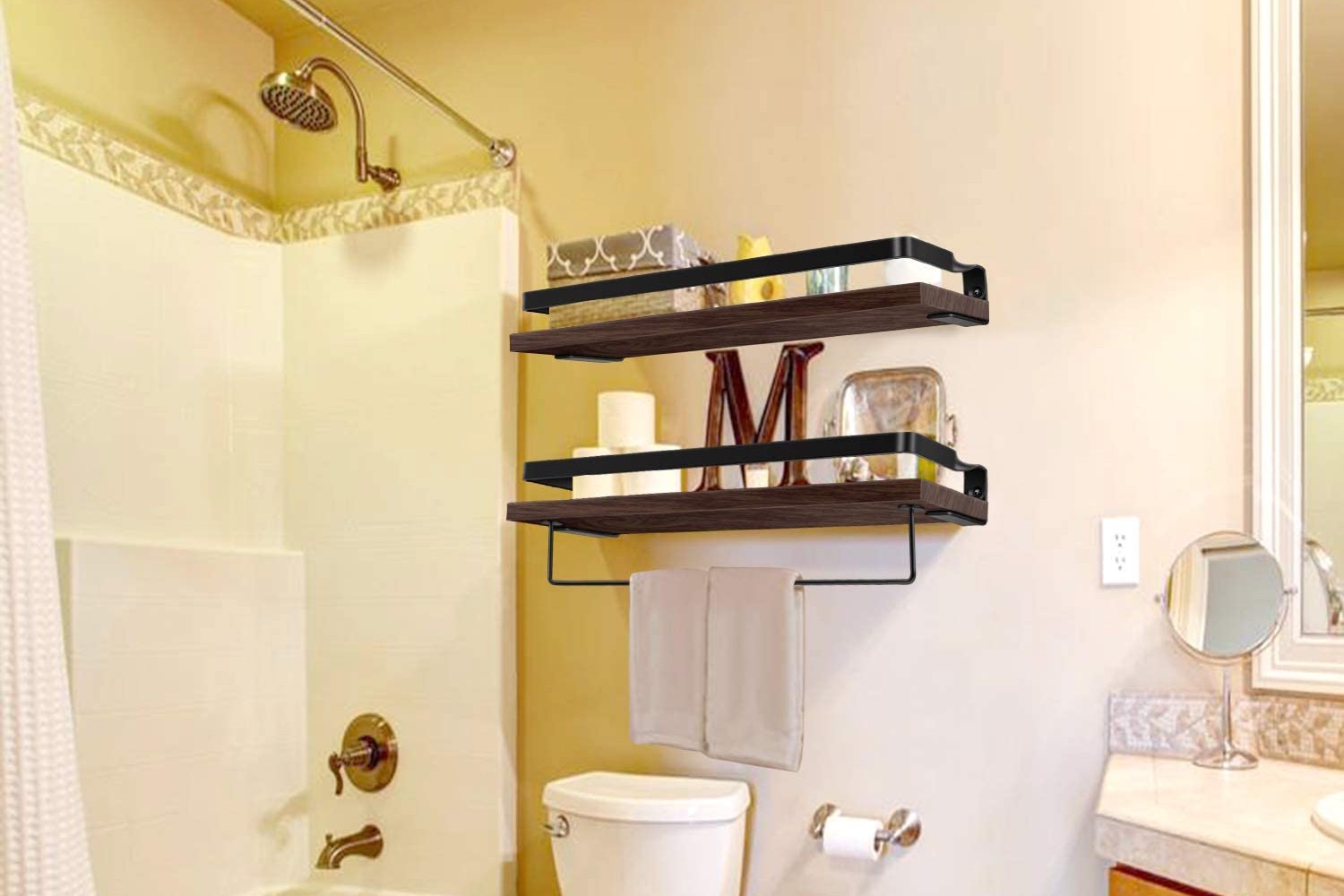 Hanging wall shelves
If you have a bit more wall space, these floating shelves from West Elm are ideal for storing containers and hanging towels all in one unit. The pieces are all sold separately, so you can design them around your space, giving you tons of options for hanging, folding, and storage. Using your walls to add more storage is a fun, functional way to create space where there may not have been before. Plus, you can add and remove depending on your needs and how they change over time (especially in children's bathrooms).
Cabinets
If floor space isn't a problem, this Urban Outfitters Etta storage cabinet comes in white metal and has a door that you can lock from the outside. This comes in handy if you need to store items like medications or other personal effects out of the reach of small kids. The cabinet also has a built-in USB port, so you can charge your phone or laptop while you're getting ready. This bamboo unit from Bed, Bath, and Beyond is ideal if you need a smaller cabinet. It comes with shelves inside, so you can stack hand towels, washcloths, and other items and close the doors if things get messy.
Why multifunctional matters
The bathroom is one space in your home that you want to get the most out of. Like the kitchen, it often contains many necessary items that you need to be able to access quickly and efficiently. The items above give you all that, and they're designed to look like a nice piece of furniture or wall art while providing you with room to store what you need. Some of us have an overabundance of products for our hair, face, and bodies (no judgment), and no one has time to go from room to room looking for what we need.
The bathroom should be a space that offers tranquility and relaxation. Seeing things piled all over the place because of lack of space doesn't have to be difficult to deal with. All of the items above give you a chance to store all of your essentials in an orderly way, so when you spend time getting ready, it's a pleasant experience.
These can all be easily removed and taken with you should you move homes or spaces, and if you outgrow one, you can find a space for it elsewhere in your home like your laundry room or kitchen—other spaces that can get unorganized if you aren't paying attention. Prices range on the above items from under $20 to around $300, so there are options for any sized budget. Happy shopping!
Editors' Recommendations