A powder room may be a small space in your home, but the decor and design choices you make can pack a big punch. There are so many unique and stunning powder room ideas depending on your design style, from modern to boho to farmhouse inspired. Here are nine half bathroom decorating ideas to consider when remodeling or redecorating your space is on your winter schedule.
Go maximalist
Don't let square footage get in your way when thinking about how to decorate. The true maximalist doesn't let space dictate design. For a powder room, this could mean bold wallpaper, a large metallic mirror, wall shelves with vases filled with soaps and lotions, and a luxurious rug underfoot.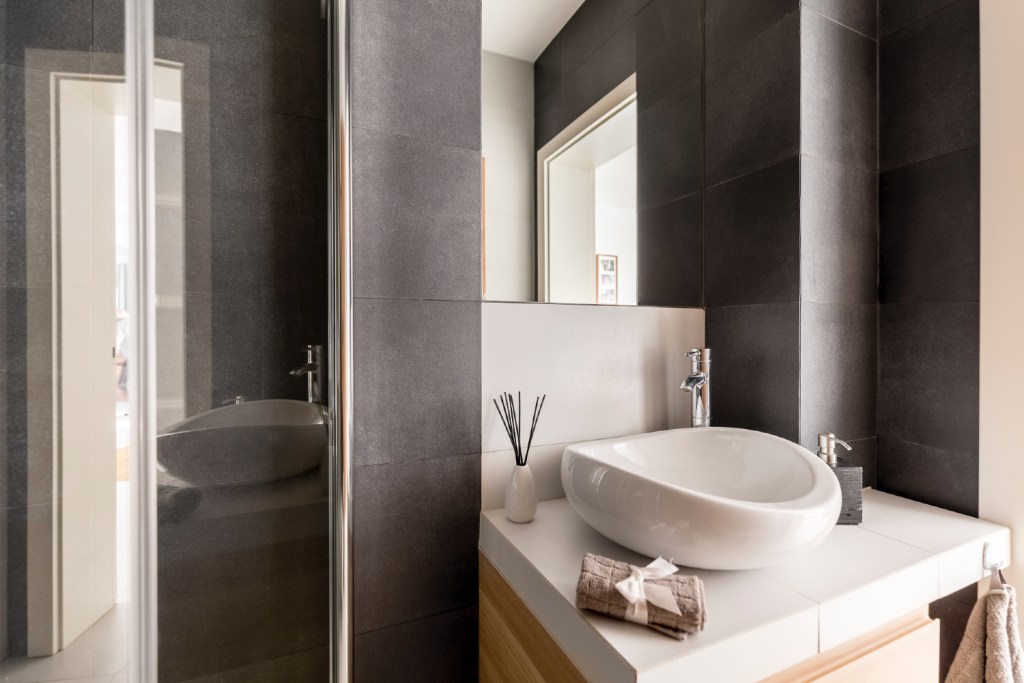 Use luxury accents everywhere
A small bathroom is the perfect place to go nuts with luxury items. This could mean a thick, vintage-inspired gold or brass metallic mirror, wainscoting on the walls, heavy metallic lighting over the mirror, or luxurious drawer pulls and faucets. In terms of flooring, choose a rich marble or statement tile that will impress any guest.
Draw the eye up
In a small bathroom, you want to use all the space you have. This means drawing the eye up and out, especially if you have taller ceilings in the powder room. You can achieve this by adding a tall mirror over the sink or vanity, like this brass one from Pottery Barn. You can also choose a large statement chandelier that gives off plenty of light as well as adds style and draws your eye in.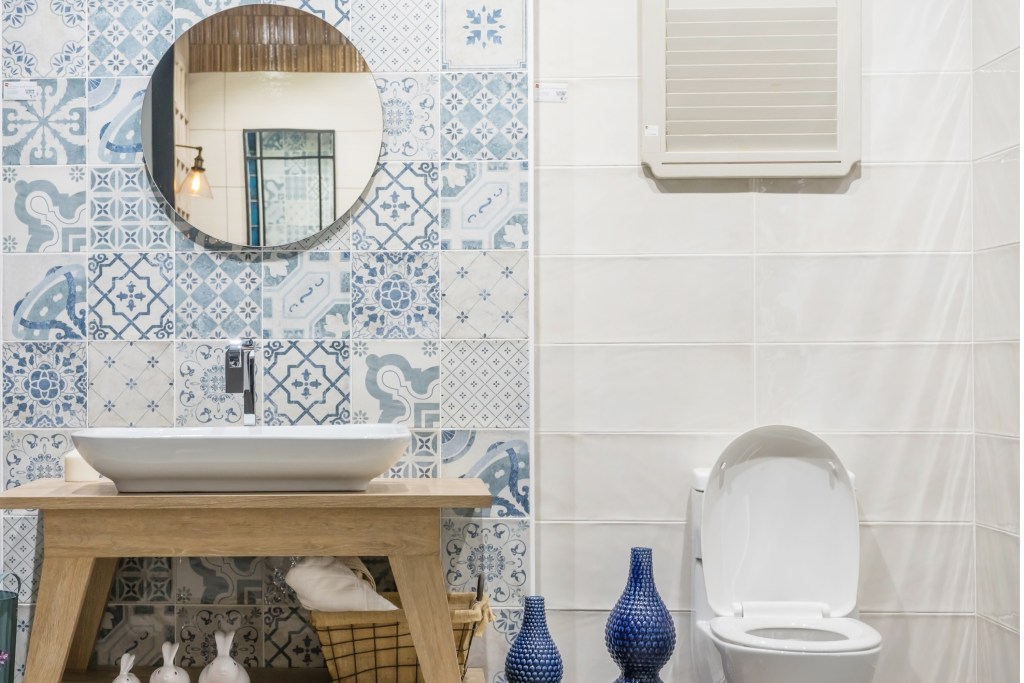 Consider a tiled wall
If you really want to make the most out of the space, consider tiling one wall. You can either use the same tile from the floor and bring it up or, if you have a wood floor, choose a patterned tile like this one from Tile Bar. Not only will it be easier to clean off any water stains, but it will create character and movement in your powder room.
Add a skirted sink
If you are really low on real estate and don't have room for a vanity, think about adding a patterned skirt to a pedestal sink. This offers a bit of charm and allows you to hide necessities like toilet paper and towels. This is a great option for a country or farmhouse-inspired powder room.
Offer a fun surprise
Powder rooms don't need to be boring. One way to give the room a little personality is to add an element you wouldn't expect to see. Add a built-in bookshelf to the corner, and fill it with books or decor. Add an expensive piece of art from a country you've recently explored. Let your imagination be your guide.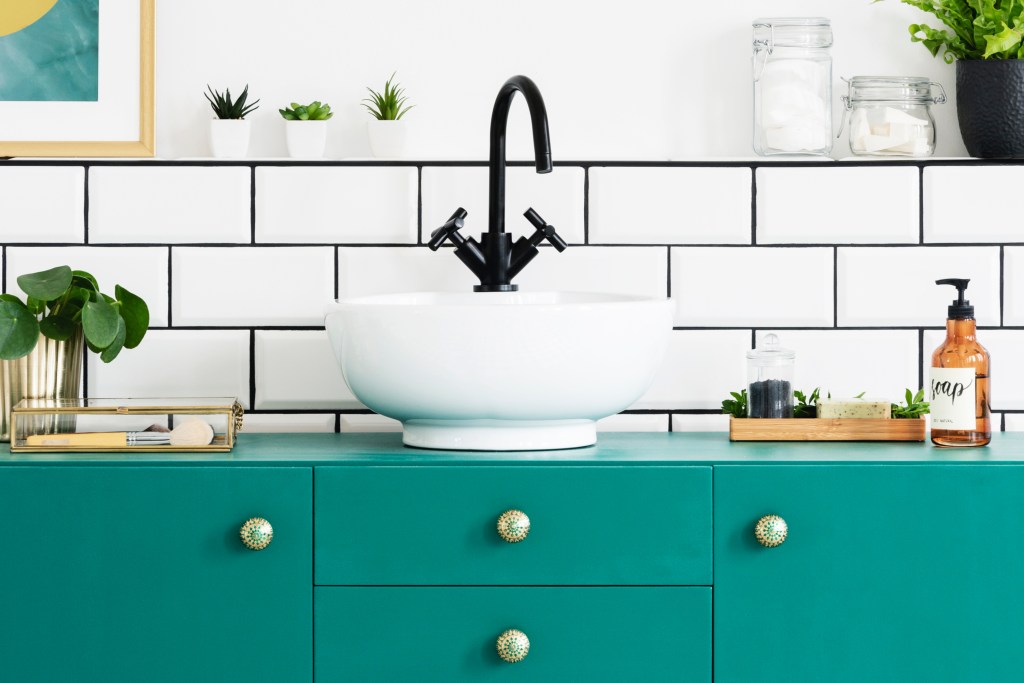 Pick a bold color
Powder rooms are the perfect place to go bold with color. Choose a blue vanity like this cobalt blue option from Wayfair (we love the gold hardware). Add a colorful vanity mirror or choose a pop of pink like this circular shag rug, also from Wayfair. You don't want to make it too busy, but adding one or two statement colors will turn the room from drab to fab.
Kick it back a few decades
Everyone has a favorite decade, so why not use the powder room to celebrate it? Find movie posters, memorabilia, and wall decor from that era to create a bit of nostalgia and character in the room. It's a fun way to pay homage to the past and entertain your guests.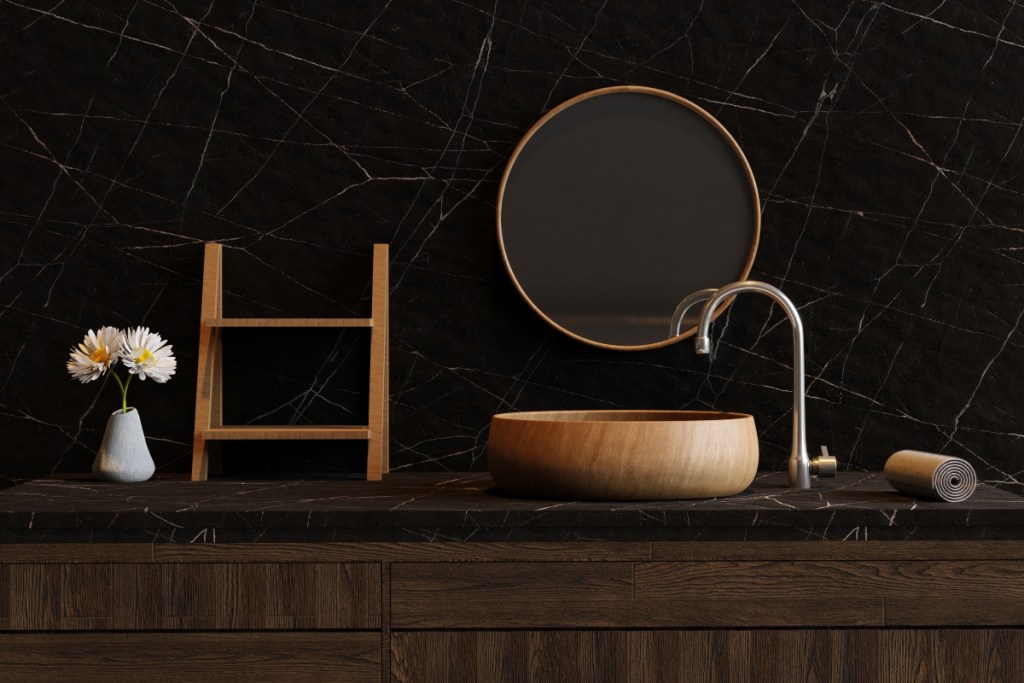 Transform the room into an apothecary
We love this idea to really bring the drama to a small space. To pull off the look, consider painting the walls black (if that's too dark, you could always add lighter beadboard to the bottom half of the walls). Then, fill vintage medicine cabinets with soaps, lotions, candles, and medicine bottles — the older, the better. Antique stores are the perfect place to find one-of-a-kind gems.
Because powder rooms don't have showers or tubs, they have space to add a statement vanity or elegant pedestal sink as well as walls to fill with character items that will draw the eye up and out. It may not be a ton of space, but that's the fun part of decorating a powder room. You really can't overdo it when it comes to decor, so find a theme that works for you and buy items around it. You can afford higher-end products like flooring, hardware, and wallpaper because it is such a small space, so go ahead and get started making your decorating dreams come true.
Editors' Recommendations