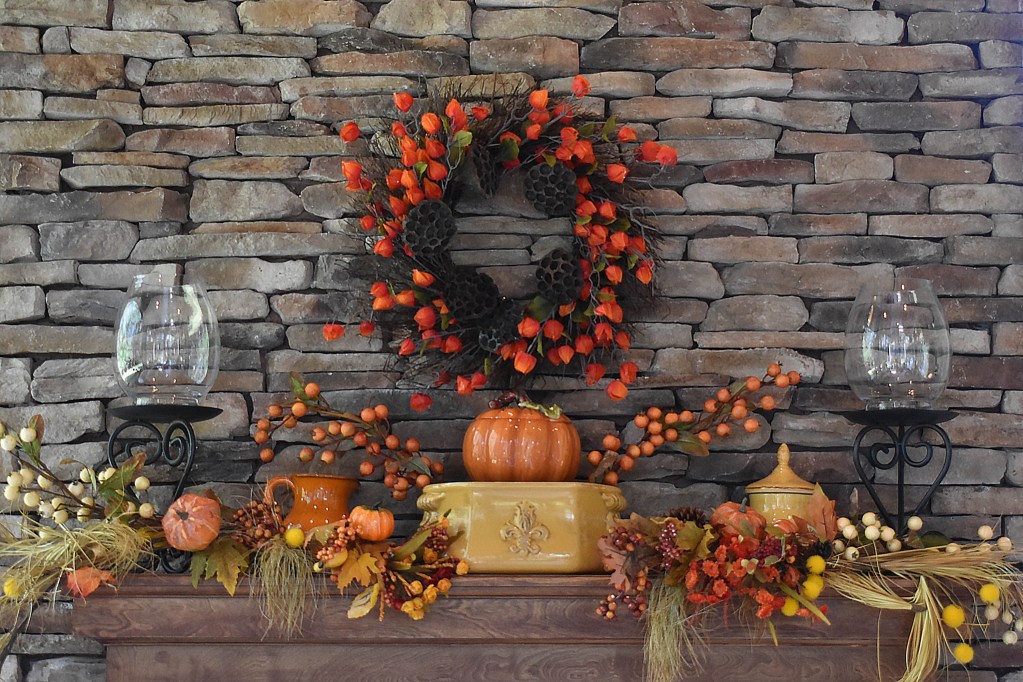 Fall is here, and that means it's time to decorate your living room in preparation for autumn's festivities. Whether you purchase your trendy fall decor prearranged or prefer to go the DIY fall decor route, you can bring the cool sweater season to life in your living room this year. Get ready for fall colors, trendy pumpkins, and autumn decor that will inspire.
These 10 fall living room decor ideas will help you reimagine your living space, filling it with seasonal favorites and personal touches. These ideas not only look great, but they'll also inspire all who enter your home to get theirs ready for all things fall.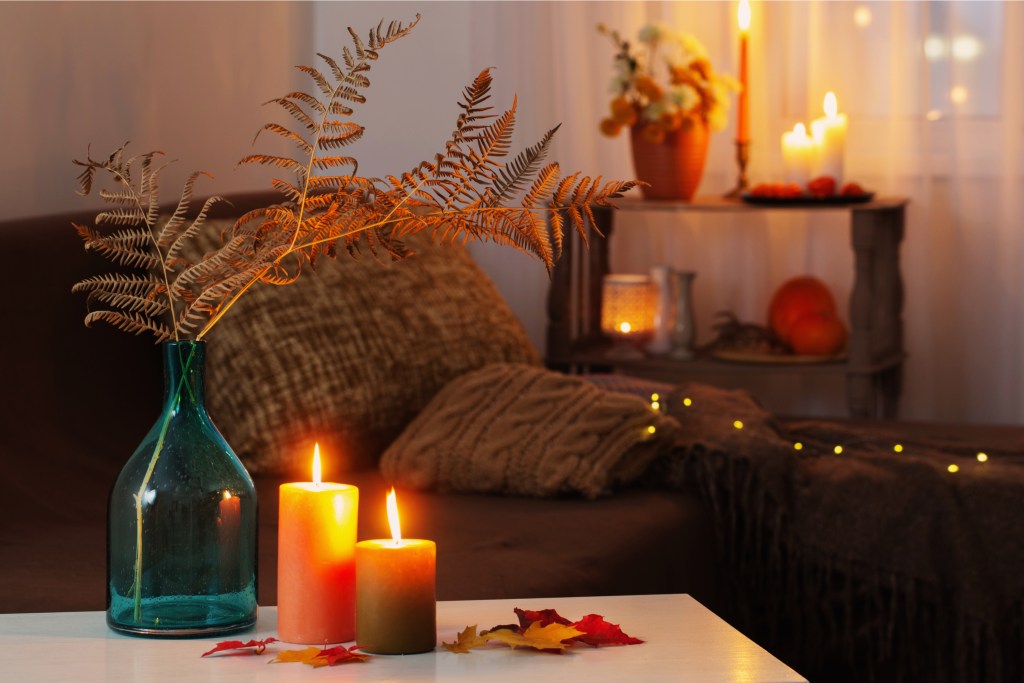 Create contrast
Everyone knows and loves the traditional fall reds, yellows, and oranges. There's no reason to stray from that palette entirely, but incorporating a surprising pop of color, like a navy blue, can prevent the space from looking too predictable. Contrarily, bright electric or neon blues may look out of place, so incorporating a muted gray or beige tone might also be just the touch you need.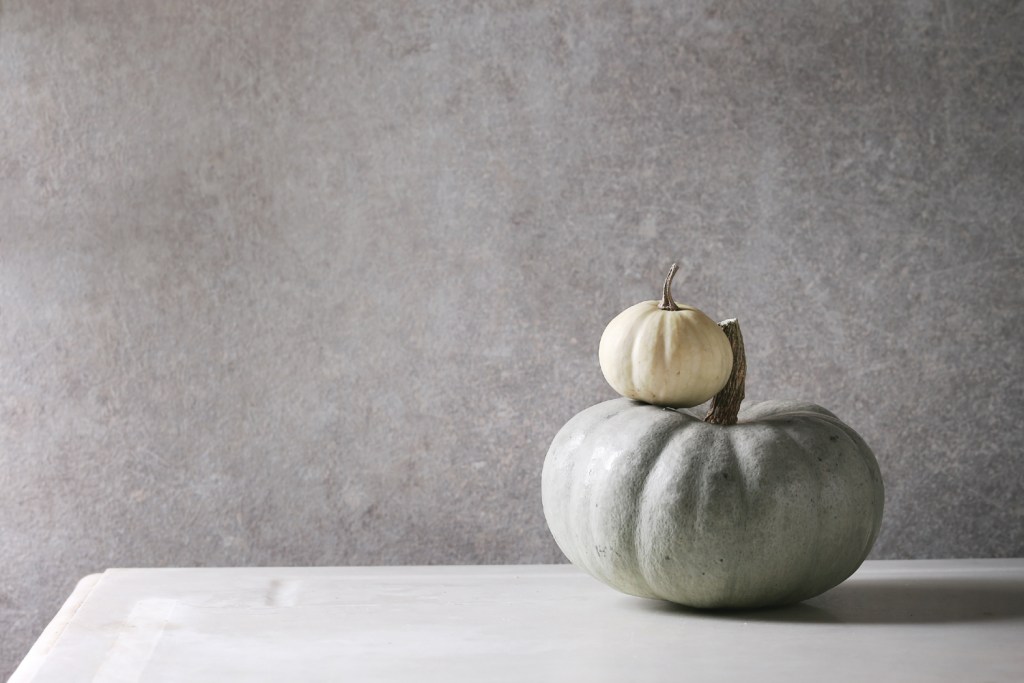 Minimalist design
You don't need your living room to be bursting at the seams with fall decor to celebrate the season. Adding a few small fresh pumpkins on a fireplace mantel, for example, can be enough to add a touch of seasonal excitement. There's no need to engage in a full-scale remodel every time you're looking for a change — sometimes, less is more.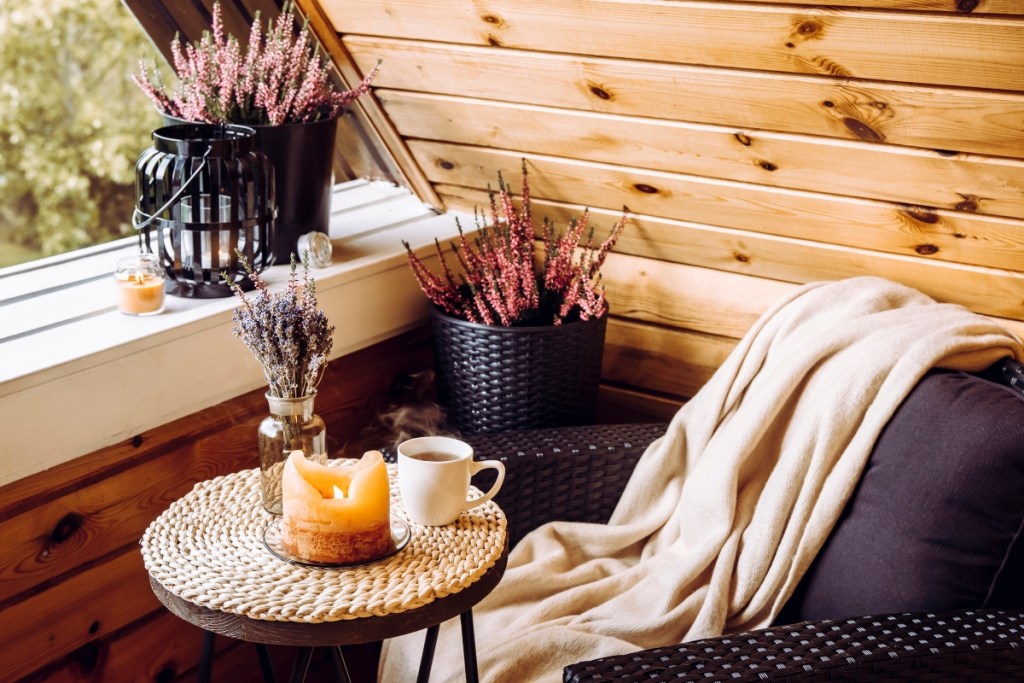 Time for the throws
The crispness of the fall air means it's time to break out the fuzzy blankets. Just picture yourself watching Sunday football and relaxing with the family, all while wrapped in this faux fur blanket from Pottery Barn. For a throw with a more explicit fall theme, check out this autumn blanket from Bed, Bath, and Beyond.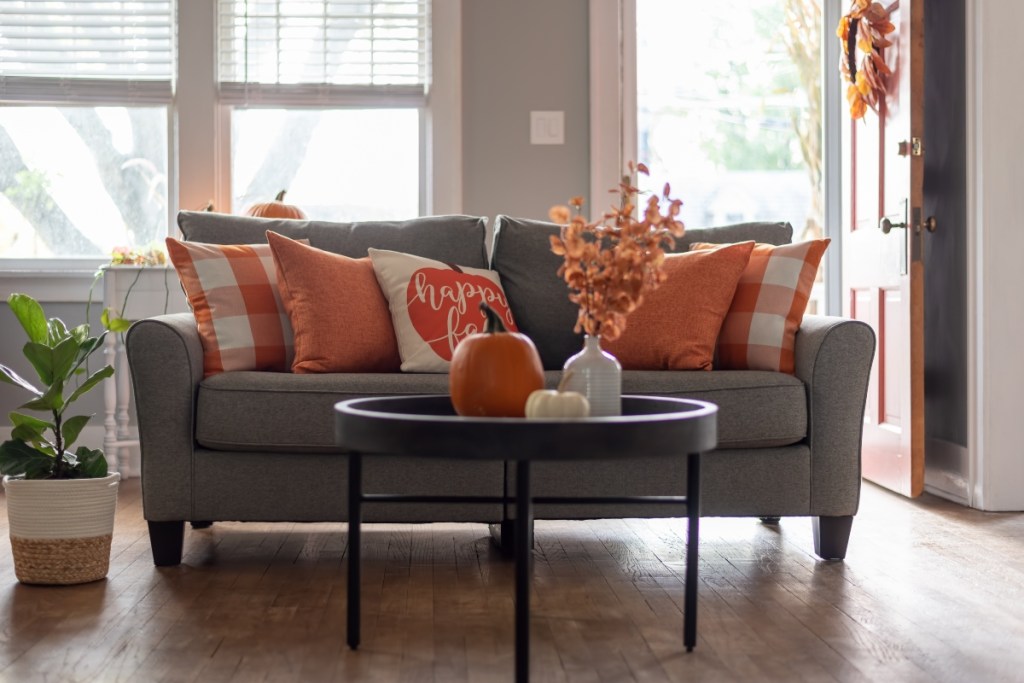 Printed textiles
Fall (and Halloween) bring a barrage of pumpkin-printed pillows, rugs, and other textiles that can make a living room pop. Target has an extensive Halloween decor section where you can find textiles in a wide range of colors, materials, and patterns, like this "Happy Halloween" pillow. If you prefer to avoid decor with sayings on them, there are plenty of textiles in festive hues or plaid that can celebrate the season.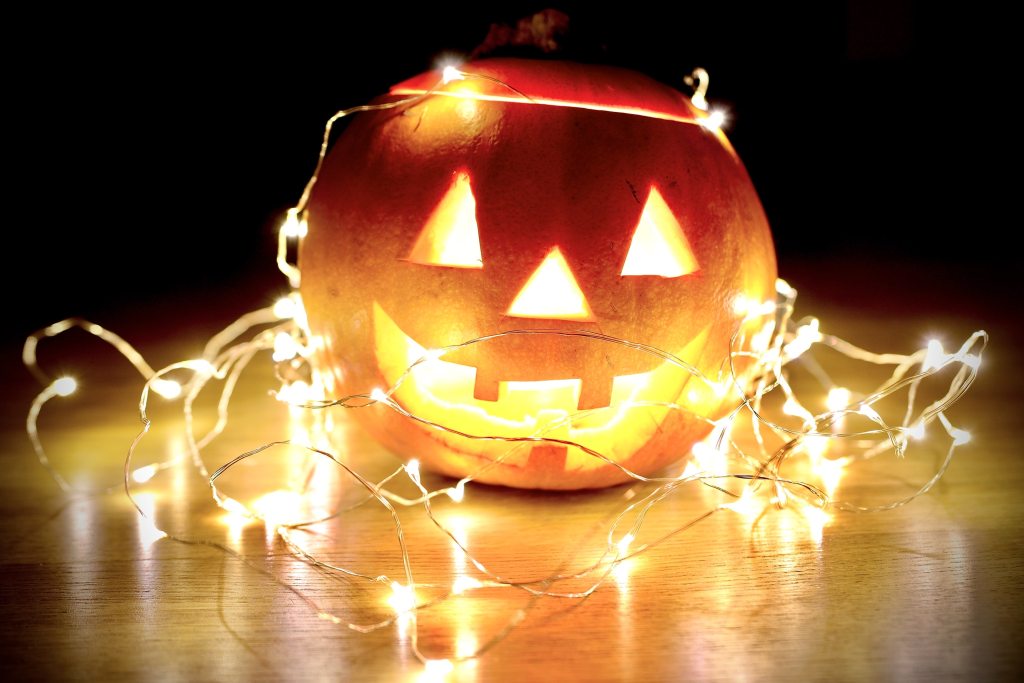 Bring on Halloween
If you're anything like us, you start planning for Halloween long before the first leaf falls. As you plan this year's scheme, check out Wayfair's rustic decor where you'll find spooky wall art like this Old Salem Brewing Company sign. To keep the witchy vibe going, consider adding a little fun to your bookshelf with this decorative spell book set.
Add fall scents
The most exciting home designs engage all of your senses, so don't forget to invest in candles that will fill your home with the best aromas of fall. Bath and Body Works' three-wick candles smell fantastic and have a long burn time. last forever. We recommend picking up an Old Fashioned Cider Donut or the Frosted Cranberry candle to make your living room smell like a quintessential New England bakery.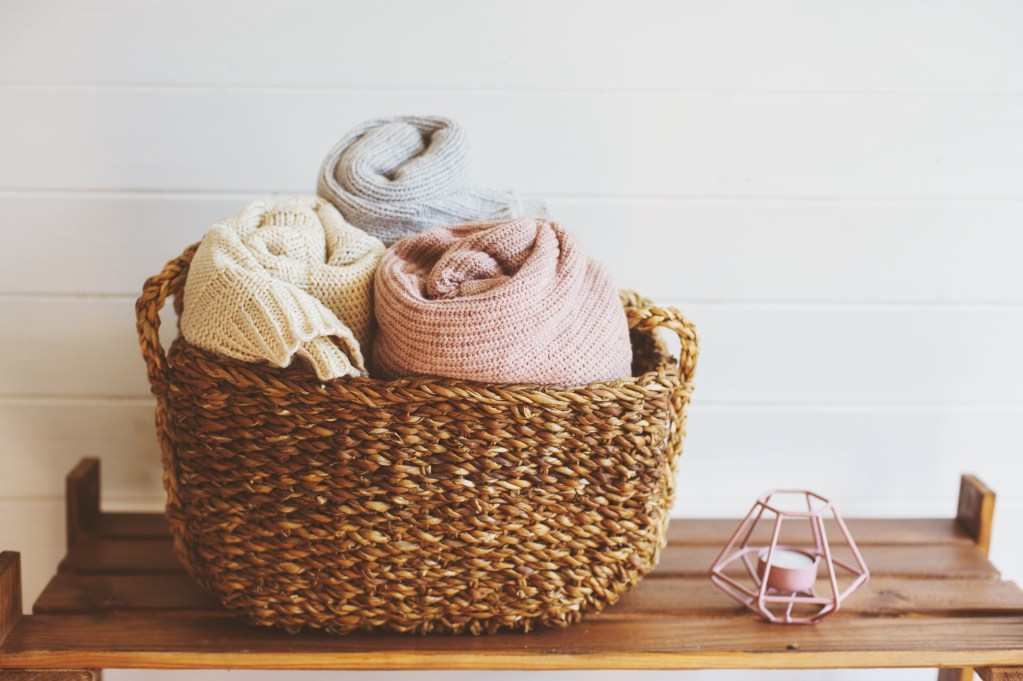 Cozy rules the day
When it comes to autumnal decor, cozier is better. Turn on the fireplace (or install one if you have the budget), or light up the fire pit on the back porch. If the temperatures outside are still too warm to turn on a fire comfortably, bring in the coziness through color. Repaint your living room with darker colors like slate blue and charcoal grey, dim the lights, and draw the curtains to create a moody alcove for watching a movie or chatting with friends over a glass of wine.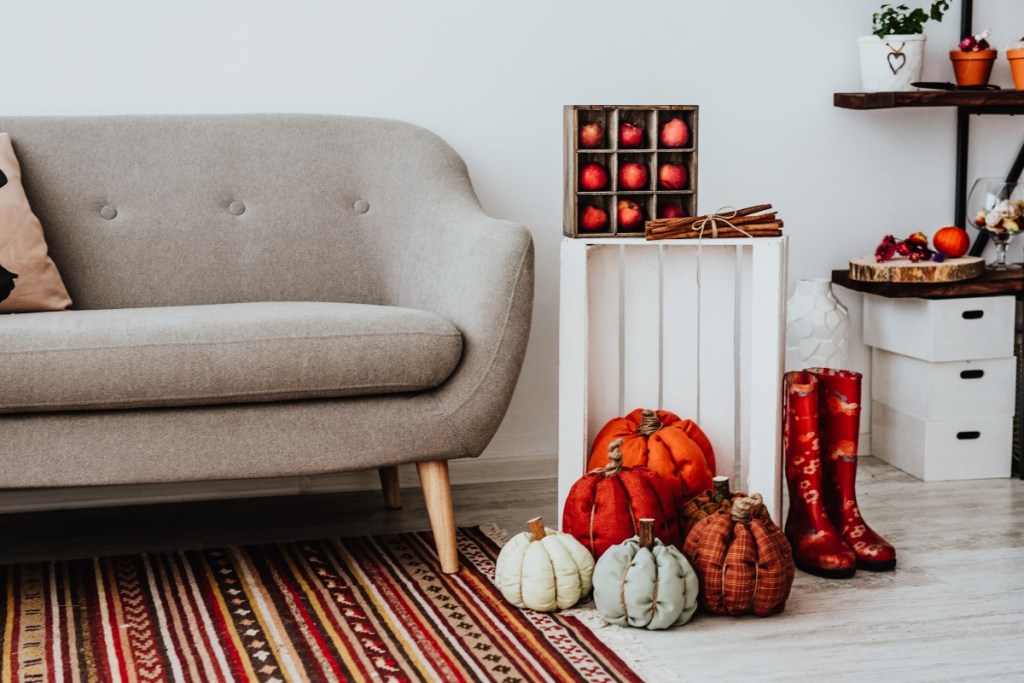 Play with height
When every piece of decor has the same shape, height, or texture, the room as a whole can start to look a little boring. Instead, make sure your pieces have variety, so add mini pumpkins next to pillar candles on the mantle or create a floral arrangement made of taller sunflowers and shorter chrysanthemums.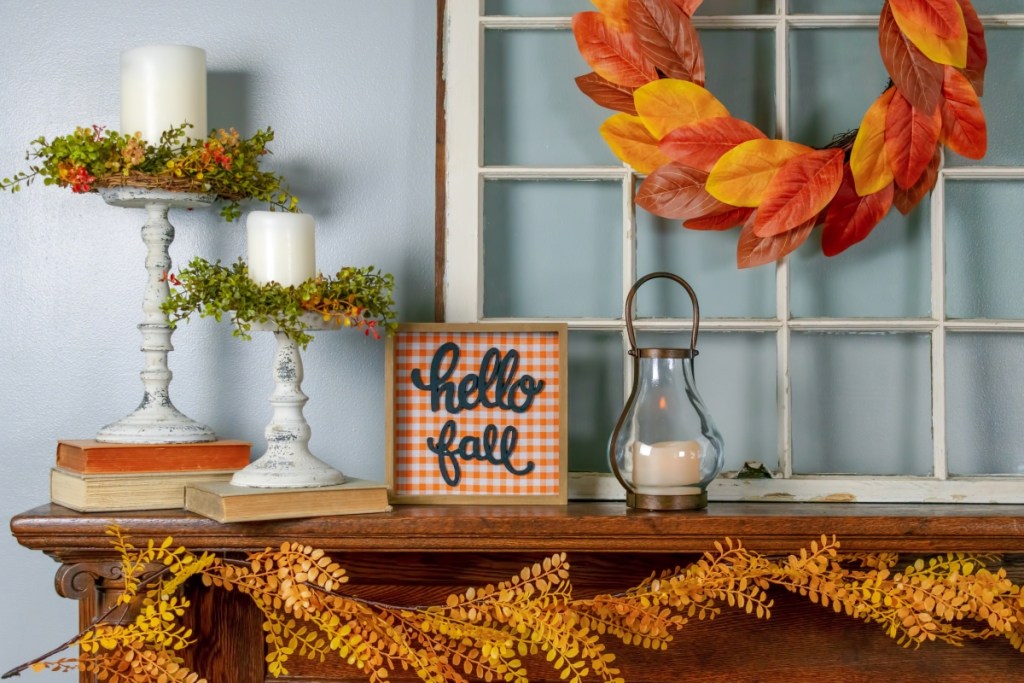 Make your mantel the focal point
The mantel is often the heart of a living room, so why not dress up your fireplace? Drape an ornate banner from one end to the other, add pumpkins and gourds intermixed with tea candles, and throw in a figurine of a witch, zombie, or ghoul for good measure.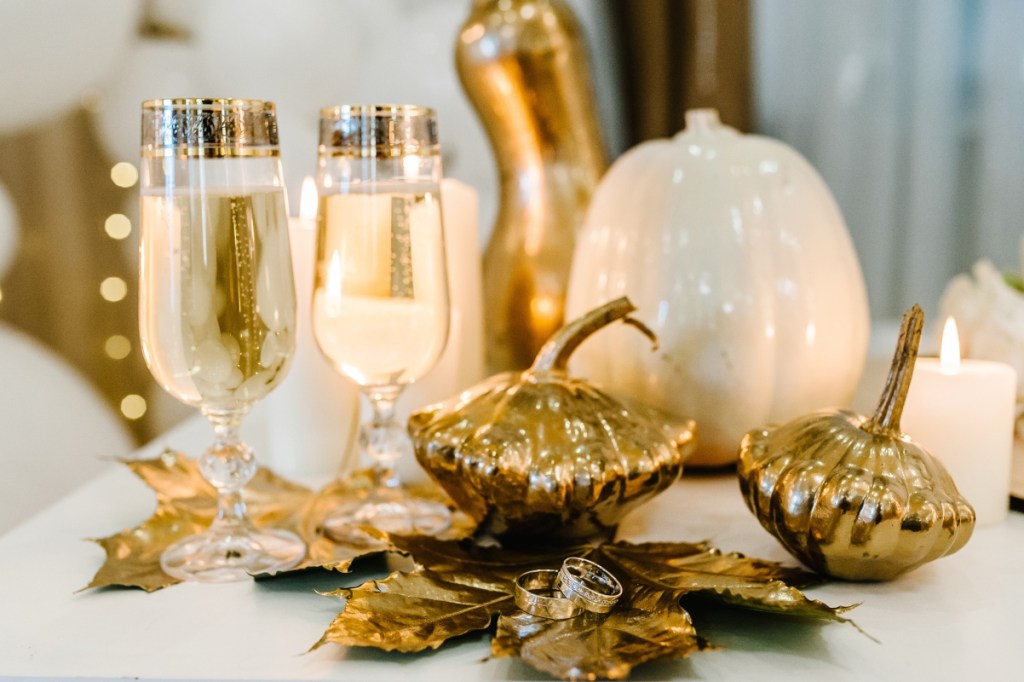 Monochrome for the win
We love monochromatic rooms, and fall is the perfect time to give it a try. Not only is it a classic and stunning way to make a statement, it always looks clean and fresh. Ivory in particular makes for a great monochromatic look, so consider repainting your decor and investing in off-white pillows, wall art, and rugs. Just be sure to incorporate a variety of textures and shapes to give the space some visual interest.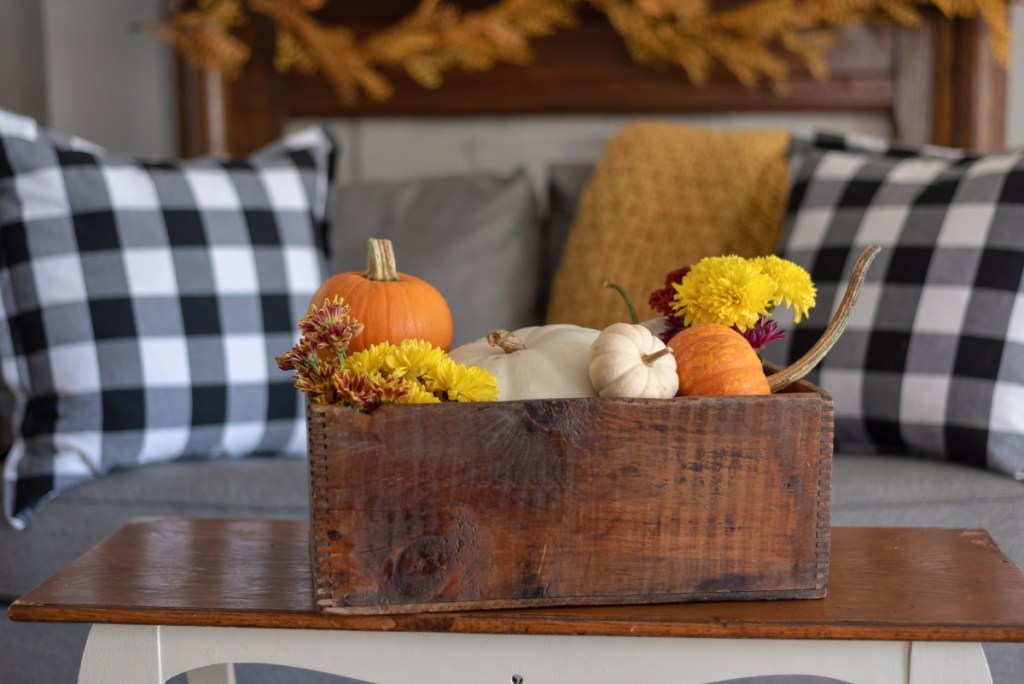 DIY fall decor ideas
Want to give your home a cozy fall vibe with a personal touch? Try out some easy DIY fall decor ideas! Grab some colorful leaves and pinecones to make a cute wreath, wrap twine around Mason jars for rustic candle holders, or get artsy by painting or carving pumpkins to show off your style. You can also string together felt or paper leaves for a festive garland. Don't forget to bring nature indoors — pop some branches, acorns, or dried corn in glass vases for a charming centerpiece. These fun projects will totally bring the warm and vibrant feeling of fall right into your home!
All these designs will create a warm and inviting space for you to sit back, watch the leaves turn, and let in the crisp fall air. Turn on a fun fall film (or a horror movie if that's more your speed) and snuggle up in your new, cozy space.
Editors' Recommendations