Grandmillennialism blends vintage aesthetics with modern pieces to create a uniquely curated style fit for homeowners looking to add a bit of charm and character to their spaces. While achieving the perfect look with this style can be tricky, we've spoken to an expert to find tips and tricks for successfully styling the grandmillennial bedroom of your dreams. Here are designers' absolute favorite grandmillennial bedroom ideas to help inspire you to create a vintage space that feels cozy and unique.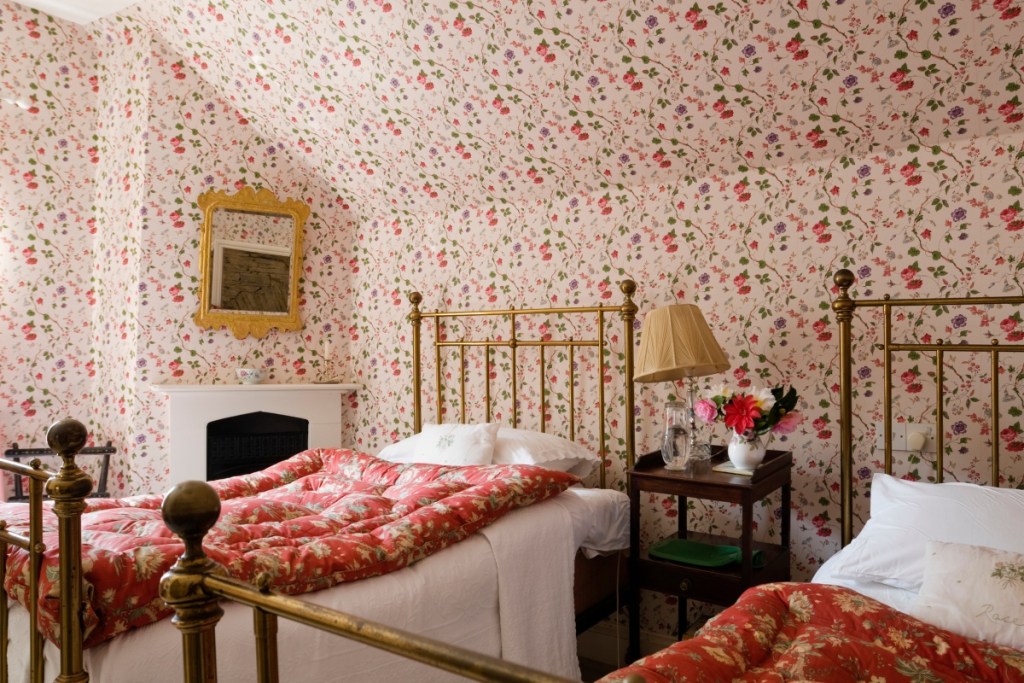 Include interesting focal points
Design expert Anna Franklin, an interior designer and founder of Stone House Collective, says one of the most important aspects of a successful grandmillennial bedroom design is interesting focal points. She suggests using "unique, vintage, or vintage-inspired pieces, such as artwork, lampshades, wallpaper, and window treatments" to create visual interest throughout your room. Grandmillennialism uses a variety of patterns and textiles, which can easily make a space look too busy. Without any feature pieces to help draw visual attention and create movement within the design, a grandmillennial-designed room could look cluttered and chaotic.
Ultimately, the goal is to create focal points — like an accent wall with fun wallpaper, a vintage dresser along one wall, or a statement art piece above the bed — to help break up the busy look of the space. In addition, Franklin encourages homeowners to consider using details like window treatments and lampshades to help create these focal points and to add depth to the room.
Create a vintage-inspired gallery wall
If you need inspiration for a great focal point in your space, why not try a vintage-inspired gallery wall? Gallery walls are back in style and can be a great way to blend modern trends with antique aesthetics to achieve the perfect grandmillennial design. Use ornate vintage mirrors, classic picture frames, portraits, paintings, and framed embroidered pieces to create a stunning grandmillennial gallery wall. This feature looks best above the bed or a vintage dresser to create an eclectic and personalized touch to the space. We also recommend mixing and matching sizes, frames, and neutral colors to create an asymmetrical look that feels authentically organic.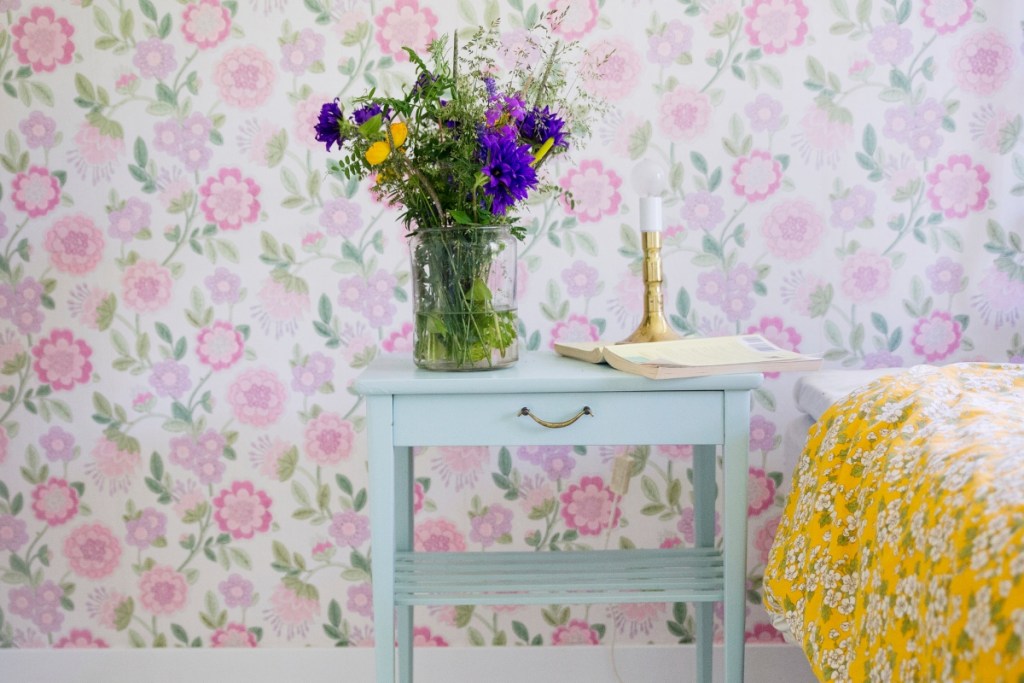 Use nature-inspired patterns
A popular trend in grandmillennial design is using nature-inspired patterns on wallpapers and textiles. Franklin said a great way to achieve a stunning grandmillennial bedroom design is to use "nature-inspired chinoiserie and botanical prints" throughout the space. We suggest using these fun botanical prints on wallpaper, bedspreads, vintage chairs, or pillowcases in the bedroom to add a soft, natural look. These nature-inspired patterns add an elegant and vintage touch to the space, perfect for grandmillennial design.
Franklin also said, "You will want the space to feel layered and textured" for a grandmillennial style.
"You can do so by incorporating different yet coordinating colors, prints, and fabrics into the space," she continued. Adding different types of botanical or nature-inspired prints throughout your space will create this layered effect as well as more dimension in your design.
Opt for light and airy colors
Grandmillennial design favors light and airy colors, so experts recommend that you stick to a more muted or pastel color palette to achieve the best look. If you're having trouble deciding on the perfect palette for your bedroom, Franklin offers a few ideas to help you home in on the grandmillennial aesthetic. She suggests using "a blue or green base with pinks, yellows, and purples added in through various prints."
In addition, she also warns against dark colors or monochrome color palettes, which could make your space appear too modern. Darker hues and vibrant patterns adhere more to maximalist aesthetics rather than grandmillennialism. So, opt for lighter tones like pastels for the perfect grandmillennial look.
Style needlepoint and lace fabrics
Fabrics are a crucial element of grandmillennial decor. You'll want to choose textiles that suit the style and add an extra layer of detail to your design. Franklin told us, "For fabrics and materials, I like to incorporate fun needlepoint (whether on pillows or as wall decor), linen, wicker, as well as scalloped edges and lace where possible."
Embroidered blankets or pillowcases, crocheted fabrics, and wicker baskets are a few items that would be fantastic decor pieces to add to your grandmillennial bedroom. Additionally, lace doilies across your dresser or nightstands can be a subtle yet elegant finishing touch for your bedroom design.
Grandmillennialsm blends modernity with vintage and antique-inspired designs that allow homeowners to create a nostalgic space that suits their needs. Curated with vintage furniture, plenty of patterns and textiles, and a pastel palette, grandmillennial bedrooms radiate sophistication and comfort. Be sure to try out some of these fantastic design ideas from the experts to bring grandmillennialism to your home in a unique and intentionally curated way.
Editors' Recommendations