The fall and winter months are the coziest of the year, as dropping temperatures inspire us to head indoors and nest in front of the fire. If you are feeling inspired to pursue all your ambitious living room painting ideas, there is no better time like the present. We spoke to some of the top interior design and paint experts who offered up their top color picks for fall-inspired wall paints.
Warm whites
Nicole Gibbons, interior designer and founder of direct-to-consumer paint brand Clare, the first Black-owned paint brand in the United States, explains that a warm white is anything but boring. "A versatile neutral palette will make your space feel cozy all year round," she points out.
Her pick? Whipped, "the perfect warm white" and Clare's No. 1 bestseller. "It's a go-to white because it's super versatile — it has just a touch of warmth and feels very inviting without reading too yellow," she points out. "And with subtle warm undertones, this color will help create a warm, welcoming atmosphere that promotes those feelings of comfort and cozy that we all crave." Her expert tip? After using a warm white paint in your living space, add pops of accent color throughout.
Beautiful bronze
Sherwin Williams recently dubbed Urbane Bronze the color of 2021, and it is an all-around beauty. "Our 2021 Color of the Year Urbane Bronze SW 7048 is a rich bronze that is the perfect color for a living room," explains Sue Wadden, director of color marketing at Sherwin-Williams. "Rooted in nature, Urbane Bronze conveys a sense of comfort, calm, and stability, and it is ideal for creating a sanctuary space for cozy fall nights in! It's extremely versatile – you can use it on all four walls and the ceiling to create a cocoon-like feeling or use it as an accent on a fireplace to make a bit of a statement."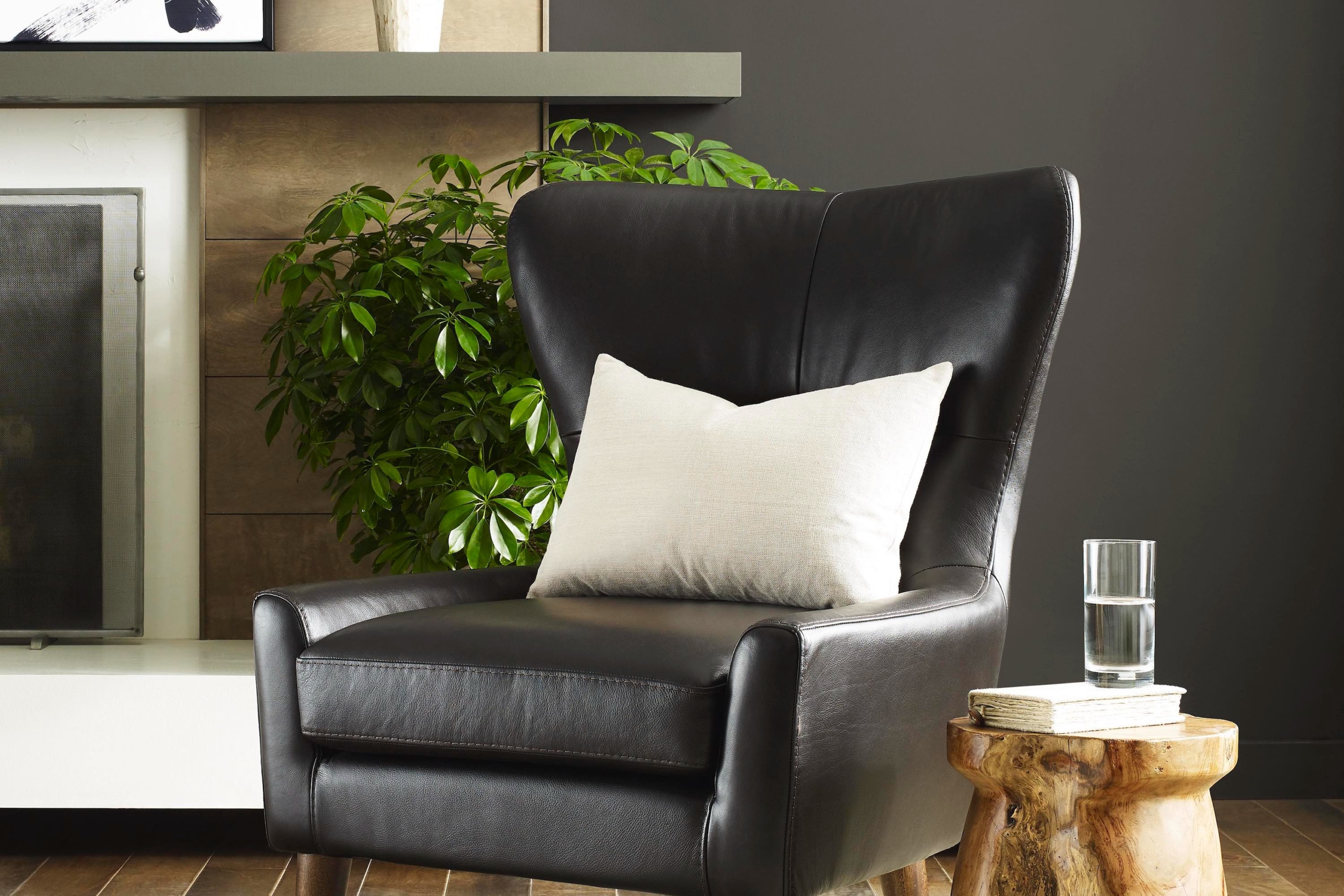 Vibrant curry
There's nothing like a savory and warm curry on a cool fall or winter evening — and the same goes for your walls. "Sherwin Williams' Curry is a deep, rich golden yellow that gives me all the good fall feels. It's definitely a color not for the faint of heart in terms of using it in a major way in a space, but it also works so well as an accent to other colors. It looks particularly amazing with earthy greens, purple, and burgundy," explains Shavonda Gardner of SG Style.
Moody greens
Green is one of the hottest paint trends of the season, making an appearance everywhere from kitchen cabinets to living room walls. "Color is a great way to bring warm, comfy vibes into your home," Gibbons says. While the idea of a dark color may sound intimidating, she maintains that she is seeing customers become a lot more adventurous when it comes to color, opting for darker, moodier colors with a lot of personality. She suggests Clare's Current Mood, "A bold, moody green that's one of our bestsellers and one of our most-loved colors on Instagram." She adds that Current Mood is the polar opposite of the "safe neutrals" people tend to gravitate toward. "It's a rich, sophisticated color perfect for bringing drama to a small space such as a powder room or even a bedroom."
Rich burgundy
If you are feeling like adding some bold, rich, intense color to your walls, you should consider a purply-red. "Sherwin Williams Burgundy is a beautiful deep red/plum jewel tone with purple undertones. It's the perfect fall paint color for those who want their living rooms to feel moody and cozy, yet sophisticated," says Gardner.
Warm greiges
"Fall is a time for warmth and cozy vibes," Anita Yokota, an interior designer and licensed therapist, explains. "If you want the perfect greige but don't want something too brown, Sherwin Williams' Origami White has an almost mushroom tone, but it is still white! It is the perfect backdrop to autumn tones of oranges, yellows, and reds that you can use with rugs, pillows, throw blankets, and art!"
Holiday inspired hues
Michele Harnish of JH Wall Paints suggests dressing your walls in festive colors. "Fall is the perfect backdrop to the anticipation of the cheerful holidays, so what better way to celebrate than with warm, autumn paint colors. Refreshing your walls for the season is a way to awaken your holiday spirit," she says. She suggests deep teals, forest greens, gold, deep purple, and burnt orange. "These amazing hues of color create an exhilarating eagerness of the change of seasons. Cooler weather, hot chocolate, and pumpkin pie await in a room painted in these warm fall colors."
Dark oxblood
Eleanor Trepte, one half of the design firm Dekay & Tate, is a big fan of using the darkest hues of a color for fall. One of these? Oxblood, "an awesome option that will radiate a lot of character."
Warm browns
While brown walls sound drab, a warm, mushroom-hued neutral like Benjamin Moore's Stardust can create a cozy and inviting space.
Sage greens
For a restful hue that evokes a cool and crisp feeling, you can't go wrong with sage. Benjamin Moore's Dry Sage is an earthy tone that floats between neutral and green.
Editors' Recommendations