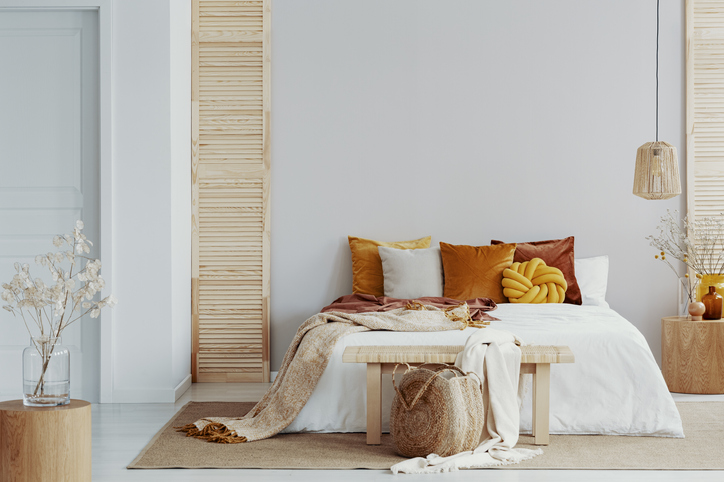 Wicker is a perfect way to bring natural elements indoors, especially if you don't (or can't) deal with live plants. Since natural elements are having a moment in home design, wicker is a perfect addition to furniture, decor, and lighting. It's also got a long history, clocking in as the oldest furniture-making method in history.
Typically, wicker is made from plant-based materials like seagrass, bamboo, or rattan, and the colors and texture make it popular in home design. Here are some of our favorite uses of wicker and how to incorporate them into any style of home.
Wicker as decor
If you're new to wicker and don't want to commit to a large piece of furniture, accent decor is a perfect way to introduce it. We love wicker baskets that house blankets or toys (especially ones that come with a lid to hide when guests come over).
You can also add smaller wicker bins on shelves in a living room or bedroom or add them to walls via wicker hanging baskets like this from Pottery Barn. If you like dried plants or flowers, you can also use items like wicker vases or wicker picture frames added to a large bookcase to bring nature in.
Wicker as lighting
Wicker lighting is gorgeous because it amplifies light and creates a cozy atmosphere in any space. Crate and Barrel has a in light, dark, and black wicker to use as an over-the-island option in a kitchen or in a primary bedroom over a bed. You can also find gorgeous candle holders in wicker, like these from West Elm, which cast a homey light in a bathroom or living area.
Wicker as furniture
We often see wicker used in outdoor furniture, but it can (and should) be used indoors as well. We love wicker used in furniture like headboards, four-season porches, end tables, and as accent chairs around a dining room table, as well. We love from Wayfair because the fabric comes in multiple colors, and they have a midcentury modern feel that's always on trend. You may also from Grandin Road for a reading nook, library, or office to add natural elements to an otherwise boring room or space.
Wicker is a versatile, cozy, and easy way to begin to introduce more natural elements into your home. It also works with any style of home — from farmhouse and modern to midcentury and boho chic. There are tons of options for color, shape, and size, so you can start small with a frame or basket or go all out with a king headboard or oversized chair for reading your nook. The possibilities are endless, so go forth, shop, and bring some wicker into your home today.
Editors' Recommendations