Once you've baked your beautiful angel food cake, it is important not to remove it from the pan until it is completely set. This dessert is so delicate to make that having the correct pan is a true deal breaker to your success. With a good tube pan by your side, you will achieve a culinary masterpiece that you'll be proud of.
With its airy texture and delicate flavors, angel food cake is a crowd-pleaser that goes well on its own or when topped with strawberries and whipped cream. Using the correct pan is the secret to creating a golden-brown cake that rises high and delivers the delicate flavors that your friends and family will love. Let's take a look at our favorite angel food cake pans that give your cake that characteristic shape.
Nordic Ware Angel Food Cake Pan
Best overall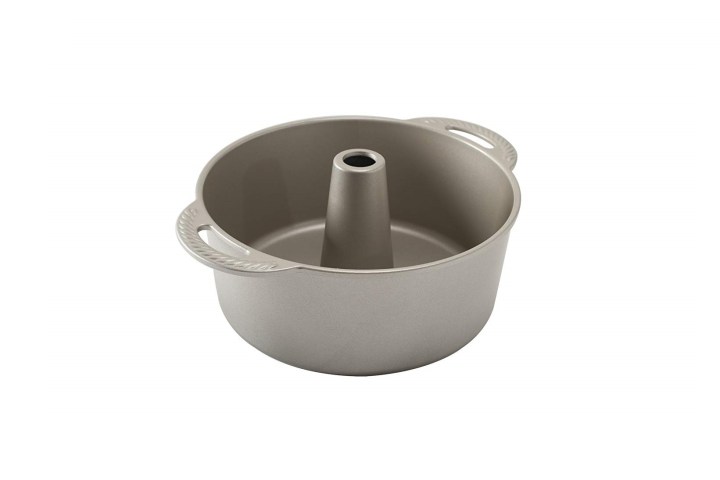 The Nordic Ware Angel Food Cake Pan is a large capacity baking pan that creates delicious desserts which require room to rise. Made from durable cast aluminum, you can count on even heat distribution that allows your angel food cake to cook perfectly. With a nonstick interior, your cake will slide right out of the pan when ready.
Chicago Metallic Angel Food Cake Pan
Best two piece pan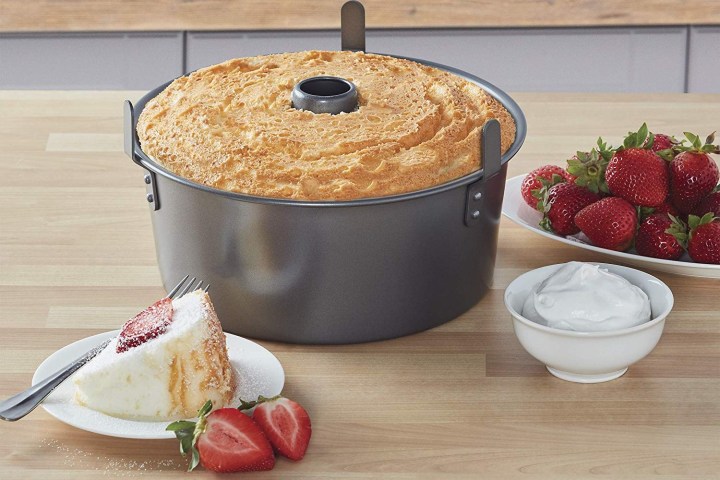 There are cases when it takes two to make things perfect and angel food cakes are no exception. The Chicago Metallic Angel Food Cake Pan is a professional, 2-piece cooking tool that takes baking to the next level. Perfect for bakery chefs or amateurs, this tool makes it easy for you to remove your angel food cake from the pan without ever having to worry about it sticking.
Chefmade Mini Angel Food Cake Pan
Best for mini angel food cakes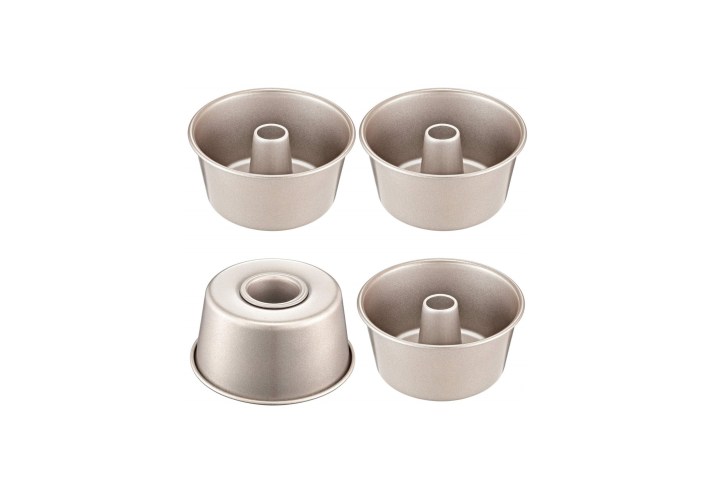 The Chefmade Mini Angel Food Cake Pan features 4 baking pieces with food-grade silicone coating with no harmful chemicals. Bake in the perfect individual size with less oil for the fluffiest and lightest angel food cake.
Angel food cake is one of the most popular yet challenging cakes to make. But with the right baking pan from our list, you can easily create an impressive dessert that will make you and your guests feel like you're in heaven.
Editors' Recommendations