Avoid a flimsy and collapsed angel food cake using the perfect tube pan to fit your needs. Pick one of our carefully curated options and you are ready for baking greatness. Get creative with your cooking and explore the possibilities with the different models available in this list.
Unlike traditional baking, angel food cake has no chemical leaveners like baking powder or soda. Instead, it relies on air and steam to rise. That's what creates the fluffy, cloud-like cake full of flavor we all love. As the cake bakes, the batter expands and climbs up the walls of the tube pan. All of our recommendations are sure to provide support to allow the cake to bake evenly.
Wilton Premium Fluted Tube Pan
Best tube pan overall
If you're looking to upgrade or replace your old baking pan, the Wilton Premium Fluted Tube Pan is a great option. Made of top-grade steel, the fluted design allows for even cooking and easy release; plus, you get unmatched quality backed by a 10-year warranty. Get perfect results every time with this classic piece of trusted cookware.
Nordic Ware Platinum Anniversary Bundt Pan
Best looking tube pan
Nordic Ware is synonymous with the Bundt cake, and their Platinum Collection Anniversary Bundt Pan is a celebration of the first 60 years of producing the standard in professional baking pans. It closely replicates Nordic Ware's first cast aluminum pan for superior results. The design is certainly nostalgic and elegant with a premium gold non-stick interior for quick release while the exterior ensures uniform browning thanks to an advanced heat-reflective, silver platinum coating.
Wilton Elite Mini Fluted Tube Cake Pan
Best tube pan for mini cakes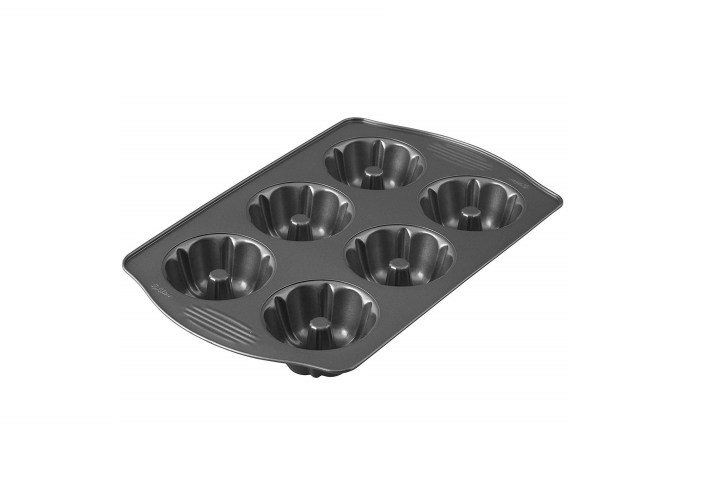 There are very few treats as cute as an individually sized, spongy cloud of sugary goodness. With the Wilton Elite Mini Fluted Tube Cake Pan, you can make everyone feel special and give each one their own cake. With heavy-duty steel construction, a non-stick surface for easy release, and a full decade of warranty, you'll surely make your mini-cakes a legendary tradition.
Add angel food cake, Bundt cake, and other spongy baking goods to your recipe book with these diverse and reliable tube pan suggestions. We are sure that your loved ones will be thankful you did. Coffee and cake at your house just got a whole lot better.
In addition, check out our list of the best baguette pans you can find in the market.
Editors' Recommendations