Give any sandwich you make an artisanal flair with home-made baguettes. Look for a crispy crust and creamy-colored insides with big and small holes in the risen dough. Finally, close your eyes and take in that unforgettable smell of fresh bread that makes you reach out for the loaf, tear off a piece and take a bite.
This long, thin french bread has been the staple of experienced bakers for a long time. Join the ranks of bread makers and enjoy a freshly made baguette with butter every morning thanks to these incredibly well-designed products. You'll be baking them so often that you will want to break out a good bottle of wine with cheese to share with friends and family.
Chicago Metallic Perforated Baguette Pan
Best baguette pan overall
Experience the ultimate professional baking experience at home with the Chicago Metallic Commercial Baguette Pan. Achieve crispy, golden-brown bread every time and bake two loaves at the same time for family dinners and parties. The perforated design allows the air to circulate freely around the fresh dough, creating an all-around crust.
RBV Birkmann Mini Baguette Baking Tray
Best pan for mini baguettes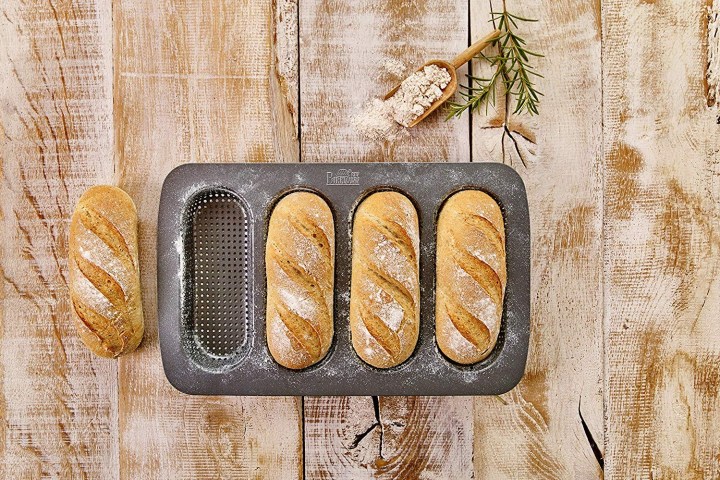 Bake a whole batch of four handmade fresh baguettes in one round with the RBV Birkmann Mini Baguette Baking Tray. Its perforated design allows for moisture evaporation and even heat conduction for golden mini-baguettes. Built to last with carbon steel and heat-resistant up to 446 degrees Fahrenheit, this baguette pan produces irresistibly crispy results every time.
Amagabeli Nonstick Perforated Baguette Pan
Best heavy duty baguette pan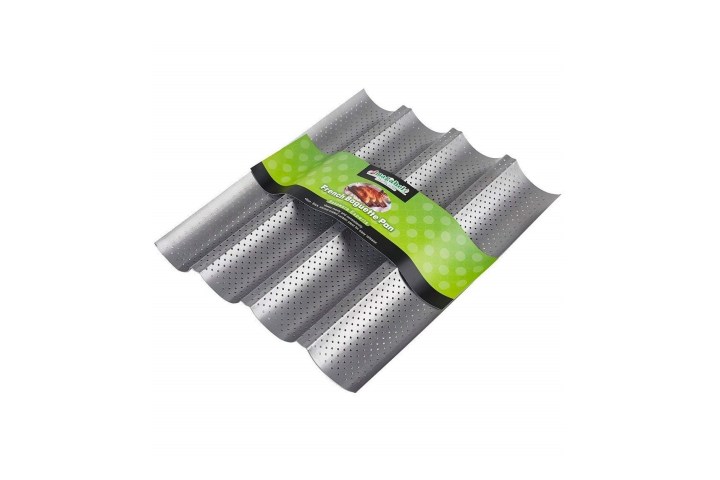 If you are looking for a heavy-duty baking tool to match your serious bread-making, the Amagabeli Nonstick Perforated Baguette Pan will offer amazing repeatable results for many years to come. The 4-well design allows for bigger bread batches of up to four loaves at a time. This perforated baguette pan is layered with FDA-approved coating for perfect browning.
Bring out the artisan baker in you by adding a baguette pan to your kitchenware collection. Being able to bake fresh French bread will elevate all your other recipes. Be the master of appetizers and breakfasts alike with our curated selection.
Editors' Recommendations