The bathroom is one of the most important design spaces in your home, but what do you do if yours is on the smaller side? You may not have the budget or the desire to knock out walls and create a larger space, but you certainly don't want to be stuck with a bathroom that makes you feel cluttered.
The good news is that you can create a well-designed, gorgeous space even without that garden tub and square footage. Using thoughtful design details and using some creative visual tricks can create a fabulous space that doesn't feel quite so small.
With just a few design tweaks, you can create a (seemingly) bigger space with less clutter and a more comfortable design. It's time to transform your bathroom into something you love with these simple tips anyone can do.
Use color to your advantage
Open up your bathroom space with soft, neutral colors. White is always a classic design choice for a bathroom, and it can help reflect light to create a more expansive feeling. Use paint with a little gloss to play up natural light and keep things easy to clean.
If your fixtures aren't white, try to match their colors to create the illusion of space, as well. The eye will have trouble distinguishing where one thing ends and another begins, which will cause the area to feel larger.
Use tone on tone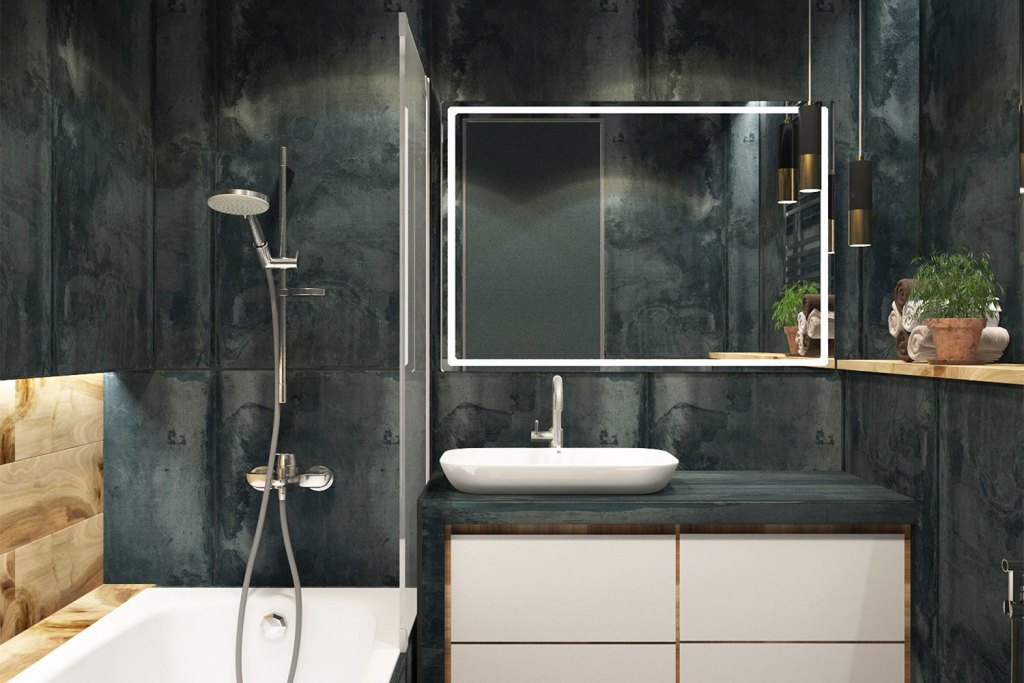 If you want to use a color other than white, use a tone-on-tone color scheme to achieve the same effect. Light grays or even pure blues can create a serene look without the starkness of white. Choose similar colors for walls, floors, and fixtures to accomplish this. Also, read our guide on how to choose the right paint for your bathroom. It may help you select the best.
Shelving is essential for storage, but how much do you really need? Go minimal on shelving and give your bathroom much-needed space. If you must have storage, switch to simple hooks to cut down on the visual clutter, or hang a shelf high and out of view.
Add mirrors
Mirrors are excellent at expanding a space. Add a larger one above your sink or one that goes to the ceiling, which can visually increase that small bathroom.
Mirrors also reflect light, giving your bathroom a brighter feeling. Add one on the sidewall or in the shower for an automatic upgrade to your space.
Lighten the floor
Painting your floor white or installing a light-colored tile adds visual space. For the smaller bathroom, white on the floor and walls provide more room visually. Keep your bath mat white as well to ensure you don't break up the visual space.
Use clear shower doors
If your shower has glass doors, changing them out for clear doors helps the bathroom feel larger while still protecting your floors. If you've got a curtain, change it out for simple, clear plastic to accomplish the same feeling.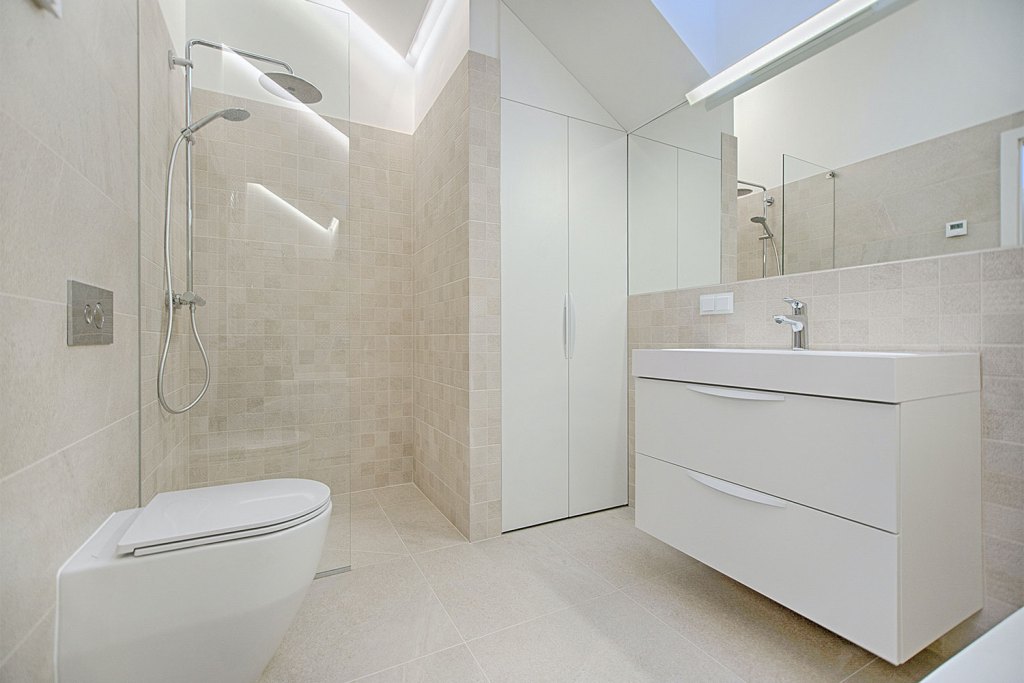 Those extra inches across your bathtub or shower may not be walkable space, but you won't feel quite so claustrophobic while you're in there.
Add recessed shelving
If you've got some space between rooms, that's a great area to use shelves for storage without interfering with the bathroom's space.
Build recessed shelves in between studs in your wall for extra storage and a way to decorate the space without interrupting your visual line. If you've got a weekend to remodel your wall, adding shelves could be a significant upgrade.
Add a pocket door
The swing of a standard door can add additional space to your floor and storage areas. A pocket door helps preserve your privacy while also saving space. If you want to consider something besides a pocket door, another space-saving option would be a bifold-style door.
Replace your vanity
Cabinet-style vanities may offer you storage, but they can take up a lot of space in a small bathroom. Replace them with a simple pedestal sink to give you more foot room and cut down on clutter. If you're able to add in recessed shelving, you might not even miss the cabinet storage.
Remove clutter
We've all had this happen: Every bathroom item that you've used somehow sticks around, and it piles up big-time, making the space a big, cluttered mess. You can solve this by keeping only your absolute essentials in the bathroom to provide as much space as possible. You'll find it makes a world of difference.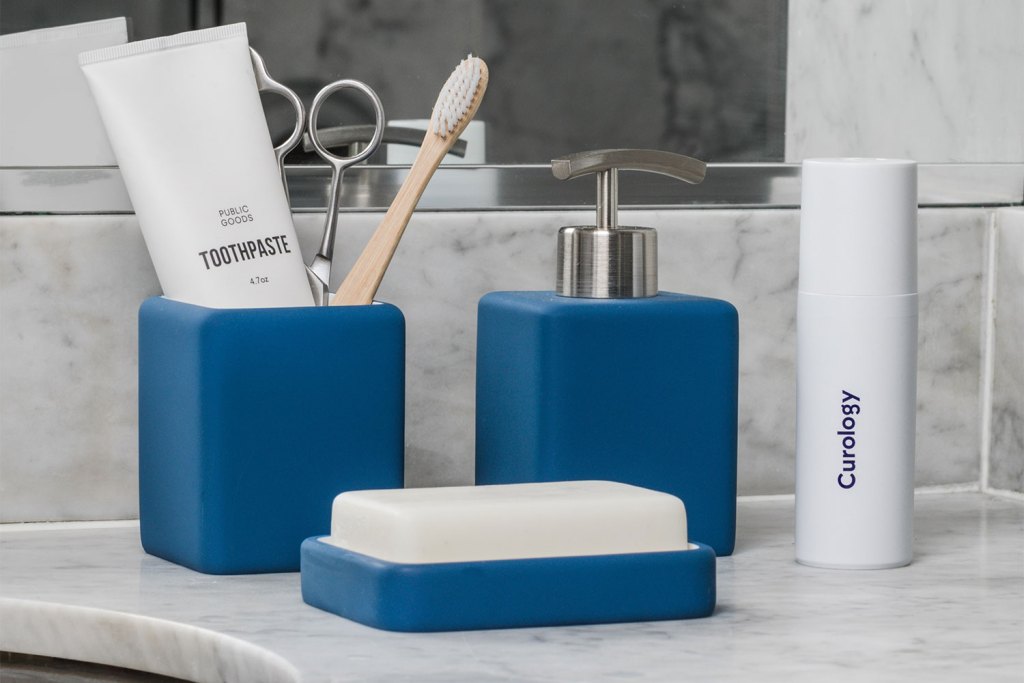 Upgrade your lighting
Dark bathrooms always feel cramped, but you can make it feel more expansive by upgrading your lighting. Add bright lighting around your vanity and change out that older overhead fixture for something that brightens the space. You'll be surprised how much you can accomplish with better lighting.
Accentuate a long wall
If you want to make your bathroom seem larger, choose the longest wall to accentuate. Paint horizontal stripes or install tile going along the length of the longest wall to draw the eye down and create space. You can also accomplish this by adding tile to the ceiling in your bathtub or shower.
Visually separate walls
If your bathroom is shaped like a rectangle, go against it by installing tiles perpendicular to the walls. Your eyes will visually separate your walls, and it will feel like you've added just a few inches to the square footage.
Upgrade your fixtures
Sometimes, high-quality fixtures can improve the overall look of any room, including the bathroom. Change out those older metal or plastic fixtures for ones that feature brushed brass or dark pewter, which will be an immediate upgrade on the aesthetics. With a small bathroom, little touches will make a big difference.
Expanding a small bathroom
While you may not be ready for massive renovations, there are things you can do to make the bathroom more comfortable and create the illusion of space. When you upgrade a few things and organize your bathroom along with making it free of clutter, you'll notice that its look has improved dramatically.
Editors' Recommendations