Most of us would love to have a bathroom that replicates the best of spa experiences. But warmed towels, tile to the ceiling, walk-in showers with water jets, a rain showerhead, and a huge soaker tub come with a price tag that may be a little too hefty right now. There are upgrades you can do that won't take a big chunk out of your pocketbook, and they will still contribute to adding a little bit of glam and "atmosphere" to the bathroom.
Splurge on the vanity top
Unless your vanity top is 8 feet long, we're not talking about an outrageous expense. Many countertop fabricators have remnants of some beautiful quartz or granite that will be very affordable.
While neutrals are popular in the kitchen, the bathroom is a chance to use some different colors and a busier pattern to really spruce up the space. A darker stone with lots of veining and some sparkle can light up a smaller bathroom or powder room.
If you can't go with granite or quartz and you've opted for a solid surface or cultured marble — dress it up with an interesting sink or a decorative edge.
New paint, an accent wall, or how about wallpaper?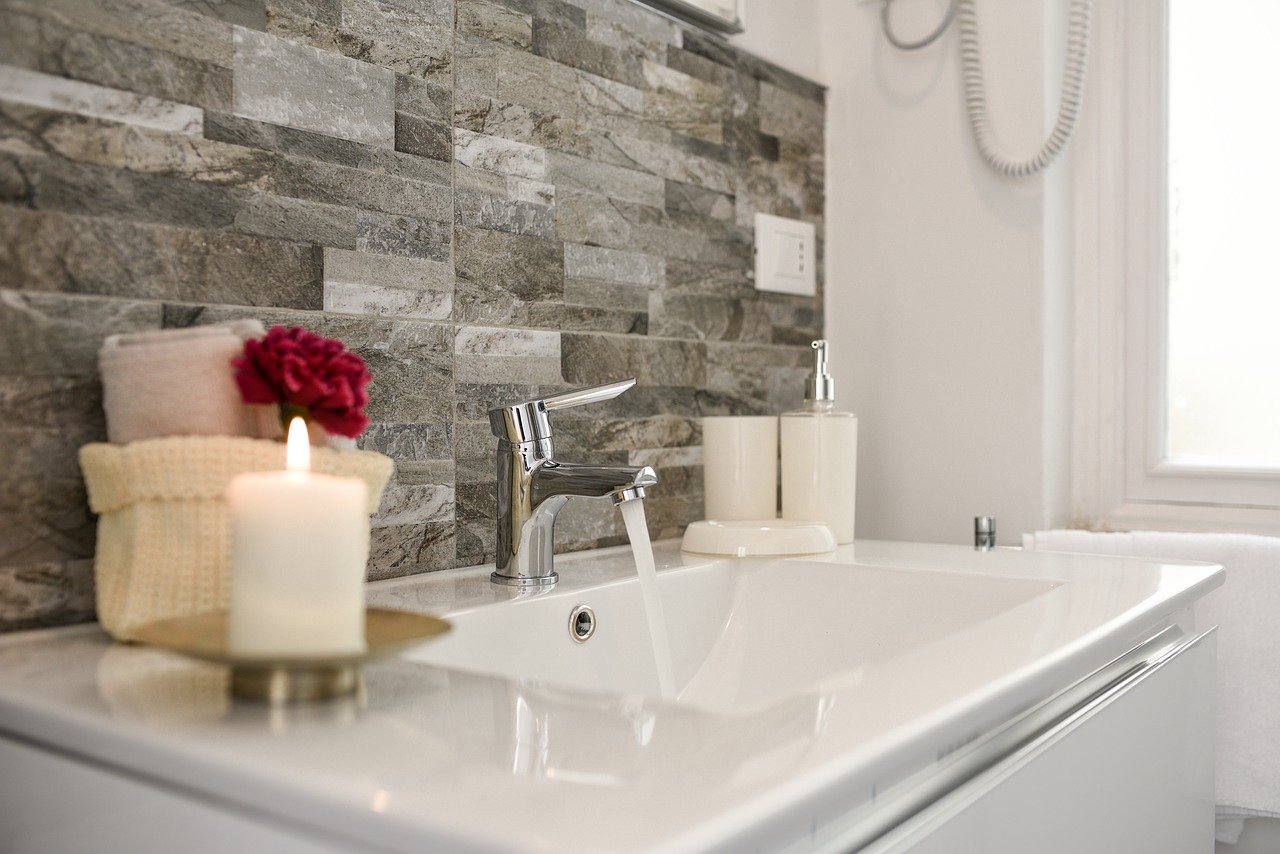 A different color will freshen up any space. If you've been thinking about an accent wall — now's the time. Be it new paint or an accent wall, the greatest thing is if you hate it, it's easy enough to change.
Paint stores offer small sample containers of colors and three or four sizable color blocks to put up on the wall to help you decide. Take a couple of days to pick which you like best (read our guide, it may help you choose the right paint for your bathroom). A color may look great in the middle of the day, but it might turn out to be something you really don't want to wake up to.
If you are going to do it yourself, block off a good bit of time. There are usually lots of nooks and crannies as well as tight spaces in the bathroom, so you will need to tape off areas and be extra careful.
There are also beautiful temporary wallpapers that could make your bathroom look elegant or else jazz up an area.
Different vanity or a mini-hardware spruce-up
Going from a single sink to a double-sink vanity might seem like a great idea, but there's the additional plumbing or moving plumbing to consider. If you don't have to mess with the plumbing or if it's not too expensive — go for it.
Double vanities mean no more fighting over sink space, they anchor a wall nicely, more counter space, and there are lots of stylish options.
If there's not enough space for a bigger vanity, dress up what you have with new hardware. Crystal knobs would add some awesome glam or maybe some sleek, acrylic handles to dress it up. Try to mimic or go bigger than the current "footprint" of your hardware so you don't have to worry about fastener holes.
How about a new backsplash? New tiles there or some metallic peel-and-stick options on the market is an economical upgrade.
New accessories, accent pieces, and lighting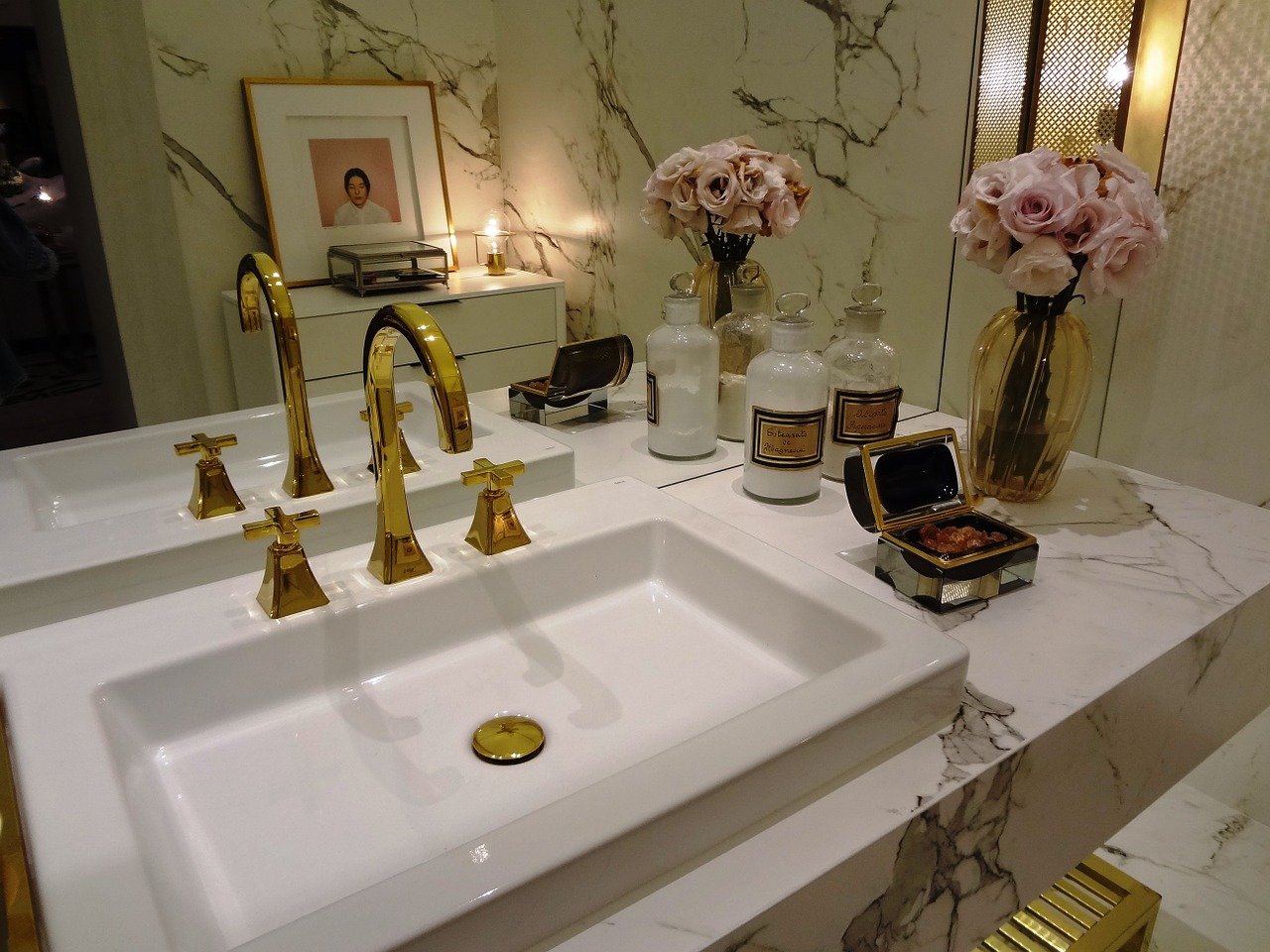 If you've still got neutral-colored plastic accessories in the bathroom, step up your game to help makeover that space. There are jewel-toned, metallic, and some glass pieces on the market that we give an "A" to in the bathroom-upgrade area.
Toss out that old water glass, toothbrush holder, and bath soap dish for something new. Then look at the other accessories — is that rug looking a bit shabby or if you've got an older shower curtain — is it time for an upgrade? Switching out the throw rugs and going with a trendy new shower curtain (how about a lovely floral print) can do wonders for that space and your attitude!
How about lighting? Switch out the glass in the wall sconces for a different type of glass; maybe something in a lighter tint or frosted? Better yet, switch out the sconces for a bright new look.
If you need just a bit more light or different light to add a little more ambiance, go for a small lamp with a pretty lampshade.
Are there towels stacked on a shelf? Update the organizing with a couple of new baskets. A serving tray where you put your perfumes together is a trendy addition to the vanity top. And don't forget about artwork. There's no reason not to hang pictures for an interesting wall accent in the bathroom.
New colors, new lighting, and small changes can go a long way to upgrade a tired space, and you don't have to take out a loan to do it. You can get a spa-like feel with these upgrades, some plush towels, and some scented soaps and candles. Start your day and end it in a great space with some special touches.
Editors' Recommendations