We've entered into a new era of home renovation, and today's popular house projects offer a glimpse into how and why.
Home renovations traditionally improve aesthetics and modernize the styles that have become outdated. Homeowners also tend to remodel their kitchens and bathrooms or replace roofs and exterior siding when they're ready to sell to maximize their return on investment (ROI) and increase the property value.
But in recent years, as the pandemic turned many busy bees into homebodies, homes have taken on new meaning, acting as living spaces as well as offices, entertainment areas, and classrooms. With people spending more time at home, homeowners are remodeling in ways that seem more personal. It's less about the ROI and more about creating balanced, practical living spaces that satisfy the needs of everyone in the home. This trend also suggests that very few renovators are preparing to move right now. (And who can blame them? Unless you're planning to downsize or rent, the housing market is incredibly difficult for buyers right now.)
How do we know this?
Homeowners have reported a shift in the types of house projects they're planning, according to recent studies.
The results of a 2022 home improvement survey, conducted by LightStream, an online financial lending service, show that not only are people spending more time in their houses, but they also don't plan to move anytime soon, either. With all that time spent at home, of course, it's time for an upgrade. But the types of home projects are increasingly more practical than decorative.
According to survey results, kitchen and bathroom renovations are still the most popular of all — 39% of respondents said they're planning a kitchen remodel and 36% said they're planning a bathroom remodel. Still, there's been an increase in certain projects that add more everyday space to the home. These are the popular projects that are transforming everyday dwellings into dream homes.
Which house projects are popular these days?
Home additions
Twenty percent of homeowners are planning to add space to their homes this year, as opposed to 12% who were planning home additions in 2021, according to the LightStream survey. While home additions do add property value in most cases, increasing the square footage of a house mostly benefits the current homeowners.
If more than one person in the household is working or learning from home, having a second floor — or a remote room near the back of the house — can create more space among family members or housemates.
This "separate space" is not only suited for at-home jobs or school, though. Many people are becoming more protective of personal space while at home for their emotional wellbeing. With everyone at home all the time, additions ensure that everyone has a corner to themselves when they need it.
In different housing markets, homeowners might choose to look around to find a bigger home to suit their growing needs — but many are comfortable just adding on to their existing home right now.
Basement/attic renovations
Twenty percent of survey participants said they're planning to remodel their basements or attics, whereas only 14% were doing so in 2021. While having a finished basement or attic wasn't always a big deal in the past, it is now becoming an attractive house project for homebuyers.
This, again, has to do with creating more living spaces in the home for both work and relaxation. People want to make room for their home offices, gyms, or self-care spaces that are separate from the rest of the house. Homeowners may also want to convert an attic or basement into a nicer playroom for their kids since taking them out may not always be an option.
Regardless of the use of the space, homeowners are showing a desire for social spaces, including basements and attics, so they can spend more meaningful time in their homes. In fact, 52% of those surveyed said memories with their family bring them the most joy in their homes, and 29% said that a reason for doing a home renovation was to be "happy with a space for years to come."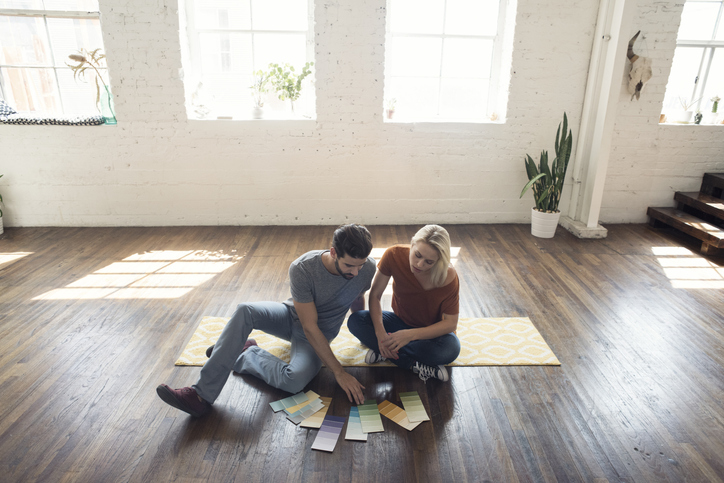 Outdoor renovations
Between working from home, caring for family members, and watching over a house, people don't always have time to be out and about. Outdoor spaces give cooped-up homeowners a chance to soak in the sun and get some fresh air. In the survey, 40% of people said they are planning an outdoor renovation this year, as opposed to 35% last year. By having an entertaining space right in their backyard, families and housemates don't have to travel or wait in any lines to have a classy dinner or cocktail night under the stars.
Tech upgrades
Home renovation projects don't always require putting up walls or changing floors and decor. Some just involve upgrading the technology throughout the space. To be exact, 25% of homeowners surveyed said they plan to update tech in their homes this year, up from just 17% in 2021.
Some tech upgrades, like improved WiFi connections, smart devices, and security systems, showcase that homeowners are sticking with their properties for the long haul and want to add more convenience to their everyday life. Very few people would invest in expensive connected devices for a home they plan to sell in a year or two.
Homeowners want to feel safe and happy in their homes, now more than ever. No one wants to spend all hours of the day stuck inside an uninspiring, uncomfortable, or inconvenient living space. Whether it's minor decor upgrades or more expensive additions, it's clear that people are investing in properties they plan to reside in the foreseeable future.
Editors' Recommendations