Are you planning to install new flooring in your home? There are many different types to choose from, but one of the most popular is vinyl flooring. This synthetic material offers a number of benefits over other flooring types, including durability, affordability, and design versatility. But are vinyl floors the right choice for your home? Read on to learn everything you need to know about vinyl flooring before making your decision.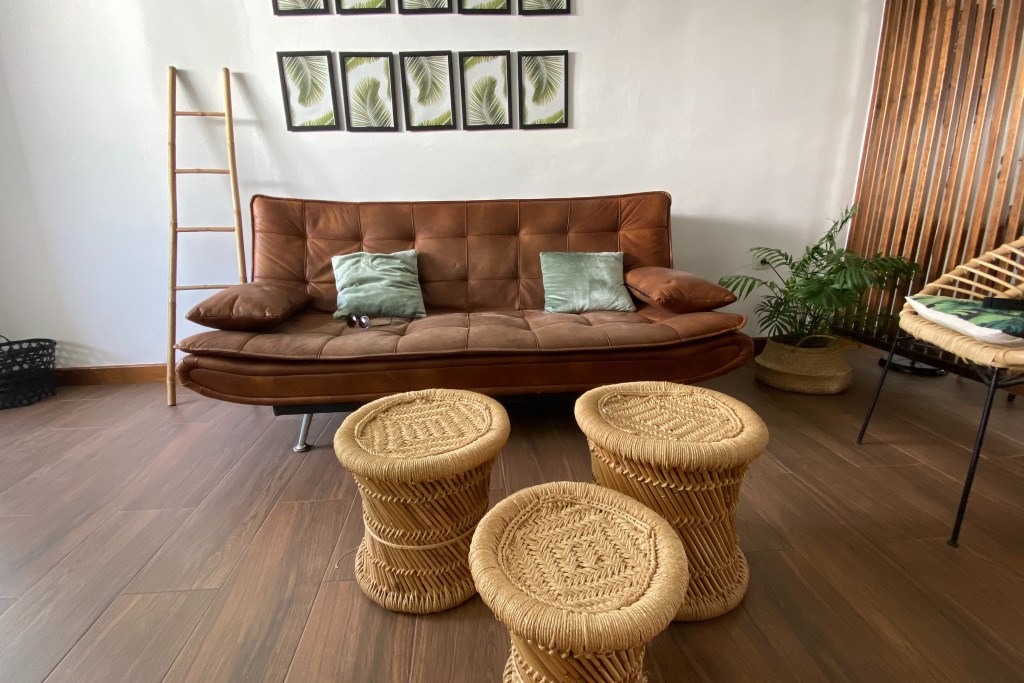 What are vinyl floors?
Vinyl flooring is a synthetic floor material made of multiple layers that, when compressed, create a long-lasting and water-resistant floor covering. Standard vinyl flooring has four layers. The bottom layer is a backing layer made of cork or foam that provides comfort and soundproofing. The backing layer is also designed to function as an underlayment, so you don't have to install any additional material before laying the floor.
Next is the waterproof layer that absorbs moisture without expanding or damaging the flooring. It can be made of a wood and plastic deposit (WPC) or a stone and plastic deposit (SPC). Atop the waterproof material is the design layer, which gives the flooring its unique appearance. Usually, vinyl designs mimic wood, marble, stone, and other natural materials so that you can get the luxury look for less.
The top layer is the wear layer. This finishing layer protects the vinyl flooring and makes it more durable. The thickness of the wear layer depends on how much foot traffic the area receives and how much protection the floor needs. Luxury vinyl flooring has additional layers, often six to eight altogether. It may have a clear top coat for extra shine, a cushion layer for more comfort, and a fiberglass layer to ensure the flooring is even and secure.
Types of vinyl flooring
Vinyl flooring is available in a few different varieties, including planks, tiles, and sheets. Vinyl planks resemble hardwood flooring, though they are more water-resistant and easier to maintain than natural wood. Planks come in a range of faux wood finishes so that you can imitate almost any type of hardwood flooring. Vinyl tiles are made to mimic ceramic or stone tiles. There are just as many colors and patterns of vinyl tile as their natural counterparts. Additionally, you can cut vinyl tiles to fit any space, no matter how small. Vinyl sheets come in rolls and can be laid quickly and easily. This type is ideal for large, open spaces.
Homeowners also have the choice between standard vinyl and luxury flooring. As mentioned, luxury vinyl has more layers than standard vinyl, making it more durable. The thicker appearance can also make the synthetic material look more like real stone or wood. Luxury vinyl is available in plank and tile forms.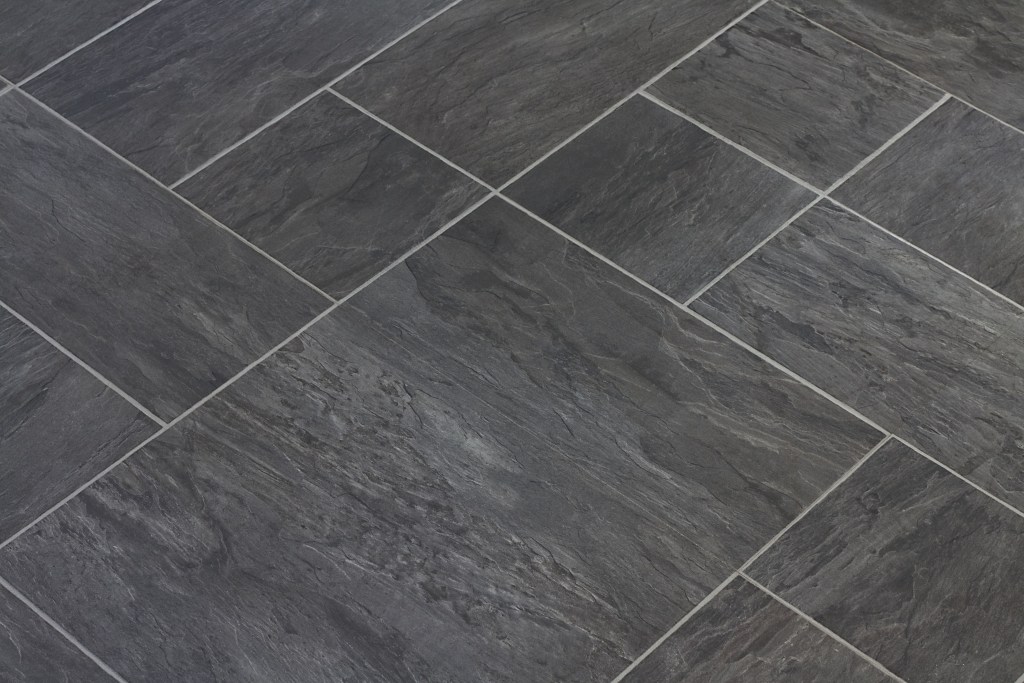 What is the difference between laminate and vinyl flooring?
Laminate and vinyl flooring have a lot of similarities. Both are synthetic materials designed to mimic the appearance of natural flooring materials. They also have similar costs, lifespans, and installation methods. So how are they different? It all comes down to the construction.
Vinyl flooring has a middle layer made of a plastic composite (WPC or SPC), whereas laminate flooring has a core made of wood composites. Because of this, laminate flooring isn't waterproof and can shrink or expand when exposed to moisture. Vinyl flooring is also available in more varieties, such as sheets instead of planks, and a more extensive selection of designs. However, laminate flooring has a smooth surface that resembles hardwood floors more closely than vinyl does, which often has a textured surface that can look artificial.
The pros of vinyl floors
Vinyl has many advantages over other kinds of flooring, including:
Easy and affordable to install
Designed for longevity and can withstand more wear and tear
Low maintenance
Lots of design options to choose from
What are the disadvantages of vinyl flooring?
Though this flooring material is a great option for many homes, it's not without its drawbacks.
Pieces can be challenging to remove if repairs or replacements are needed
Quality can be inconsistent because vinyl is available in a range of thicknesses
May not be the most eco-friendly choice because of manufacturing methods and VOC emissions (we suggest choosing a low-VOC vinyl instead)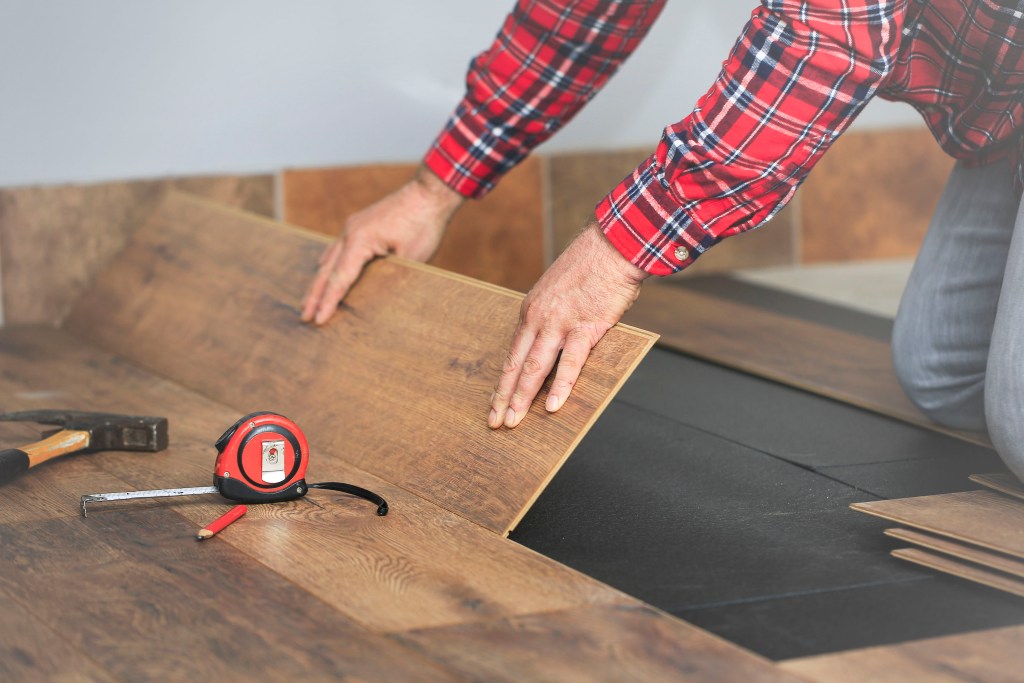 Factors to consider when shopping for vinyl flooring
Are you ready to start shopping for vinyl flooring? Here are a few factors to consider that'll ensure you choose the best vinyl floor for your home.
Price. On average, vinyl planks and tiles cost $2 to $3 per square foot, and sheeting costs $0.50 to $2.00 per square foot. Luxury vinyl is a bit more expensive, costing on average $2.50 to $5.00 per square foot. Installation typically costs $36 to $45 an hour. Set a budget before you begin shopping.
Ease of installation. Vinyl flooring is easier to install than most other flooring materials, but some types of vinyl are easier to lay than others. Consider whether you will hire a professional or lay the floor yourself.
Design. Think about what you want your floor to look like and how it will complement the room's overall design.
Durability. How long do vinyl floors last? They're super durable and can last 10 to 20 years if they're well maintained. The thickness can contribute to the floor's overall durability; consider how much foot traffic the room usually gets and choose a thickness appropriate for the job.
Maintenance. Vinyl flooring is very low maintenance. It's easy to clean with regular sweeping and mopping.
Location. Where are you planning to install the flooring, and what type of floor do you currently have? While vinyl can look great in any room, it's especially good when used in kitchens, bathrooms, and basements because of its durability and waterproof qualities. Additionally, vinyl is easier to lay on surfaces with a smooth surface (like concrete and old vinyl) than on surfaces with existing flaws (like hardwood).
Is vinyl flooring better? The answer all depends on the unique needs of your home and your family. Vinyl flooring is an affordable option that's easy to install and maintain. The durable, waterproof material can last for many years, making it a fantastic choice for busy households. Plus, you can find it in a huge selection of thicknesses and designs, giving you the freedom to transform your home however you choose. It's no wonder vinyl flooring is such a popular choice!
Editors' Recommendations