What if you could have a night out without leaving home? Sounds too good to be true? A new trend has been taking hold that may allow you to do just that. Homeowners are transforming pre-existing garage spaces into places to kick back and entertain friends. Ready to create your own? Here are our tips to take your garage from a dusty space that houses gardening tools to the spot to be on a Saturday night.
Space plan
Before you begin creating your bar, decide on how much space you can allocate for it. Will the entire garage be used, or do you still need a portion to store tools, lawnmowers, or a car? Once you have determined the dimensions, you can plan out different zones—bar, seating, activity area, and so on. Measure each section to make sure it can accommodate what you have in mind.
Decor
Here is your chance to put your own signature on the bar. What style are you looking to create? Think of all the possibilities and go with the one that speaks to you—rustic, wine bar, Irish pub, a favorite dive bar, or a beach-themed spot. The key is to make it a place you want to hang out. Consider how you want the space to feel and search out pieces that support the aesthetic. Maybe you have a collection of concert posters, sports memorabilia, or vintage signage that has been stored away. Here is your opportunity to showcase it.
In a bar, dart boards, ping pong, or pool tables will not only offer activities for you and your guests to enjoy, but they will also add to the ambiance. Fill the space with other objects to encourage conversation and interaction—a deck of cards, games, or trivia cards.
Walls
What you do with the walls really depends on how "done" you want the space to feel. Leaving them as raw wood is an option. For a simple upgrade, they can be painted—white, light grey, and soft blue will make a dark space feel open and bright, while deeper shades will give a cozy, intimate feel. If you want a more finished look, you can drywall the walls. To give your space a great focal point, why not add a feature wall? Clad the wall behind the bar in reclaimed wood or shiplap to add character and interest. Hang shelves and display decor, bottles, mugs, or glasses.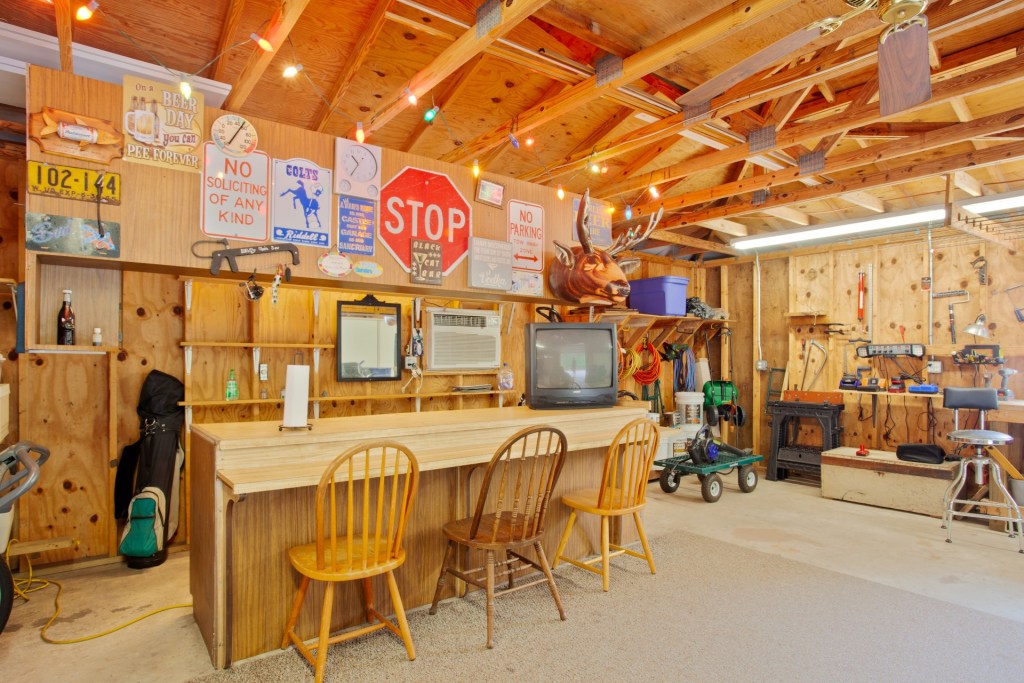 The bar
The bar should echo the rest of the space's style. Building one is an easy project that you can be complete in a weekend if you are handy. However, you can order pre-made bars just like any piece of furniture. A quick internet search will guide you on both fronts. Either way, be sure to consider what will work best in your space. If you are going for a rustic look, consider one with reclaimed wood. If a pub is more your style, a dark wooden bar is the one. If you gravitate to a beachy style, how about a tiki bar? You get the idea. A small refrigerator will keep beverages cold and, even better, one with a freezer will ensure ice is always on hand.
Seating
A bar has to have a few stools for guests to gather around and relax. There are plenty of options in every price range. These simple metal ones (Amazon.com: Metal Bar Stools Set of 4 Counter Height Barstool Stackable Barstools 24 Inch Indoor Outdoor Patio Bar Stool Home Kitchen Dining Stool Backless Bar Chair: Furniture & Decor) would go in any space, come in a variety of colors, and can be stacked when not in use. For a rustic yet streamlined look, Carbon Loft's faux leather stools (Carbon Loft Diggory 30-inch Faux Leather Barstools (Set of 2) – On Sale – Overstock – 12026956) offer a back to lean against. If you prefer the warmth of wood, these farmhouse stools (Halifax Farmhouse Wood Counter Height Barstool Brown – Threshold™ : Target) have a country chic charm.
Entertainment
What is a bar without a little music in the background? This can be as simple as wireless speakers to as complex as a full sound system. Adding a television will offer the perfect spot to watch the big game. If sports are not your thing, why not broadcast your favorite concert while you socialize or hook up a video game system for guests to play.
Once your garage bar space has been created, there are only two things left to do—come up with a name and get ready for company. The good news is, this bar is open anytime you are ready for a cocktail.
Editors' Recommendations