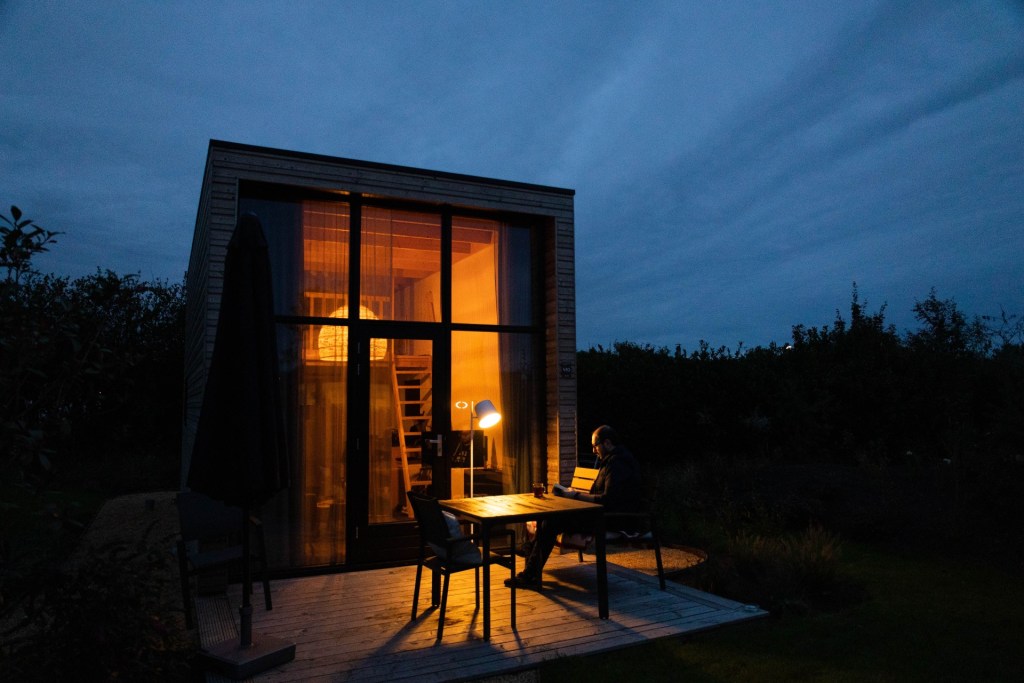 The tiny house movement started as a way to live a pared-down lifestyle. Today, they are popping up in backyards all over as extensions of the home. From tiny home offices and guest suites to exercise spaces and bars, these petite structures can be used to house whatever you need. What you may not know is that you can order your own tiny house kits online. They will ship right to your door and will be ready to assemble. Here are our picks for the best ones.
Allwood Bonaire
Who doesn't want to have a resort in their own backyard? With its clubhouse look, this tiny home will make you feel like you are going on a vacation all year long. The floor-to-ceiling windows let the sun in, and the wood finish fits in with any natural surroundings. The Allwood Bonaire starts under $13,000, and you can add an alcove for a bathroom for a little less than $1,000. It comes with extensive directions and requires minimal tools.
Jamaica Cottage's Smithhaven is reminiscent of a tranquil cottage. Its pitched roof makes it spacious inside, and the dormer windows flood the space with natural light. Outside it features attractive board and batten siding and a rustic metal roof. You can get pre-cut kits that work as either three- or four-season spaces and come with a variety of options. Depending on what you select, kits range from $7,000 to $18,000.
The Allwood Escape has a European countryside vibe to it, and it has another feature we love—the front overhang provides the perfect spot to sit outside and get shade or protect you from the rain. Cue morning coffee and afternoon lemonade. Inside, it offers a cozy space with plenty of room for a conversation area or a home office set up. It starts at $6,000, and you can add a bathroom alcove for about $1,000.
If modern is your aesthetic, then the Allwood Palma is the tiny home for you. Its clean, sleek lines highlight an urban design crafted of Nordic wood with aluminum door frames. Inside it has two rooms, and you can adjust the dimensions of each during assembly to suit your needs. Its price starts at around $8,700.
If you are looking for an easy-to-build option, Arched Cabins can be constructed by two savvy DIYers in just a matter of days. Another bonus is that they come in various sizes to accommodate various needs, from a guest suite to a home office. Prices range from $1,000 to over $10,000, depending on the dimensions you choose.
Who doesn't love a Vermont cottage? Step inside this rustic charmer, and you can feel like you are getting away from it all. It features an open floor plan with high ceilings and a loft with a ladder and would make a perfect retreat, pool house, or artist space. The inviting porch offers a place to relax and enjoy a cup of coffee or an evening cocktail. Prices start at over $18,000.
No matter your needs, these amazing tiny home kits will help you build your dream office right in your own backyard. And keep in mind — once you choose and erect a tiny home, the decorating can begin!
Editors' Recommendations