Green is a color we're seeing everywhere in home design. Named Color of the Year for 2022 by many of the most prominent names in the paint industry, green is a trendy hue that you can expect to see in many interior designs in the foreseeable future. Green has an incredible way of adding a sense of vibrance and authenticity to your space. So, if you're a homeowner in need of a soothing and sophisticated shade, then green might be just what you've been looking for.
This color can help you invite a renewed sense of vitality and energy to a space, making it perfect for homeowners looking to change up their existing palette. While green was trending in home design as 2022's "it" color, it has become a popular staple even as we venture into the coming years. So, it's safe to assume that this wonderful shade will likely add a timeless and natural look to any space. If you're eager to incorporate green into your design scheme, here are some of the best green paint colors to inspire your next renovation.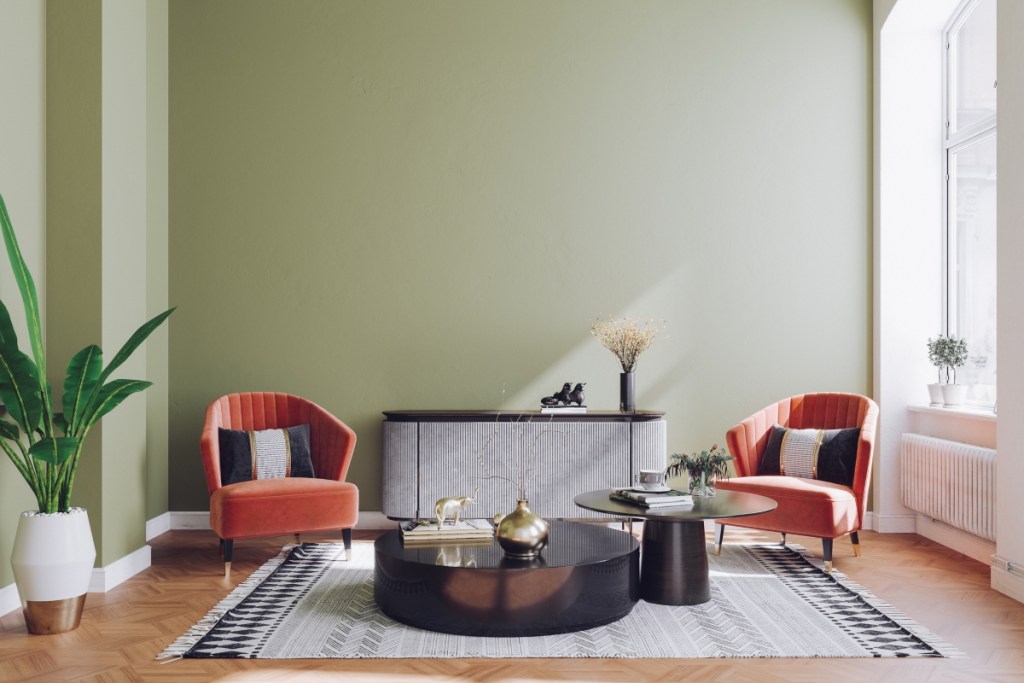 What you should know about trendy green paint colors
If you're asking yourself, "How do I choose the right shade of green paint?" then we have a few tips. First, you'll need to know why the color green is so popular. In the past, home design was dominated by neutrals and monochromatic palettes. However, after spending more time at home during the pandemic, homeowners are eager to change up their spaces to create a more exciting atmosphere. Green was the go-to solution for many designers since it is a shade associated with life and vigor while promoting feelings of relaxation.
In the home, green offers homeowners the chance to create a rejuvenating biophilic-inspired design while also playing around with more vibrant colors that they're used to seeing in home design. To choose a green paint color that suits your needs, ask yourself whether you want something gentle and relaxing or more vibrant and exciting.
What are the popular green paint colors?
Whether you prefer bright greens or more washed-out hues, there are plenty of options to choose from. Below are some of the most popular greens for this year to help inspire you during your color palette curation.
Named Sherwin-Williams' Color of the Year for 2022, Evergreen Fog could be the perfect choice for homeowners looking for a subtle introduction of green within their space. This gray-green color is soothing and reassuring, perfect for adding an organic feel to the space. Best suited for living rooms and bedrooms, Evergreen Fog is a charming blend of neutrality and inspiring green. Use this color in your home for an outdoorsy feel that won't become overbearing.
Behr chose several colors for their 2022 Color of the Year. One of these wonderful shades is Laurel Tree, a lush hue reminiscent of a quiet garden. With more vibrancy than Sherwin-Williams' Evergreen Fog, Laurel Tree heightens the sense of nature within your design. This luxurious shade appears like a washed-out green with gray undertones, perfect for a subtle touch. This color also works wonders in a cool-toned color palette that needs a more organic feel.
PPG's Olive Sprig is a mid-tone shade fit for neutral color palettes. Like the colors mentioned above, this washed-out, subtle green is a nice transition tone between popular neutrals of the past and the more vibrant hues seen today. Olive Sprig is a great paint choice for homeowners who adore cottage or farmhouse aesthetics with a romantic flair. Additionally, PPG suggests pairing this soft hue with rose tones for a simple and sweet look.
Leaning more heavily on the gray undertones, Benjamin Moore's October Mist is a lovely shaded sage color. With a darker hue, this paint color is ideal for spaces looking to create a moodier atmosphere. Additionally, this shade is intended to uplift the mood of a room with a subtle touch of green to evoke feelings of peace and comfort.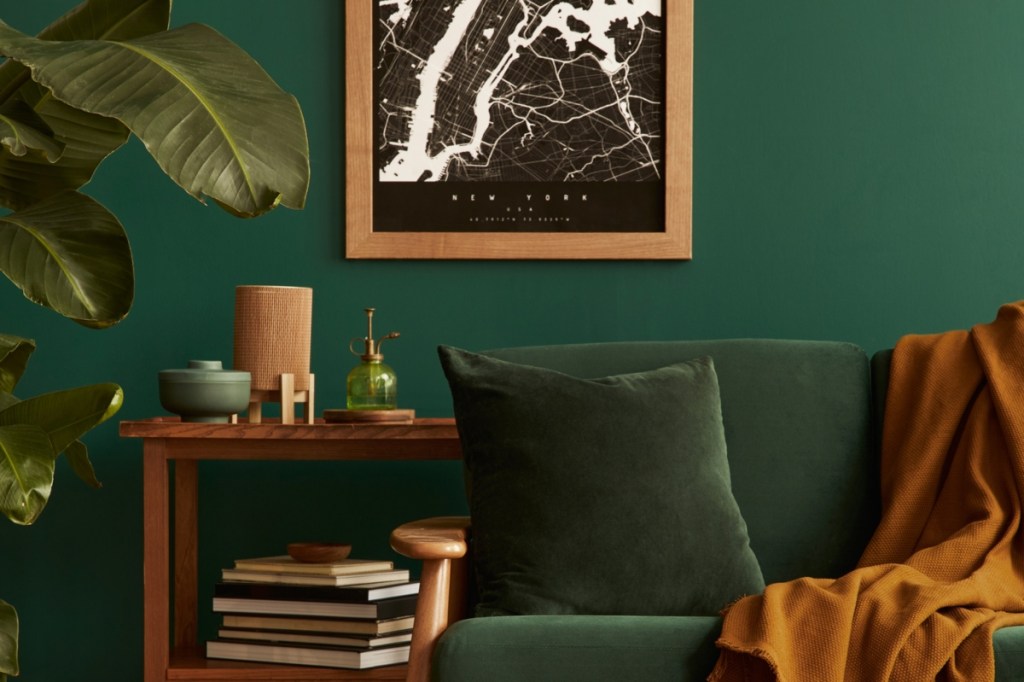 What are warm green paint colors?
While many green shades are based on gray undertones or washed-out aesthetics, warmer tones are also quite popular. For homeowners who prefer warm-toned color palettes or who want to experiment with more vibrant green shades, here are some amazing choices.
Shamrock by Sherwin-Williams is a bold and vibrant green. With a warm intensity, this green is best suited for homeowners who feel inclined to dabble with more eclectic design styles like maximalism. Shamrock appears like a rich evergreen and could be a great addition to dining rooms or office spaces where more intensity, vigor, and depth are needed. Additionally, it could be the perfect statement shade for your front door.
A little more green than Shamrock, Behr's Thyme Green is a bright hue that feels lush and summery. Thyme Green has a warm undertone that allows this shade to be reminiscent of the summer sun across blades of grass. When using this color, we recommend trying it out on decorative cabinets and side tables for a fun accent color or using it on your kitchen cabinets for a unique spin on traditional kitchen home design.
For an organic and rustic take on a dark evergreen, Dutch Boy's Ironside invites an earthy, forest-like feel to the space. Named the brand's 2024 Color of the Year, Ironside is a rich evergreen shade with warm brown undertones. It exudes a rustic vibe well-suited for spaces where you want a biophilic and cozy aesthetic. Home libraries and offices, dining rooms, and living rooms would best benefit from this natural hue. Ironside features a subtle touch of industrial slate gray blended harmoniously with its forest green overtone, making it a fantastic modern shade. Paired with luxe metals like gold or bronze, soft cream linens, dark wood stains, or rich leather materials, this color offers a woodsy and academic feel to any space.
Green is a stunning color with a breadth of tints and hues that can allow it to be subtle or vibrant, depending on your preference. As a tone that promotes liveliness and character to any space, green could be a wonderful paint color to experiment with in your home this year. So, use these green paint colors as inspiration for your next remodel and see how you can incorporate the trend into your space.
Editors' Recommendations