No matter what kind of fireplace you have, the mantel is the most important part. The mantel is the focal point of the room which means you should decorate it with care. Decorating a floating mantel is not much different than decorating a traditional mantel, and there are specific guidelines you should follow to achieve the best results. Floating mantels have an added bit of character on their own, so decorating one is a matter of complementing your existing decor style. Whether you like vintage farmhouse, modern, or traditional, these floating mantel ideas won't disappoint.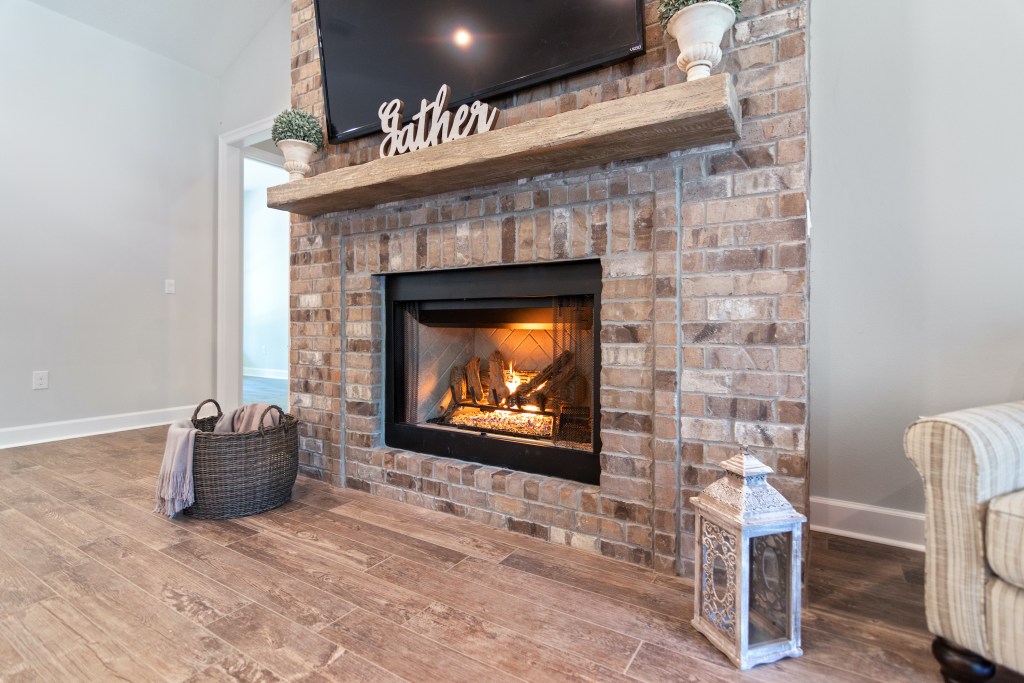 Mantel do's and don'ts
Do's
Consider the shape, size, color, and structure of your mantel shelf before deciding how you're going to decorate it.
Use things that are of different sizes and shapes. Place taller items in the back and smaller items in the front.
Use layers to create depth but don't overdo it so that the space is cluttered.
Odd numbers usually work better than evens when creating a display. Place similar objects together in groups of three or five.
Don't be afraid to lean framed art or mirrors against the wall.
Change it up. The mantel is the focal point year-round, so changing the display with the seasons keeps the room fresh.
Match your floating mantel to the overall style of the room. The items on the mantel should complement the rest of the room.
Don'ts
Don't use a random mix of things on the floating mantel. The items you choose should be related to each other via style, theme, or color.
Don't layer so much that you hide some items. There should be some overlapping, but not so much that the items in the back get lost.
You don't have to match items to create a balanced display. A few lightweight things on one side will balance visually with a heavy object on the other.
Don't use meaningless items. Since the mantel is the centerpiece of the room, the things on it should have some meaning to you.
Don't use items that are all the same shape. Mixing it up with different forms will create balance.
Don't use too many materials at once. For example, don't mix glass, wood, and gold in one display. Be selective.
Modern
To achieve a modern floating mantel look, remember less is more. Modern looks are clean and minimalistic, so a few pieces of chic artwork and touches of gold will do the trick. If gold isn't your thing, try a large mirror and a few plants. A small stack of books and a few candlesticks, or three modern vases and a wall map, will also look great. Remember to match the mantel to the decor in the room, and you will successfully pull off a modern vibe.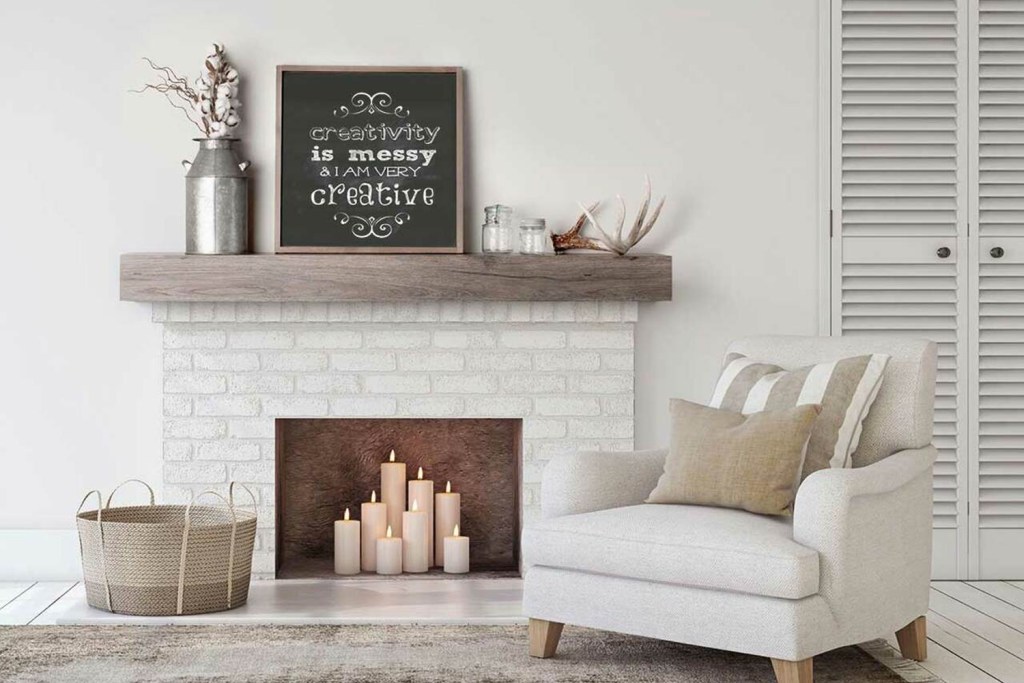 Rustic
A wooden sign, large candlesticks, an old wooden ladder, black-and-white family photos, a wooden crate, a few mason jars with sprigs of greenery in them — the possibilities are almost endless if you want a rustic floating mantel. To achieve a rustic look, think natural materials like wood and metal and soften those items with white and off-white colors. Old books also look great in a rustic display, and remember, the entire point of a fireplace is to burn wood, and nothing says rustic more than a few chopped logs.
Traditional
Traditional floating mantel decor can cover an array of decorating ideas. A ship in a bottle and a few old books can be traditional. The vases that your grandma passed down to you complemented with a few white candles can be traditional. A few potted plants surrounded by framed family photos can be traditional. An heirloom mirror surrounded by a few curiosities that you've acquired on your travels over the years will scream traditional to your guests. Ultimately, a traditional mantel should be filled with items that are meaningful to you and your family.
Vintage
To pull off a vintage floating mantel vibe, you're going to need some vintage stuff. But don't worry, you don't have to spend tons of money on actual vintage items to get the look you want. Old windows from a second-hand supply store, antique candlesticks that you found at a garage sale, and your aunt's old mirror will all do the trick just fine. Look for items that look naturally worn but not to the point of damage. Blue and white ceramics or an old clock can create a vintage look as well. Be creative and use items that make you feel at home.
Decorating a floating mantel is not much different than decorating a traditional mantel. There are a few general rules to follow, and you'll be well on your way. Matching your mantel to the rest of the room's decor is key, as is remembering that the mantel is the focal point of the room. Once you choose a style, with a little planning and maybe some shopping, you'll have a brand new mantel display in no time.
Editors' Recommendations