Art deco interior design inspires awe in many of us. With its artsy and eclectic feel, this style can allow homeowners to experiment with shape and pattern. But what should you do if you don't want to go all out with this 1920s and 1930s look? Perhaps you love certain elements of this chic design style, but you aren't sure how to incorporate them into your home.
The good news is that blending art deco decor with your existing aesthetic isn't impossible! Marrying two decor styles can be tricky, but luckily, we have everything you need to know to help you pull off a stunning look in your space.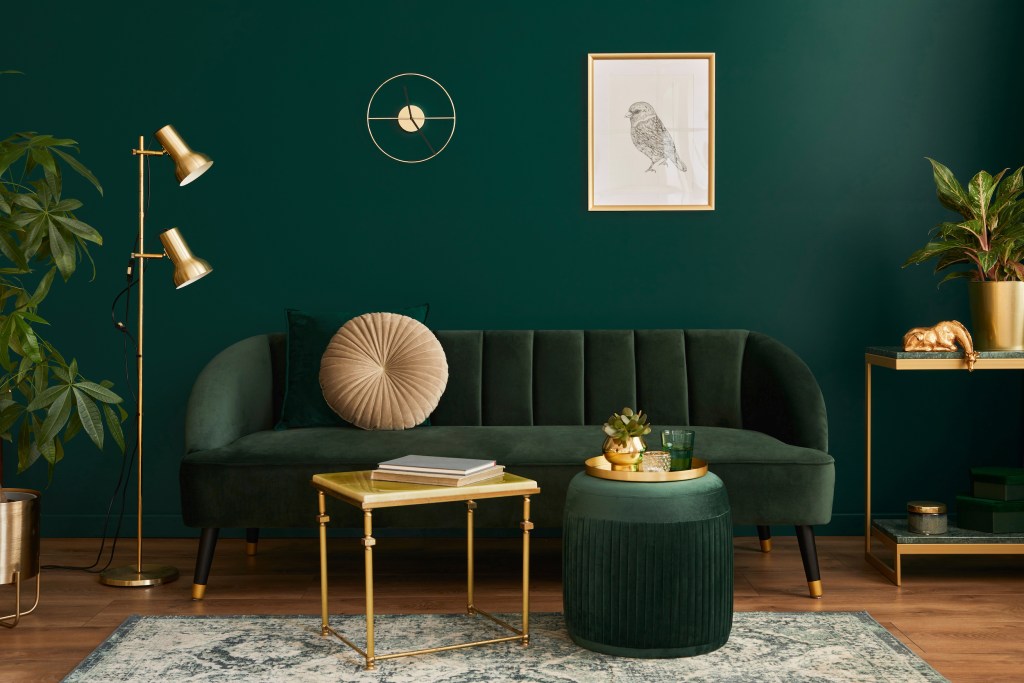 What to look for when adding an art deco flair to your space
If you want to add a touch of art deco to your home, you'll want to make sure you're choosing the right pieces for creating that perfect blend. Here are a few elements of art deco design you should look for.
Unique shapes
One of the main characteristics of the art deco style is the use of unique shapes. Straight lines are fine, but if you don't experiment with fun curves, odd sizes, and lines going in different directions, you'll create a design that feels far too rigid.
The original designers of the art deco interiors of the 20s and 30s were aiming to put a twist on traditional decor. One way they did so was by manipulating shapes within the design. Think curved furniture, rounded tables, giant wall art, oversized vases, small chandeliers, and plenty of wall paneling.
Geometric patterns
Once you've got your unique shapes, it's time to play around with geometric patterns. We've likely all seen those art deco panels or intricate lined art pieces. Artwork and furniture that shows off unique geometric shapes is a great way to tie together the art deco design. Geometric rugs, checkered tile, and that classic art deco arch pattern can transform your space.
If you want to play around with patterns, complex wallpaper aesthetics that radiate a sense of luxury and opulence can be a great way to heighten the look of the space.
Statement pieces
The art deco look was a bold movement all its own. It was dramatic, organic, and eccentric. If you want to bring this style into your home, one of the easiest methods is to choose statement pieces. Sculptures, artwork, colorful round sofas, statement fabrics with rich patterns, and unique pieces sprinkled throughout the space can create an artsy and modern look.
Swap out light fixtures for classy chandeliers, or opt for wall sconces with fluted panels and an art deco geometric metal finish. Choose coffee tables and side tables with rounded edges in a gold metallic tone. Or, play around with accent walls by choosing an elegant wallpaper or a regal paneled wall.
Fine details that add a luxe touch
When it comes to art deco, everything is in the details. Gold accents, crystalline glassware, sculptures, bold colors, and ornate decor are some key things to look out for. Large potted plants also play a major role in this luxe design style. When decorating, be sure to focus on the smaller details of the space. The look will appear more finished if you add accents throughout.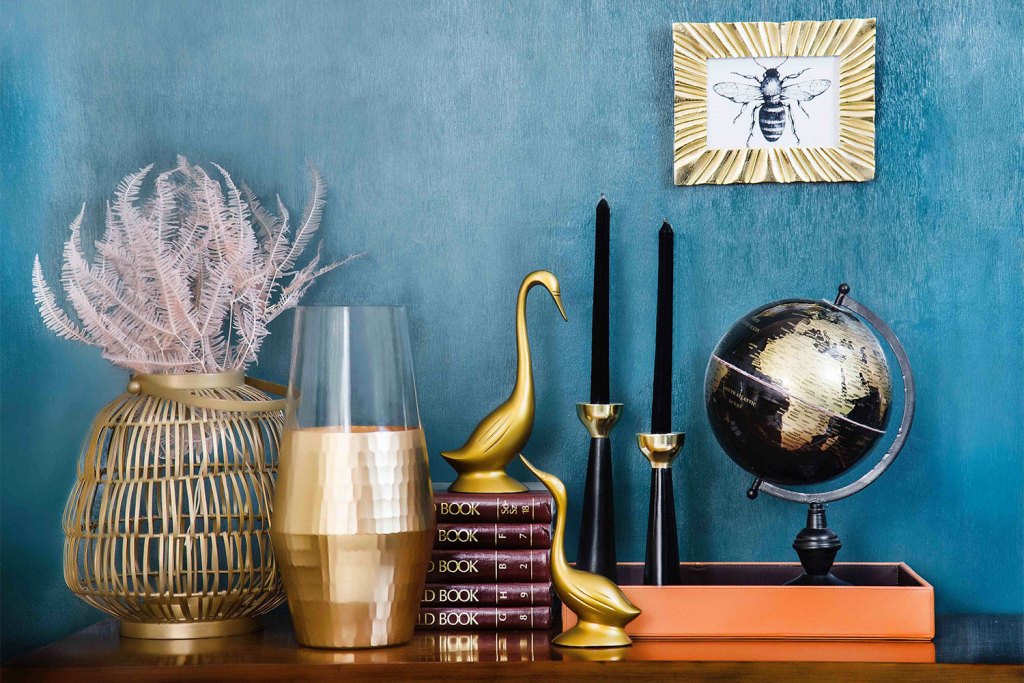 How to blend art deco decor with your existing style
Once you know what sort of items to look for in art deco design, it's time to blend this style with your existing decor. Here's how.
Step 1: Look at your own style.
Determine which elements must stay and which you can swap out. For example, changing out your sofa for one in an art deco style can make a huge difference in the space. Or maybe you like your current sofa and would be better off choosing new side tables. The key is to try to go half and half between your existing decor and the art deco style.
Step 2: Consider your color palette.
Whether you have a more muted/neutral palette or are already exploring color, adding rich, vibrant tones can help you achieve that art deco look while still remaining modern. Art deco color palettes tend to gravitate toward rich jewel-toned blues and greens with a hint of pinks and elegant creams. To blend the two, consider looking at your existing palette and see which colors are missing. Then, find a way to add them through the use of accent pieces.
Adding a statement wallpaper on an accent wall can be a great way to introduce color and make a statement if you don't want to go all out with a palette swap.
And let's say you want to turn your modern bathroom into a blend of the two styles; You might consider painting the walls a rich navy blue or swapping out your existing hardware for gold metallic art deco finishes.
Step 3: Use curved furniture.
Since the art deco style is heavily influenced by its popular curved furniture, adding more curves to your space can be beneficial. For example, in a traditional home design, why not marry the two styles with a curved sofa and rounded chairs? Or, let's say you have a midcentury modern look in your home. Chances are you already have some curved pieces in your space. Let them pop by putting them against darker or more elegant wall paint tones.
Step 4: Opt for fluted materials.
Fluted styles can help add more dimension to a space and provide that art deco look without being overbearing. Fluted furniture like vanity tables, side tables, cabinets, and even some light fixtures can add the perfect touch of art deco to a space. No matter your kitchen aesthetic, opting for fluted kitchen island cabinetry can add an art deco touch and create a statement in your space.
Step 5: Blend in a few statement pieces.
When choosing statement pieces for your home, it's important to lean into both art deco and your existing style. For instance, if you have a rustic living room, perhaps you'll want to keep your exposed wooden beams and rugged stone fireplace. But maybe you choose a deep emerald green curved couch, a luxe art deco chandelier, and a large art deco painting on the wall. Use statement pieces to accentuate both design styles, so neither one dominates the space or overshadows the other.
Art deco design is a modern and luxurious style that pulls much of its influence from experimental shapes and vivid colors of the past. To best blend it with your existing decor, you'll want to focus on shape, color, and pattern to pull off the look successfully. Thankfully, statement pieces, unique furniture, and fine details can help you create a lasting impact on your interior.
Editors' Recommendations