Have you ever begun planning a remodel only to realize that your preferences are way over budget? We all have expensive taste when it comes to home design, and although it can often feel like luxury decor is a far-off dream, it doesn't have to be! We've got four hot tips on luxury design trends from home design experts who know how to create a luxurious home design on a budget.
Save on kitchen cabinetry
One of the first ways you can save money while also obtaining a high-quality and expensive look is by saving on your kitchen cabinetry. Kitchen remodels are one of the most expensive home renovations homeowners can make. While a remodel often helps raise your home's value, it can also be a costly endeavor upfront. So, we spoke to Alyce Lopez, design ambassador for POLYWOOD and owner of the True House, a full-service interior design firm, to gain some insight into saving money while also creating a luxe design.
"Custom kitchen cabinetry is always a big-ticket item on a renovation. Often, you can change your wood species to help lower your cabinetry cost," Lopez said. While it's easy for homeowners to be wooed by top-quality wood or fancy designs when renovating kitchen cabinets, Lopez believes that money is better spent on custom cabinetry that uses a more affordable wood species. Additionally, saving money on cabinetry fixtures like handles and brackets will help you allocate your budget to more crucial investments such as appliances.
Furthermore, Lopez said that it's essential for homeowners to try to "utilize open shelving to offset the cost of cabinet boxes with doors or drawers."
Open shelving may not be suitable for everyone, but it is a trendy solution that blends well with many design styles. Open shelving also gives your space a more modern and curated look, which can help enhance its appeal.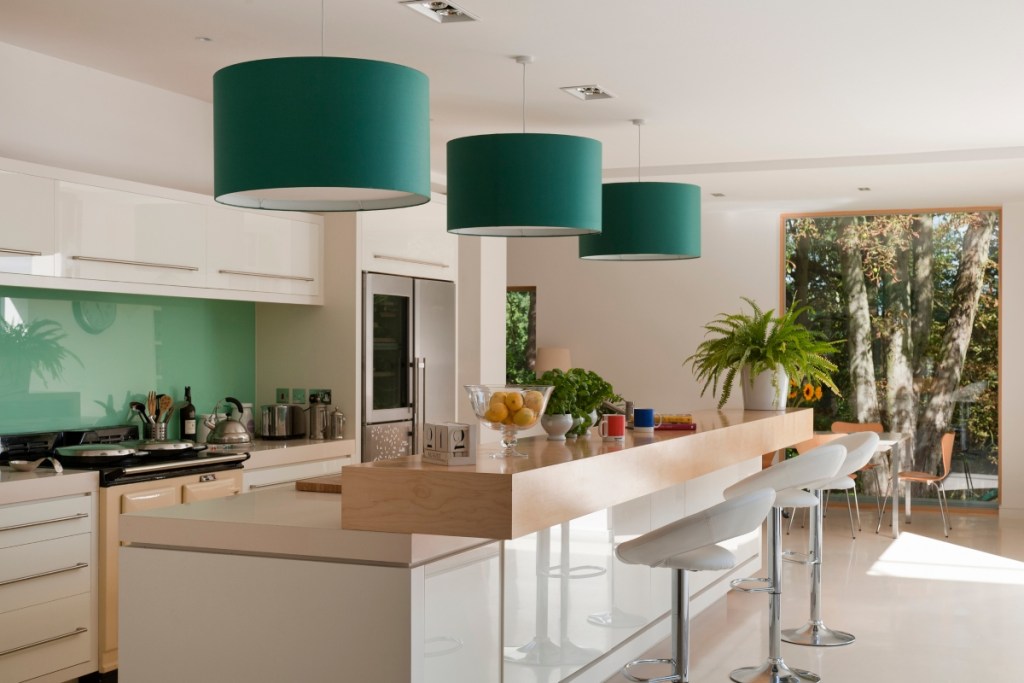 Get creative with lighting
Another way homeowners can save money while creating a luxe and elegant home design is by getting creative with their lighting. Lopez suggested adding pendant lights to elevate the appeal of the room. Pendant lights look expensive, but they're actually reasonably affordable for most budgets. They also give the illusion of more space and higher ceilings, which helps create the sense that the room is of higher value.
Lopez also suggested trying "a fabric drum shade to add texture and lower your overall lighting cost." Fabric drum shades are super affordable and add a bit of personality to the space. You can try pairing two fabric drum lights side by side for a more curated look if your space allows it.
Wall sconces are another fun way to enhance the look of your home. Many luxury designs feature wall sconces near the bed or in the living room for an expensive look. Unfortunately, paying for the additional electric work can be costly, but "nowadays, you can find battery-operated fixtures or corded sconces," Lopez said. This is a much more affordable solution for homeowners looking to hop on this trend.
Mimic the plaster look on your fireplace
Another expensive trend in the world of home design is plaster fireplaces. Plaster fireplaces add a rustic, textured look to your space. They also take paint well, meaning they can be highly customizable. For these reasons, plaster fireplaces have taken interior design by storm. However, they can be a costly addition to your space. So, Lopez provided a different solution, saying, "You may not have the budget to plaster your fireplace, but there are so many paints out there that mimic the plaster look. You can find them at your local hardware store."
One such paint is chalk paint, like this one from the Home Depot. This is the perfect alternative for people looking to add texture to their space without breaking the bank. Just be sure to consult a professional before applying chalk paint around your fireplace, as additional fire safety measures may need to be considered.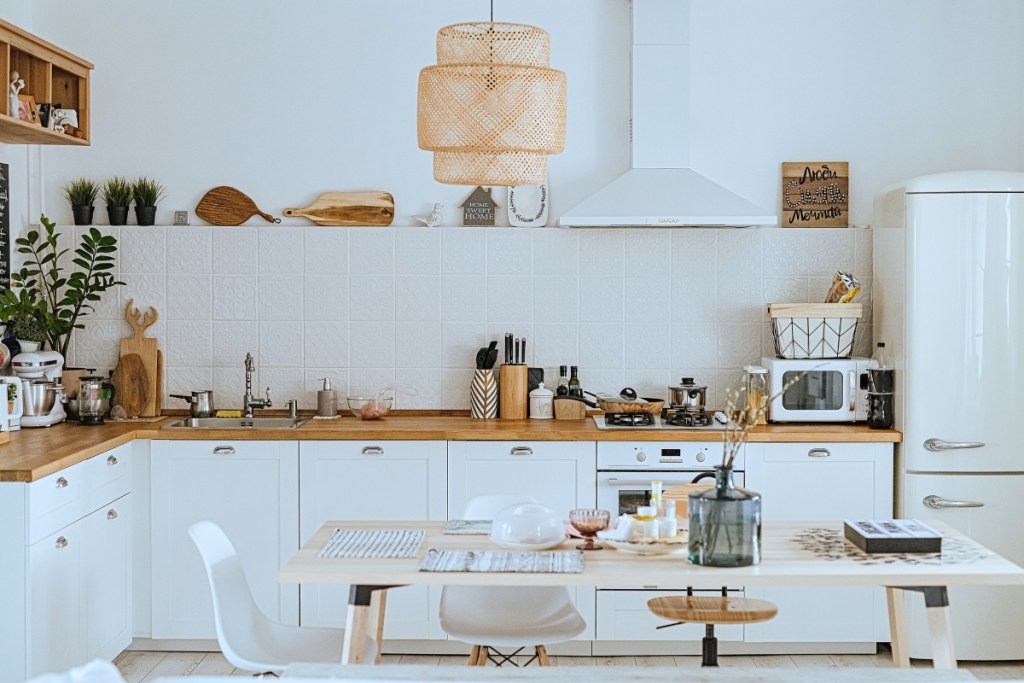 Focus on the details
When you begin to tie together the look of your new design, be sure to focus on the details. The finishing touches you choose could take your remodel from drab to lavish, so it's important to put a lot of thought into your final decorations. For example, a stunning metal tray and a couple of wine glasses on a side table could heighten the look of your entryway. Likewise, a few high-quality blankets and pillows draped strategically on your sofa could elevate your living space. And Lopez said to "always add fresh herbs to any kitchen for a fresh and curated look!"
Adding a few potted plants and small statues, bookends, or other miniature decorations around your home will help tie your look together. Focus on texture, color, and material to create a look that feels rich and luxurious.
These four affordable solutions can help you enhance the look of your home without draining your budget. Be sure to focus on the details, but don't fret over opting for cheaper alternatives. Your money should be directed to your design priorities. After that, feel free to save on cabinetry, fixtures, or other materials by partaking in more affordable alternatives.
Editors' Recommendations