You get up, walk across the room, and notice your feet are a little chilly on the bare floor. As you plop on the couch and look around, you notice something feels incomplete. If you think something is missing from your space, take a glance down at your floor — nothing there? If your decor ends at your couch legs, we need to talk rugs.
Rugs can add movement, organic textures, shape, and color to your space. Often, when something feels lackluster in your design, you can combat these design woes by incorporating a luxe rug into your existing scheme.
Finding the ideal rug for your space can be challenging. As you open your laptop to search for rugs, it's common to freeze up. There are so many options to choose from. Between colors, textures, and sizes, how are you supposed to narrow it down to the one you need? That's where we can help. Before you click buy or put on shoes to head to the store, let's go over how to choose the best rug for your space so you don't get overwhelmed.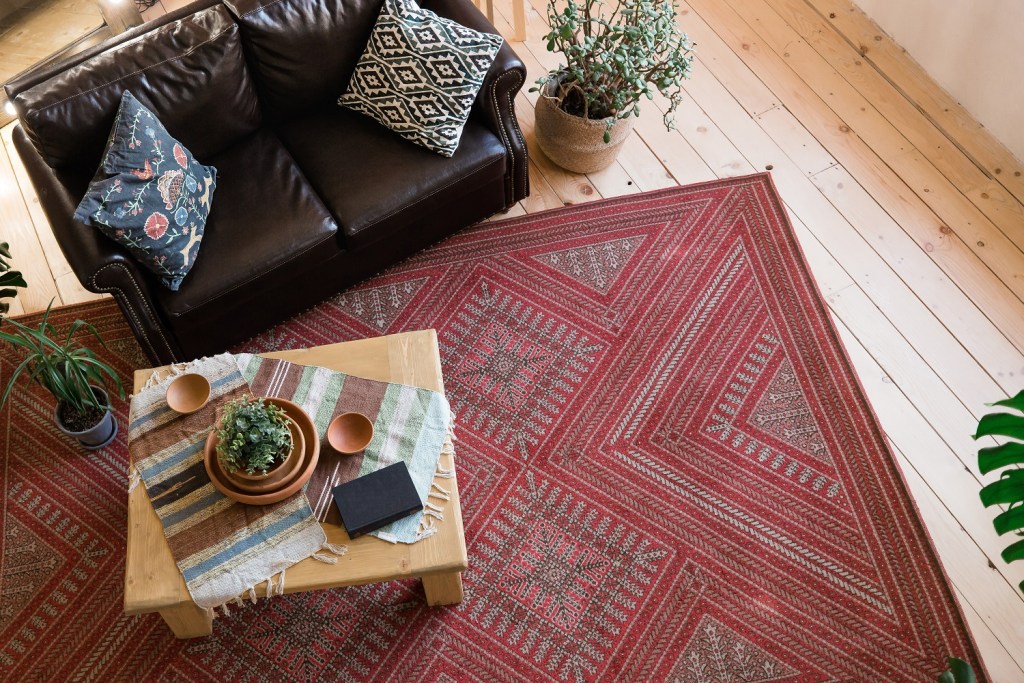 How do I know what rug to buy?
Step 1: It depends on which room you need to decorate. Is the room going to have high foot traffic? Is the rug going to be primarily for show? Fashion or function? The answers to these questions will guide you to the right rug for your space.
Step 2: You should decide what fabric you want — are you looking for a soft, textured rug that will help add dimension to the room or something thin and flat to lay under a dining room table?
Step 3: Think about how you're going to clean it.
If you need some tips to help you decide, consider this:
For high-traffic areas, synthetic fabrics like polyester are easier to clean and won't stain as easily.
For a budget-friendly option, cotton is a great buy.
For a natural option that's great for families and animals, go for bamboo.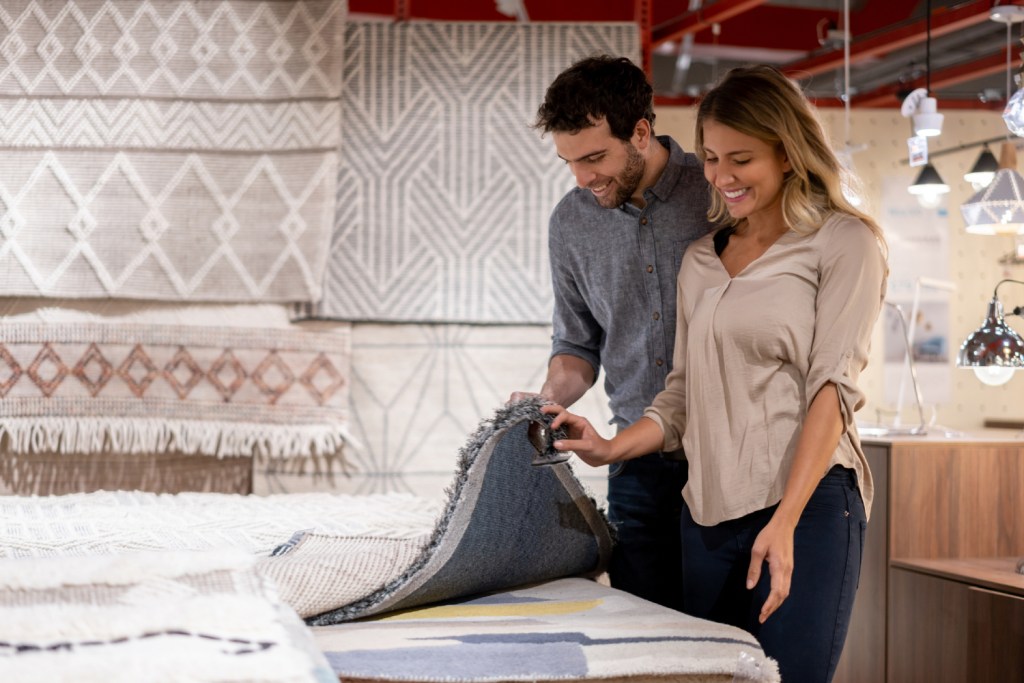 What size rug do I need?
We could spend all day talking about the different rug size rules by room, but we don't have that much time. There are some basics you should know.
Step 1: The rug should be 6 inches longer than the couch on both sides for balance.
Step 2: You should also try to have the rug be within 6 inches of the wall.
Step 3: One of the most common mistakes is buying a rug that's too small. If you do accidentally do that, don't worry. You can layer rugs that are varied sizes on top of each other as long as you don't go too crazy with different textures.
Step 4: Don't be scared to get that bigger rug.
Step 5: If you are stuck with a smaller rug, see if it would fit in the entryway or in front of your sink.
Step 6: Remember these guidelines:
You should have 6 inches from the rug to the wall.
The rug should be 6 inches wider than the furniture sitting on it.
Each room has different rules.
When in doubt, go bigger.
Most dining and living room rugs are 8 by 10 or 9 by 12.
Always measure twice.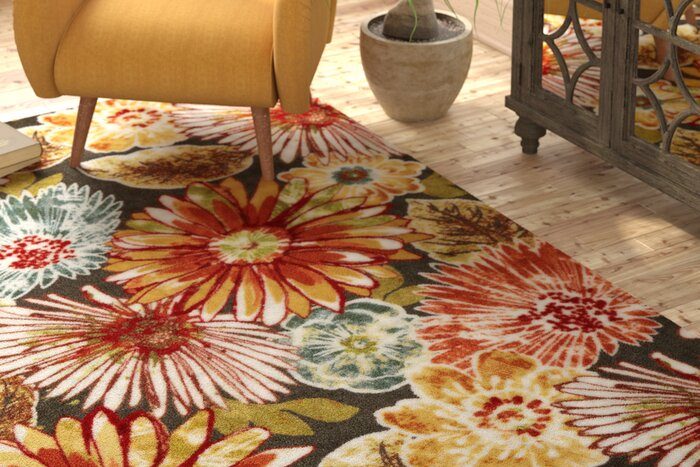 Should a rug be lighter or darker than flooring?
Step 1: Ask yourself if you have a dark floor.
When you have a dark floor, a light color rug can add a fresh, modern feel to the room. Bright colors can also pop against dark flooring, especially if they're complemented by additional decor in the room. But if you have your heart set on a dark color rug when you have dark flooring (or you just know your rug will be subjected to plenty of spills), don't despair: Just make sure you have light, bright walls for contrast.
Step 2: Consider what to do if you have light flooring.
If you have light floors, you can choose whatever color rug you'd like. Just be sure to choose a color that's different enough from your floor color to provide a bit of contrast.
Step 3: Think about how lighting will affect the colors in the room.
Also, don't just consider how dark your flooring is; consider how dark your room is in general. If you are blessed with a bright, airy, sunlight-filled space, you get to pick what color you'd like. If you have a darker space, adding a deeper color rug will make it look heavier and smaller. Lighting can also help with that. Lamps and other fixtures can brighten up the space and take attention off of the rug.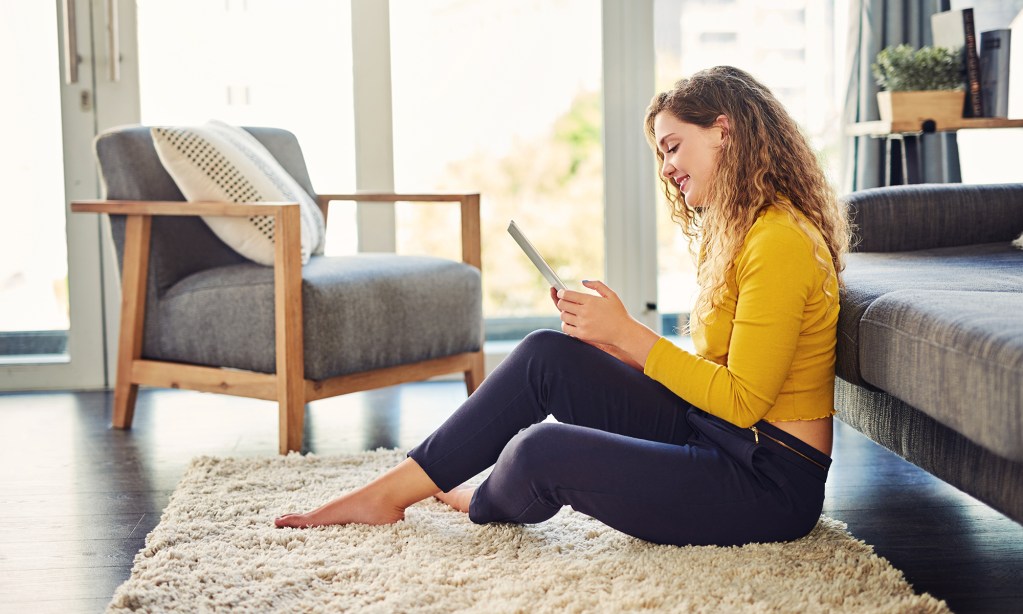 How should I decide what rug color or pattern to choose?
Step 1: Start by looking at patterns.
We can't tell you what patterns you like. This one is solely up to you. We can tell you that you shouldn't be afraid to mix patterns in the room. But rugs with bold prints and designs are best for larger rooms to create a conversation space. Keep your dining room or living room in mind for a big creative pattern.
Step 2: Think about color.
Look at your biggest pieces and note what colors those are. Which color you want to go with will first be narrowed down by the furniture. You pick your rug color from there. Once those are selected, you can choose a wall color to finish the look.
You don't have to go too matchy-matchy with the colors, but you want to make sure they complement each other. When in doubt, neutrals are always going to coordinate well. It goes couch/furniture first, rug second, and wall color last.
Step 3: Don't forget texture.
Just as you need to consider how different colors play into your existing palette, it's also essential to think about texture. Rugs are a fantastic way to add texture to the space. Opt for something unique that will add a three-dimensional touch to your room. You can also pair similar textures in other places throughout the space for more cohesion.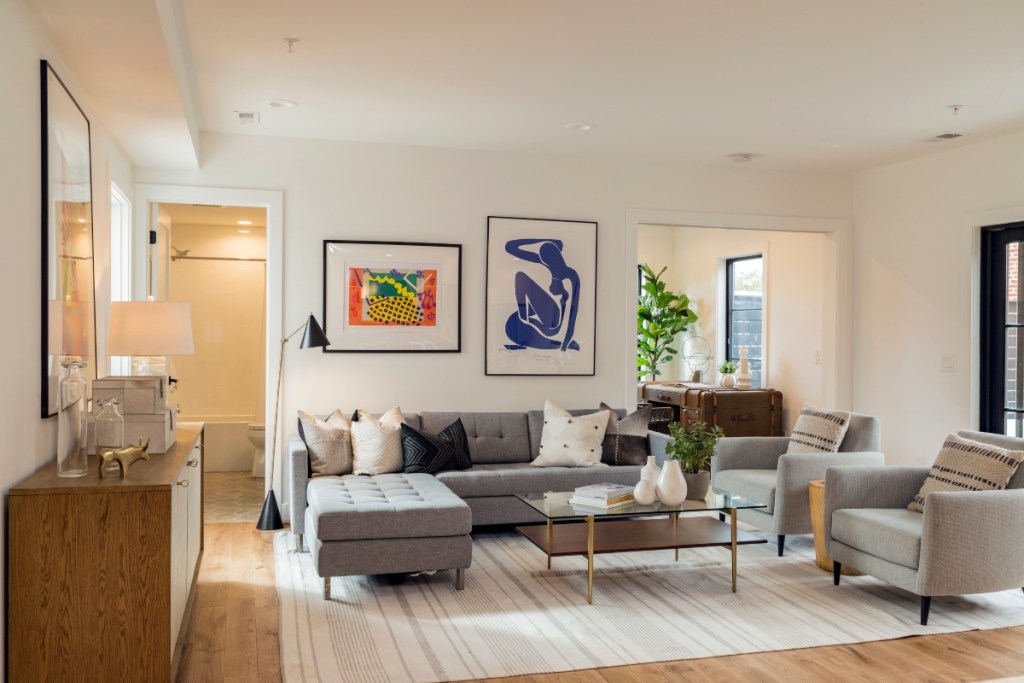 The different rug styles
When it comes down to figuring out how to choose a specific rug design, which style are you? What speaks to you?
Contemporary: Think of a piece of art, but on the floor. Contemporary rugs are usually less formal and more playful.
Traditional: Think Oriental, Persian. You'll see lots of florals and vine patterns. They are usually wool or cotton.
Vintage: Vintage is anything over 20 years old. Think handmade, distressed, and rich in color.
Rustic: Think folk art and aged country charm. These usually have a worn-in look.
Picking the right rug comes down to what style you like. You're the one who has to look at it every day. Don't fall for the trap of getting something trendy and "in" right now. Are you going to feel that way in six months? What you like is the best choice.
Whether you need a large rug to fill the living room or a smaller runner for your bedroom, we want you to be able to make the right choice for your home. If you have a room that feels like it's just missing a little something, look down. Any room could be completed with a gorgeous rug. Remember to measure your space twice, know what color your furniture is, and stay true to the style you like, and your space will look amazing.
Editors' Recommendations