The entryway is the first place you are greeted by when entering a home. Often neglected, this typically small space can be challenging to infuse with style. The problem is square footage. How do you convey your design style without a lot of furniture pieces or fabric? The answer is with rugs. Think of the floor as your chance to bring warmth, color, mood, and texture in. So let's take a look at some stylish entryway rug ideas that are sure to add just the right touch and make a lasting impression.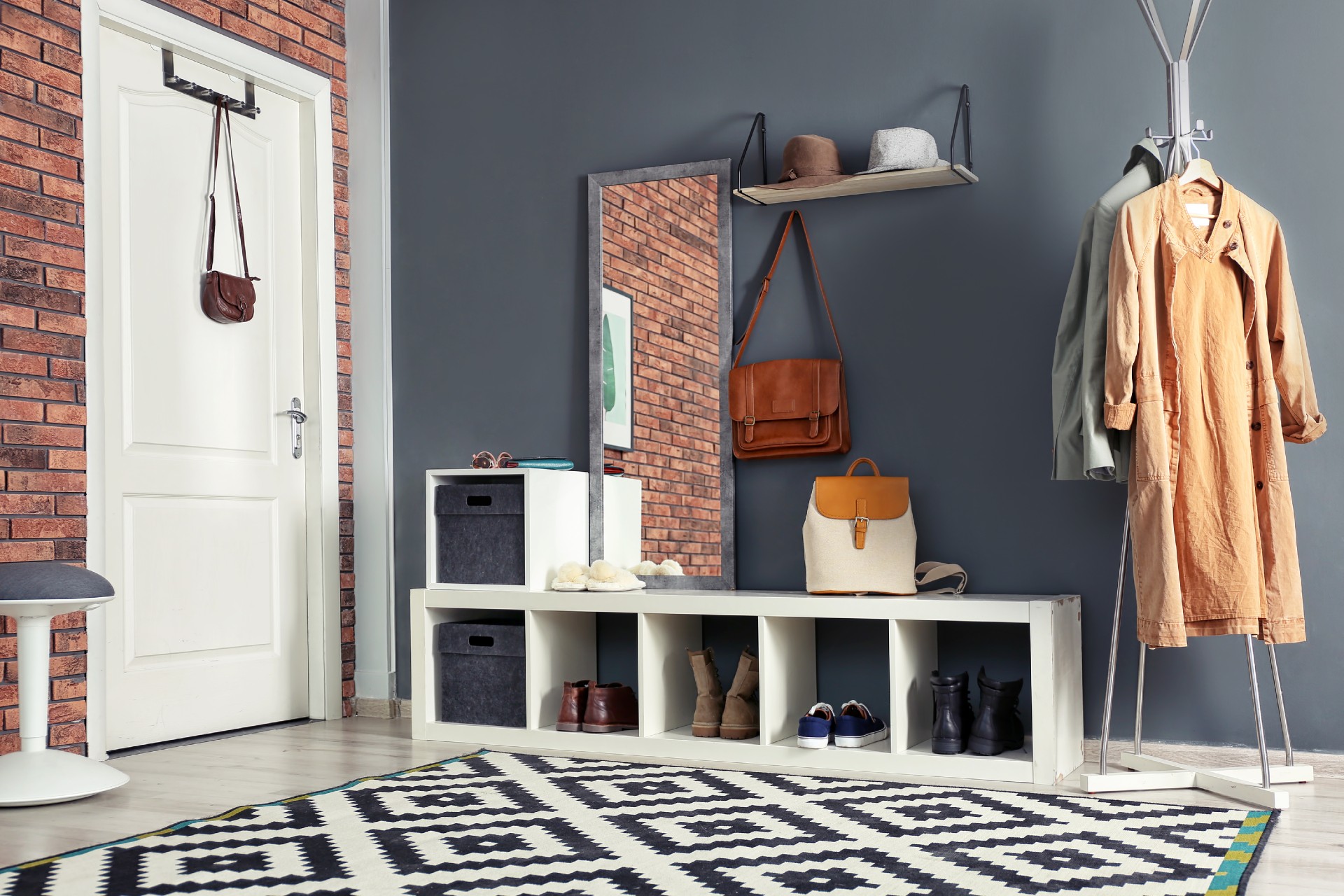 Consider shape
The first thing to do is measure. It is vital that the rug you select will work in the proportion of the space. Make sure to open and close the door to ensure that a rug won't catch. If the clearance between the floor and bottom of the door is tight, you will want to get a low-profile rug or place it out of the door's swing.
When selecting a rug for your foyer, try to look for ones that are made to stand up to wear and tear, and are easy to clean. With so many options in indoor/outdoor rugs, finding one in your style should not be an issue.
Also important to consider is the shape of the entryway. For a long and narrow space, a runner works best. If you have a larger or wide foyer, it can accommodate a round or square rug.
Determine style
Next, you will want to think about how you want the entryway to feel. Is your home formal or casual? Are you traipsing in with a dog or children? Do you live in a place that may bring in a lot of dirt or mud? Make sure to keep in mind any rooms that are visible from the entryway. The spaces should be cohesive. These are all things to think about before choosing the right floor covering, and the answers will help guide you into the right colors and materials.
Also, consider the design of the rest of your entryway as well as the rooms it flows into. If you've got a lot of rustic decor pieces, you might want to opt for a vintage rug. Additionally, you can break up minimalist, modern decor with a boho design. Too much of the same style creates a flat design, but by mixing and blending different design styles — in a smart, curated way — you can create a sophisticated look.
These are some of the trendiest styles you can choose:
Geometric patterns
If you are looking for a rug that makes a statement and adds a punch of color, then geometric may be for you. A few years ago, chevron rugs were all the rage, but today, more intricately patterned and multicolored versions are becoming more popular. They add a fun, modern element without being stark and cold. There are many indoor/outdoor versions that make them ideal for busy homes.
Persian-inspired
Looking for a little bohemian inspiration? These popular rugs are renowned for their rich colors and intricate designs. Widely considered to be works of art, these rugs should be the focal point of the space. They work best when placed in neutral or subdued surroundings that don't overly compete with them. Ideally, a Persian rug should look aged, but in a good way, as if it is a treasured family heirloom. And along those lines, these classics never go out of style, so they are a great investment. Since this rug will get a lot of traffic, it is best to get a less-expensive replica than a real Persian masterpiece. And a bonus — heavily patterned rugs will hide wear and tear much better.
Natural fiber
Timeless and easy to incorporate into any design style, sisal rugs offer exceptional durability. A favorite of designers, they add texture and earthiness to a space. The four most common types of natural-fiber rugs are sisal, jute, seagrass, and hemp. Although popular in neutral tones, you can also find colorful versions, as well. Each material has its own unique quality, and all are easy to care for and Earth-friendly. Natural elements are having a big moment in design right now, and will look right at home in your entryway.
Striped
For a casual and carefree vibe, consider a striped rug. The orientation of the stripes can have a huge impact on the space. Long lines can trick the eye into making it appear longer or wider. Wide stripes will make a room feel fuller, while thin stripes will lead you into a room. They come in two-tone or multicolored and are a great way to bring in a whimsical element that is anything but fussy.
Whichever rug you decide on, for best results always use a pad underneath. This will not only keep it in place, but it will also make sure they are no slips. Remember, an entryway should be a welcoming place that offers a glimpse into what is to come, so adding touches like rugs will only add to your home's overall charm.
Editors' Recommendations