Curves are back in style and homeowners are falling head over heels for this latest trend in home design. While clean lines, boxy furniture, and a more structured approach have been favored in the past decade, many people are looking for something new to spice up the look of their homes. So, today we'll take a look at this retro revival and show you just how you can embrace curves in your furniture for years to come.
Why curved furniture is a reemerging trend
Including curves in home design was a popular trend in the 1970s and '80s. Although, as interior design evolved, this aspect slowly faded as more timeless, streamlined looks took center stage. As a result, straight lines, boxy furniture, and a more structured look have dominated home design in the past decade. However, things are changing as the curved furniture trend makes a comeback.
Homeowners and designers alike favor the sculptural appeal of curvy furniture in home design. These items provide a retro feel that flows seamlessly with today's reemergence of 1970s home design trends. Curved furniture gives people an opportunity to have a curated look in their homes that appears artsy and sculptural. With biophilic and retro designs becoming trendy, it's no wonder that curvy furniture has become a must-have for many homes, as it blends beautifully with these styles.
How to incorporate curves in your home
If you're interested in taking part in this trend and adding curves to your home design, we have a few ideas sure to spark inspiration for any room in the house.
In the living room
In the living room, curved sofas and sectionals are making a bold return. With their elegant and often eclectic look, these couches can significantly transform your space. For a modern approach, you can opt for a simple 1970s-inspired rounded back sofa with open sides. Or, a more family-friendly option could be a curved sectional placed in the center of your room to act as both a comfy seating arrangement and a room divider.
Round coffee tables are also popular right now. Whether you choose a large round ottoman in tandem with the beloved multipurpose home design trend or a simple round wooden coffee table, adding a circular centerpiece to your living room can create an effortless look.
In the kitchen
In the kitchen, bar stools reminiscent of retro diners are a favorite for many homeowners. Pair them with a stunning and sleek curved bar top. Alternatively, save space with a small kitchen table. Whether you don't have a dedicated dining room or you're looking for additional counter space, a kitchen table can increase the functionality of the room. Add a circular table for a classic look that doesn't leave the space feeling boxy or closed-in.
In the dining room
For your dining room, consider opting for a circular rug. If you have a large rectangular table, adding a circular rug can create more dimension and visual appeal to the space. Additionally, many homeowners are experimenting with retro geometric wallpapers. Try adding a statement wall with a circular or curved wallpaper print.
Another way people are inviting curvy furniture into their dining spaces is through curved china cabinets or bookshelves. Whether arched or a full-on circular structure, these pieces of furniture can accentuate the existing decor in your dining room.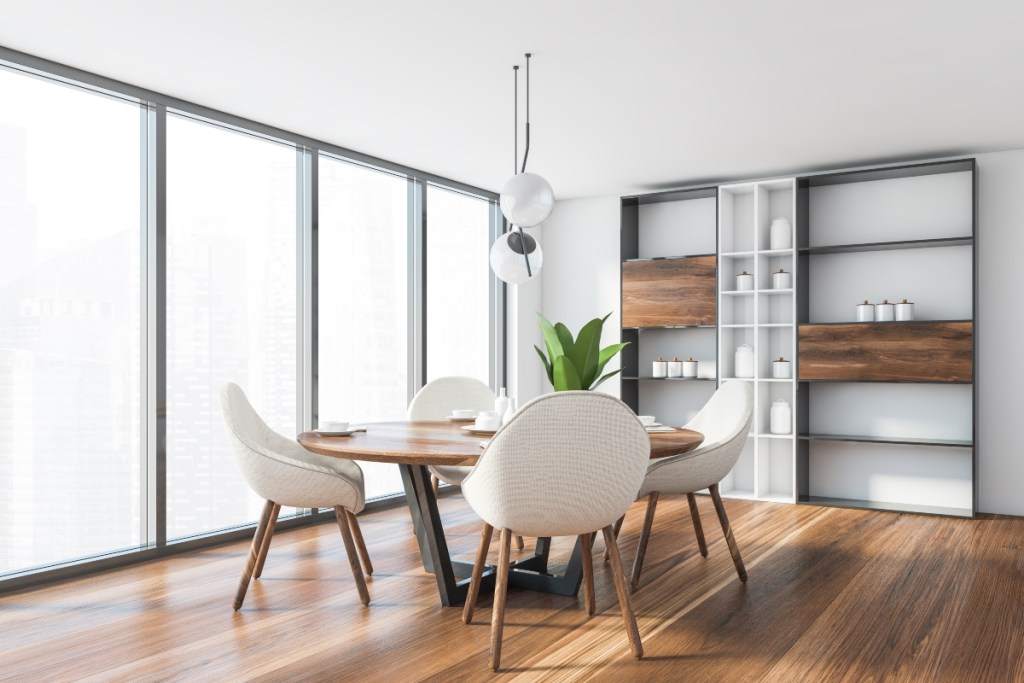 What looks good with curved furniture?
Once you have a few pieces of curved furniture picked out, you'll need to begin blending them in with your home design. Below are some fantastic items that work wonders with curvy furniture.
Large rectangular rugs
When using curves in your home design, it's best to do so in moderation. Tone down the curves in your space with a rectangular rug that will help ground your design. If you have a rounded sofa and circular coffee table, tie the look together with a stunning rectangular rug. Long runners and square floor mats can also help you to create a fluid design.
Bold colors and unique patterns
As you might expect from the '70s and '80s trend revival, curved furniture looks beautiful with bold colors and unique patterns. Flower prints, geometric wallpaper, and bold oranges are just a few examples of how you can use color and pattern to highlight your new curvy home design. For instance, try purchasing a boldly colored rounded chair to place in your living room. Or, opt for flower-patterned curtains to go with your circular dining room rug. Try experimenting with a bolder color palette to show off your unique curved items.
Add more curves
Try adding a circular pillow to your curved sofa or using curvy sculptures in your home design. Small rounded table lamps or beautiful statement chandeliers can also make your design stand out. Homeowners are particularly drawn to arched mirrors, gallery walls with unusual round frames, and side tables with curved edges to help highlight the curved look of their home design.
As curvy furniture comes back in style, it's best to add it to your home in moderation. Focus on statement pieces that break up the streamlined and rigid aspect of the past. Use color and pattern to accentuate your design, and don't be afraid to reach for eclectic decor pieces. This trend is about curation and taking a sculptural approach to home decor. So have fun with it!
Editors' Recommendations