When major paint companies unveiled their 2023 colors of the year, it became clear that dark, moody jewel tones were about to take over. 2022 was the year of soothing green tones — and while green is still a popular choice (particularly for spaces like kitchens and bathrooms), homeowners and designers are looking for shades that introduce elegant drama into the living space.
When it comes to 2023 interior design trends, rich hues are going to dominate design aesthetics, whether your style of choice is grandmillennial maximalism or more of a rustic or minimalist look.
Jon Sanborn, co-founder of SD House Guys, knows popular design trends. He's been investing in real estate for seven-plus years in San Diego, California.
"Color is making a big comeback in home design. Using color in your home can add personality and make it feel unique," he said.
And it's not just for ultra-maximalist spaces either. "We are seeing more and more pops of color being used to make bold statements in homes," Sanborn said. "This can be anything from a brightly painted front door to colorful accent walls in living rooms and bedrooms. If you are incorporating bold colors into your home, my advice would be to use them sparingly."
Amber Shay, national VP of Design Studios at Meritage Homes, agreed. "I expect an increased demand for bold colors as many look to add color and brightness to their homes following two years stuck at home for extended periods of time," she explained.
What specific hues should we expect to see?
"The colors I'm most excited to see people use more are rich, moody colors, vintage and retro colors, and lots of shades of green," she said.
These hues would build nicely on design trends we've seen in the past year, where soothing greens and modern takes on vintage 1970s designs have become popular.
Like Sanborn, Shay expects color to be used in exciting ways. "I also expect to see people using colors in unexpected ways throughout their homes, like creating a statement island in the kitchen or painting the ceiling in their bedroom to serve as a 'fifth wall,'" she said.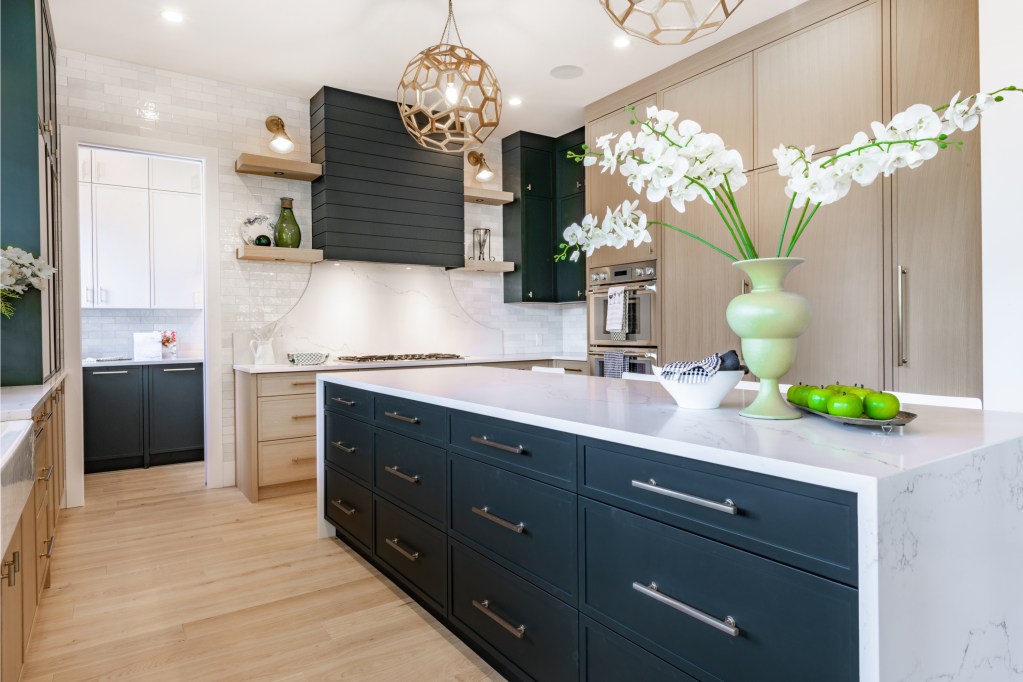 While Shay believes we'll see bold hues in shades of green, Marina Yu, senior designer at Whitehall Interiors is all about a more royal jewel tone — purple.
"I think we are going to see a lot of purple color in interiors," she said. "The hue is versatile and has a tremendous range of shade variation, from periwinkle to mauve to aubergine. We saw a lot of this shade, as well as jewel tones, on the runways of 2022, and now it's making its way to the interior spaces."
While bold colors will be replacing neutrals as the go-to shades, that doesn't mean every home will be filled with emerald greens, sapphire blues, and dark, moody grays and browns. However, neutrals will be getting a colorful facelift as well as white, taupe, and light gray give way to their slightly more vibrant cousins.
Shaun Martin, owner and CEO of Denver-based The Home Buying Company, which helps clients find, build, buy, and create their dream homes, noted, "Neutral colors are always popular in home design, but for 2023, we'll see a shift toward earthier tones like moss green, deep brown, and dusty pink. These colors create a warm and inviting atmosphere, perfect for cozy spaces like living rooms and bedrooms. To add a bit of interest, pair earthy neutrals with metallics or brighter accent colors."
Finding the exact right paint color for your home can be a daunting process, but the message is clear: When refreshing your home in 2023, don't be afraid to choose a daring hue.
Editors' Recommendations