When you're driving along the road, what is it about a house that draws your gaze? Usually, it's not just one aspect. Rather, you're struck by the general curb appeal — the gorgeous landscaping, window shutters, facade color, and front door that tell you so much about the home. From a cursory glance, you can tell if it's rustic and youthful or modern and sophisticated. That being said, is your home's exterior bold enough to draw the eye of passersby?
If you're looking to upgrade your home's facade, start with repainting your front door. Whether it's understated or bold, your front door's color gives viewers a sense of your style and personality. Picking the color is always difficult. With so many shades and finishes to choose from, it can feel overwhelming. To get you started, take a look at some of these trending front door ideas that can help you express your style.
Consider a black front door
Black is a subversive option, adding tons of drama and interest to your facade. It's an incredibly versatile color and can work well with various home styles, be it rustic, traditional, or modern. A black door is especially interesting when paired with a light exterior like white brick or gray paneling, but if you're looking for a more contemporary look, be bold and couple it with a red facade.
Think about classic navy blue
When sophistication is the name of the game, navy blue is always a top choice. It's neutral enough to fit well with a traditional design but can also be paired with bold colors for a more modern look. This is also one of the best ways to incorporate color without going overboard. While neutrals like white, cream, and gray are classic and will never go out of style, navy blue adds a pop of color without clashing with any existing decor.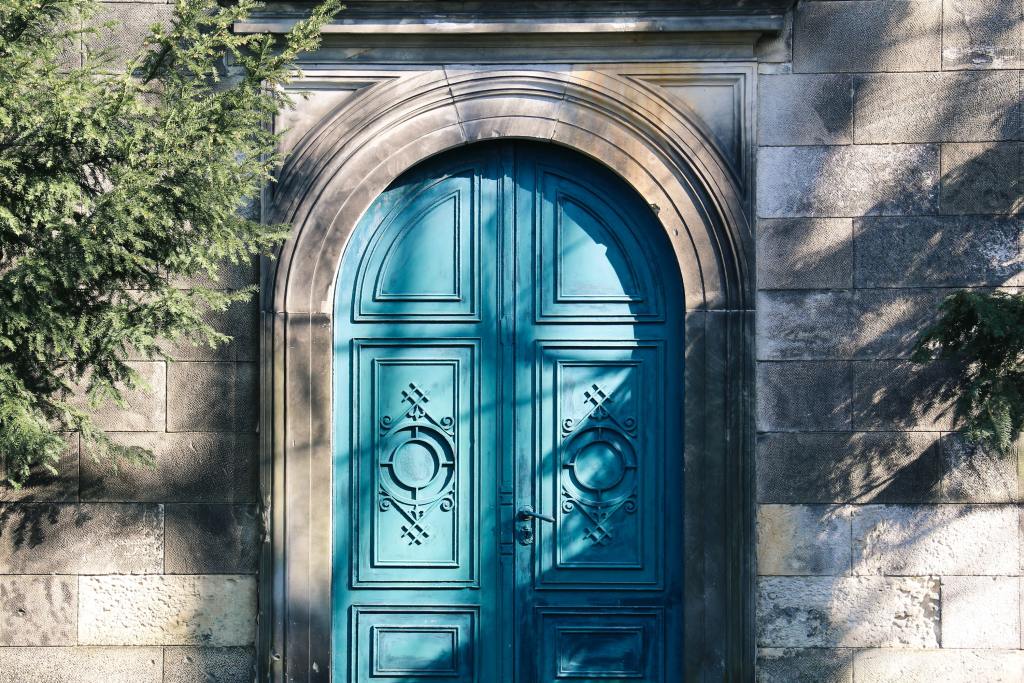 Light blue front doors provide a carefree vibe
To craft a bohemian-inspired home, light blue is our pick. You can go bright and airy, pairing in with a classic exterior in a warm cream or a crisp white. Alternately, you can make it more eclectic and lively by incorporating hues of yellow, orange, and green into the window shutters and landscaping. While often featured on farmhouses, cottages, and other rural homes, this hue is perfect for the urban setting as well, differentiating your entrance from the others in the row.
Keep it classic with crisp white
Nothing shouts "tradition" like a clean, crisp, white entrance to your house. There's just a sense of timeless elegance when paired with red brick or an otherwise moody, dark exterior. It also goes well with a newer, modern farmhouse look, especially with a facade accented with black trimmings.
If you opt for a white door, give yourself permission to be a little bolder with the landscaping. Pick plants in a variety of heights, petal sizes, and colors, and have fun with the ground cover and shrubbery. The white will just make these colors and textures pop even more.
Let your front door be gray
Gray is a softer alternative to white, bringing in a bright, clean touch without being too stark. When curb appeal is the main goal, however, be wary because gray has a tendency to fade into the background. Be sure to incorporate a wreath, brightly colored flowers, lights, and other eye-catching decorations to keep your exterior interesting and full of character.
Don't use a color at all
Perhaps one of the more interesting kinds of front door is one that doesn't have a paint color at all. Instead, allow the wood's natural beauty to do its magic. Many traditional homes look stunning with a stained wooden entrance, as this style certainly lends itself more toward rustic farmhouses and traditional cottages. That being said, it can also be a unique way to soften up the colder exterior of modern homes.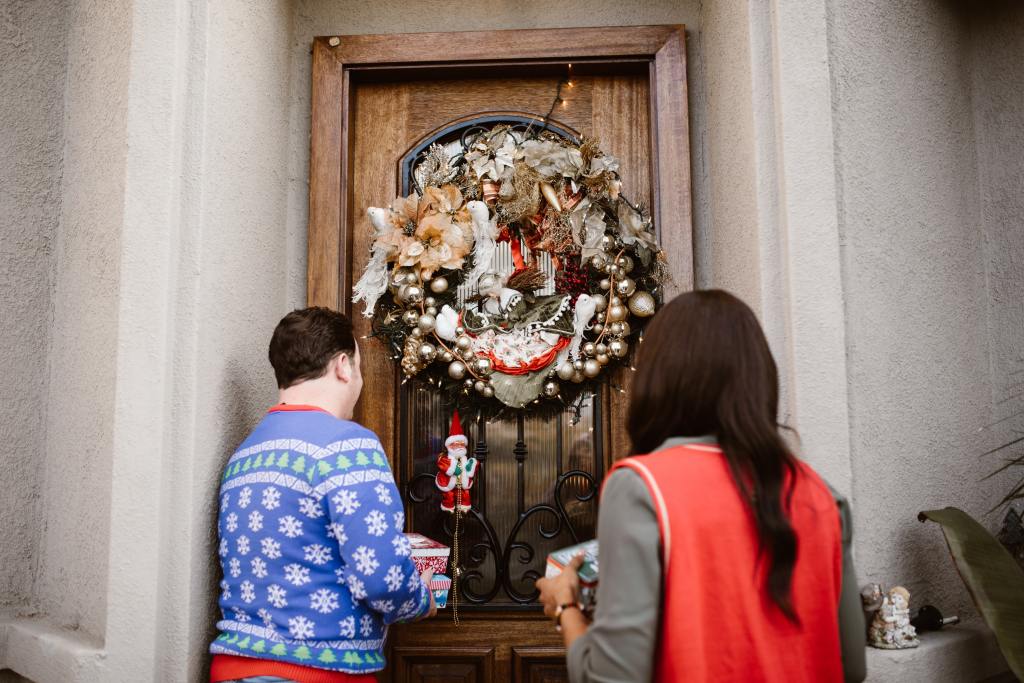 A few other color considerations
In addition to the color of paint (or wood stain) you choose, unleash your creativity and include other design elements to enhance the overall aesthetic of your home's entrance. While the front door can be a statement feature, curb appeal is more than a single detail. Consider adding seasonal decor, exterior lighting, flower beds, and a cobblestone walkway to enhance the overall appearance. Whatever you decide, make sure that you incorporate your own unique flair so that your home reflects your particular point of view.
Editors' Recommendations