As the oppressive heat and humidity of summer give way to crisp fall nights, there's still plenty of time for outdoor entertaining before winter moves dinner parties back inside. The fall brings a riotous array of colors and delicious comfort foods made with a veritable cornucopia of pumpkins and recently harvested produce. This makes it a wonderfully cozy season to host friends and family outdoors.
Whether your outdoor dining setup is rustic and casual or sophisticated and elegant, you can pull from all the nature around you to create seasonal and stylish centerpieces. These DIY pieces are sure to delight your guests as you celebrate the harvest season over sweet potato pie and freshly picked apples.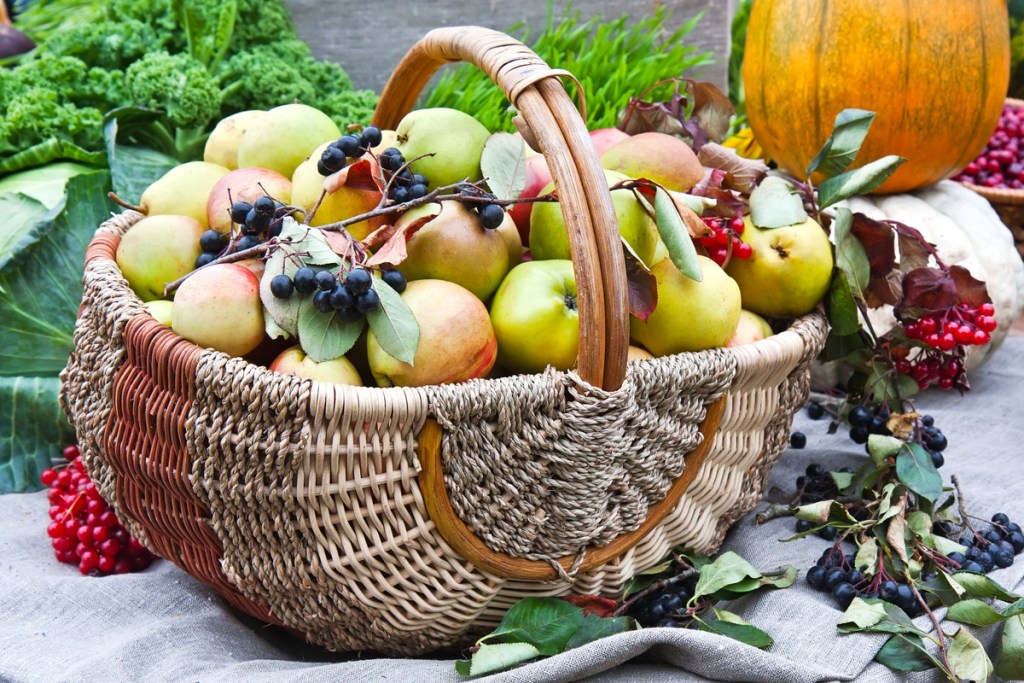 A basket of bounty
For a centerpiece on a budget, you can't beat the simple beauty of a decorative rattan or wicker basket filled with the season's most stunning bounty. After apple picking, display your haul for all to see, or substitute apples with pears, oranges, mini pumpkins, gourds, or piles of pinecones you gathered from the yard. Fall produce tends to follow the yellow, brown, and orange color palette, so add fresh-cut greenery from the garden for a pop of bright color.
You can find baskets at thrift shops and craft stores, but we love this rattan option from Wayfair. Because the color of the material is pretty dark, try to pick bright and brilliant hues for the filling.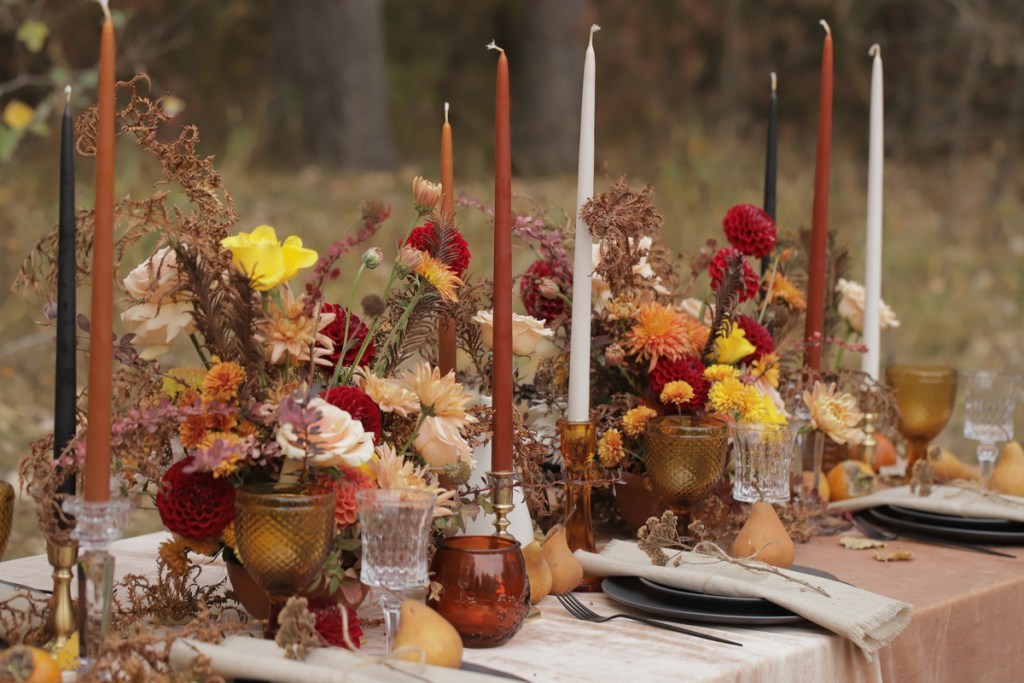 Mums the word
With floral centerpieces, you can incorporate colors that complement your table setting as well as the season itself. Celebrate the fall with a basket or vase full of Chrysanthemums, mums for short. With their autumnal hues of cranberry red, brilliant gold, and rusty orange, mums capture the ever-changing colors of the season.
Whether you cut the flowers from your own yard or purchase them at your local market, mums are affordable and colorful, making them a great anchor for your creative floral arrangements. To add visual interest, pair them with zinnias, wildflowers, and other flowers of varying heights. This prevents the arrangement from looking too boring or stiff.
A decorative vase is just what you need to tie this whole look together. We love this bronze decorative pedestal bowl, which is so distinctive that it's practically a centerpiece all on its own. Finish it off with tapered candles around the table to create a more romantic and magical feeling to the table.
Pumpkin pickings
Vases and baskets are simple and easy decorations that make a large impact without requiring much effort on your part. However, if you're willing to put a little more energy into your table setting, think big. Start with a focal point, like an oversize vase bursting with tall, golden wildflowers and greenery. Choose a vase that's rustic and natural-looking, perhaps even a galvanized steel pitcher, or any other bold pieces that immediately draw the eye.
Fall is practically synonymous with pumpkins, so take a trip to your local nursery and pick up an array of pumpkins in varying sizes, colors, and shapes. Place groupings of pumpkins on wooden pedestal stands and set others across the table in careful clusters. To put a spotlight on your centerpieces, add a table runner or long woolen scarf in autumn shades of orange, gold, or rust.
Complete your outdoor table centerpiece with some genuine fall leaves, carefully chosen from your yard or gathered on a walk around the neighborhood. Choose only those displaying the most vivid shades of red, gold, and orange, and scatter them on the table for the perfect finish. While these colors all look great together, piling too many stereotypical fall decorations on one table can start to look busy and kitschy. Instead, pick one or two pieces that are representative of the fall season, and decorate the rest of the setup with neutrals.
Pulling together a DIY centerpiece is as easy as grabbing foliage from your yard or taking a quick trip to your local nursery. The important thing is that you incorporate the best parts of the season, like autumnal foods and colors, into your table setting. As long as you put your personality into what you create, you are certain to wow your guests from the moment they arrive.
Editors' Recommendations