Parenting is demanding. Aside from child-rearing, most parents also have to work, take care of the household, and get kids to and from after-school activities and sports commitments. And these days, many parents found themselves also acting as teachers. By the time dinner time rolls around, it can be tough to find the time and energy to learn how to meal prep, or produce a quality meal for your family. It's essential to get a healthy dinner on the table for obvious reasons – nutrition and quality family time. If you're struggling with what to make for dinner each night, don't worry. We have five nutritious and straightforward weeknight meals that every busy parent should master to get you through the week.
Sheet Pan Fajitas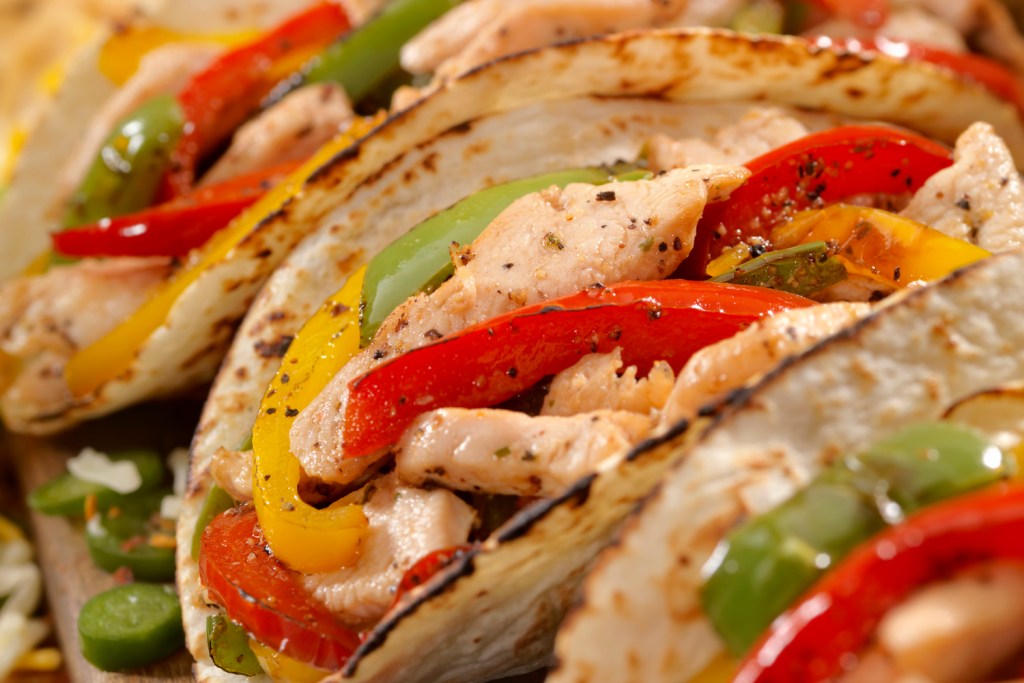 Fajitas are generally a crowd-pleasing dish. Usually, kids really enjoy the fact that they can build their own fajita with whatever toppings they like. This dish is interactive, nutritious, and delicious. What makes this recipe simple is the fact that you can cook all of the meats and veggies in the oven on a sheet pan rather than the typical smoke and sizzle that comes with preparing fajitas on the stovetop. This method saves on steps (cooking the meats and veggies together rather than separate) and dishes (using one pan for all of the ingredients), which means less work for you. Typically, this recipe serves four, but feel free to tweak it for the amount of food you need. Also, though the recipe below calls for chicken as the protein, feel free to substitute steak or shrimp, or leave the meats out altogether to make it a vegetarian dish.
Ingredients
Eight 6-inch flour tortillas
2 bell peppers (any color), seeded and cut lengthwise into thick slices
1 small red or yellow onion, halved lengthwise and cut into thick slices
1/2 pint cherry tomatoes, halved if very large
2 boneless, skinless chicken breasts (about 1 pound total), cut lengthwise into 1/2-inch-thick slices
3 Tbsp. vegetable oil
1 tsp. chili powder
1 tsp. ground cumin
1 tsp. ground coriander
1/2 tsp. garlic powder, or 2 garlic cloves, minced
Salt and pepper
2 Tbsp. fresh lime juice
Large handful of fresh cilantro, chopped
Shredded sharp cheddar cheese, for serving
Sliced avocado, for serving
Sour cream, for serving
Directions
Preheat the oven to 425° and put a rack in the middle position. Wrap the tortillas in foil and set aside. Put the peppers, onions, and tomatoes on an 18-by-13-inch sheet pan and top with the chicken. Sprinkle with the oil, chili powder, cumin, coriander, and garlic powder, then season generously with salt and pepper.
Using your hands, combine well, then spread the ingredients out across the pan. Bake until the chicken is just cooked through, about 20 minutes, tossing the ingredients halfway through. Put the foil-wrapped tortillas in the oven about 5 minutes before the chicken is done to warm them.
Remove the pan from the oven, sprinkle the chicken and vegetables with the lime juice and cilantro, then check the seasonings. Place all ingredients in bowls on the table and let you're your family create their own fajitas by spooning the chicken and vegetable mixture onto the warm tortillas and adding the desired toppings. (Recipe retrieved from Oprah.com)
Weeknight Beef Skillet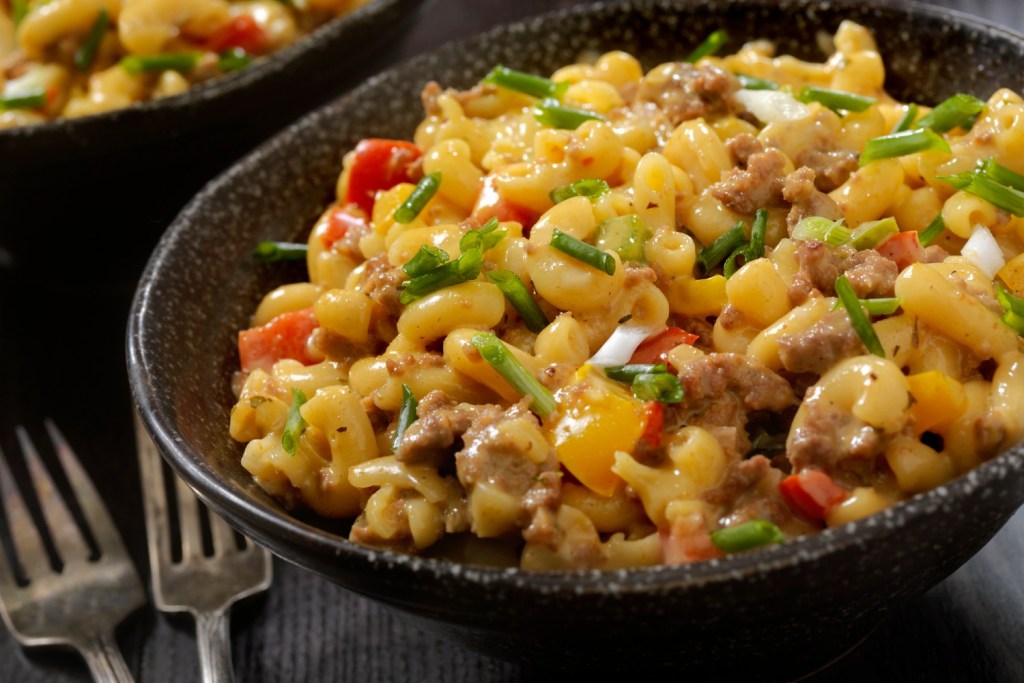 Even picky eaters like pasta. This dish has all of the staples of a hearty and healthy meal – veggies, meat, and carbs. This dish is perfect for kids who won't eat vegetables because they blend in with the pasta and sauce. It is simple for you because it utilizes frozen vegetables, canned tomato sauce, and pasta, all of which you likely already have on hand. The ground beef in the recipe can be replaced with ground turkey, pork, or chicken if you want to mix it up a bit. Also, if you don't have any meats on hand, you can leave them out altogether and keep the dish vegetarian. If you have taco lovers in your house, substitute a package of taco seasoning for the Italian seasoning and add a cup of shredded cheddar cheese at the end.
Ingredients
3 cups uncooked pasta
1 pound lean ground beef (90% lean)
1 medium green pepper, finely chopped
1 can (15 ounces) tomato sauce
1 tablespoon Worcestershire sauce
1-1/2 teaspoons Italian seasoning
1 teaspoon sugar, optional
1 package (16 ounces) frozen mixed vegetables, thawed and drained
1/4 cup minced fresh parsley or chives (for garnish)
Directions
Cook noodles according to package directions; drain. Meanwhile, in a large nonstick skillet, cook beef and green pepper over medium heat for 5-7 minutes or until beef is no longer pink, breaking up beef into crumbles; drain.
Add tomato sauce, Worcestershire sauce, Italian seasoning, and if desired, sugar to beef mixture; bring to a boil. Stir in vegetables and heat them through. Serve over noodles and sprinkle with parsley or chives if desired. (Recipe retrieved from tasteofhome.com)
Zucchini Ham Frittata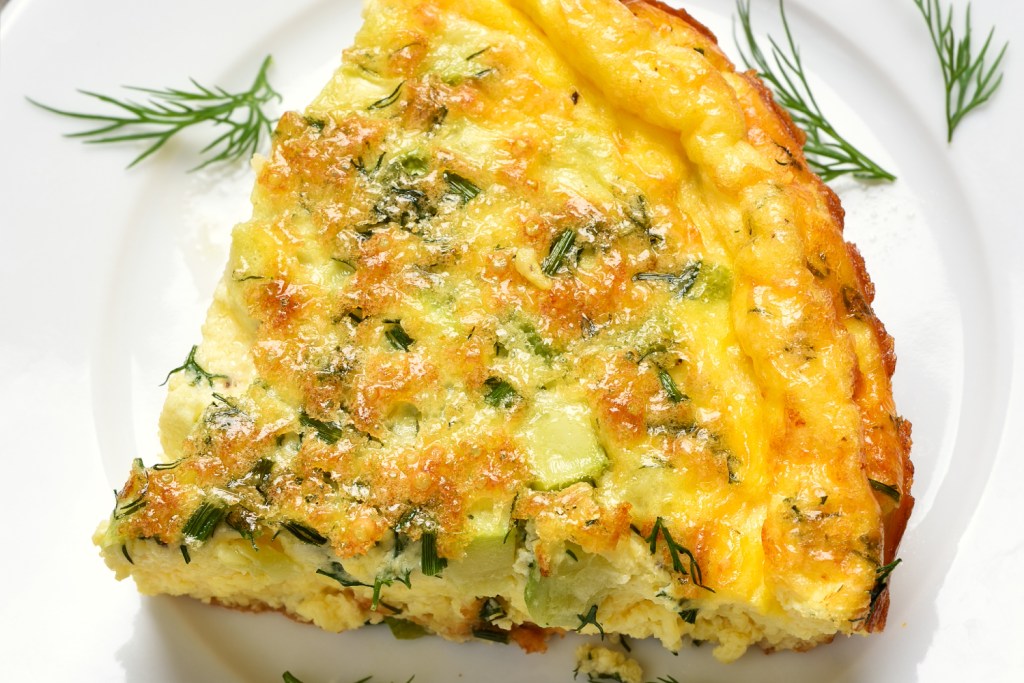 Nothing says quick dinner more than a dish that cooks in the microwave. Breakfast for dinner is a great way to feed your family a nutritious meal and spend hours slaving away in the kitchen. This recipe is a time saver since it cooks in one dish, which means less clean up time. Feel free to omit the ham in the recipe to make this a vegetarian meal. You can also add or substitute green or red bell peppers for the zucchini in the recipe. You can garnish this dish with fresh parsley or chives for added flavor. Serve this dish alongside a salad and toast for a more complete meal.
Ingredients
4 cups finely chopped zucchini (3-4 medium )
1 small onion, chopped
4 large eggs
3/4 teaspoon salt
1/8 teaspoon pepper
1 cup shredded cheddar cheese
1 cup cubed fully cooked ham
Directions
In a 9-inch microwave-safe pie plate, combine zucchini and onion. Microwave, covered, on high for 3-4 minutes or until tender. Drain excess liquid.
In a bowl, whisk eggs with salt and pepper. Stir in cheese and ham. Carefully pour over zucchini and onion mixture. Microwave at 70% power for 8-9 minutes or until a knife inserted in the center comes out clean. (Note: microwave times may vary based on your microwave's power.) (Recipe retrieved from tasteofhome.com)
Cheesy Chicken & Broccoli Orzo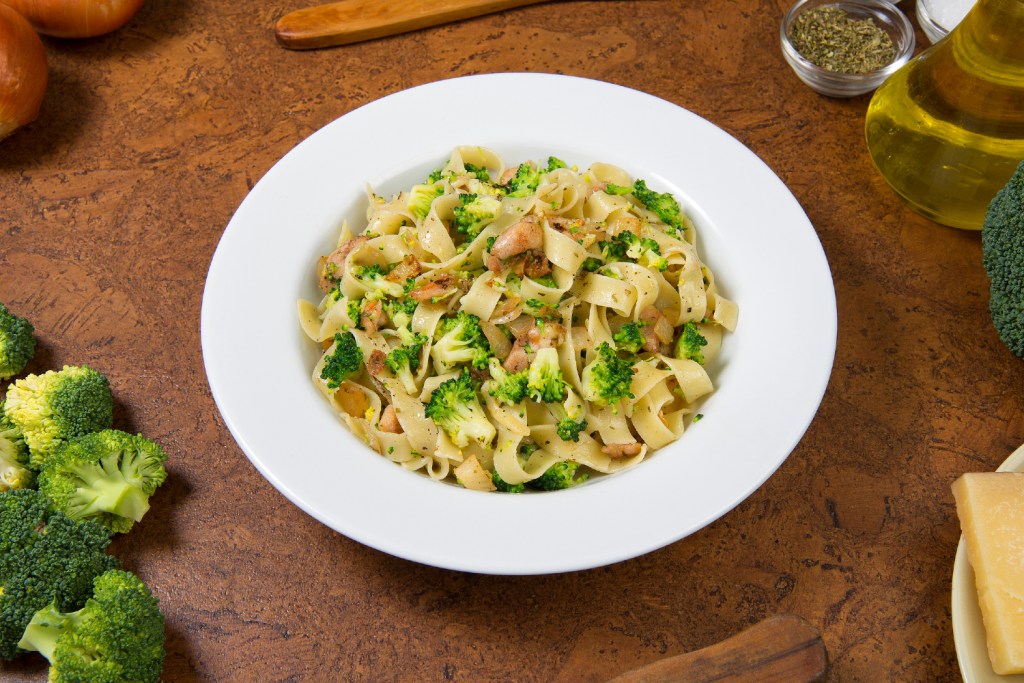 Casseroles are a great way to combine several ingredients in one pan, but they take too long to bake. When you are in a hurry for a well-rounded and nutritious meal, this cheesy chicken and broccoli dish will give all the comfort of your favorite casserole in half the time. The recipe utilizes frozen broccoli with cheese sauce, which is a huge time saver. Feel free to add other frozen vegetables to the dish to make it more nutritious. You could substitute cooked rice for the cooked orzo in this dish if you want to change it up a bit. Also, feel free to substitute a different kind of pasta if you don't have orzo on hand.
Ingredients
1-1/4 cups uncooked orzo pasta
2 packages (10 ounces each) frozen broccoli with cheese sauce
2 tablespoons butter
1-1/2 pounds boneless skinless chicken breasts, cut into 1/2-inch cubes
1 medium onion, chopped
3/4 teaspoon salt
1/2 teaspoon pepper
Directions
Cook orzo according to package directions. Meanwhile, heat broccoli with cheese sauce according to package directions.
In a large skillet, heat butter over medium heat. Add chicken, onion, salt, and pepper and cook for 6-8 minutes or until chicken is no longer pink and onion is tender. Drain orzo. Stir orzo and broccoli with cheese sauce into skillet and heat through. (Recipe retrieved from tasteofhome.com)
Simple Potato Soup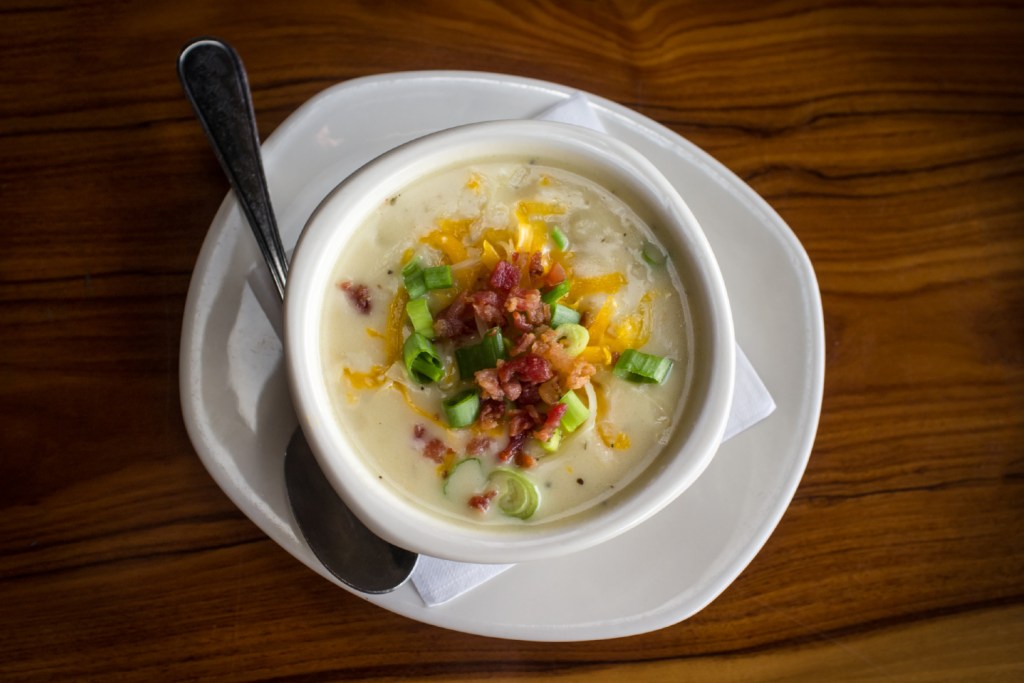 This potato soup combines everything you love about baked potatoes with all the fixings into a one-pot soup that is hearty and delicious. There is a good amount of vegetables in this soup, so again, if you have a kid who won't eat them usually, you can sneak them in here. The recipe uses many ingredients that you may already have on hand, so this is an excellent dish to whip up if you're in a bind. Feel free to leave the bacon out and use vegetable stock instead of chicken stock if you want to make the dish vegetarian.
Ingredients
6 bacon strips, diced
3 cups cubed peeled potatoes
1 small carrot, grated
1/2 cup chopped onion
1 tablespoon dried parsley flakes
1/2 teaspoon salt
1/2 teaspoon pepper
1/2 teaspoon celery seed
1 can (14-1/2 ounces) chicken broth
3 tablespoons all-purpose flour
3 cups 2% milk
8 ounces process cheese (Velveeta), cubed
2 green onions, thinly sliced, optional
Directions
In a large saucepan, cook bacon over medium heat until crisp, stirring occasionally, and then drain the drippings. Add vegetables, seasonings, and broth and bring to a boil. Reduce heat and simmer, covered, until potatoes are tender which will take about 10-15 minutes.
Mix flour and milk until smooth in a separate bowl and then stir into soup. Bring to a boil, stirring constantly and cook stir until thickened – about 2 minutes. Stir in cheese until melted. If desired, serve with green onions as a garnish. (Recipe retrieved from tasteofhome.com)
Editors' Recommendations