In need of some fun and flavorful summer dishes without all of the calories? Here are seven of our favorite low-calorie dinners that will wow the whole family.
These under 1000 calorie dinners are perfect for you and your family. If you're looking for some simple yet remarkable dishes to beat the heat, these are sure to satisfy the whole family!
What you'll need:
6 hard-boiled eggs
1/4 cup mayonnaise
1/2 tsp zest and 1 1/2 teaspoons fresh juice from 1 lemon
1/3 cup finely diced celery
1/4 cup finely sliced scallions
1 tbsp minced parsley leaves
Salt and black pepper
Buns, lettuce, and thinly sliced radishes for serving
How to make this meal
First, use a masher or whisk to reduce the eggs to smaller chunks. Next, combine your mashed eggs, mayonnaise, lemon juice, celery, scallions, and parsley in a medium bowl. Mix the ingredients together until you reach your desired consistency, then season the mixture with salt and pepper. Serve as a side dish, or make it a main course by spreading it between two toasted slices of your favorite sandwich bread.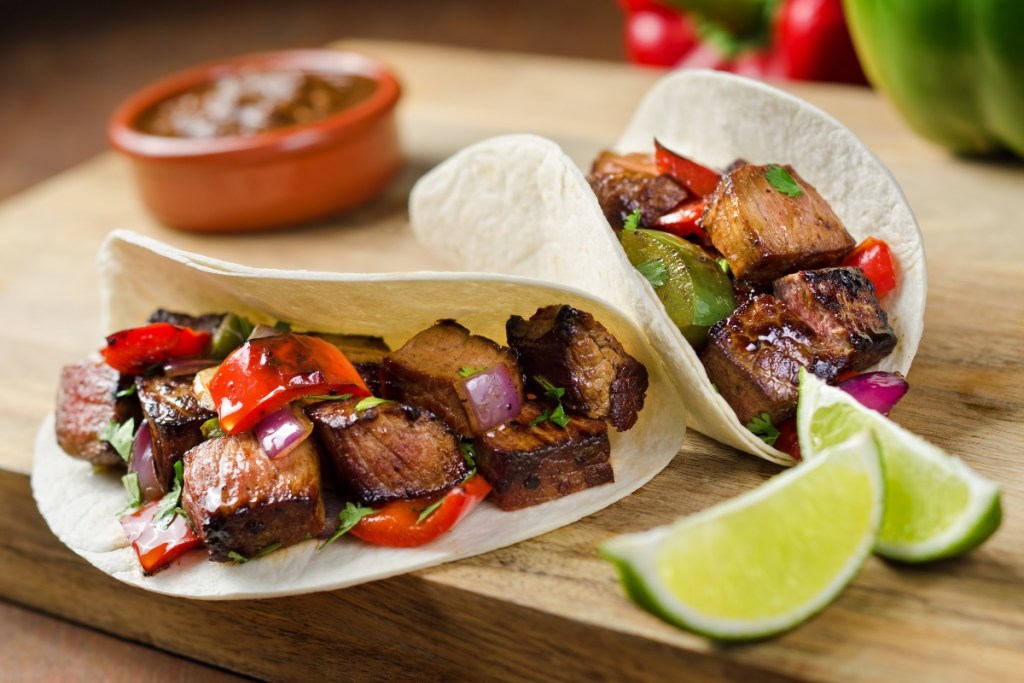 What you'll need:
1-1/2 lbs beef sirloin steak, cut into thin strips
2 tbsp canola oil
2 tbsp lemon juice
1 clove of garlic, minced
1-1/2 tsp ground cumin
1 tsp seasoned salt
1/2 tsp chili powder
1/4 to 1/2 tsp crushed red pepper flakes
1 large sweet red pepper, cut into thin strips
1 large onion, cut into thin strips
8 mini flour tortillas
How to prepare these fajitas
Add oil to a large skillet and set to medium heat. Add your steak strips to the pan and cook until browned. Then, place in a slow cooker.
Stir in the lemon juice, garlic, cumin, salt, chili powder, and red pepper flakes to the slow cooker as well. Cover and cook on high until the meat is almost tender, about two hours.
Next, add in the red pepper and onion and cook for one additional hour. Make sure that the vegetables and meat are tender before removing them from the slow cooker. Once finished, add any of your favorite toppings and serve!
What you'll need:
For the couscous salad:
3 cups uncooked pearl couscous
2 cans (14 oz ) garbanzo beans or chickpeas, rinsed and drained
2 large navel oranges, peeled and chopped
2 cups baby spinach
1 cup crumbled goat cheese
1 small red onion, chopped
3/4 cup dried cranberries
1/2 cup fennel bulb, thinly sliced
1/2 cup chopped pecans, toasted
8 basil leaves, chopped
For the vinaigrette:
1/2 cup olive oil
1/4 cup orange juice
1/4 cup balsamic vinegar
1 tbsp grated orange zest
2 tsp honey
Salt and pepper
Prepare the couscous
Follow the package directions to cook the couscous. Once cooked, use a fork to fluff the grain then allow it to cool. In a medium bowl, combine the couscous with the remaining salad ingredients (all but the vinaigrette ingredients).
Prepare the vinaigrette
In a separate bowl, whisk together the ingredients for the vinaigrette. Once well blended, pour the dressing over the salad, serve, and enjoy!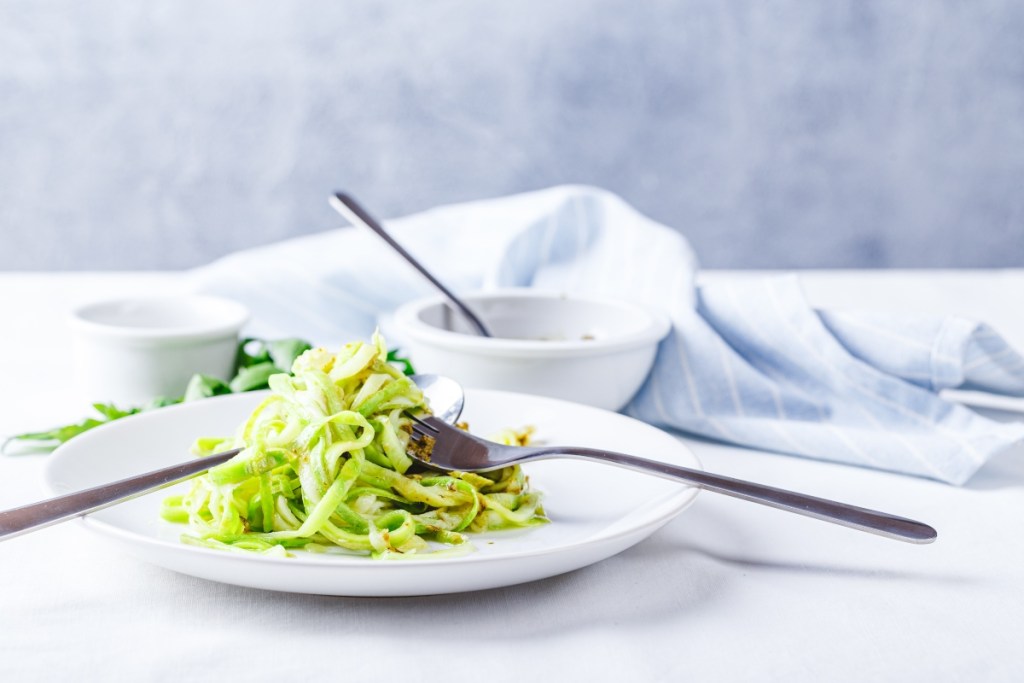 What you'll need:
2 medium zucchini, spiralized
1 medium onion, thinly sliced
1/4 cup pesto
2 chicken breasts
2 tbsp olive oil
Juice from half lemon
Salt and Pepper
Shredded parmesan and pine nuts
Cook the chicken
Add one tablespoon of olive oil to a medium skillet and place it on medium heat. Add the chicken breasts to the pan and season with salt and pepper. Add lemon juice to the skillet and cook the chicken for approximately fifteen minutes, flipping them over halfway. Once the chicken is fully cooked, set aside to rest for five minutes before slicing.
Prep the noodles
While the chicken is cooking, set another skillet on the stove on medium heat and add a tablespoon of olive oil. Add the sliced onion to the skillet and saute until it becomes transparent. Add in the zucchini noodles and stir to mix with the onions. Cook this veggie mix for an additional three minutes.
Next, stir in the pesto and combine it with the zoodles and onions for two to three more minutes. Serve with pine nuts and parmesan.
What you'll need:
1 1/2 lbs chicken thighs boneless
1 cup soy sauce
1 cup brown sugar
1 cup pineapple juice
4 cloves of garlic, chopped
1 tbsp fresh ginger, minced
How to prepare this dish
Combine all ingredients except the chicken in a medium bowl. Mix the ingredients until the sugar is fully dissolved. Next, place the chicken thighs in a resealable container and add the marinade. Marinate the chicken overnight or for at least four hours.
Next, remove the chicken from the marinade. Pour the marinade into a saucepan and simmer on medium heat for five to ten minutes.
Grill the chicken, and use a brush to coat the hot marinade onto the breasts as they cook. Once the chicken is fully cooked, place it in a serving dish and drizzle more of the hot marinade over top. Serve with vegetables or your favorite fresh salad.
What you'll need:
4 tilapia fillets (6 oz each)
1 tbsp olive oil
1/2 tsp salt
1/2 tsp dill weed
1/4 tsp pepper
1 tbsp grated Parmesan cheese
1 medium lemon, sliced
1 medium mango, peeled and thinly sliced
Cook the tilapia
Use a brush to apply oil to your tilapia fillets. Season each fillet with salt, pepper, and dill, then grill them on a lightly oiled rack over medium heat. Cover and let cook for five minutes.
Turn the tilapia and top with cheese, lemon, and mango. Then, grill for an additional four to six minutes. Use a fork to test if your fish flakes easily — if it does, it's ready to serve!
What you'll need:
1 ½ cups plain yogurt or fat-free sour cream
¼ cup Dijon mustard
6 sprigs dill, chopped
2 (14.75 oz) cans of salmon packed in water
4 celery stalks, finely chopped
1 large white onion, finely chopped
4 large eggs, beaten
½ tbsp salt
1 tbsp pepper
2 tbsp olive oil
First, make the sauce
To make the sauce, mix together the yogurt/sour cream, mustard, and dill in a medium bowl, using a whisk to ensure all the ingredients are well combined. Set the dip aside.
Next, prepare the salmon
First, drain the salmon and remove any bones or skin. Then, mix the salmon, celery, onion, eggs, salt, and pepper in a large bowl. Divide the mixture into eight equal parts, then mold each one into a small patty. Next, drizzle some olive oil in a medium skillet and set the temperature to medium-high heat. Lay the patties into the pan and cook until they are browned on both sides, about five minutes per side. When you're ready to serve the croquettes, add a dollop of the sauce on each and pair it with a fresh salad.
These summertime recipes are light, fruity, and fresh, and your family is sure to enjoy any one of these meals on a hot, sunny day. They add vibrancy and excitement to traditional recipes, making them great for parties, cookouts, and even just relaxing at home.
Editors' Recommendations