Whether you're planning a festive brunch with friends and family or breakfast for one, pancakes are the perfect way to start the day: they're quick and easy to make, versatile, and totally delicious. You can also add ingredients like fruits, quinoa, and gluten-free oats to make them even more filling and loaded with goodness.
If you have celiac disease or gluten intolerance, you may have thought your pancake-eating days were over… but you'd be wrong. This ridiculously simple gluten-free pancake recipe — with only a handful of ingredients — can be cooked in minutes. You won't even miss the gluten because these pancakes are packed full of flavor.
How to make delicious gluten-free pancakes
Want to know how to make the best gluten-free pancakes? The recipe below is so simple you'll be able to memorize it and make it any time, anywhere.
Jamie Oliver's recipe calls for eggs, milk, gluten-free self-raising flour, and a pinch of salt. While the recipe doesn't specify a brand of gluten-free flour, we know not all options are created equally. The flour you use can make or break the taste — and we love using King Arthur's Gluten-Free Measure for Measure Flour. We've used it as replacement flour in so many of our favorite recipes — from breakfast to dessert — even gluten lovers can't tell the difference. This isn't a self-raising flour, but 1 and 1/2 teaspoons of baking powder and 1/4 teaspoons of salt per cup of flour can make it so. (Editor's note: while this Measure for Measure flour replacement is great for pancakes, brownies, muffins, and more, you should use a gluten-free all-purpose flour for any recipe that includes yeast.)
Once you've got the right ingredients, all that's left to do is make the pancakes. And the best part is how simple they are to make. There's no need to measure out a million ingredients — all you need is a cup — so it's the perfect recipe if you've got kids who love to be little helpers in the kitchen (but who, let's face it, aren't always all that helpful).
Difficulty: Easy
Time: 15 minutes
Ingredients
1 free-range egg
1 cup of milk
1 cup of gluten-free self-raising flour
Pinch of salt
Olive oil
Instructions
Crack the egg into a large mixing bowl, mixing in the flour, milk, and a pinch of salt.
Whisk the contents of the bowl into a smooth batter, folding in any additions (like blueberries or chocolate chips) you'd like to include.
Put a large frying pan on medium heat; add ½ tablespoon of olive oil or butter after about a minute and a half, making sure to coat the pan evenly.
Add small ladles or large spoonfuls of batter to the pan, making sure to allow room between pancakes so they're able to spread without touching.
Cook for about a minute and a half — or until you see bubbles appear on the surface — and flip.
Cook for another 1-2 minutes until both sides of the pancake is a light golden brown.
Transfer your pancakes to a plate and repeat steps 4-6 with the remaining batter. (You may need to recoat the pan with olive oil between batches.)
That's it — in just a few minutes you can create the perfect breakfast!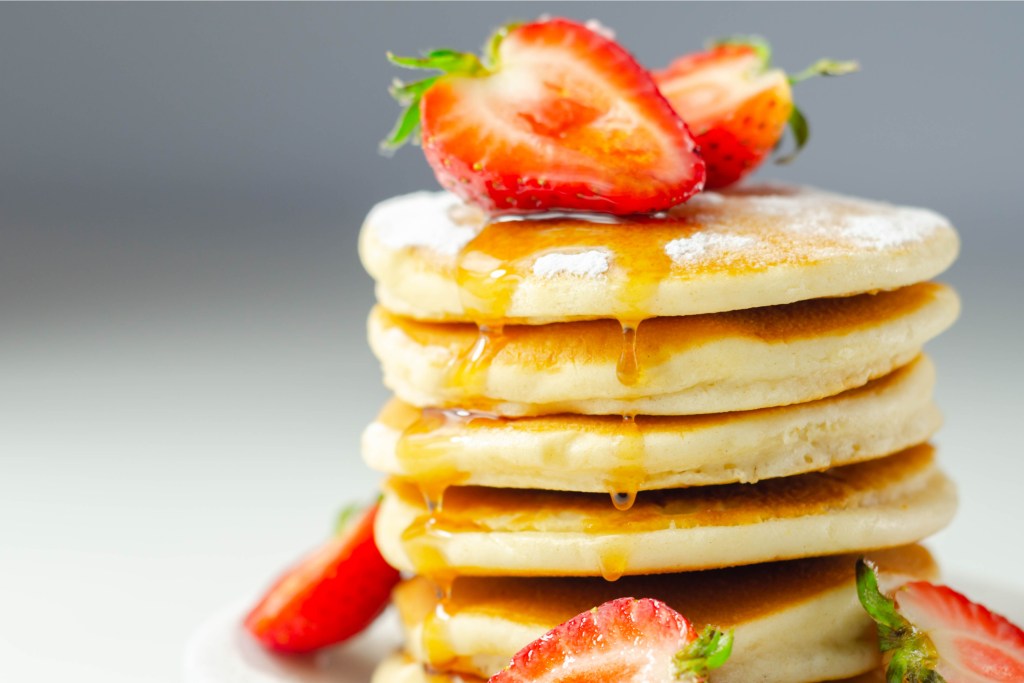 How to add a little extra to your gluten-free pancakes
You can, of course, include any other flavors that you'd like (in the video, Oliver prepares his pancakes with rhubarb compote, almonds, pistachio, and a drizzle of honey).
The beauty of pancakes is that you can make them as simple or as sophisticated as you'd like. Want to add a sweet fruit like blueberries, strawberries, or bananas? Do you prefer your sweets to be more decadent — with chocolate chips or Nutella? Feel like going for a seasonal treat like pumpkin pancakes or maple cinnamon?
Whether you'd like to add texture to your meal with oatmeal raisin or a mix of chopped nuts, or you prefer a simple palate — plain pancakes with your favorite maple syrup — you can add as much or as little to this recipe and it'll still be delicious.
The other great thing about this recipe is how scalable it is. While the recipe given will create about eight pancakes (depending on how generous you are with your ladle skills), it's super easy to scale it as much as you'd like. Planning a brunch for 10 or 20 people? No problem. Since the recipe calls for 1 egg, 1 cup of milk, and 1 cup of flour, there's no math involved in doubling or tripling the recipe to meet your needs.
Just because you can't eat gluten, doesn't mean you're not deserving of a warm, delicious stack of pancakes. And it doesn't get much simpler than this recipe. In just 15 minutes, you can create a scrumptious, flavorful breakfast so good no one will even miss the gluten.
Editors' Recommendations