A patio home, also called a cluster home or garden home, is suitable for small families who want to purchase real estate for the first time. Although these one-and-a-half story homes have little yard space that are often shared with neighbors, there are still some steps you can take to improve your patio home's curb appeal. Discover your new landscaping or decorating project here.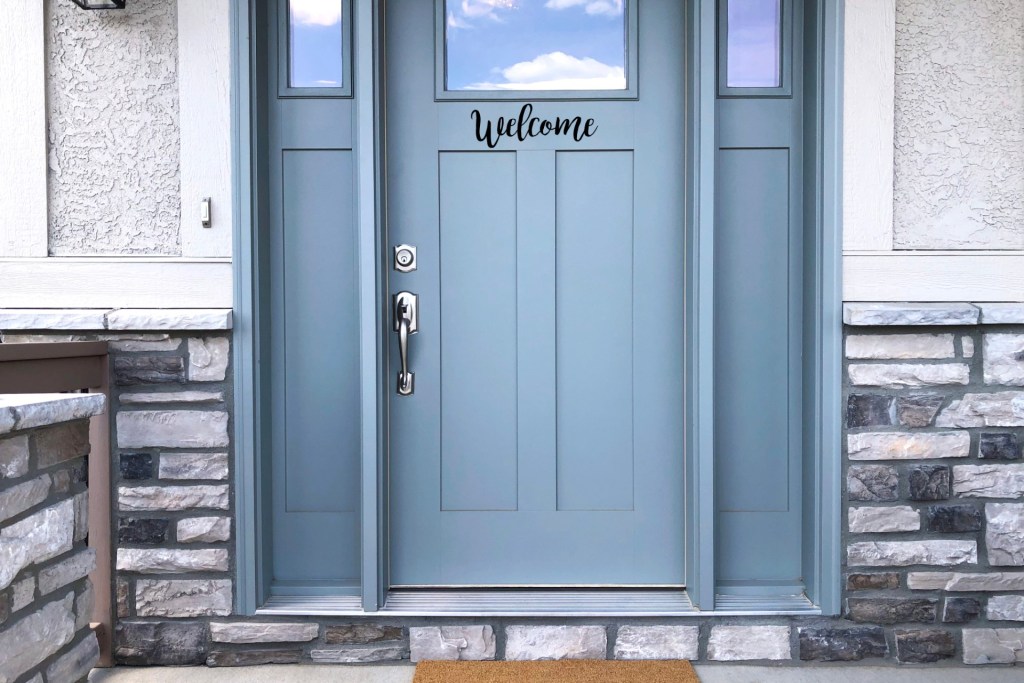 Paint your front door
Before we get started, we want to clarify that most patio homes have an established homeowners association (HOA). Check in with your neighborhood or city HOA before coloring siding, trims, roofs, or even front doors. It might have a list of colors you can choose from, or you might just need to notify it and get approval.
With that said, painting your front door is a brilliant way to make your patio home stand out. Most front doors bear a humdrum brown or beige wooden color, so something bright and unexpected can take your curb appeal to the next level. When choosing paints, go for a glossy finish specifically made for exterior surfaces. This will protect your door from the elements as well as from chipping and flaking.
Remember to use a primer if you're painting over a different color, painting from dark to light, or if the old paint is a different base than your new one. In other words, if your old paint is oil-based, but your new one is water-based, use a primer. When in doubt, prime it out.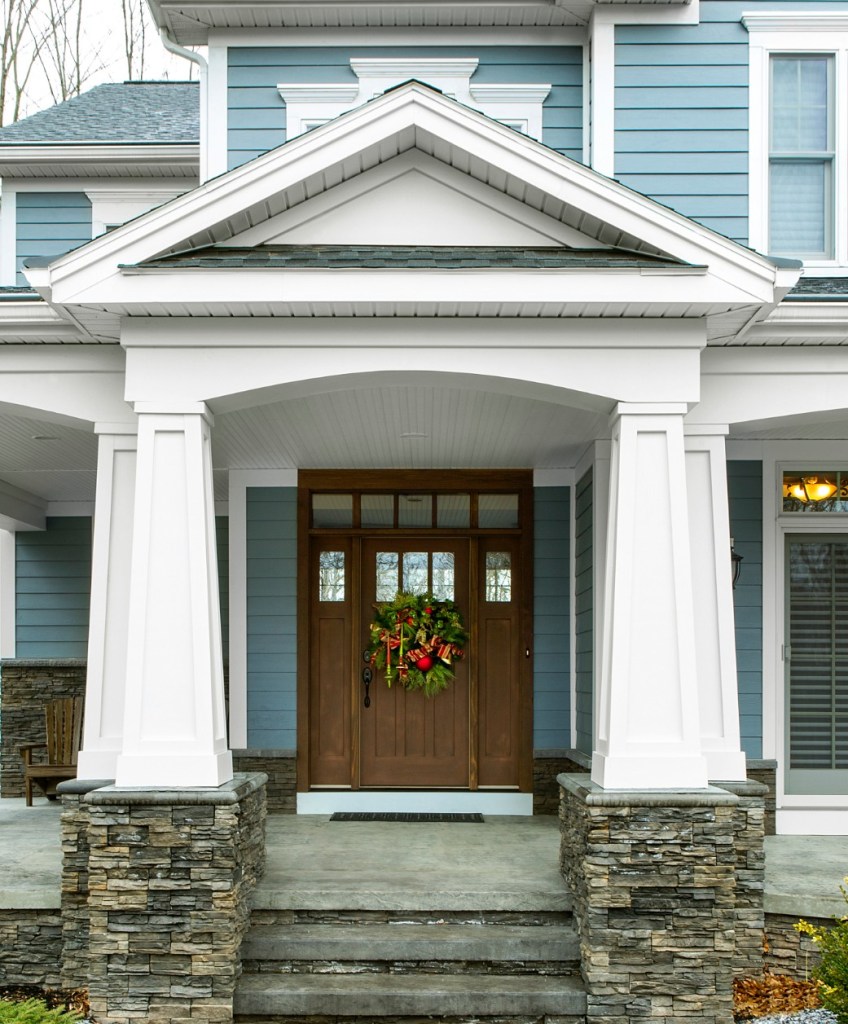 Add some color to your trims
Along the same vein, repainting your home's exterior trims can make your patio home the talk of the neighborhood. DIY Network suggests choosing a color that matches or is similar to other homes around you. Most trims are painted white because it's a versatile color that complements most siding paints, but you can go for any color that matches your home.
A darker shade for your trim might contrast well if it's in a similar color. For instance, a dark green trim pairs well with light green siding. You can also coordinate your trim with your freshly painted front door. This way, you can even save your leftover paint to prevent waste.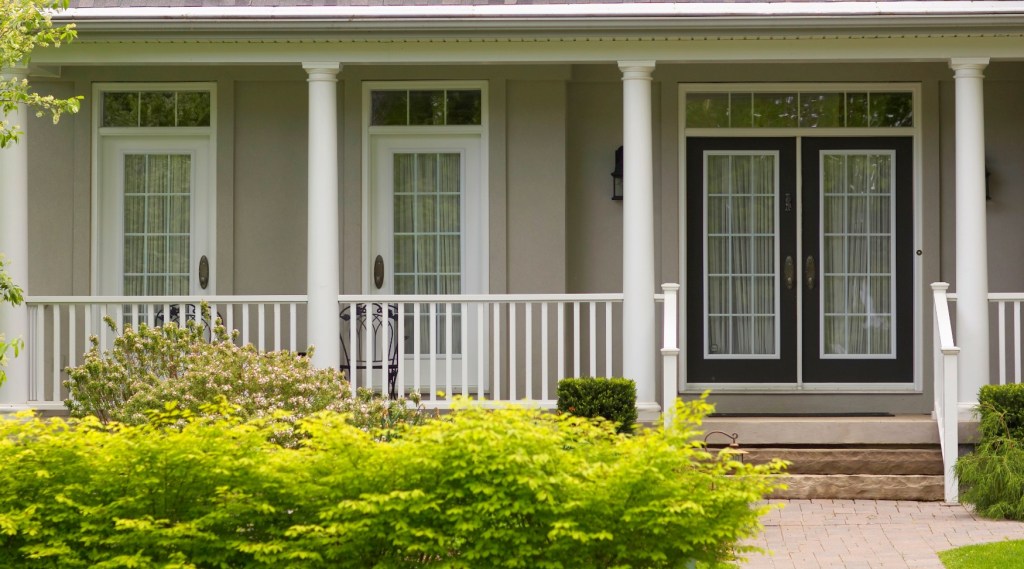 Be generous with the greenery
While you may not have much room for trees, shrubs, and the whole shebang, you can maximize your front space by investing in plants. Use lots of them — or as much as you can fit by your entrance. Consider large planters with fig leaf trees or palms surrounded by smaller pots with flowering plants. Symmetry can make your entrance more dramatic and pleasing to the eye. Since your front area will get a lot of shade throughout the day, consider plants that thrive in these conditions. Some ideas include ferns, hydrangeas, and begonias for color. SFGate says, "Symmetrical landscapes can look static, so vary the design just a little by introducing a small element to one side of the yard."
You can also install window planters to utilize more unused spaces of your home's exterior. There, you can plant seasonal flowers or herbs. Vines that hang or flowers that spill out evoke the feelings of a lush garden even in a space-restricted patio home.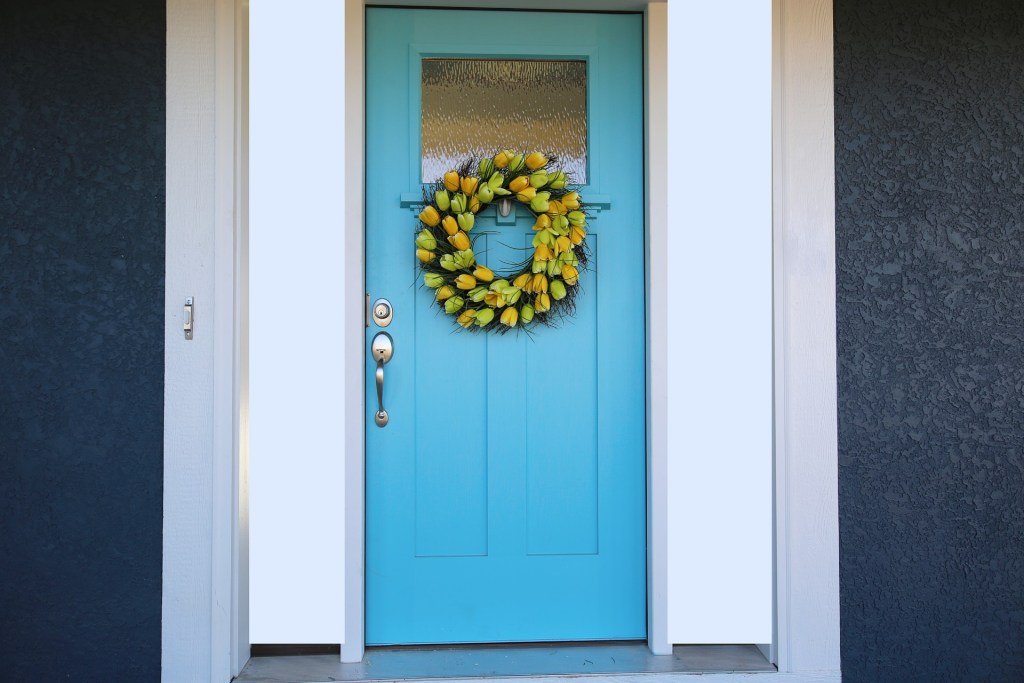 Craft and hang up front-door wreaths
We know what you're thinking: Aren't wreaths reserved just for holidays? Yes, we love a good winter-inspired wreath complete with mistletoe, eucalyptus, and pinecones, but the truth is, wreaths work year-round.
You can dry your own leaves and flowers to make a longer-lasting wreath, or you can tap into your crafting skills and fashion a synthetic wreath. Try creating several wreaths you can rotate out every once in a while to keep your patio home looking fresh.
If you prefer seasonal ingredients, head to your local florist and see what's available. Choose hardy leaves and flowers to extend their shelf life. If plants aren't your thing, don't worry: You can go for a classic welcome sign or order a custom-made family name sign to personalize your door.
Light up your walkway
Once you've decked out the front door area, consider installing lights on your walkway. Even if this walk is short, a few LED path lights can significantly improve your patio home's curb appeal.
On the other hand, you can install spotlights on your front area to truly make your home the center of attention. Opt for adjustable lights you can dim with LED bulbs that will save energy use.
A patio home is defined by its petite yards, if at all. However, this doesn't mean your home has to be uninteresting. Bring character to your front yard and increase your home's curb appeal using any of the simple decoration projects on our list. As always, check with your local HOA first before taking on a home-remodeling project that includes altering its exterior. Luckily, most of the items on our list are HOA-approved and ready to go.
Editors' Recommendations