Espresso, unlike other coffee preparations, has what we call "crema," a frothy layer created by the small air bubbles combining with the natural oils released by fine ground grains. Always a sign of proper preparation and quality ingredients, the crema adds alluring aroma, fuller flavor, and great taste. Serve the perfect shot at your next gathering with our curated suggestions.
For you to fully appreciate your carefully prepared espresso, you need the perfect size to drink the traditionally smaller serving. Or a double. Or a triple, too. No judgment here. We like our coffee often, too. If you are looking for the best selection to keep your caffeinated journey going, our selection will sure keep your cup full.
Aozita Espresso Cups and Saucers
Best espresso cups overall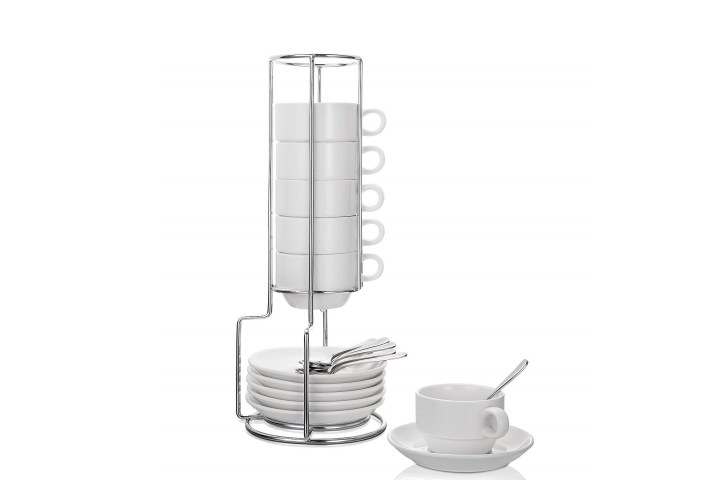 When you have a family full of coffee lovers, the Aozita Espresso set with stand rack will make sharing a round of freshly made deliciousness an experience for all to enjoy. This set serves six people and includes 2.5-ounce porcelain cups with matching saucers and espresso spoons. It all stacks neatly in a minimalistic-stand rack that saves you space and adds a fancy look to your kitchen.
Kitchables Glass Espresso Cups
Best glass espresso cups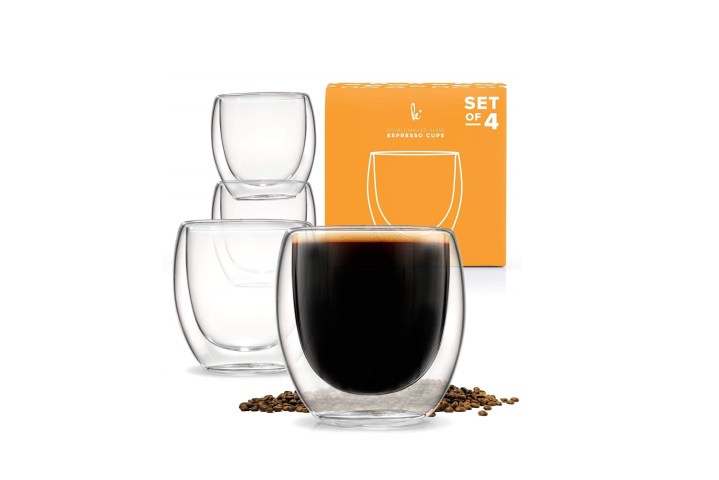 An espresso lover's essential, the Kitchables Glass Espresso Cup Set is sure to surprise the most discerning of coffee snobs. Its hand-blown glasses with double-wall thermal insulation prevents side-heat transfer to prevent finger burns, which makes drinking that lungo a safe and pleasant experience. With four stylish espresso cups in each set, you can bring both your coffee and Instagram game to the next level in no time. The ideal glass to sip a perfect shot at any time.
Sweese Porcelain Espresso Cups with Saucers
Most colorful espresso cups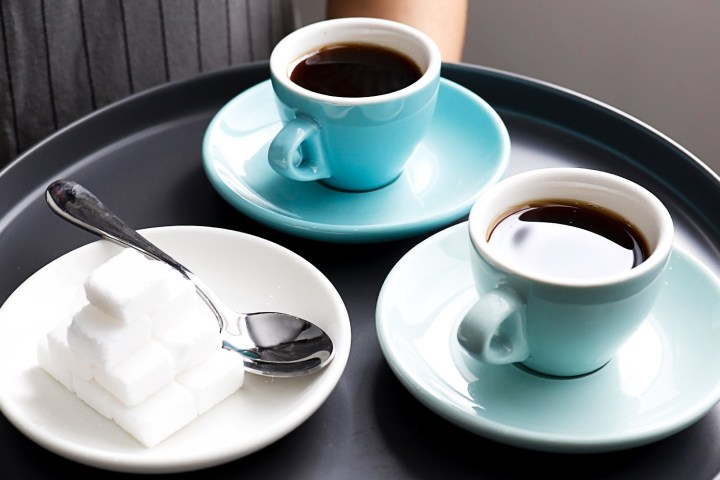 If you are looking to add a splash of color to your coffee drinking, the Sweese Porcelain Espresso Cups provide an elegant and playful way to enjoy a dark roast in the morning. This cute and tiny set of cups and saucers hold 2 ounces and are perfect for home use. They are made of pro-grade porcelain and are dishwasher safe. Sturdy and pretty, they will put up a smile in your face even before the first sip.
After the '90s craze for oversized mega mugs — I see you, Friends fans — we see a shifting trend to smaller, more carefully crafted beverages. Espresso cups are now becoming the standard for when you want to really show off your barista skills with style. Like in life, the most delightful of pleasures come in small packages.
Editors' Recommendations