Make dinnertime exciting again by incorporating a variety of cooking techniques and tools that will get your creativity going. With the items on our list you will enjoy new aromas, flavors, and textures that will bring the family together for unforgettable meals.
It is a well-known fact that dietary diversity leads to improved eating habits and overall better health. By creating meals from a variety of cultural backgrounds and implementing an array of cooking techniques, you will introduce new ingredients that will make your diet more balanced. With the clay cookware on our list, your meals will cook slowly to retain more healthy nutrients and mouthwatering flavors than with metal cookware.
Romertopf Classic Series Clay Baker
Best clay baker
Cooking is more fun with a Romertopf clay baker. This beautiful, rustic roaster is made from high-quality German clay to create healthy, steamed dishes that retain the vitamins and minerals in your food. Use it to bake breads, pastas, stews, and much more. Its natural nonstick bottom allows for easy cleanup and contains no harmful chemicals.
Emile Henry Flame Tagine
Best tagine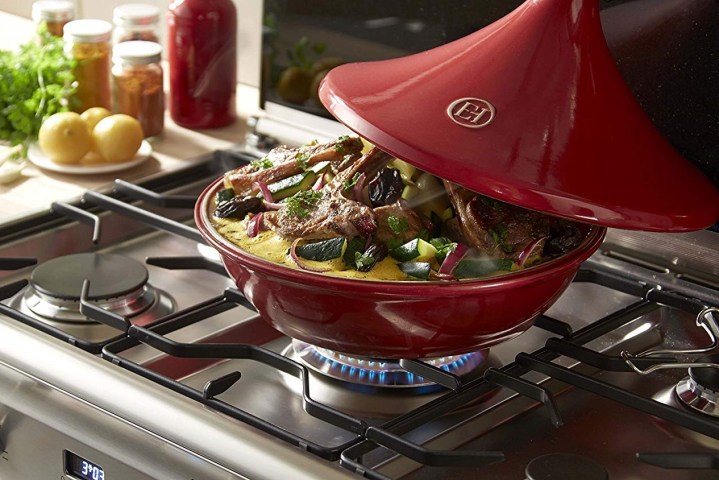 Infuse dinnertime with a bit of Moroccan culture and bring out complex flavors with the Emile Henry Flame Tagine. With its beautiful shape, this cooking vessel can be used to create stews and braised recipes that are packed with nutrients and release the natural aromas of your ingredients.
Crazy Korean Cooking Stone Bowl
Best for soup
Innovation meets tradition with the Crazy Korean Cooking Stone Bowl. Unlike conventional stone bowls, these premium bowls are made from high-quality clay and are glaze-fired twice to create a seal that prevents water absorption and makes the bowls a much more sanitary alternative. Easy to care for and long-lasting, these versatile stone bowls are perfect for cooking a variety of foods from traditional bibimbap to chili and risotto.
Add new flavors, recipes, and excitement to your meals with cooking items that help you create a variety of new foods. The products on our list are an excellent way to introduce traditional cooking methods that promote better health, while still being convenient and delicious.
Editors' Recommendations