If a bedroom in your house needs a remodel, but you're not looking to spend too much money or time on the project, adding an accent wall might be the perfect endeavor for you. From wallpapering to hanging mirrors, there are plenty of ways to transform the look of an entire bedroom by just changing a single wall. Here are a few ideas on exactly how to create an accent wall in your bedroom.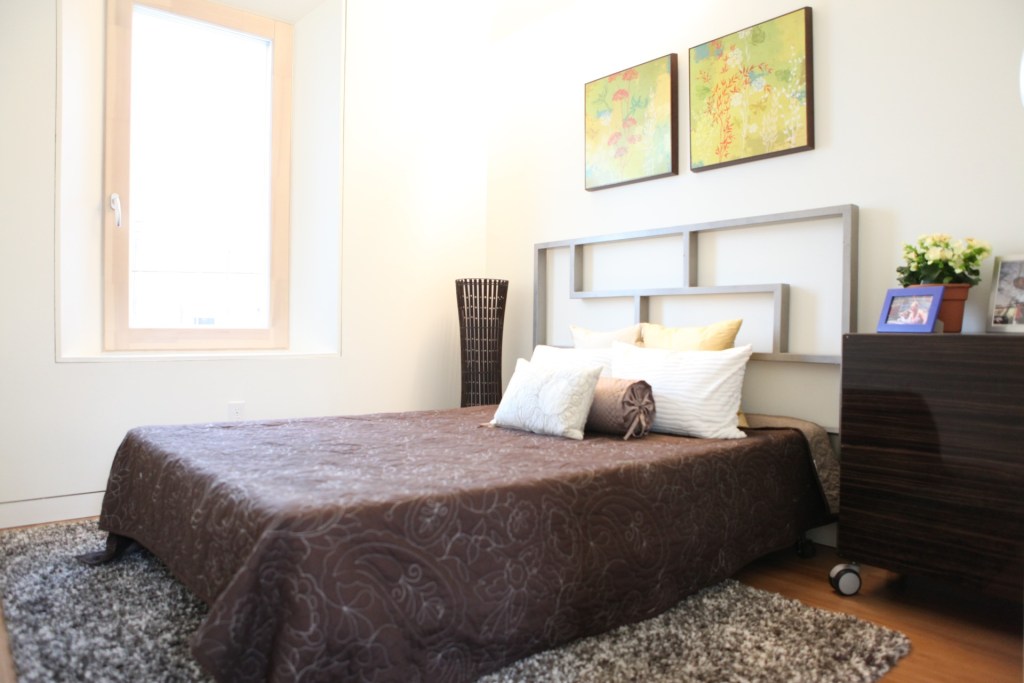 Painting
When you think of the idea of an accent wall, a painted wall likely comes to mind. Striped patterns, solid colors, and detailed murals can all be achieved with paint. Your bedroom accent wall's paint job could be as complex or as simple as you desire. Consider choosing a color that contrasts with that of your bedroom's decor. Although bright colors might seem daring, using them can make for an interesting and eye-catching accent wall. Remember that paint comes in a variety of finishes, so you can pick one that best matches the ambiance of the room. HomedIt shares several ideas you might want to try.
Shelving
A versatile approach to an accent wall involves installing or placing shelving of some sort on a wall. With added shelving, you not only have an attractive accent wall but also more storage space in your bedroom. If your room already has vintage furniture, perhaps an antique wooden cabinet will fit in well. An entertainment center is a great option if you spend lots of time using the television in your room. For an option that allows you to customize the appearance of your accent wall, install new shelving on the wall. You could combine this design idea with another on this list, like painting or wallpapering, for an especially unique accent wall.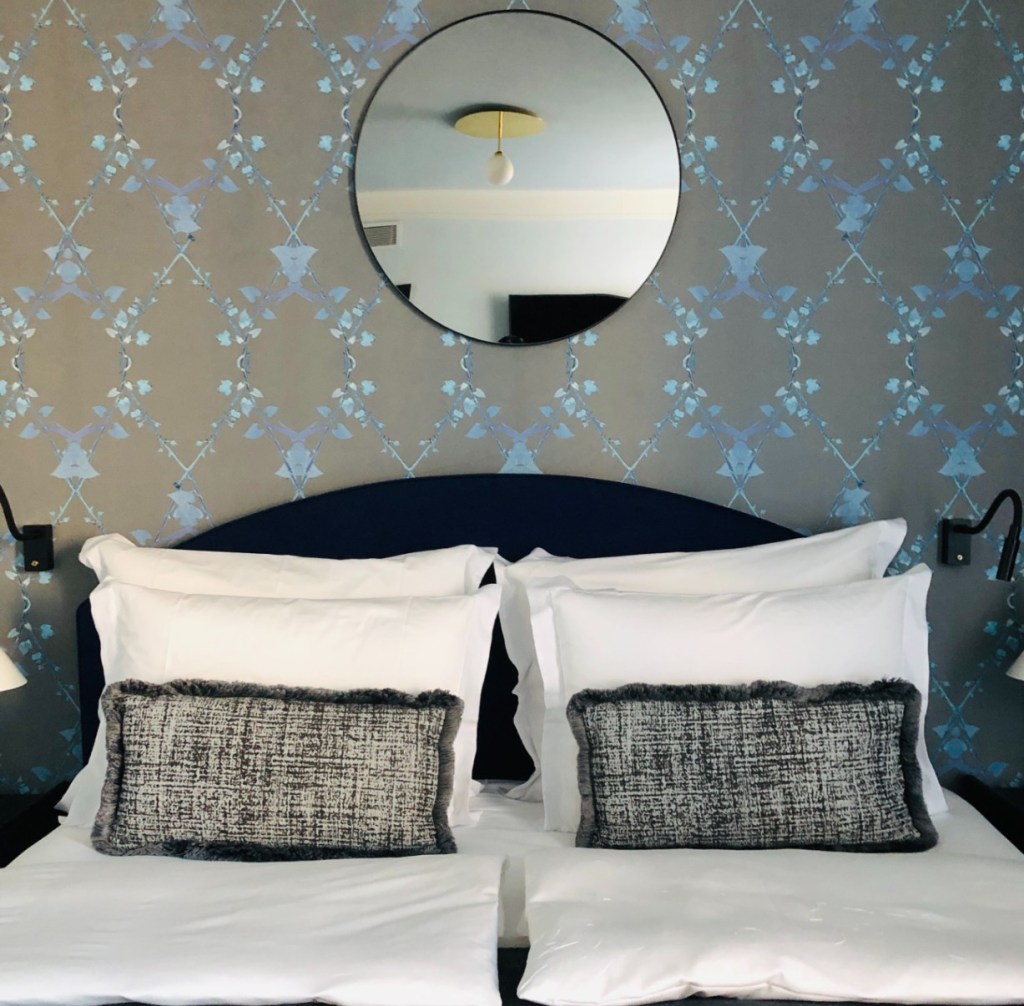 Wallpapering
Depending on how complex a design you'd like to create with your accent wall, paint might not cut it — that's where wallpaper comes in. Available in myriad designs, wallpapering an accent wall can really change the appearance of your bedroom. If you have a traditionally decorated bedroom, you might appreciate wallpaper with a floral motif. More into modern decor? Opt for an abstract print wallpaper. For a nice touch beyond what wallpaper provides, paint any trim on the wallpapered wall in a lively, complementary color. The design possibilities are endless when you're using wallpaper. Martha Stewart shares that wallpaper gives a room a different feel, because of the many timeless patterns we've seen throughout time, whether in family members' homes or in the old time classic movies.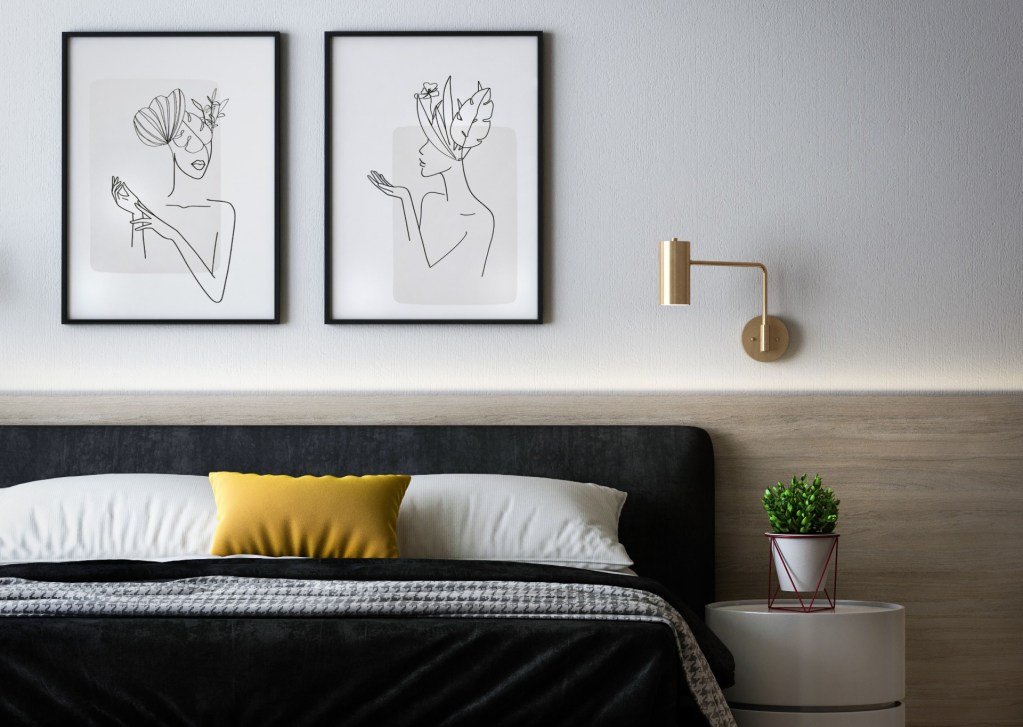 Hanging decor
Creating a wall of hanging objects is a refreshing, uncommon approach to an accent wall. Framed family photos are an accessible option for hanging items to make an accent wall more interesting. More unusual choices exist, too, be it a collection of vintage silhouettes or landscape paintings. Your accent wall of framed hanging items can take many forms. If frames aren't your thing, unframed maps or crafts are other ideas for paper objects to hang. Dried flowers and metal sculptures are more examples of items to hang. Anything that can be hung can be conglomerated to construct an accent wall. Hang objects over a painted or wallpapered wall for more dimension to your accent wall's design.
Texturing
To create an intriguing accent wall, consider using a different material than the walls surrounding it. This idea can easily be implemented into your bedroom's existing theme. For instance, a beachy bedroom's accent wall could appropriately feature weathered stained wood panels. A brick wall would go great with industrial decor. For a particularly striking accent wall, you might cover only the bottom half of the wall with material and paint or wallpaper the other half.
Adding an accent wall can be a simple way to create a big change in the look of your bedroom. There are many potential approaches that can be taken when creating an accent wall. No matter which you choose, it is easy to personalize your new accent wall to your liking.
If you need further inspiration, check out our creative bedroom painting ideas you'll love.
Editors' Recommendations