Wallpaper was an outdated trend for years. When you thought of wallpaper, you thought of your grandma's house with those unfortunate floral designs, dull colors, and odd patterns. Wallpaper nowadays, however, has surely made a comeback. It is becoming a popular trend in home design thanks to new innovations, updated patterns, and sleek designs. Although wallpaper may never replace classic paint, it can definitely add a fun and unique spin on your home's design aesthetic. You can utilize it in a variety of spaces, create fun feature walls, and add a little interest to any room with ease. Even though wallpaper used to be a thing of a past, just like any good trend, it has made a comeback. Check out these great new trends for wallpaper and the best ways to utilize it in your modern home.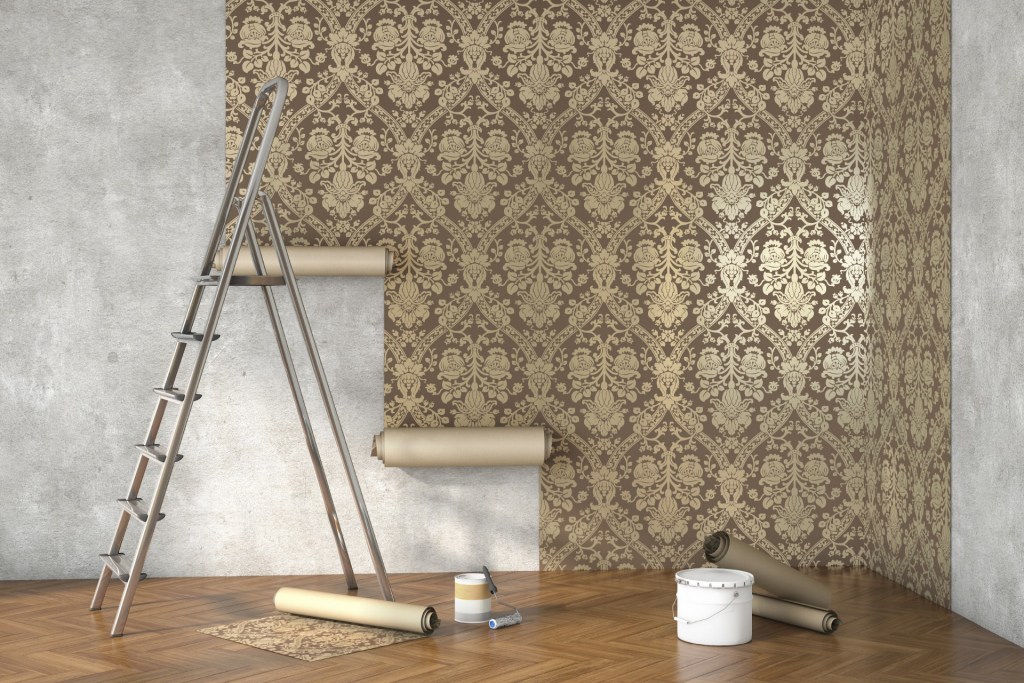 Tapestry designs
When you think of tapestry, you typically think of thick, textile fabrics that are woven to create elegant scenes, patterns, and designs. Tapestry designs on wallpaper mimic these iconic fabrics and allow you to apply them elegantly to any wall or room. When it comes to creating a modern and trendy space, it's all about unique design. A tapestry-like pattern will help you achieve an elegant, beautiful, and fun design in any space.
Mural-style wallpaper
Murals can oftentimes be cheesy or tacky, but when done properly, they add an incredible feeling to any space. Many mural-style wallpapers are panoramic and can be continued from wall to wall, creating a stunning design. Look for mural-style wallpapers that feature simplistic designs of the natural world. Some popular designs are ones that feature minimalistic cloud and sun images that help you elevate your space and achieve a truly unique look.
Wallpaper made with natural materials
Wallpaper can be made of more than just paper. It can be woven wicker, grass, silk, and other materials to create an appealing design. If you are trying to achieve a rustic or natural look in a space, creating a feature wall with natural materials will ensure your room feels organic, trendy, and modern.
Mimicking wallpaper
With new innovations in wallpaper design, the patterns that can be achieved are dazzling. Some wallpaper is designed to mimic the look of wood panels, brick, tile, and other building materials. You can create attractive feature walls with this type of wallpaper that is more affordable than using the material that it mimics.
Geometric wallpaper
Geometric designs are a huge part of modern design. Instead of using geometric design pieces like furniture or vases, you can use wallpaper to create an engaging design. Geometric wallpaper is all about creating straight lines, cool shapes, and sharp edges. You will love how much a geometric print can add to any room and any wall.
3D wallpaper
3D wallpaper is essentially what it sounds like. This type of wallpaper gives off the appearance of a 3D wall feature. It offers cool designs and lines that are like no other. Look for 3D wallpaper that matches your style aesthetic. There are hundreds of great options to choose from, so you will have no issue finding some "texture" for your wall. Bob Vila suggests embossed wallcoverings for those who want to achieve a vintage 19th-century look.

Peel-and-stick wallpaper
All of the wallpaper designs, patterns, and trends previously mentioned are available in a new, innovative type of wallpaper. Peel-and-stick wallpaper allows anyone to achieve a wallpaper design within minutes. This type of wallpaper has a sticky backing that can be easily applied to any flat surface. It takes minutes to apply and seconds to take down, leaving behind no sticky residue or damage to your walls. Peel-and-stick wallpaper is one of the main reasons why wallpaper has remained trendy and current. It allows homeowners to DIY their spaces with ease and with no risk or damage to their walls. You will love how affordable, easy to use, and convenient this wallpaper is for creating your dream design. The DIY Playbook shows how she transformed a plain space into a bold statement.
Even though wallpaper used to be a trend of the past, it has made its way back to the top. With fun, new designs and easy-to-use applications, wallpaper is remaining trendy for years to come. You can utilize wallpaper in a variety of rooms and spaces to make it feel updated, trendy, and modern. It can be used to create incredible designs that will make you feel like you're on vacation all year round. Look into all of the great designs and patterns that wallpaper has to offer. You will love being able to feature it in your home, year after year. Regardless of where you use it and how you use it, wallpaper is a current trend that will help you keep your home modern, stylish, and feeling fun.
Editors' Recommendations