Creating an inviting and relaxing atmosphere in your bedroom is crucial — we spend a ton of time in our beds. And while a grand bedroom remodel may be tempting sometimes, a coat of paint is all you need to change up the vibe. What's on the walls has a huge impact on the overall feeling of a room; different colors, patterns, and designs can add a whole lot of personality to the space. If you're looking for inspiring bedroom ideas, or if you're intent on changing up your current design, check out some of these creative bedroom paint ideas that we think you'll love.
Feature walls for the win
Feature walls have been done and redone, for good reason. They are perfect for combining simple sophisticated designs with some added personality. A feature wall is essentially one wall that is dedicated to something different than the others. It could be a different color, a stunning mural, a beautiful pattern, or anything else you decide. The great thing about feature walls is the versatility and ability to experiment. Depending on the shape and size of the bedroom, you can really get creative.
Geometric inspiration
House Tipster says, "Psychologists have long recognized that geometric shapes have a place in our mental and emotional landscape." So, what better place to use a stress-reducing pattern than the bedroom. You may think that painter's tape is strictly for keeping paint off of crown molding, wall outlets, lamps, and other fixtures, but it can do a lot more. It is actually the perfect tool for achieving a sharp geometric design on your walls. To do this, simply tape a design onto the wall directly, paint over the tape, wait until dry, and peel the tape away. You will have stunning sharp lines that will add some fun interest to any wall.
There are a lot of great ways to utilize painter's tape creatively. You can create straight lines, triangular patterns, spell out names, and so much more. The great thing about this method is that anyone can do it — the painter's tape does all of the hard work for you.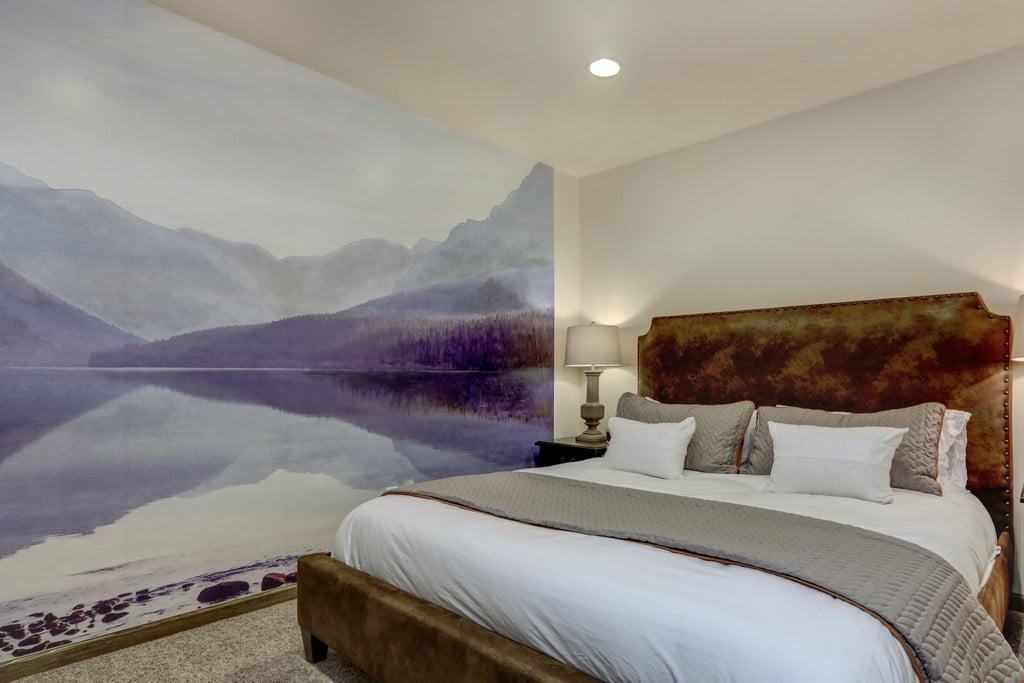 Nature-inspired design
If you have an artist's touch, you may be able to create some stunning designs in your bedroom. Nature-inspired designs — including plants, animals, clouds, or flowers — are perfect for inside the bedroom. They promote relaxation and tranquility which is the perfect piece of artwork to go to sleep with and wake up to.
Chalkboard paint for the doodler in your life
A truly creative invention is chalkboard paint. Just as the name sounds, this paint can turn any wall into a functional chalkboard. This is perfect for anyone who loves to draw, doodle, write notes, or just scribble on the wall. It is a great addition to a child's bedroom, but can also be made into a sophisticated design for an adult's room. If you don't want to paint a whole wall, you can use painter's tape to create a square, triangle, or rectangle. There are a lot of ways to get creative with this fun product.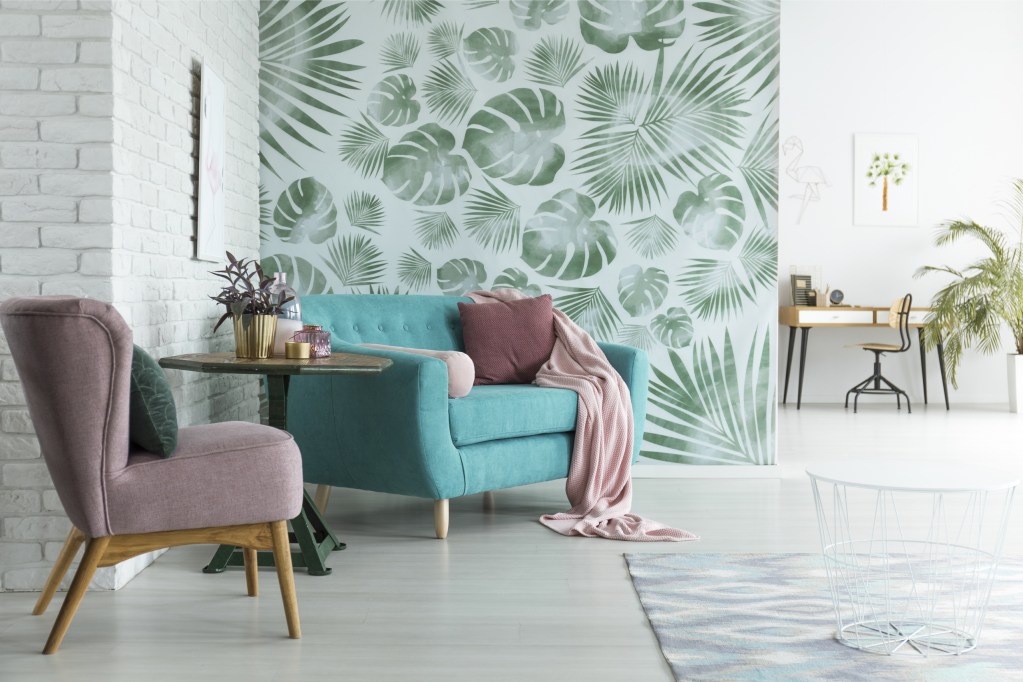 Turn a wall into art
If you or someone in your family is an artist, try out a mural painting of any subject of your choosing. You can turn your bedroom into a wall of flowers, or create a relaxing beach scene for you to admire every night. Your imagination is the limit when it comes to designing a wall space you'll love. The Abundant Artist lists several apps that allow you to preview artwork on your actual wall.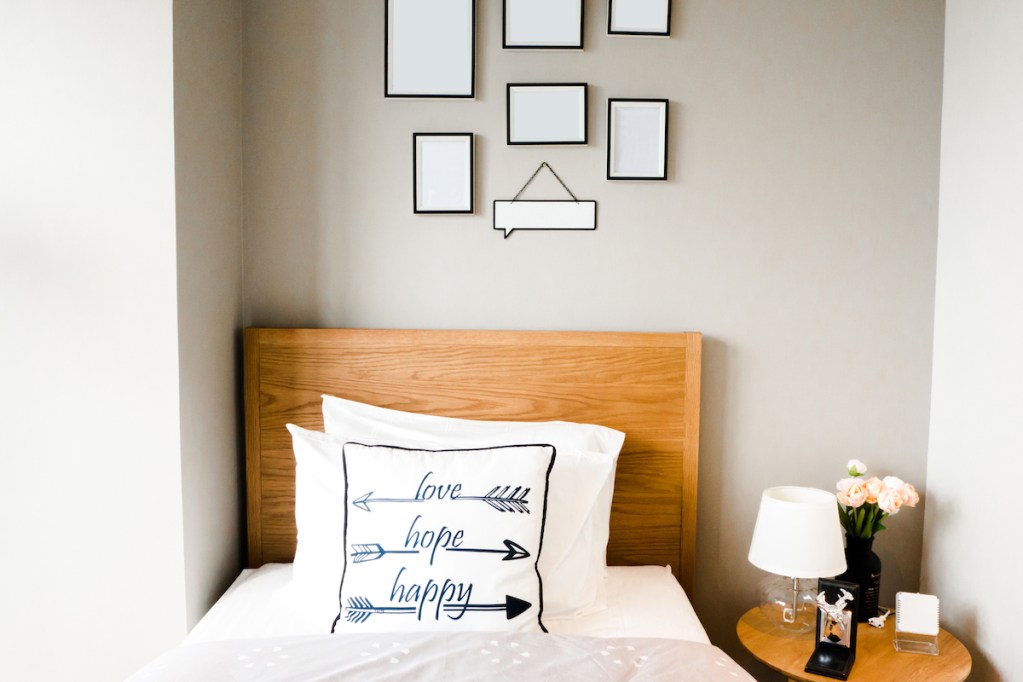 Incorporate frames, light fixtures, and more into your paint designs
One current trend has been combining a painted background with wall art. A common form of this idea is to paint a large, elegant tree outline and hang picture frames on top of it to depict a beautiful family tree. You can make this idea your own by using your favorite picture frames, wall lighting fixtures, outlets, wall art, and more in your design.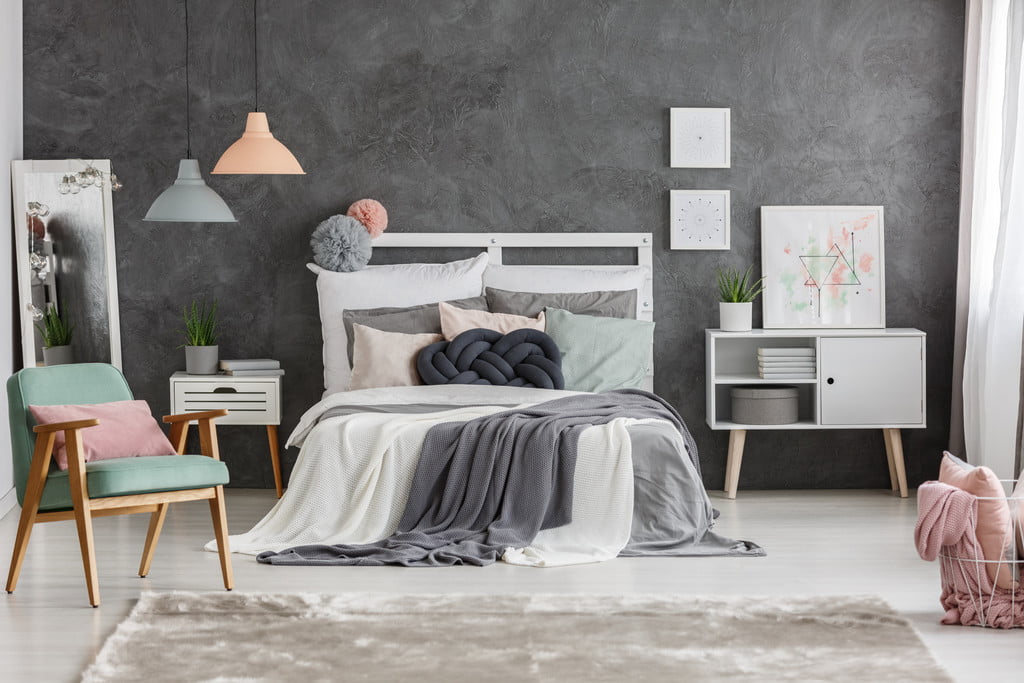 Utilize textured paint rollers
Adding some texture to your walls can be a great way to add interest to the space. One of the easiest ways to do this is with a textured paint roller. These work just like regular paint rollers but they have stamped designs on them to create stunning wall patterns. These are available in many online stores and come in different patterns and textures for you to choose from.
If you want to be a little more resourceful than store-bought rollers, you can use things like broom bristles, cardboard, sponges, and other household items to achieve different textured looks.

Keep it simple
If you have read through all of these bedroom paint ideas and still love the idea of good, old-fashioned single-color painting, then do what you love. To speed up your painting process, look for paints with built-in primers. This will help you get the job done quicker and more efficiently.
Every color, pattern, and design is capable of evoking a particular feeling and emotion. This is why it is so important for your bedroom to make you feel happy and relaxed. It is the place you go to unwind and escape. The right color and style of paint can help you do that. There are so many great ideas, tips, and tricks that will get you on the right path toward a bedroom design that you love. For more bedroom paint ideas, check out our article on the latest wall painting trends.

Editors' Recommendations