Your bedroom is supposed to be your sanctuary — not your home away from home, but your home within your home. One of the most important parts of creating a serene, peaceful place to come home to at the end of a long day is making sure that the bedroom has a decor that matches both who you are and the space you are in. Here are 10 simple but extremely viable tips to help you decorate your bedroom in the most effective (and aesthetically pleasing) way possible.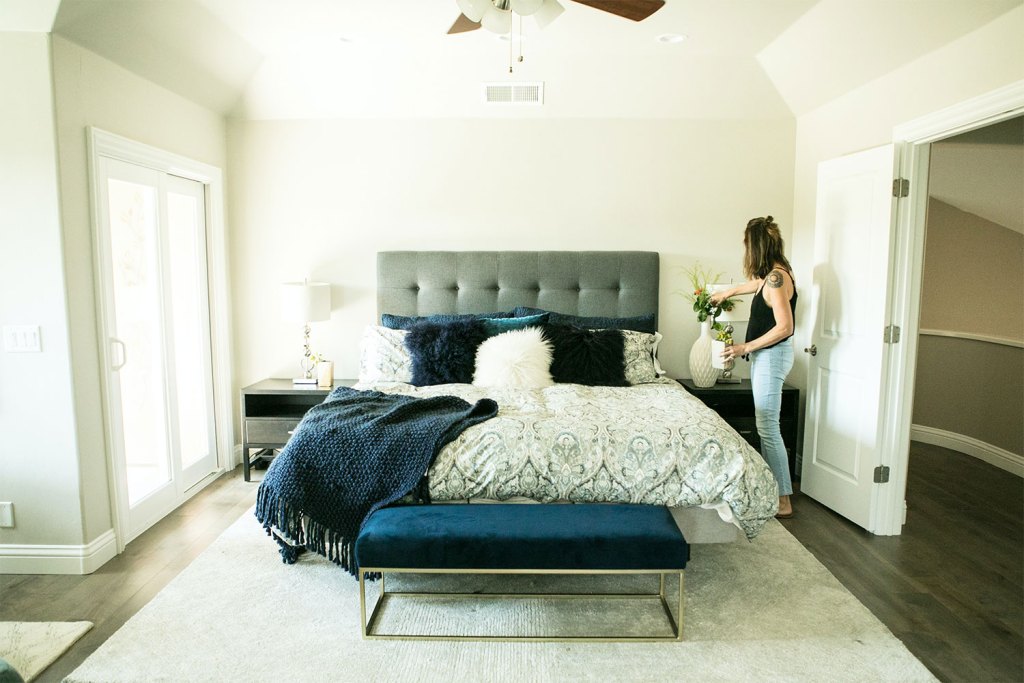 Make sure the furniture fits the space you are in
One of the most important aspects of decorating a bedroom is, quite obviously, picking out the right furniture for it. This is going to be where all of those special awareness skills you learned in school are finally going to come in handy.
It is important to have a floor plan of the bedroom before you start buying furniture, and if you can't get that for some reason, at least measure the areas where you would like to put furniture before purchasing it. There's nothing worse than buying furniture and then having to return it later because it was either too big or too small for the space you were putting it in.
The ceiling is central to your bedroom
Although it is an area that is often overlooked, the ceiling is an important part of your bedroom that does a lot more than just keep rain and the bugs out — if it helps, think of it as a fifth wall of sorts. In order to make the space feel more intimate, consider painting or adding some light decoration around the edges to liven the space up.
Have a private place within your space
Elle Decor reminds us that the bedroom is your cozy corner. A bedroom can, and should, be used for so much more than just sleeping and watching TV. That is why it is a good idea to have a designated reading/working area of some sort, whether that be a desk or simply a reading chair to lounge in. If you happen to have a window in your bedroom, it's a plus if you can take advantage of the natural light.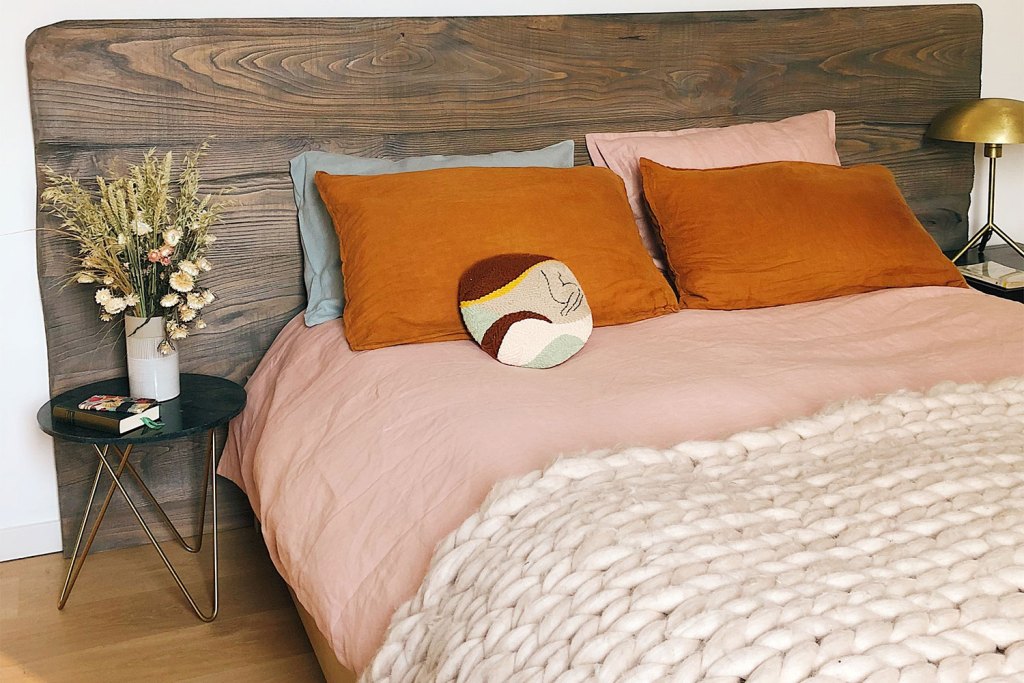 Keep your color choices calm
When you come home after a long day and want to rest your head, fire engine red is pretty unlikely to soothe you off to sleep, right? It is a good idea to pick color choices that are calming and relaxing, as they are more likely to help you unwind and feel relaxed in your personal space. A good rule of thumb here is to simply pick a gentler version of whatever your favorite color is, at least as a starting point.
If you need further inspiration, check out our creative bedroom painting ideas you'll love.
Don't scrimp when it comes to the sheets
One place where it is definitely okay to indulge a little in terms of decorating your bedroom is the sheets. Think about it this way — why shouldn't the most comfortable fabrics be the ones you sleep on? If you are going to use cotton sheets in your bedroom, make certain that they are 100% cotton, and if you are going to use linen instead, try to avoid any sheet sets with a thread count of 350 or more.
Vary your lighting sources throughout the room
Depending on what you are using the lighting for, you should have two to three different light sources available to choose from in your bedroom. Ambient light is the kind that lights the whole room, which should be strong but not overly harsh — make it dimmable if possible. Having a reading lamp with a moveable arm is a great way to add both flexibility and customization to the light pallet of your bedroom.
Your windows should certainly be covered
For both privacy and style, we strongly suggest that you find some curtains that really suit your style and use them to cover your windows. Not only is this helpful in protecting your privacy, but it also allows you yet another unique way to customize the overall look of your bedroom. If you're not a morning person, or just like to sleep late, you can also purchase specialized curtains that block out the sun, as well.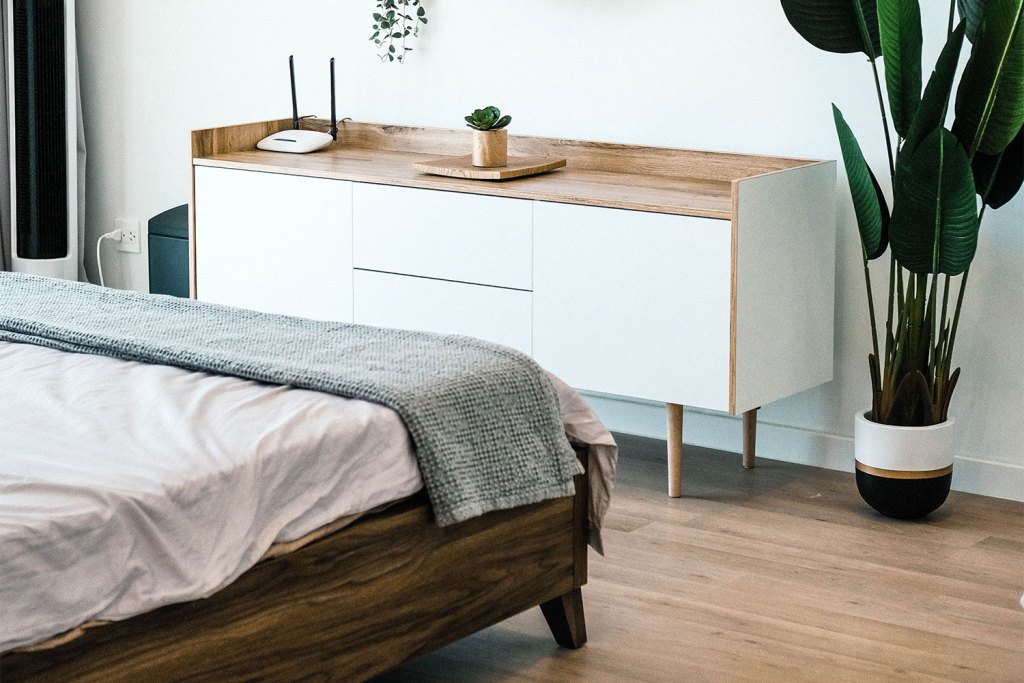 Storage and spacing are key to your bedroom
Making sure that your items are stored correctly is one of the most effective ways to get the most usage out of your space, as well as providing it with a really great aesthetic. Having bedside tables, storage trunks, and bookshelves that fit the style of the space will help you keep things organized and save you a ton of time.
It is also a great idea to utilize the space under the bed as well with some reasonably priced clear plastic organizers. Finally, having a game plan for your closet space is also a pretty smart play, as well, since you'll be able to find things far more easily.
Try to keep the space simple
It's a simple fact — no one wants to feel cluttered or claustrophobic in their bedroom. That is why it is a good idea to try to plan out in advance, as much as possible, how you are going to use the space. Opt for soft decor or furniture.
Think about where you are going to put your furniture before you actually place it there — otherwise, you may find that it is difficult to move around your space once you have actually placed everything where you'd like it to be. If you don't absolutely need it in your bedroom, then you should place the item in another room in your home or apartment.
Make your space sacred
Try to focus on only using your bedroom as a place of relaxation — that means minimizing your usage of your cell phone or laptop while you are in there. Use that space as a place where your mind can rest and recuperate from the events of the week prior. By treating your bedroom as a sacred space, you can revitalize your mind and find yourself well-rested for the week ahead.
Editors' Recommendations