Having a beautiful bed, frame and headboard included, is a crucial part of any finished bedroom. Not only does your bed provide a comfortable place to rest, but it is also the focal point of the room. Styling your bed for Instagram photos may be a great motivation to do something about all of that empty space above the headboard. Many people struggle with what to do with that blank area – but we have 10 great ideas for you if you want to spice up that bare wall above your bed.
Mirrors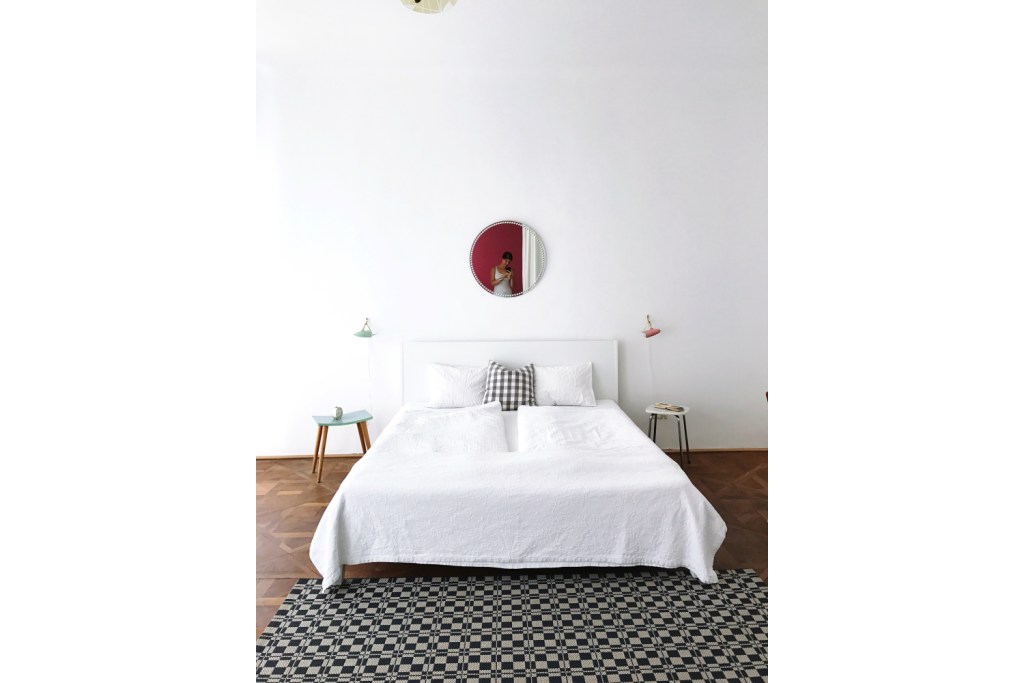 Hanging a mirror, or multiple mirrors above your bed, will make the space seem bigger than it really is. This is a great trick for people with small bedrooms. Mirrors also reflect natural light and therefore give any room an airier feel. You can hang one large mirror with a simple metal or wood frame for a classic look. If you want to make more of a statement, try a mirror that is a unique color or shape. Hanging more than one mirror can also liven up the space above the bed.
Shelves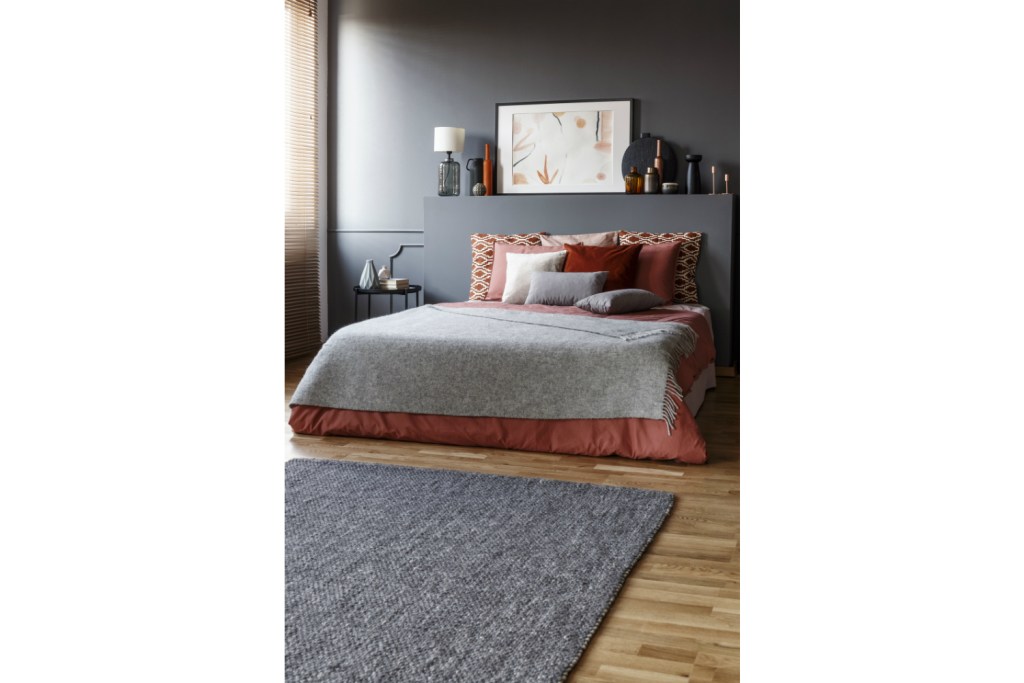 Hanging a few shelves above your bed can add some decor as well as storage space to your bedroom. There are all kinds of shelves, so you can let your style show through with anything from floating shelves to box shelves. Fill the shelves with plants to add a little life to the room, or books and picture frames to add a homey feel. Everything from candles to knickknacks can be placed on shelves to show off your personality.
Accent Wall
Filling the space above your bed doesn't mean you have to put actual stuff over the bed. Creating an accent wall can give the look of filing the area without actually putting anything in the space. Paint, wallpaper, and shiplap are all cool ways to create a different wall behind your bed and will change the feel of the whole room.
Art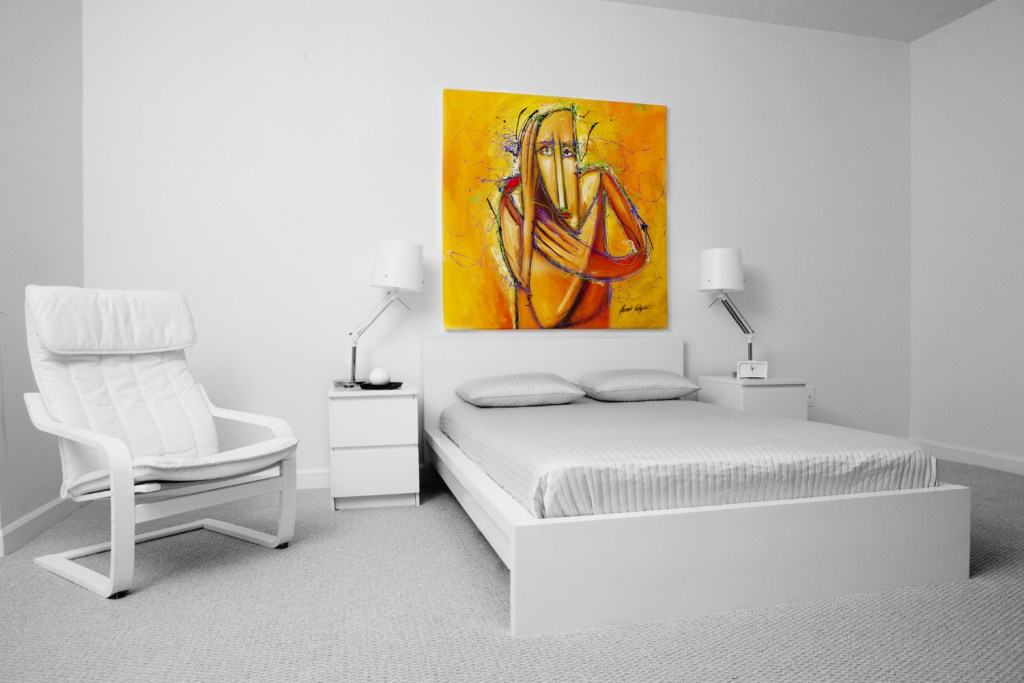 A great way to utilize the blank space above your bed is with art. Hanging artwork such as black-and-white photos or paintings is a great way to use art and add color or character to the room. The primary colors of the art can help you decide the color palette for the whole room, or you can use the art as a pop of color in an otherwise monotone room. Abstract art makes a big statement, but a single piece can really complete a room.
Tapestry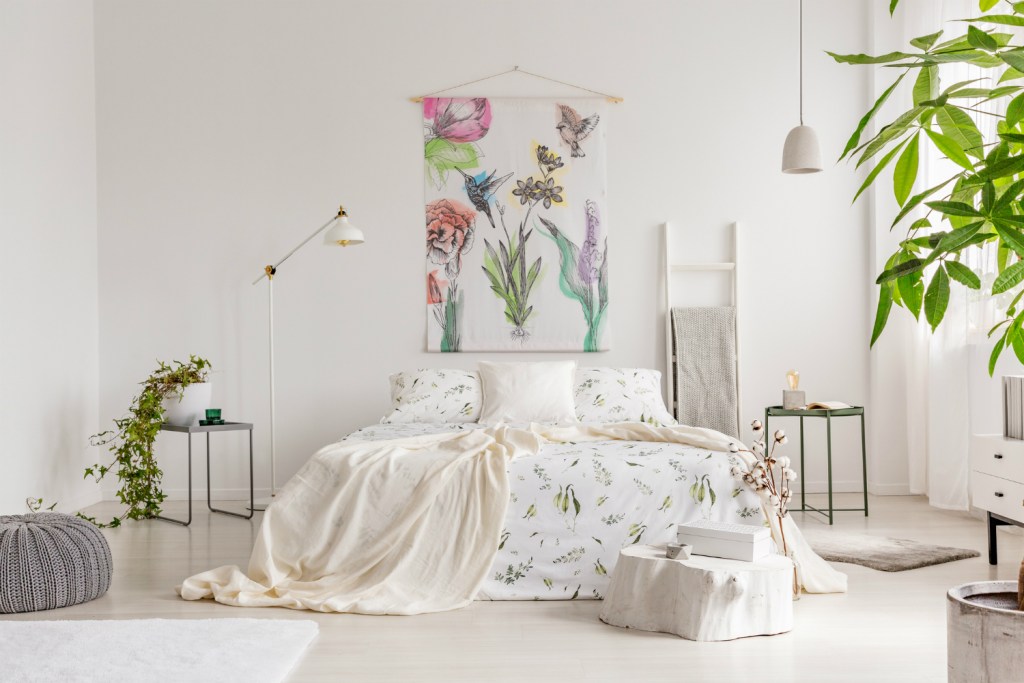 Tapestries aren't just for college dorm rooms. You can hang a tapestry on the wall over your bed to add a bit of color to the room. There are all sorts of tapestries out there these days from textile-like rug tapestries to scenery tapestries. You can drape or hang the tapestry using several different methods, all of which give a different look. Stretching the tapestry over a frame or hanging it from a rod will add to the overall look of the piece and give it less of a dorm-room feel.
Photographs
Hanging photos of your loved ones above your bed is a great way to show off your favorite pictures and keep your family and friends close. Scatter the frames around randomly if you want a nonsymmetrical feel or design a gridded gallery wall for a less-chaotic look. Match all of the frame colors and shapes for a clean and modern look, or mix up the styles of the frames for a more relaxed feel. Either way, hanging frames above your bed allows you to show off your favorite memories, and you can change out the photos as often as you'd like.
Lighting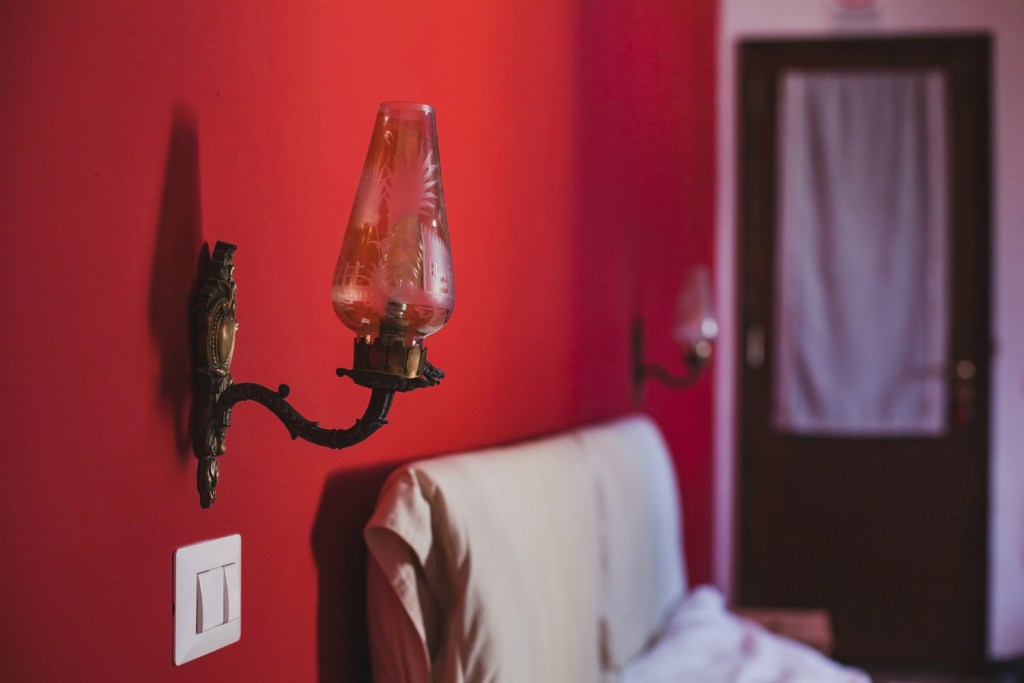 Adding a wall lamp or two is a great way to fill up negative space and add ambiance to the room. One large lamp or light fixture can make a statement, but if you want something more modest, a pair of smaller lamps will also do the trick. Lamps that mount on the wall and have moving arms are also a great addition because they can be adjusted based on where you need the light. Sconces are very popular these days and come in so many different styles, you are sure to be able to find one that you like.
Decorative Objects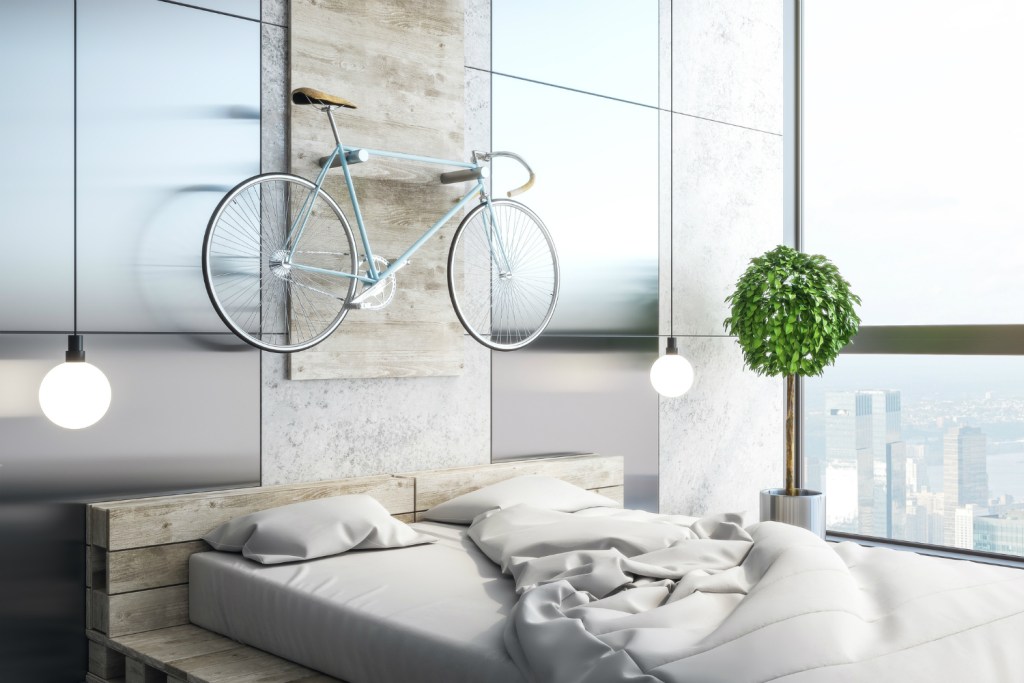 Sometimes, unexpected items are the best way to showcase your style and add personality to your room. Flags, baskets, plates or platters, a ladder, or anything else you can think of are all items you can hang above your bed. If the thing feels right to you, and you can safely secure it on the wall, go for it. Again, it's your space, and it should feel good to you when you walk in the room. You're going to spend a lot of time in that bed, so you should like the items hanging on the wall above it.
Salvaged Items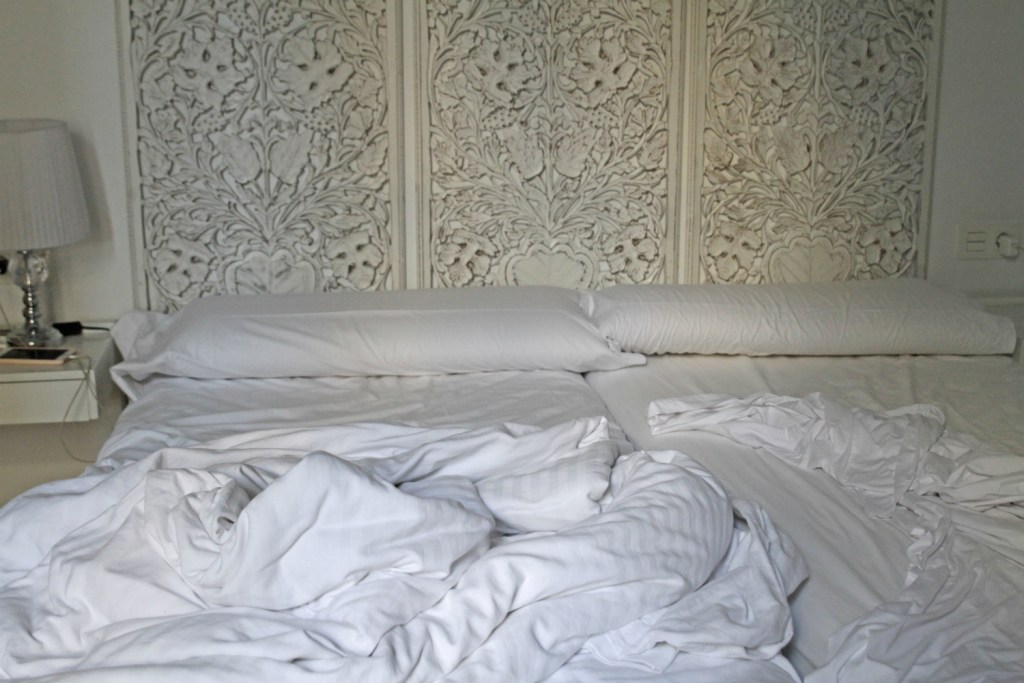 A rustic or antique piece of metal or wood can be an exciting contrast to the softness of a bed. You can use salvaged wood as a shelf or just let it hang as is. Salvaged doors or window frames can also double as art on the wall above your bed. Old ceiling tiles, pieces of banisters, window shutters, and more can all be hung on the wall to add personality to the room.
Words/Letters

Word art or letters are a great way to fill the space above your bed and make a statement. Simple phrases spelled out with wooden letters or favorite quotes painted or stenciled on the wall can bring the room together. You can even use words in frames above the bed to add some style to the look.
Any combination of the above items can be used to fill the space above your bed. Add a few photo frames and two small lamps, or a tapestry and some string lights. Place small shelves with plants on an accent wall that is wallpapered, or a mirror on a wall that also has some artwork. Whatever your choice for decorating the space above your bed, make sure it reflects the mood you want in your room. Your bedroom is your space, more so than any other room in your house or apartment, so it should feel comfortable to you.
Editors' Recommendations