Do you feel like your kitchen needs a total makeover, but don't have the budget (or time) for a complete remodel? Innovating a kitchen, no matter the size, doesn't have to be a huge project. In fact, a few minor changes can make your kitchen feel like a whole new space. Need some inspiration? You'll find plenty here; elevate your kitchen with any of these quick DIY weekend projects.
Try strip lighting
Whether you've got a kitchen full of windows, one small window, or none at all, one thing is always true: You can never have enough lighting in the kitchen. Fortunately, there's a simple, affordable, and quick solution to this lighting need: Strip lighting, such as LED lights.
You can warm up or cool down the space with white or yellow lights, and different placements can achieve different effects. Strip lighting above cabinetry can add ambiance, while strip lighting inside glass cabinets can provide a simple glow, highlighting the dinnerware you've got on display. But, personally, our favorite spot for strip lighting is underneath your floating cabinets — you can never have too much light in your food prep area.
Placing a few lighting strips above or below cabinetry can drastically change a room. You can use battery-operated or plug-in lights, depending on the energy options in your home.
Put tile somewhere
Tilework is expensive if you hire a professional; it's also permanent. If you want something transitional for a rented space or something that can be easily changed, you need tile. There are quick-lay, easily applied solutions for any surface.
Adding tile to the window, the wall, or the floor can be done in a (long) afternoon. Laminate or adhesive tile can be applied anywhere there's a flat surface. You'll find the difference in texture and color quickly elevates even the most outdated kitchen.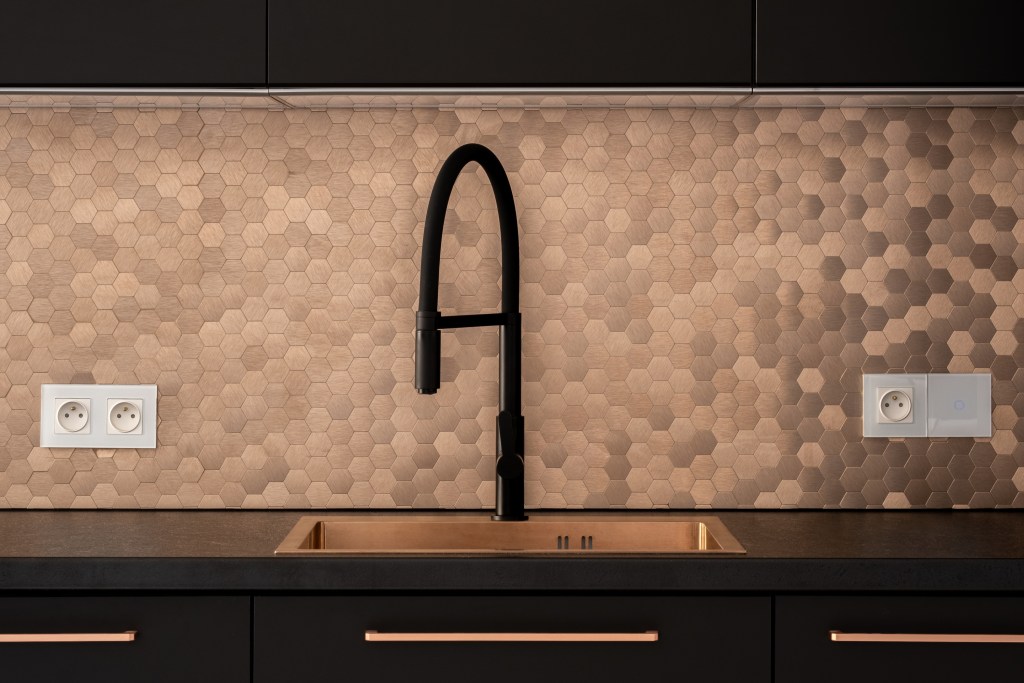 Add a shiny new faucet
Another affordable and same-day solution for upscaling any kitchen is a new faucet. You can do simple measurements without having to go all out and replace the sink, too. A new faucet can do wonders for your sink space, as well as improve dishwashing.
Many faucets come with elevated features like a single stream and burst stream function. You'll find this feature helpful for blasting food and grease off of dishes. Plus, switching to a higher-necked faucet gives you more washing room in the sink, too.
Changing out your faucet is an easy way to incorporate new trends, too — like adding black accents to your decor.
Replace old lighting
LED or strip lighting isn't the only lighting solution for your kitchen. You can replace old lighting fixtures to change a space entirely. Think about those old fluorescent bulbs that need replacing. Or, better still, change their covering entirely.
If you're comfortable with some fundamental rewiring, you can even replace certain fixtures with new ones. Not all kitchens have ceiling fans, so choosing a chandelier or recessed lighting can alter a kitchen space.
Remove or renovate cabinet doors
What's one thing every kitchen has (aside from a sink and window)? Cabinets and counters. Cabinets are essential for storing and keeping things out of the way. But some cabinetry is outdated and clutters up the kitchen. You can fix this in a couple of ways.
The easiest solution may be to remove your cabinets. This opens up the space and creates an open feeling. If there are gaps in the stain, you can permanently stain or paint over these areas.
The second solution is to restain or paint your cabinets. Refresh your kitchen with a few brush strokes. Add drama with a dark stain or a modern, quirky feel with bright interiors.
Put up some wallpaper
In place of (or alongside) tile flooring or a backsplash, put up some wallpaper. You have plenty of options for temporary peel and stick solutions. You can decorate inside open cabinetry or a section of parts of the kitchen. You could even create an accent wall with the right statement wallpaper (and then take it down to use in your next home).
Update old hardware
An often forgotten detail in many kitchens is hardware. Aside from lighting and sinks, drawer pulls and knobs are commonly overlooked. You can easily fix this forgotten detail with a quick trip to the hardware store. If you haven't removed your cabinet doors in an attempt to refresh your kitchen, it's time to replace those decade-old handles and knobs.
Plan your kitchen makeover ahead of time. Take a solid look at these quick fixes and see what needs updating immediately. Don't be afraid to take your time finding the perfect wallpaper or tile, either. The more effort you put into these details, the better you'll feel about the final elevated result.
Editors' Recommendations