If you're looking for apartment-size sofas, trust us: There are options. Even if you have a tiny living room or live in a studio apartment, you can still find a couch that you love.
Gone are the days when apartment dwellers need to sacrifice style, quality, and comfortable seating capacity due to limited space. Furniture manufacturers and retailers have responded with a variety of small, comfy sofas that make the most of your square footage.
Choosing couches for small apartments, and decorating limited spaces in general, can be challenging, but with a little imagination and some unique space-saving solutions, you can create a cozy and inviting home you'll love living in.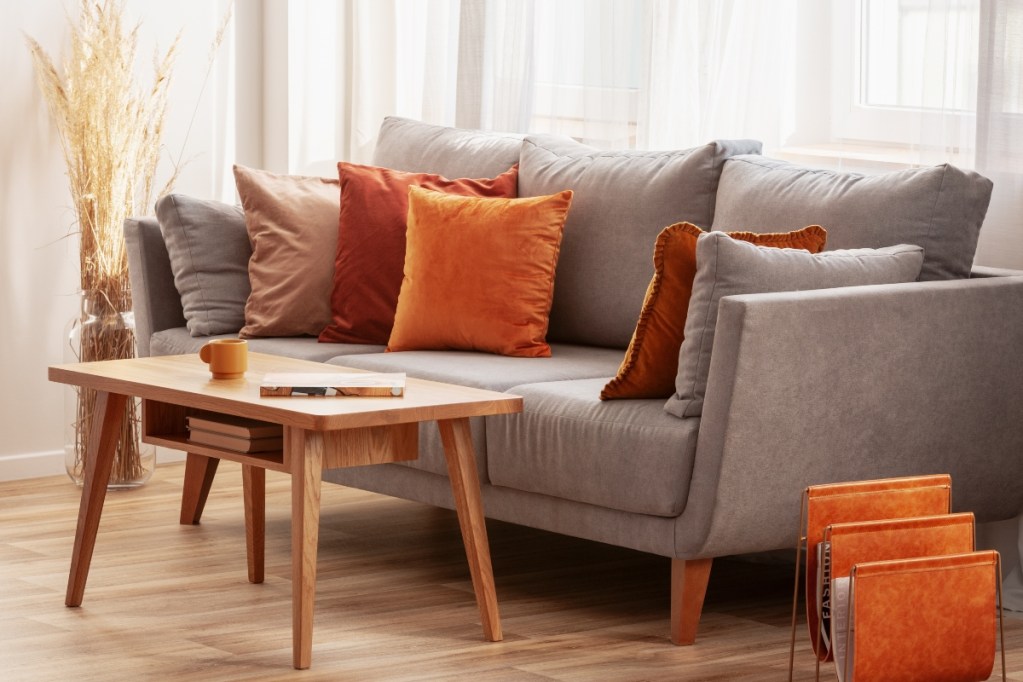 Regular sofa vs. apartment-size sofa
Although some apartment dwellers may opt for loveseats, a loveseat generally has just two seat cushions, while apartment-size sofas have three. A standard-size three-seat sofa usually measures about 35 inches deep by 84 inches wide. While apartment-size sofa dimensions can vary, most measure between 68 and 80 inches wide, with a few-inch reduction in depth.

Couches for small spaces: It's all about proportions
When thinking about decorating any space, it's important to consider the scale of the room. While you might love the look of that overstuffed full-size sofa, it very well may overwhelm your less-than-roomy living space. On the flip side, if you eventually move to a bigger space, your apartment-size couch may look just as lost and out of place. The trick is to find a small, comfy couch that still works within the space you have. By paying careful attention to the scale of the room and the furniture and accents within it, you will achieve the best possible decorating result.
Many apartment-size sofas offer more scaled-back proportions in all aspects of design:
Comfortable cushions rather than overstuffed cushions.
Simple wood or metal frames rather than ornate or bulky frames.
Clean-line sleek legs that show flooring beneath versus upholstered-to-the-floor designs or heavy wood feet.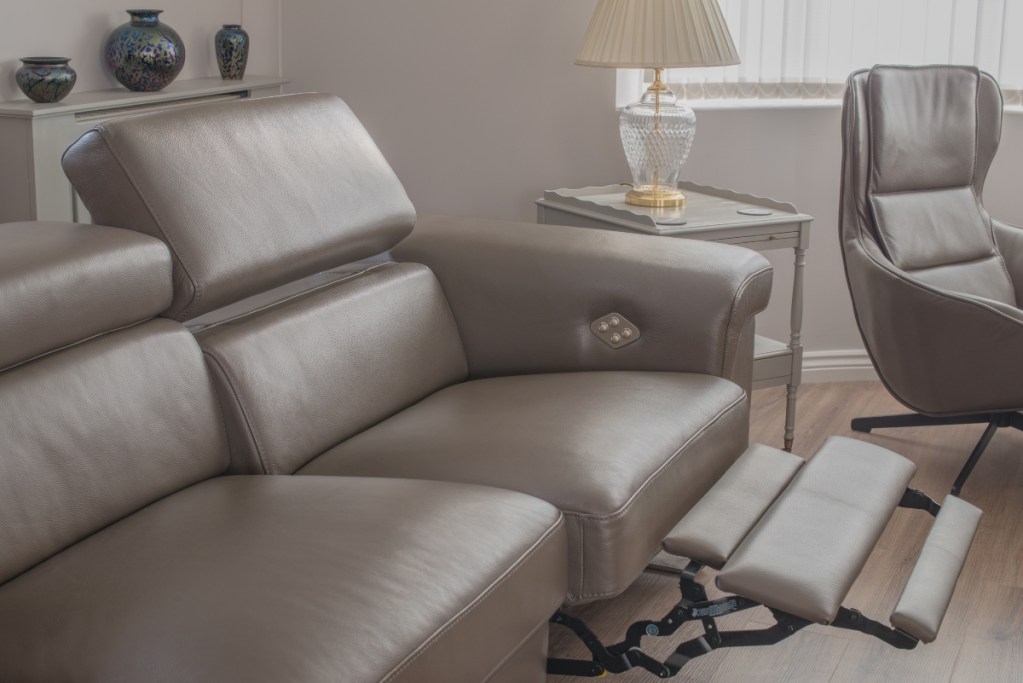 Sectionals
We love the look and design possibilities of sectionals, particularly in smaller spaces. Even a sectional with just three pieces can offer ample seating without overcrowding the room. With the versatile L-shape of a sectional, not only can you offer comfortable seating for your family and guests, but it can actually help to define the room's layout, which can be particularly helpful when trying to decorate a one-room studio apartment. Plus, the natural L-shape design offers more space for other furnishings and accessories while still providing the maximum number of seats your living space can accommodate.
For even more customizable versatility, consider a reversible sectional. The three-piece modular design includes two standard seating cushions and a lounge section that can be arranged on either the right or left side of the sofa, depending on your room's layout requirements. The built-in lounge cushion invites reading, TV viewing, and (most likely) a lot of napping.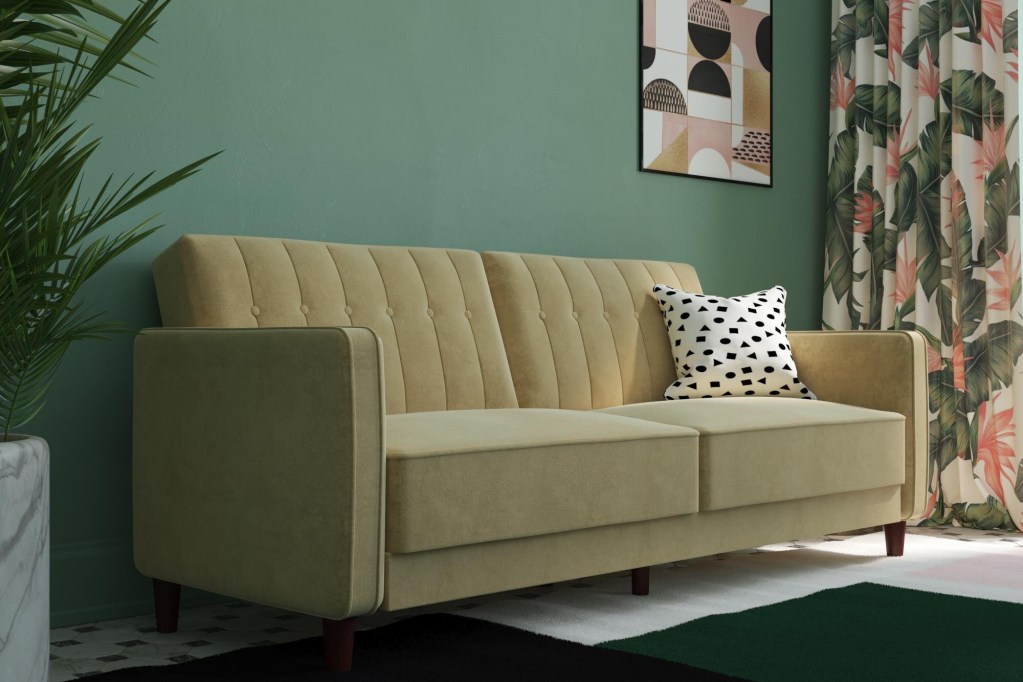 Sleeper sofas
When living in smaller spaces, and even more so in a studio apartment, having furniture that offers double function is key. The standard sleeper sofa has a bed that folds out from beneath the cushions. While standard sleeper sofas can easily fold out to a queen-size bed, usually apartment-size sleeper sofas turn into full-size beds.
Many of the new sleeper sectionals have cushions that come apart and can be rearranged to create cozy, and surprisingly comfortable, sleeping nooks. If your smaller home or apartment doesn't have a spare room for guests, these fold-out sectionals are an ideal solution for visitors. If you want to take some time to weigh over your options, check out the best types of sleeper sofas for living rooms.

Futons
What are also known as convertible couches, futons convert almost effortlessly from couch to bed. They're great for overnight guests or for studio apartments where the living room and bedroom are combined. They also work well as extra seating in an office or den that can quickly convert to a bed, turning an office into a guest room in minutes!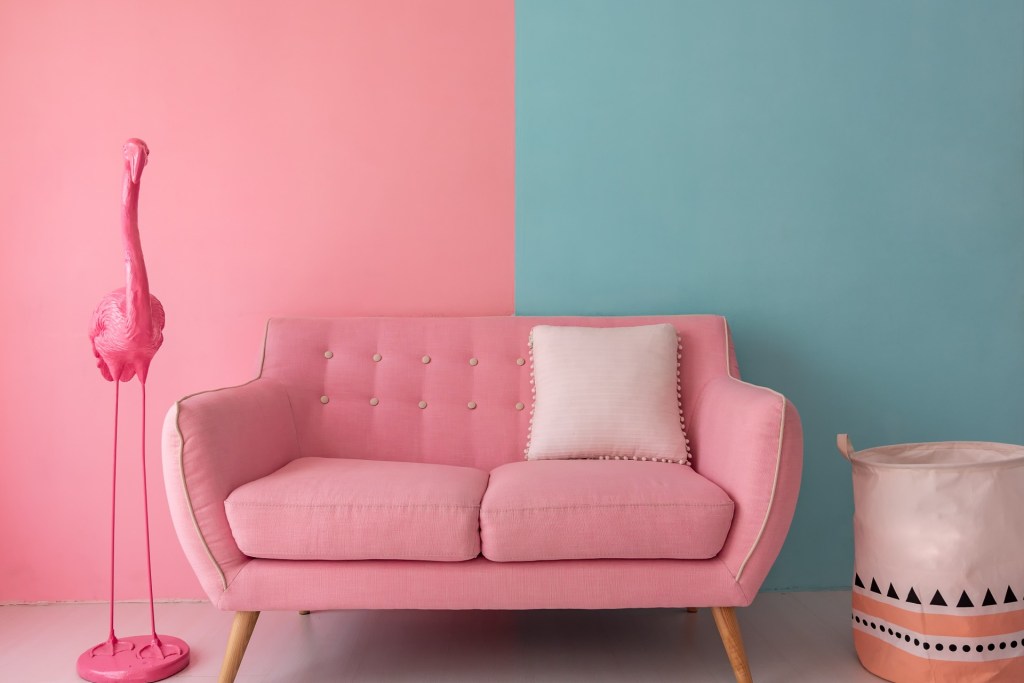 The versatility of apartment-size sofas
While we've focused on the practicality of apartment couches for smaller-size living rooms, there are other uses for these pint-size furnishings. While you may have room for a standard sofa in your living or family room, you may wish to add an apartment couch to your master bedroom for a nice reading or TV-watching nook. Or, you might want to feature a small sofa in a child's room, nursery, playroom, or home office.
Couches for small spaces don't have to be thought of as simply transitional furnishings. Choose carefully, and your apartment-size sofa can provide years of stylish seating even after you've upsized your living space.
Editors' Recommendations