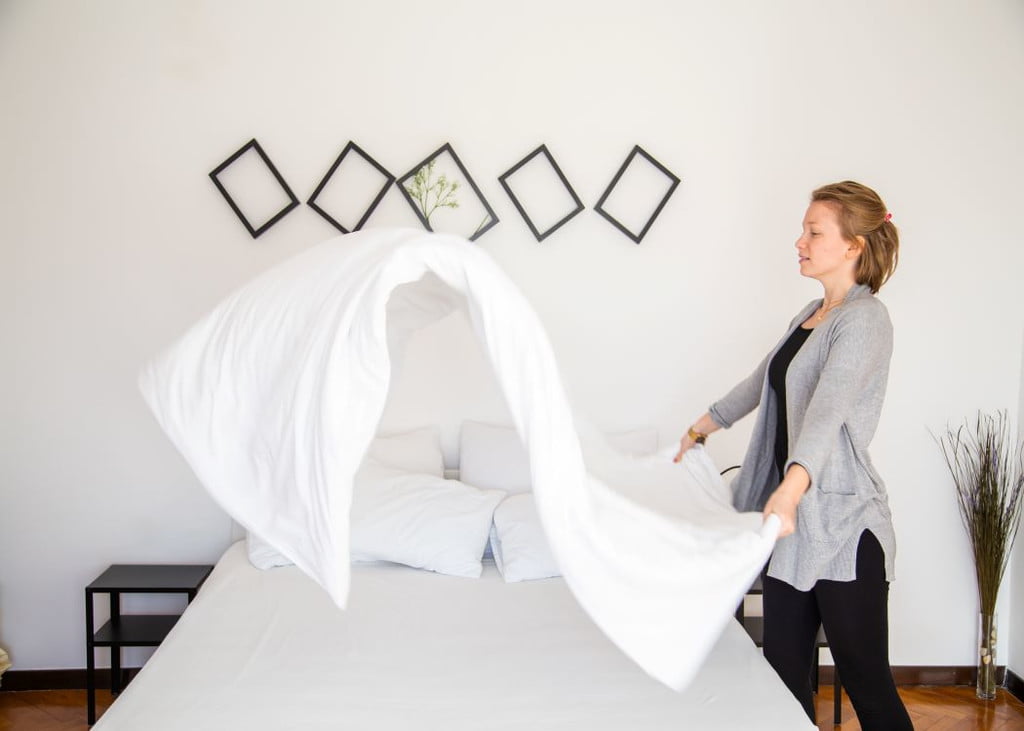 How wide and long is a queen bed
According to the National Sleep Foundation, the official dimensions of a queen-sized bed are 60 inches in width by 80 inches in length. Of course, there are variations on this, such as the California queen-sized bed, the Olympic queen, and the split queen.
California queen is 60 inches wide by 84 inches long

Olympic queen is 66 inches wide by 80 inches long

Split queen is essentially split into two equal parts, each 30 inches wide by 80 inches long
With nearly half of all Americans ages 18 to 60+ years old preferring a queen-sized bed over other sizes, the queen bed is without a doubt the most popular size in the nation. Queen beds allow sleepers, whether singles or couples, to stretch out comfortably without disturbing one another or overwhelming the bedroom space. Next in line is the spacious king-sized bed, which came in second place — but not everyone has room for such a large bed.
What are the dimensions of other beds?
For those uncertain of the size they prefer, let's take a look at all standard bed sizes. Since we've already mentioned the queen size dimensions, we can begin with the largest bed available, the California King. It is 72 inches wide by 84 inches long, while the standard king is 76 inches by 80 inches long. Going down from there, the standard full-size bed is 54 by 75 inches. The twin XL size bed is 38 by 80 inches, and finally, the smallest size twin bed is 38 inches wide by 75 inches long. We hope that information helps you determine what size bed works best for you.
When was the first queen-sized bed created?
After World War II, Americans began to purchase more property to match the growing economy, with a particularly keen interest in purchasing larger homes and larger beds. In the late 1950s, a company named Simmons created two remarkably spacious beds, naming them the 'queen' and 'king'. While the king-sized bed was certainly the most luxurious, the queen became the most popular due to its being more versatile and reasonably affordable. It has held its ground as the most popular size bed in the nation to this day.
Where can you buy queen-sized beds?
Depending upon the type of mattress you're seeking, there are a variety of places to buy a queen-sized bed. Several of the popular mattress-in-a-box companies conveniently deliver beds, including queen-sized varieties, to your doorstep. You can choose a memory foam mattress or a hybrid model with springs, or even some of their newer innovations, all (or most) of which can be delivered vacuum-sealed and rolled in a box to your door.
Some of these companies also offer white-glove service, meaning they will come inside your home at the scheduled delivery time and set up the bed for you. These companies often remove your old mattress for you as well, either free of charge or for a fee. The best part is that most of these companies allow you to try out the beds for lengthy home trials — some for 100 nights or even longer — in order for you to see how you feel sleeping on the bed over time. Return it at the end of the trial if you don't like it, and you will be refunded. (Just make sure you keep your receipts and documentation). Check the FAQ sections of the websites you're exploring to find out these details before you officially make your purchase.
You can, of course, shop at the traditional brick and mortar mattress stores as well, where a salesperson can direct you to each model, and you can try them out ahead of time.
Since they've remained the most popular-sized bed since the 1950s, there's a good chance most shoppers will be pleased with a queen if they buy one today.
Looking for more great stuff? If you want to know if there is truly a connection between sleep and acne, read on.
Editors' Recommendations