Christmas decor can be garish and overwhelming for minimalists. The vivid colors, decorative clutter, and surplus of holiday ornaments clash with the minimal aesthetic. If you're a minimalist and want to adorn your space this holiday season, it is certainly a challenge to find decor that suits this style. This year, celebrate the holidays with the minimalist scheme of your dreams. Whether you're looking for color palette inspiration or overall design ideas, this is how to decorate for Christmas.
Choose a neutral color palette
One of the most important aspects of pulling off a successful minimal Christmas setup in your home is nailing the color palette. Traditional Christmas color palettes can be too busy in minimal homes. Instead of opting for traditional red, green, silver, and gold decor, we recommend taking a neutral approach to your color palette.
Copper, browns, white, and evergreen are lovely colors that blend with minimalist design. The evergreen adds a bit of color to the neutral palette without being too bold or overwhelming. Additionally, copper is a popular choice this year as it replaces the traditional silver and gold. Copper is a lovely accent that's a bit more subtle and works beautifully with warm browns and creams.
If you use a neutral palette, incorporate these colors in the ornaments and table decor as well. A few evergreen garlands or a single evergreen tree will provide all the holiday colors that you need without going overboard. Additionally, consider using brown, copper, and white with your dishware if you plan to host a holiday get-together, as these warm colors can spark joy during the colder season.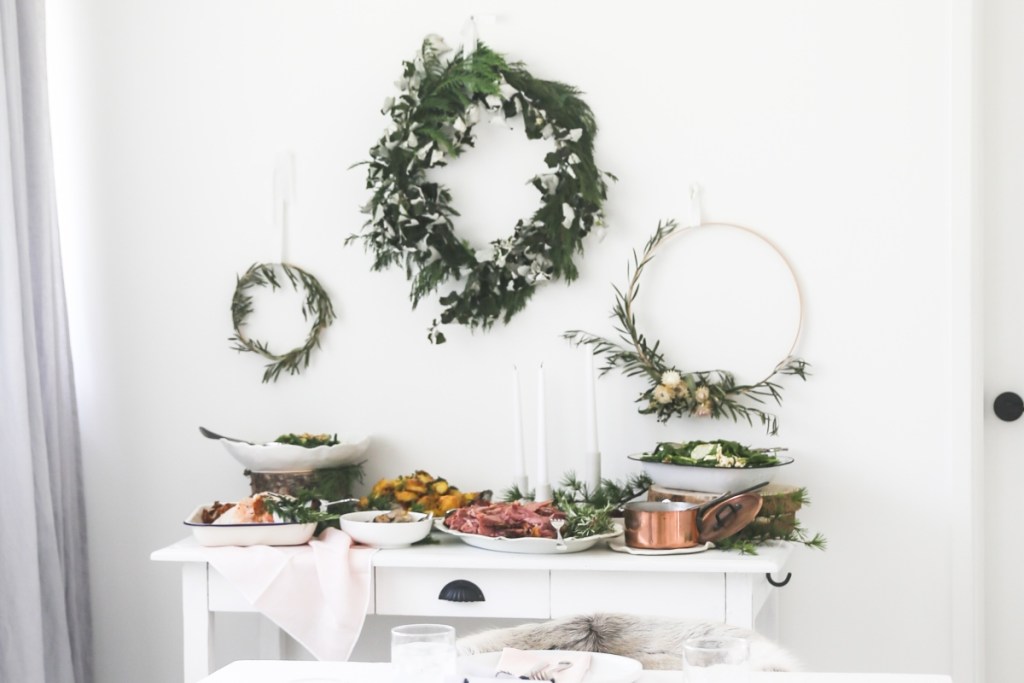 Use a minimal holiday wreath
If you want a wreath for your door or in your home this Christmas but want to maintain your minimal aesthetic, we suggest using an equally minimal wreath. For example, a simple metal wreath with only a small portion of greenery or a single ribbon is perfect for a contemporary home with a streamlined aesthetic. Also, stick to the neutral color palette mentioned above and avoid any bold reds or blues that may not fit into your current design.
Alternatively, a full evergreen wreath with no lights or decorative additions can also do well. Some people want a little bit of glamour on top of this, so you can always dress it up with small gold or white ribbons. And if you want even more adornment, pine cones or mini poinsettias can also look lovely when included sparsely.
Opt for ceramic decor
A popular choice in holiday decor this year is the use of ceramic pieces. Mini ceramic townhomes, reindeer, and Christmas statues are all perfect for minimalists. We recommend using white ceramics as a base in your design as these pieces tend to be more minimal and visually appealing with minimalist color palettes. However, some ceramics like statue Santas may have a gold hat or muted red coloration that can make your space look a little cozier.
Polished ceramic can be very reflective, so avoid colored lights and too much glitter. The ceramic material will reflect these colors across the room and detract from your neutral, minimalist design. Some colors can look fabulous in your space, but make sure you don't go overboard.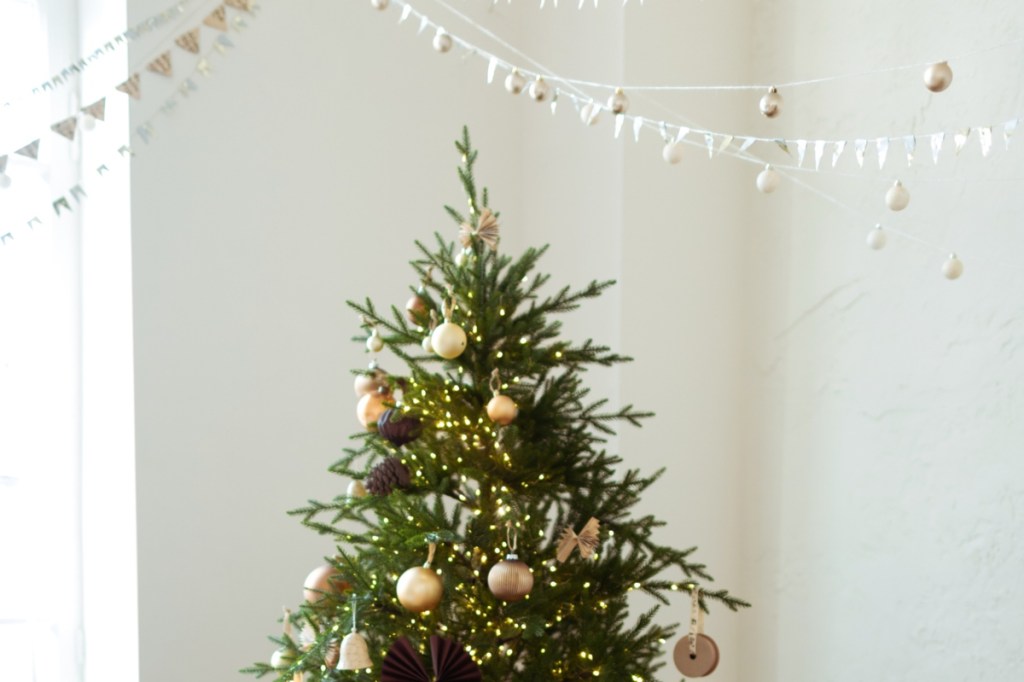 Keep your tree simple
When it comes to minimalist Christmas trees, it's best to keep them simple. Using lights as your sole ornamentation for the tree is a perfect way to invite simplicity into your design. If you have ornaments, especially those with sentimental value, feel free to add them, but don't overcrowd the branches. Alternatively, you might choose to avoid using lights and ornaments altogether and in favor of a few neutral-colored ornaments. Additionally, minimalists should avoid using colored trees like blue and pink, which can look out of place in the streamlined, neutral design. Instead, white and evergreen trees look much more appealing in this space.
If you do have a fun colored tree or tons of colorful and exciting ornaments, place them in a casual living room, kids' space, or lounge area.
Knowing how to decorate for Christmas as a minimalist can be tricky. However, opting for simple and neutral decor is an easy way to ensure that your design feels cohesive and welcoming. Avoid garish reds or glittery decor that can clash with your space, and keep your lights, ornaments, and dishware in the same color palette. As a minimalist, it's best to keep things refined and enjoy your Christmas decor this year.
Editors' Recommendations