Shopping for bedding can be a tricky endeavor, especially online. There are so many confusing options, loads of unfamiliar jargon, and the competition can get quite fierce. Over the last few years, many players have entered the online bedding realm, hoping to earn their share of a projected multibillion-dollar industry. And a select few brands like Parachute, Boll and Branch, Tuft & Needle, Saatva, Riley, West Elm, and Brooklinen are finally beginning to approach the household name status of long-term players like L.L. Bean, Laura Ashley, and Eddie Bauer.
We understand how challenging it can be to determine which are the best with so many impressive-looking choices and types — bamboo, satin, Egyptian cotton — to name a few. To help you choose the bed sheets for your price range, aesthetic, and material preference, we'll take you through the most essential features you'll need to look for as well as the distinguishing components of today's best online bedding retailers.
Types of bed sheets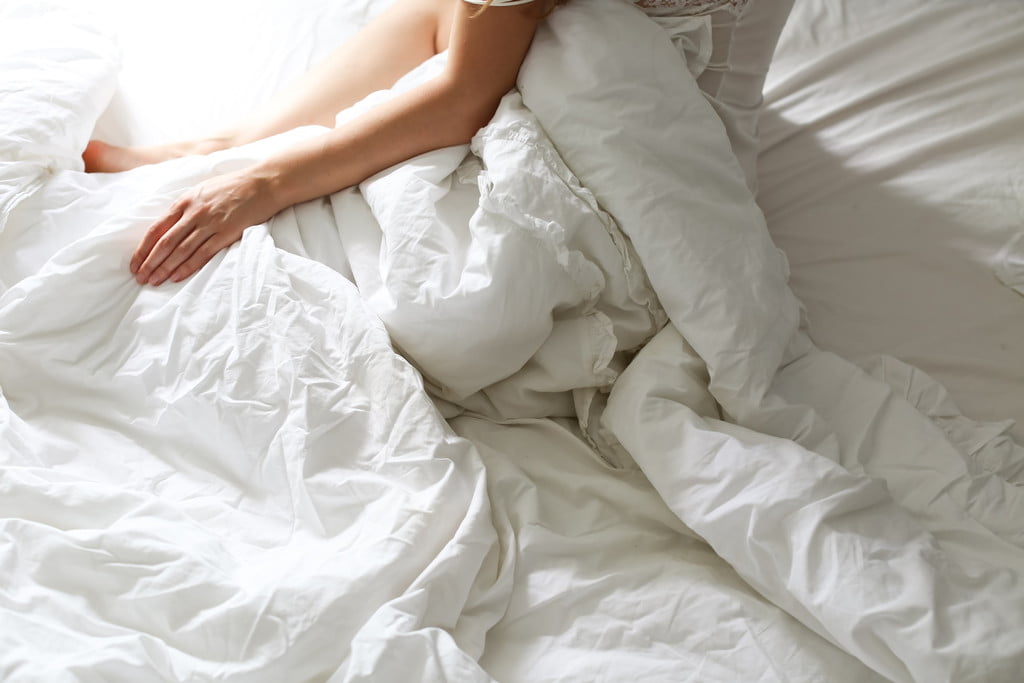 While thread count is often the first thing people bring up when shopping for bed sheets, a higher thread count doesn't necessarily equal better quality bedding. Instead, your focus should be on the materials the sheets are made of which is why it's important to understand which specifications matter in a quality set of sheets. Specific sheet material is what will keep you cool at night if you're a hot sleeper.
Most sheet sets come in one of two fabrics — cotton or linen — and each offer qualities that appeal to different kinds of sleepers. The more common (and less expensive) is cotton. When looking at cotton sheets, consider choosing a set made of either sateen or percale, both of which are favored by luxury bedding companies like Brooklinen and Boll and Branch. Both sateen and percale comprise high-quality, long-staple cotton, which results in more luxurious, softer, and more durable sheets than those made of short-staple cotton. Additional sheet fabrics include silk, flannel, and bamboo.
Cotton sheets
Cotton sheets are generally made with a percale or sateen weave, which, of course, comes down to how the fabric is woven. Percale sheets are typified by their tight weave, which results in a crisp, matte, and firm fabric, not unlike that of a dress shirt. It makes sense that they need to be ironed like a dress shirt, too; the fabric wrinkles very easily. These sheets are excellent for sleepers who like to stay cool at night and would make an excellent summer set.
Sateen is woven to create a slick, smooth surface with a distinctive sheen, similar to satin. Warmer and heavier than percale sheets, sateen has the added benefit of being wrinkle-resistant, making it lower maintenance than its cotton counterpart. Most online retailers will have a sateen sheet set in their portfolio. For example, CloudTen uses 100-percent hyper-combed long-staple in its sateen sheets, which they describe as "buttery smooth" and "silky soft."
Linen sheets
If you're really looking to invest in a high-quality sheet set, linen is the way to go. Made from flax stem weave, linen sheets are more difficult to make than cotton sets and as a result, are more expensive. Like percale, linen is durable, breathable, and lightweight. It also absorbs moisture, helping sleepers stay dry and comfortable during the night. While it is not wrinkle-free, linen is less formal than sateen or percale and doesn't need to be pressed to look good on your bed.
Silk sheets
When people choose silk sheets, it's usually because of its hypoallergenic properties, the way it slides over the skin without pulling as they sleep, or the way it keeps their hair intact overnight. Silk is also naturally temperature-regulating, which keeps you comfy all through the night regardless of the season. Important to note with silk the momme (mm) of the silk, meaning its "weight." This term is used instead of thread count with silk products. The higher the momme, the higher the price (20mm+ are considered high quality). And Mulberry silk is considered the best quality and most durable silk you can buy.
LilySilk:

Silk sheet set with 11 color and 5 size choices.

ZIMASILK:

100% Mulberry silk sheet set.

ElleSilk:

Natural dye, 22 Momme sheet set.

Orose:

100% pure silk sheet set.
Most often crafted of wool, cotton, or polyester, flannel is a favorite winter fabric, found in everything from pajamas to blankets to long-sleeved shirts. What makes it so soft and cushy? Often, the fibers are brushed after they're woven into place, leaving them super soft — although sometimes it's left unbrushed. In this case, the softness comes from its loosely woven yarn. When made into sheets, flannel is likely to be the coziest fabric you'll tuck into your mattress.
Bamboo sheets
Bamboo sheets are among the healthiest, most durable, and sustainable of bedding options available today. From their moisture-wicking properties to their ultra-softness to their being naturally hypoallergenic, bamboo sheets make a highly desirable material for any bed. There are essentially four types of bamboo fabric in use currently: Bamboo viscose (also called bamboo rayon), bamboo lyocell, bamboo modal, and raw bamboo linen fiber, with lyocell and linen fiber being the best environmentally. (It can also be mixed with cotton and other materials.) The weave is usually sateen or twill, with twill having a more flat look and being less expensive than the silky set sateen weave.
Color selection
Color is often what draws us in when we choose new bedding. Most online brands offer linen, percale, and sateen sheets in a variety of colors and shades, so you won't have to compromise on the material when choosing a color that fits with your bedroom's aesthetic.
While your sheets will most often be covered by a duvet or quilt, the color still matters. Neutral tones like white and beige are popular because they blend well with almost any design. While they might only work with certain color palettes, sheets in blue and gray can promote calm; they're also dark enough to allay fears about staining or discoloration.
Recommendations
Parachute offers six shades, spanning blues, grays, black, and white for all cotton bedsheets. Their linen bed sheets are available in two additional colors: beige and blush.
Boll and Branch signature cotton sheets come in eight colors, with a set of unique new earthy neutrals, though their percale sheets only come in white, pinstripe, or ivory.
Brooklinen boasts the most options, with 17 different color and pattern combinations.
Whichever brand and fabric type you decide to go with, there's no wrong choice. The best bedding is the one that suits your lifestyle, price range, and personal preference — so shop happy and sleep easy. And be sure to check out our sleep hub on all tips for bed sheets and more.
Editors' Recommendations