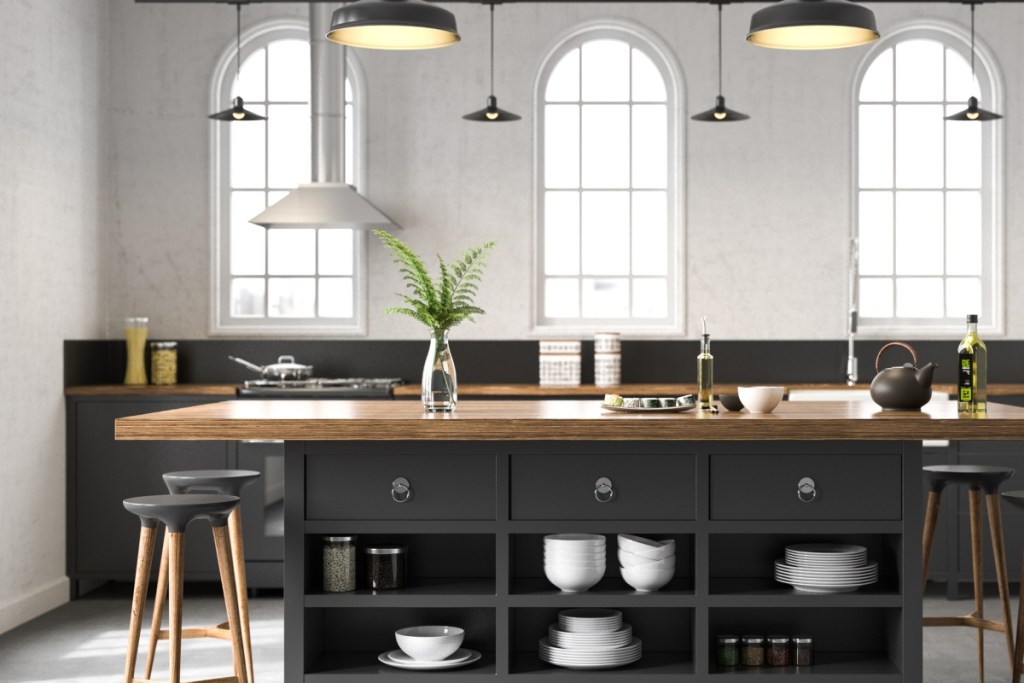 For modern enthusiasts, the black and white kitchen is a chic and sophisticated design choice. Simple, clean lines that feel minimal and sleek while maintaining an elegant and luxe touch without appearing overly gaudy are why the black and white kitchen has prevailed in many interiors. However, styling it the right way is more challenging than most people think.
The greatest issue homeowners face with styling the black and white kitchen is finding themselves with an end result that feels cold or flat. It's easy to wind up with an overwhelming space that feels too stark and barren. So today, we're giving you the tips you need to achieve a chic black and white kitchen that doesn't feel cold or depressing.
Be intentional about the color balance
The use of color can make or break your black and white kitchen. The palette needs to feel intentional and work with the space. You'll need to determine whether you want more black in the space, more white, or a balance of both. A mostly black kitchen with a hint of white can feel more moody, intimate, and luxurious, while the alternative may feel more bright, clean, and refreshing. A balance between the two colors, if done correctly, can look ultra modern and sleek.
Though, it's important to be clear on exactly what you want in your palette and ensure you're showcasing the right amount of light and dark colors in your design. For example, if you opt for dark flooring and dark cabinetry, a white countertop and backsplash could help balance the look of the space.
Consider adding an accent tone
Accent tones are a great way to add dimension to the space and break up the dull look that can sometimes come from a black and white design. Accent colors can make the space feel ultra chic and prevent the design from looking cold or flat.
Be intentional about the accent color you choose, as it could dictate the mood of the space. For example, a bright red accent tone makes the room feel more contemporary and bold, while a dark green accent tone might make the kitchen feel cozy and more organic. When working with accents, you don't want the color to dominate the space; otherwise, you'll lose the appeal of the classic black and white kitchen. Instead, add accent colors sparingly through the use of decor. For example, if you use brown as an accent tone, limit it to a few decorative bowls, potted plants, and maybe a cookbook or two.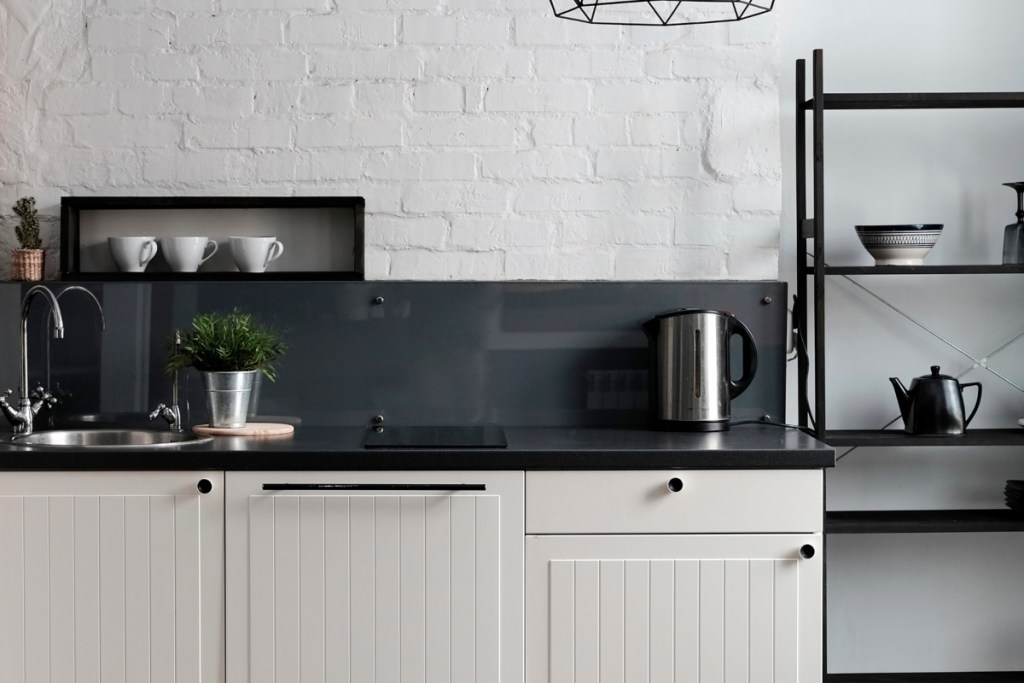 Bring in natural materials
Whenever you can, bring natural materials into your black and white kitchen to help create a more organic and natural feel to the space. Black and white are two colors that have a tendency to feel cold and distant. Adding natural materials can help prevent that. Materials like leather, wood, stone, and plants will warm up the look of the space as well as create more dimension.
To avoid adding too much color, look for natural items that are black or white, or fit in your chosen accent tone. A wooden bowl, for example, could be great for a black and white kitchen with a hint of brown accents. Alternatively, an interior with solely black and white decor might prefer black leather bar stools or a simple white stone sculpture to decorate the space and keep things feeling more modern.
Mix and match materials
Even when it comes to tile and cabinetry, not having a variety of materials makes a kitchen feel cheap and dull. If you opt for a black tile floor and are considering a white tile black space, consider using different materials on both to really enhance the design. A glossy tile backsplash and matte tile floor can make a world of difference.
Alternatively, you could choose a sophisticated stone countertop with matte-painted cabinets. Or, maybe you prefer glass decor with black metal bar stools and features. Use different materials like wood, metal, glass, tile, stone, and fabrics to add more variety to your design. This will help your black and white kitchen have more visual depth so you can avoid the flat look.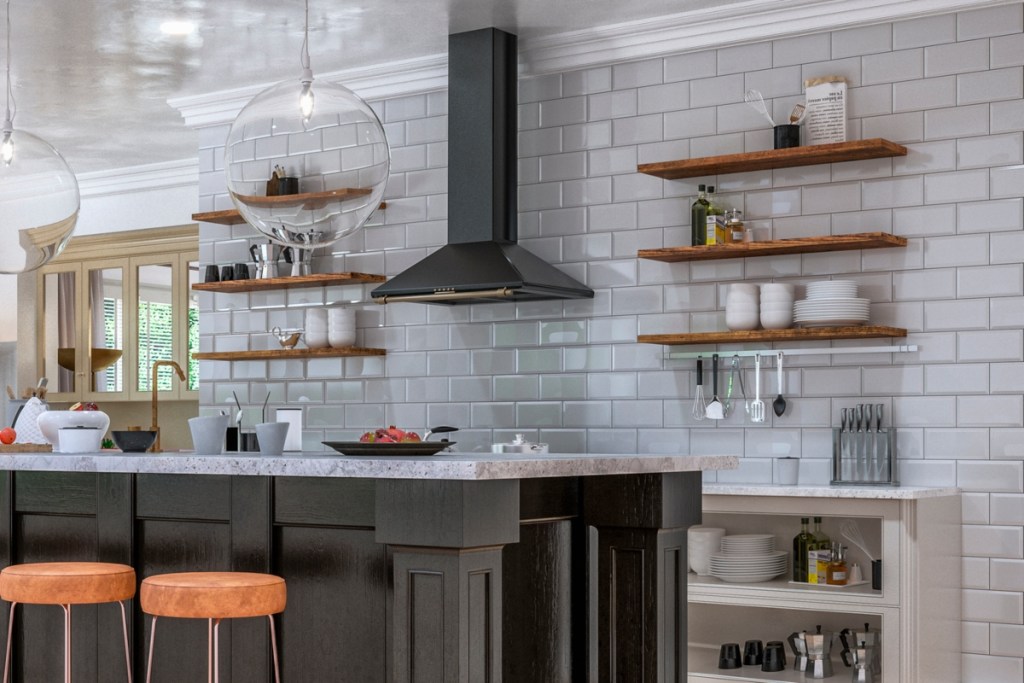 Layer your decor
Layering your decor is vital to pulling off a chic black and white kitchen design. Layering adds more character and dimension to the space. Consider stacking place mats, layering hand towels, placing potted plants on stacked cookbooks, or adding layered floor runners by your sink to create more depth and dimension in the design. Different shades of white or black stacked on one another also create a nice layered effect without your kitchen looking like a cheap checkerboard pattern.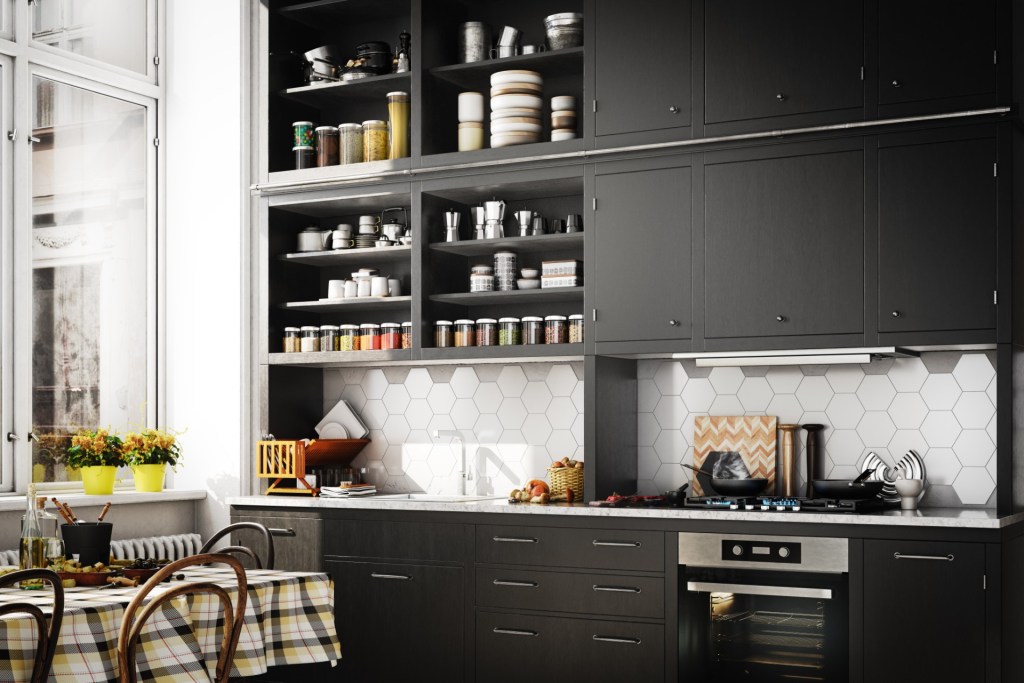 Invest in good kitchen storage
The last thing you want is for your cereal boxes, colorful Tupperware, or mismatched utensils to ruin the sleek black and white look. A bright red container lid next to an orange cup will stick out like a sore thumb on your countertop. Unless the item is black, white, or the accent tone of your choice, we recommend storing the item in your cabinets. Investing in good kitchen storage and cabinetry will help you organize your space and hide away any eyesores that could ruin the aesthetic appeal of the black and white kitchen.
Alternatively, if you don't have much space for additional storage, you could consider purchasing kitchen appliances and items that fit the black and white palette. Ceramics, utensils, and small appliances often come in one of these colors, which can help limit the amount of color in the room. Just be sure you're intentional about where you display these items, so you don't have an uneven black and white look in your space. It's all about balance!
The black and white kitchen is a sleek and stylish design choice for many homeowners who crave a modern look in their space. While it can sometimes be difficult to achieve, knowing how to layer and properly mix your materials will help you create a dimensional space that feels warm and inviting. Avoid the cold kitchen look by being intentional with color and texture, and be sure to hide away any materials that don't fit the palette.
Editors' Recommendations