Styling a studio apartment to feel opulent while adhering to the functionality of the space can be tricky. You want to create a luxe look without sacrificing precious storage space or creating a design that leaves the room feeling stuffy and closed off. Since this can be challenging for many renters, we've looked to TikTok to gain inspiration on decor tips that could enhance the look of your studio space.
Below are five genius TikTok studio apartment ideas to help inspire you to create an elegant look in your own space without overcrowding your design.
Separate your space using furniture or dividers
One of the best ways to decorate a studio apartment is to separate the space using furniture or dividers. @vancouver_avenue on TikTok shares a studio apartment with minimal room for food prep or seating. Often, kitchen islands and dining tables have no place in small studios. To combat this issue, a slim bar table has been placed at the back of the sectional sofa to provide additional seating, room for meal prep, and space for eating dinner at night.
This raised bar table is perfect for creating a space-saving space to enjoy meals or food prep while also acting as a small storage solution for any kitchen utensils. And while this bar table can serve many functions, one of the most prominent ways it impacts the space is by creating a division between the kitchen and living area. Therefore, no walls or wasted dividers are needed. Instead, this functional piece of furniture acts as the perfect separation between the living and dining areas.
Use a large mirror in your space
Another trendy solution to create an opulent look in your studio apartment is to use a large mirror. Large floor standing mirrors are a fantastic choice for renters looking to add a luxe decor piece to their space that serves a function and enhances the design.
TikTok user @crampedliving shows an apartment styled by @katiebanksreports that includes a large full-length mirror in the living space. This gives the illusion of expansiveness within the studio apartment and provides a visual sense that the room is larger than it is.
Additionally, full-length mirrors add a polished touch that helps a space feel trendy and elegant. This arched mirror features gold edging, emphasizing the luxurious details throughout the space. If you're looking for a simple decor piece to add to your studio, this is a terrific option.
Don't be afraid to use a sectional sofa
One thing many renters shy away from when styling a studio apartment is the use of a sectional sofa. Often, people assume sectional sofas can be too clunky and take up precious space in a studio apartment with limited square footage. However, TikTok user @meganhomme shows us that a sectional sofa can be a great way to expand the look of a room while also creating a functional divider to separate visual spaces. @meganhomme uses the sectional sofa to create a divide between the living and workspaces in their apartment.
Another way you can help create the look of openness in your design using a sectional sofa is to float the couch in the center of the room. Placing your sofa away from the wall will add a more opulent touch while allowing you to use the sectional as a divider to create separation between the sleeping, eating, and living areas.
Use elevated furniture
@midwesternerinthemetro on TikTok shares their lovely studio apartment featuring plenty of elevated furniture pieces. Elevated furniture like hairpin side tables, sofas with taller legs, and chairs with slim legs help create an elevated look that keeps furniture off the ground. Doing so opens up the floor and creates the illusion of more space. When designing small spaces, it's important to show as much of the floor as possible. This is because when we perceive more floor space, we perceive the room to be larger than it is. There's a greater sense of expansiveness and movement.
When decorating your studio apartment, consider choosing furniture pieces that look elevated or sit off of the floor. This will also help create a lavish look by making your small space feel less cramped and constraining. If you're looking for furniture inspo, we recommend using midcentury modern pieces and other contemporary furniture items, which is a great way to easily implement this design hack into your space.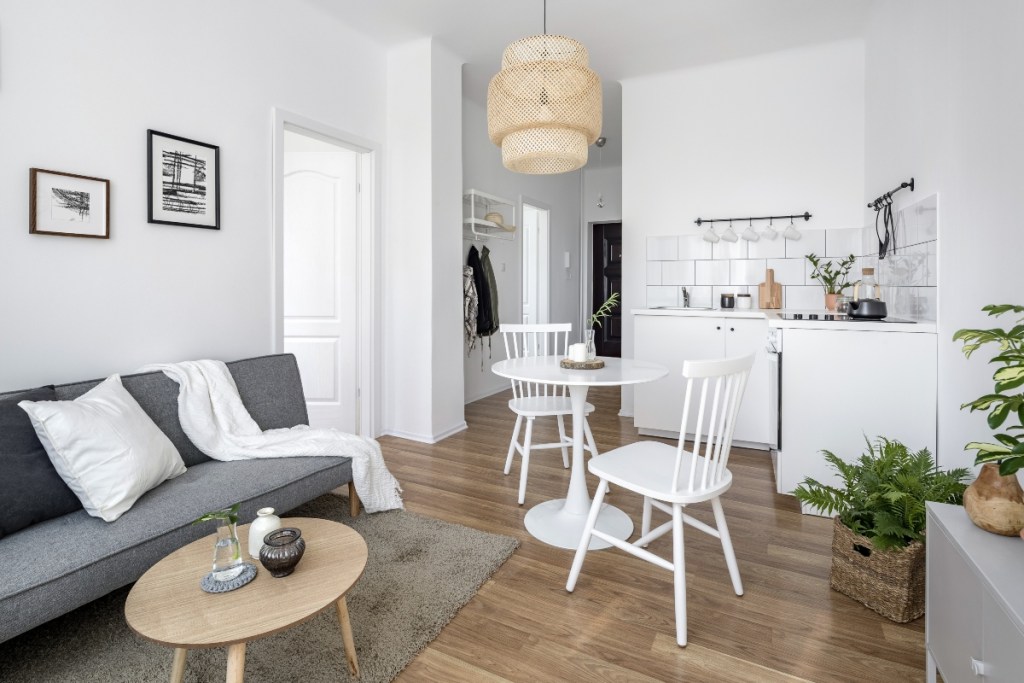 Save space with multipurpose furniture
Less clutter, hidden cords, and the appearance of decor that blends easily with your design are essential for creating a luxurious look. Unfortunately, renters of studio apartments often struggle to manage clutter and hide necessities like toiletries, cleaning supplies, and electronics which can quickly cheapen the look of their design. To create an elegant space, it's essential to invest in reasonable storage solutions that help you hide the clutter and create a more intentional look in your room.
TikTok user @_stephbb shares a video detailing ways they went about creating more storage space in their home. One of the best examples shared was using multipurpose furniture like the bed with built-in storage and the folding kitchen table that could add more surfaces for cooking or dining when necessary. When decorating a studio space, we recommend honing in on multipurpose pieces like mobile islands, folding tabletops, sectionals and beds with built-in storage, mirrors with hidden cabinets, and other functional pieces.
These genius TikTok hacks can help you elevate the look of your studio apartment space to create an opulent and functional design. Remember to focus on functionality and choose items that serve multiple purposes in your space. Choose pieces that look nice and offer plenty of storage or help create a division in your home. Doing so can transform your tiny apartment into a luxurious place you're sure to enjoy.
Editors' Recommendations